Marketing
7 Email Marketing Trends That Are Here to Stay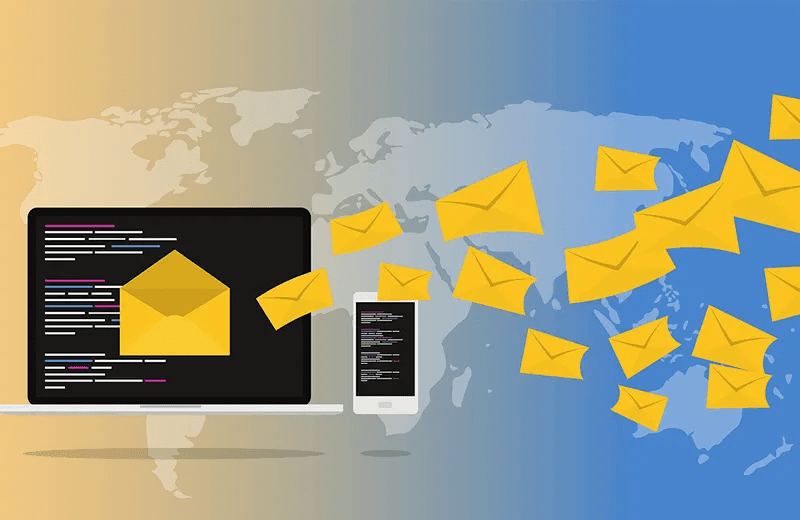 The email marketing landscape is constantly changing. Join us as we dissect a few email marketing trends that are set to dominate the industry in the future.
Email marketing is evolving continuously, owing to technological advancements and the increasing expectations of consumers. So, it is both challenging and exciting to keep up with customers' interests and serve them well. While digital marketing trends shift and evolve, email marketing has stood the test of time, and remains one of the most effective online marketing tools available today.
It is a known fact that email marketing generates $42 for every dollar spent, leading to an astounding ROI of 4,200%. Furthermore, email marketing strategies are not only cost-efficient, but they are also known to provide a huge boost to any business, when used tactfully. Whether you're a small business or an established enterprise, a sound email marketing campaign can help you push your prospects further down the sales funnel.
5 Key Benefits of Creating an Email Marketing Strategy
Before we get down to discussing the future of email marketing, let's take a brief look at how email marketing powers your overall online marketing efforts.
1.Lead generation
Email marketers have a real shot at converting a passive audience into leads, as well as warming up cold leads. Email leads are essentially people who share their names and email addresses with you. They are generally captured through lead magnets, such as opt-in forms for free ebooks, newsletters, webinars, gifts, etc. By sending targeted emails to these leads, you nurture them and push them further down the sales funnel.
2. Customer loyalty
Email marketing is a long haul. It doesn't stop when a purchase is made. In order to retain customers and boost customer loyalty, you can send them personalized communication. Some examples include sending emails between purchases, providing them with rewards and bonuses, launching referral programs, and more. These activities will ensure your customers stay loyal to you, and even become brand advocates.
3. More personalized content
Personalization in emails is done by using your users' data (demographic and otherwise) to send them targeted emails. By using subscribers' data in your content, you can make your users feel like the emails are tailored to their specific needs. Creating a unique email for each recipient will not only make your brand seem interesting, but will also help you create stronger brand-customer relationships.
A few ways to personalize your emails include:
Aligning your emails with your buyers' journey
Sending unique offers
Asking for reviews and feedback
4. Own your sender list
In email marketing, you decide whom you want to market to. You have full control over your sender list, making it easy for you to send targeted emails. Building your email list, however, must be done with some care. Remember, each lead magnet you put out is your chance to collect data about your target audience. Therefore, you should decide what type of information you want to collect.
In simpler terms, email segmentation is the process of dividing your recipients into smaller, more specific groups. This can be done using several data points, such as demographics, interests, product preferences, and more. In this way, you can practice autonomy over whom you send your communication to.
5. Easy to measure
Another advantage of using email marketing is that the results are easy to track and measure. It doesn't matter how brilliantly executed your email marketing campaign is, if you can't tell if your recipients are even paying attention. This is why it becomes crucial to track the effectiveness of your email marketing strategy from time to time. Here are a few key metrics that can help you measure how impactful your campaigns are:
Track the growth rate of your email list.
Check your clickthrough rate (CTR).
Measure your bounce rate.
Track your email forwarding rate.
Track your conversion rate.
That said, you cannot solely rely on open rates and CTR as they are not the most reliable. Therefore, ensure you employ a combination of metrics to gauge the effectiveness of your email marketing campaigns.
The Future of Email Marketing: An Overview
What if we asked you to imagine a world without email? You would find it difficult, wouldn't you? Virtually everyone we know uses email. In fact, according to Statista, the number of email users will rise to 4.3 billion by 2023. Let that number sink in. Considering the statistics, there is no good reason why marketers should not leverage email marketing to increase brand awareness and sales. Despite its reliability and effectiveness, email marketing remains an underrated marketing channel. However, its scope is not going to diminish any time soon.
Just like any other form of digital marketing, email marketing is rapidly shifting and expanding. The landscape is constantly evolving, and what may have been relevant five years ago may not work as well right now. Therefore, it is important to align your strategies with the predicted trends in email marketing. This will help you stay current and, if you do it right, even two steps ahead of your competition.
The "Death of Email Marketing" Is a Myth
Millennials generally resort to communication through messaging apps, which might indicate that email writing services would no longer be needed. However, this could not have been farther from the truth. If you look at the past, you will find that email marketing was declared "dead" numerous times in 2007, 2009, 2011, as well as 2015. However, just one look at some email marketing statistics will make you believe that email marketing will remain relevant even in the upcoming decade.
The most important thing email marketers have to keep in mind is to be savvy enough to meet the changing requirements of their target audience. For instance, the emails must have catchy subject lines so that the receiver will be enticed to open them. The use of conversion optimization strategies, along with visual hierarchy in email design, can also help keep up the consumers' interest.
In a nutshell, email marketing is far from dead. What will really determine your success in it is how strategically you leverage it (which includes everything from the segmentation, personalization, and measuring of your campaigns). Let's finally move on to discussing a few trends that will dominate the email marketing landscape in the upcoming years.
7 Expected Trends in Email Marketing in the Upcoming Period
Here are the important trends in email marketing services that can be expected in the upcoming year:
1. Smarter email marketing
Consumers have become quite conscious of what and how they purchase, and ensure they conduct thorough research before making any purchase online or offline. In such a scenario, you will need to become smart with your email marketing in order to connect with the customers and provide them with all the required information.
Your campaigns should be such that the customers are convinced to visit your landing page or social media page, and take the action you need them to complete. However, this needs to be done deftly, as overt selling or over-promotion will only drive your customers away. Also, in any email, it is important to remember that it must have 90% educational content and 10% promotional content so that consumers find it useful.
One way of doing this is to gauge the customer's requirements before attempting to communicate with them using email. A tip for smart email marketing is to use cross-platform tools. Google's Customer Match and Facebook's Custom Audiences are effective ways of customer engagement and marketing across different channels.
2. Hyper-personalization
Although email personalization, as a concept, has existed for a while, it is going to become better with more data and the use of advanced technologies. According to Everage and Researchscape, 74% of marketers believe personalization needs greater focus. In fact, 88% of marketers attribute an improvement in customer experience to personalization.
As we've discussed above, personalization in emails serves more than one function. It helps with brand awareness as well as customer loyalty, among others. Successful email marketers primarily make use of consumer behavior and demographic information to cater to the requirements of their target audience. It is the key to grabbing their attention. In addition, technological advances further enable the smart use of location from mobile or wearable devices.
The dwindling attention spans of online users necessitates the usage of hyper-personal emails that have the ability to hold and retain their interest. In fact, acquiring consumer data and implementing advanced technologies can also help you create an amazing user experience. We've talked enough about the benefits of personalization in email marketing. Let's look at a few drawbacks of the lack of it:
Degradation or stagnation of your mailing list
High bounce rates
High unsubscribe rates
Increase in cold leads
3. Use of artificial intelligence
Email marketing, in the upcoming years, will make use of artificial intelligence (AI) and machine learning. AI can be useful for a lot of things in email marketing, some of which include determining the best email content, creating effective subject lines, and more. In short, automation will see a lot of demand, as it will help marketers create messages that are contextually relevant to individual consumers.
Here's how cold emailing with Jasper, an AI writing tool, works:
AI also helps you collate, arrange, and segment user data faster, thereby optimizing time as well as productivity. Not only this, AI and cloud-based technology work to significantly lower email marketing costs. This is a boon, especially for small businesses, which often operate on limited budgets. Today, Sendinblue, Mailchimp, and Zoho are some companies that are pioneering email marketing automation through AI and machine learning. Here are a few email marketing functions that AI can help you fulfill:
It helps you write engaging subject lines.
It enables you to send personalized emails.
It helps you fine-tune your email campaigns.
It assists you in building and restructuring your email lists.
It boosts your overall efficiency.
It helps conduct A/B testing in a more streamlined way.
It helps you decide the perfect sending times for your emails.
4. Interactive email marketing
Email marketing expert Alessandra Farabegoli says, "More interactivity, so that every message becomes an actionable interface; and hopefully a greater willingness to respect the time and attention of the readers, not only because of legal privacy concerns but because companies finally understand that spam doesn't pay."
And we couldn't agree more. Interactive emails continue to be one of the biggest trends in email marketing, and it's not hard to see why. Interactive help you not only increase customer engagement, but they are also a great way to enable the user to stay inside the email. In fact, that is the premise of interactive emails.
They help capture the audience's attention and compel them to engage with the email, all without sending them to a different site. A few forms of interactive emails include carousels, surveys and feedback forms, quizzes, sale countdowns, videos, polls, cinemagraphs, and more. Interactivity in emails has picked up pace fairly recently, and it is not phasing out anytime soon.
5. Increased focus on privacy
Privacy has always been at the center of email marketing. The General Data Protection Regulation (GDPR) outlines that marketers must send promotional emails only after the users' content. This has specifically changed the face of cold emailing. This is also the time when almost all major browsers, such as Chrome, Safari, and Firefox, no longer support third-party cookies, which have been a major threat to user privacy.
Furthermore, Apple's Mail Privacy Protection feature significantly limits senders' access to user data. It allows iOS users to hide their IP addresses and blocks marketers from tracking their online activities. These and many other initiatives will change the way marketers approach privacy concerns in the future.
6. Responsive design
According to Campaign Monitor, about 80% of people check their emails on mobile devices. This makes it important to design your emails in a way that they are responsive on all devices. Responsive design essentially means that your email design fits into any bucket of size and resolution, meaning your user doesn't experience friction when browsing your website.
Responsiveness in design is one of the hottest trends in email marketing right now. This is because responsive emails help deliver a better user experience, increase CTR, aid in greater conversions, as well as help improve your brand image. A few ways to ensure your emails are responsive are as follows:
Using a single-column layout
Optimizing your CTAs
Including alt text
Using a grid to design
Using larger fonts
Design for dark mode
Use multiple images
7. Instant communication through voice technology
We have witnessed a spike in the use of voice technology worldwide, which indicates people like to get quick responses to their queries. Over 40% of people use voice searches in the US alone. So this gives rise to the need to ensure that the emails are in line with the voice revolution. One-to-one conversations can be initiated with customers through conversational commerce.
Besides this, it is quite important to understand the way in which smart voice-controlled personal assistants such as Alexa interact with emails. With this information, an audio strategy can be curated for email marketing. Together, voice technology and email marketing can acquire a wealth of rich data about users, which will assist brands in providing them with hyper-personalized experiences. This will enable consumers to have a seamless interactive experience with emails across different platforms at any time.
Email marketing is a long haul. It is one of the cost-effective means of marketing with a high ROI, but its results may take time to show. However, as a marketer, rest assured that you're on the right track if you're following email marketing best practices and staying up to date with the latest trends in the industry.
Remember, email marketing is constantly shifting and expanding. And in order to win the attention of your audience, you need to deliver a strong and unique value proposition. So take note of these trends, and recreate them with a unique spin. Switch things up, and don't be afraid to experiment. No matter what you do, always center your email marketing strategies on customer experience.
Key Takeaways
A sound email marketing campaign can help you push your prospects further down the sales funnel.
Through email marketing, you can convert a passive audience into leads, as well as warm up cold leads.
A few other benefits of email marketing are that it's easily measurable, it is a cost-effective means to get a high ROI, it helps boost customer engagement and loyalty, and it helps you own your mailing list.
Increased personalization, prioritizing users' privacy, responsive email design, and interactive emails are among a few email marketing trends that will dominate the future.
The widespread use of voice technology is another trend email marketers should leverage in order to deliver hyper-personalized experiences to users.
FAQs
1. Why is email marketing significant? 
Employing email marketing strategies helps in greater brand awareness, improved customer loyalty, more personalization, and easily measurable results, among other benefits. 

2. What is the role of AI in email marketing? 
From helping you create engaging subject lines and cleaning up your mailing list to optimizing the overall effectiveness of your email marketing campaign, AI has tons of benefits.
3. What are a few email marketing trends marketers should look out for? 
Hyper-personalization, increased focus on privacy, user-generated content, automation, increased dependence on AI and cloud-based technology, and interactive emails are a few email marketing trends to look out for.