Marketing
The Ultimate List of Email Marketing Stats for 2022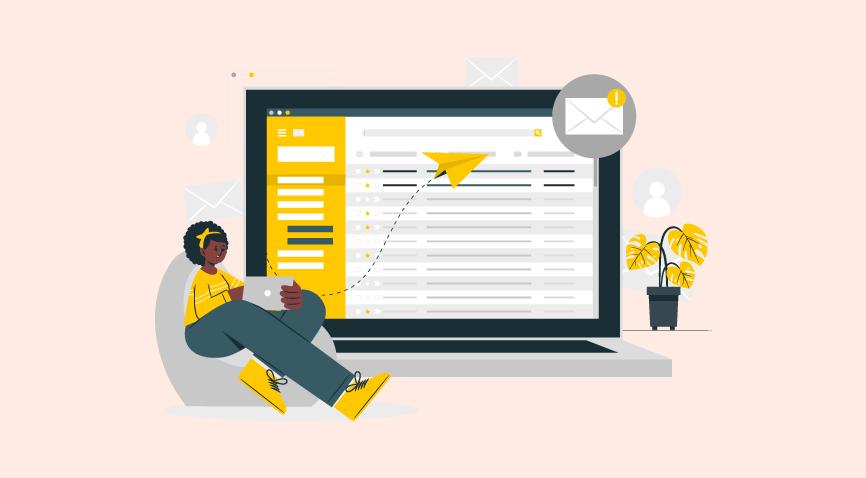 Table of Contents
The Ultimate Email Marketing Stats
Key Takeaways
Conclusion
FAQs
Last week, we received an email from H&M fashion news with a tagline that said "new colors, new vibes, and new moves"! We immediately opened the H&M application on our phone to check out what the buzz was about. This is what email marketing is all about!
Email marketing, in simple words, is when a company uses email for advertising a product or service. It's a type of direct marketing in which the corporation connects directly with the customer without a middleman.
Email marketing involves sending a group of relevant people a commercial message via email. Every email sent to a potential, or current customer might be email marketing in the broadest sense. It can include a newsletter, which is a simple and efficient method to keep your customers informed about new products, forthcoming events, and special offers.
Email marketing software also makes it simple to send out automatic promotional emails to consumers who haven't made a purchase in a while.
An email marketing campaign is simple to start up and track, making it accessible to small businesses. A newsletter sign-up option may be added to your website. Customers may also sign up for the newsletter through your social media platforms. You may use email marketing to target specific categories of clients or even individuals. One method to achieve this is to offer particular clients special birthday promotions on products or services.
Let's take a look at some of the top email marketing statistics in 2022. With virtual communication at an all-time high, email marketing ruled the roost.
The Ultimate Email Marketing Stats
1. Over 3.9 billion people use email.
Despite the triumph of text messaging, more than 3.9 million individuals use emails, which is predicted to reach 4.48 billion by 2024. This equals roughly half of the total population on earth. This also demonstrates immense potential in email marketing, and no company should pass it up. You may reach out to your consumers via email every day of the week without wasting a lot of time or money. Email marketing has the extra benefit of allowing you to include graphics, videos, and other appealing features in your communications. You may even prepare your emails weeks in advance to come up with a successful campaign.
2. Almost 300 billion emails are sent every day.
In 2019, more than 293.6 billion emails were sent, with the number predicted to reach 347.3 billion by 2022. However, not all of these emails are sent to promote something. Individuals and corporations both send emails relating to their jobs. People also use email to communicate. Despite this, the number of marketing emails is relatively large.
3. Emails provide a return on investment of up to 4,300%
Here's another incentive to give email marketing a shot: it pays off. A successful campaign may generate a profit of $42 for every dollar spent. This is one of the main reasons so many people utilize email marketing. For around 59 percent of businesses, email is the most important source of revenue.
4. Content marketing is a breeze.
Approximately 87 percent of marketers choose to promote their content using email marketing. It's one of the most popular methods of dissemination. It is used by 81 percent of businesses to advertise their content, putting it only behind social media. Email engagement is a good statistic for evaluating success for many firms. Many marketers monitor open rates, download rates, and click rates and adjust their marketing strategies as needed.
5. Not every email is read.
The average open rate for emails is only 20.81 percent. This indicates that 79 out of every 100 emails are never read. Emails about hobbies had the highest open rate (27.35 percent). Government-issued emails have a 26.52 percent open rate, whereas emails about art have a 26.03 percent open rate. These figures emphasize the necessity of coming up with catchy email subject lines. You must write effective subject lines to outperform the industry average open rate. When determining whether or not to open an email, recipients often look at the subject line.
6. Email marketing is used by over 80% of businesses to acquire and retain customers.
Both medium and small organizations use email marketing to recruit and retain clients. Email marketing is the key acquisition method for 81 percent of small firms. Similarly, roughly 80% of small firms use it to keep their customers. This may surprise some, given that social media appears to be the preferred route, but email marketing still has a large audience.
7. People appreciate greeting emails.
People enjoy receiving welcome emails. They have an 82 percent open rate, which is rather impressive. People are interested in learning more about your company, and firms often add discount coupons and other special offers in their welcome letters, so they usually get a positive reaction. This means you should put in a lot of effort when composing your welcome email since it may be your last chance to make an excellent first impression. Make the most of the welcome email. Adoric is a tool that can assist you with creating fantastic welcome emails. It includes various options for enhancing your emails, such as unique popups and graphic components.
8. Videos in emails get better results.
Emails with videos have a 300 percent greater click-through rate. YouTube's success has demonstrated the relevance of videos. People enjoy watching videos, therefore include them in your material. Make sure, however, that your films are well-made, topical, and engaging. You could lose readers if you don't.
9. The CTR for commercial emails is 4.8 percent.
Non-business emails have a CTR of only 1.6 percent, but commercial emails have a CTR of 4.8 percent. Marketers may be able to get more value for their money by using email campaigns.
10. Emails are used by almost 80% of B2B marketers to keep customers.
Email marketing, according to B2B marketers, is an excellent client-retention technique. You must focus on attracting and maintaining clients if you want to flourish as a business.
Key Takeaways
The act of sending a commercial message via email, usually to a group of individuals, is known as email marketing.
There are over 3.9 billion people who use email. Every day, almost 300 billion emails are sent.
Emails provide a return on investment of up to 4,300%.
Email marketing is used by over 80% of businesses to acquire and retain customers.
Videos in emails get better results. Emails are used by almost 80% of B2B marketers to keep customers.
Conclusion
These email marketing stats show that email marketing isn't going away anytime soon.
Once you understand these well, you will be able to build a roadmap for your email marketing campaign and acquire and retain consumers via email marketing.
FAQs
1. Is email marketing still relevant in 2022?
Yes. Email marketing is a highly efficient way to engage with clients and should be incorporated as part of content marketing.
2. What is the typical return on investment for email marketing?
For every $1 spent on email marketing, the return on investment (ROI) is $36. Email marketing is profitable. You may anticipate a return on investment of $36 for every $1 spent on email marketing. That's a better return than you'll get from any other type of marketing, digital or not.
3. What are some examples of good email statistics?
You can get a fair notion of how your emails should perform if you look at industry benchmarks across the board: The average open rate for your emails should be between 12 and 25%. The average click-through rate for your website should be between 2 and 5%. The average click-to-open rate for your emails should be between 10% and 22%.
4. Is email marketing becoming more popular?
Email marketing has existed for quite some time. It's altered and developed over time, but it's remained effective and even grown in popularity. Email marketing has never been more popular. Even whether you're a marketer for a small or growing company, you should understand how to use email to your advantage.
5. How effective are email newsletters?
Email newsletters are one of the most effective digital marketing methods for promoting your company. In fact, according to Monetate, email marketing leads to 4.24 percent of visitors making a purchase. Compared to the 2.49 percent of visitors who arrive via search engines and the.59 percent who arrive via social media.