Emails to communicate effectively
Top 1% writers & subject matter experts

Assured quality through humans + AI editing

Fastest turnarounds at scale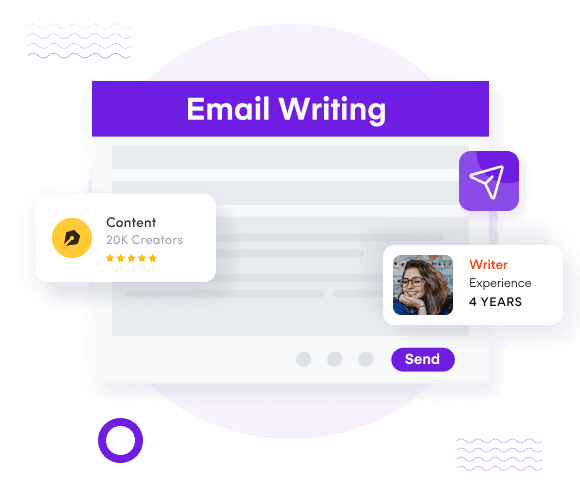 2500+ Businesses trust us with their content
Reach humans and not just inboxes with high open rates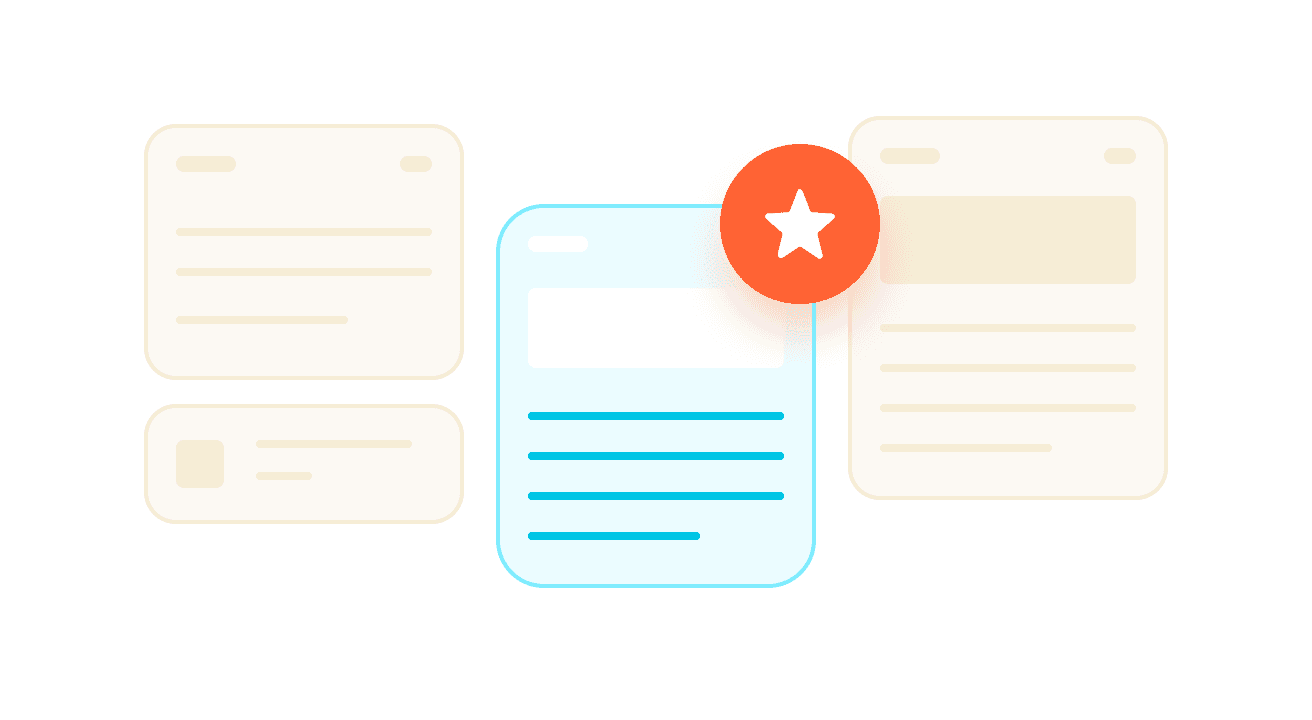 Engage & convert
Our creators deliver engaging email copy tailored for your target audience to drive conversions and increase ROI.
Compelling narrative
We believe in weaving a narrative across multiple emails to keep the audience hooked while delivering your message seamlessly.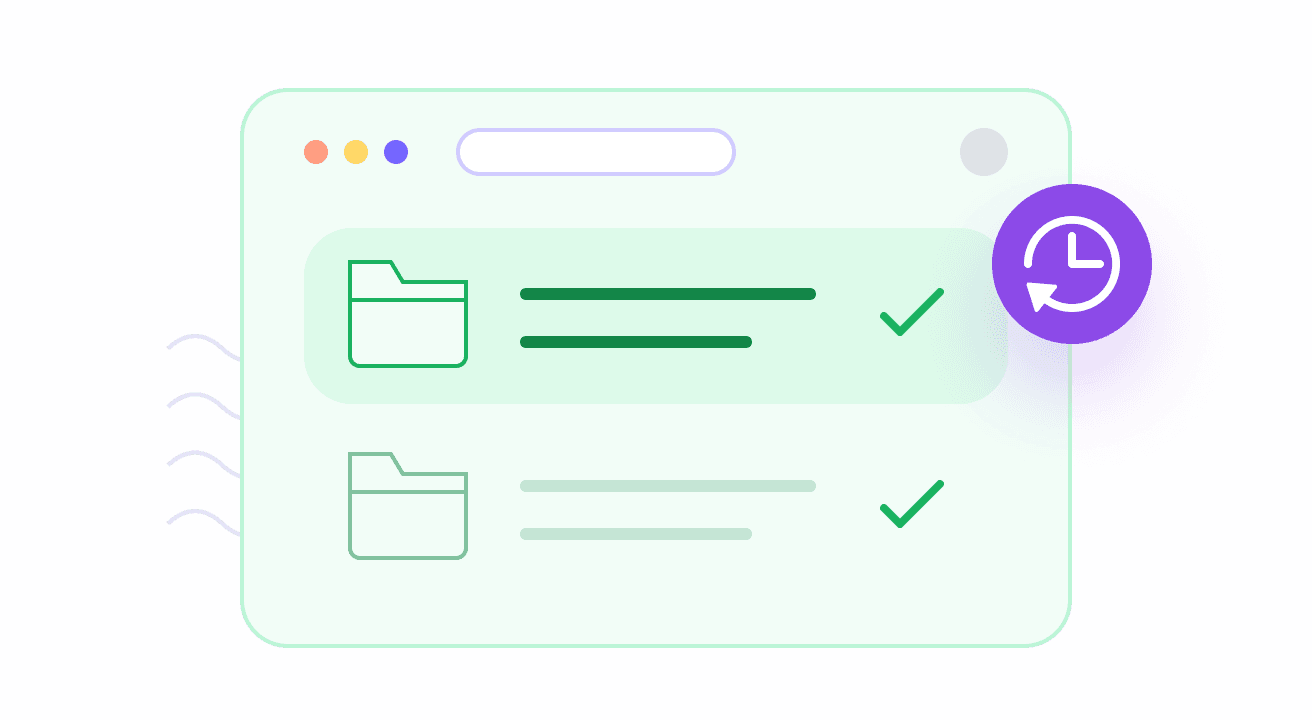 Grasping & crisp content
Our email writing experts understand the downsides of lengthy emails and create to-the-point emails that are simple yet crisp.
What do the numbers say?
200,000+
Content pieces delivered
100,000+
Professional content creators
2,500+
Satisfied Customers
60+
Unique services to choose from
Strategically tailored, professional, and conversational content for emails
1
We listen, we understand and we create
The platform begins by analyzing your requirements, the hook, and the target audience.
2
We assemble the best-fit writers
Our algorithms ensure the writer is briefed, readied, and launched into your project.
3
Track your progress on the Pepper dashboard
From commissioning to writing to delivery, you're kept in the loop at each and every stage.
Order your email copy in under 5 minutes
Excellent content that drives results
User-friendly platform
Get content delivered on time
Frequently Asked Questions
What are the benefits of a professional email writing service?
Email is an effective method of business communication, and you don't want to get it wrong. Professional writers are well-versed with email writing tips and can convey your message the right way.
Does your email writing service cover all subjects?
Yes, you can get email content on any subject with our email writing service. You can ask for a sample email if need be. Be it professional email writing or conversational, or informal, our writers write crisp, eye-catching emails.
Along with the email writing service, do you also provide email design services?
Yes, we are a one-stop solution for all your email requirements - be it email writing service or email design service.
Do you have expert email writers?
We rigorously review all creators before onboarding them and selectively onboard experts who can cater to your needs. When you choose our email writing service, we offer nothing but the best.
Will the email content be original?
We have a zero-tolerance policy for plagiarized content. Our editors use premium plagiarism detection software to ensure all your email writing pieces are completely original.
What if I don't like the email content?
We aspire to achieve the highest customer satisfaction with our email writing services and we show you relevant email writing examples before starting work. If you are not satisfied with the content we deliver, you can easily request a rework on the Pepper platform. We offer 2 free iterations on the final content piece.
When do I need to avail professional email writing services?
If you're someone who wants to grow their business and reach out to hundreds of people, you should avail the email writing service. Our email writers are well-versed with the best email writing tips. Our team of expert writers will handle your emails for you by writing, proofreading, and working on your emails while you focus on expanding your business.
Once I avail the email writing service, when will I receive the content?
The timeline depends on several factors like the length and number of copies. We carefully assess these factors and provide an estimated delivery time as soon as you opt for our email writing service. Our talented group of writers well-versed in email writing tips then dedicatedly prepares the highest quality email copies within the stipulated time frame. We deliver the final content before or on your requested date. But be rest assured, Pepper Content's platform is among the best email writing sites.
What if I want the email content in a regional language?
Our team of experienced writers is well-versed in many regional languages and can help you write emails in multiple languages. Check out our translation services.
Do expert email writers work for me when I choose your email writing service?
Yes, our hiring process includes a rigorous selection of creators from different areas of specialization who can cater to all kinds of content requirements. Our experienced team of email writers knows the best email writing tips. The email writing service we offer is constantly evaluated on strict criteria to maintain the quality of work.
Why 2500+ brands trust us with their content needs
Pepper content has been a cost-effective solution for us to get relevant original content in a timely manner. The team is nimble and has helped us churn quality content quickly that is not only engaging but also purposeful. Keep it up team!
Bharat Bhattad
Head of Digital Marketing
Pepper has been my man Friday for long now. Last-minute requests, difficult content requirements, unrealistic delivery expectations, and many such challenges but Pepper has always managed to pull a trick out of their hat and surprised me with near-perfect delivery.
Himanshu Tomar
Lead-Brand Marketing

I've always felt really pleased about Pepper Content's approach and their responsiveness – they were on the ball and knew what we were doing since day one. They have a system in place that makes it easy to report and track the progress – highly recommended!
Email writing services that attract customers and increase sales
You should avail Pepper's email writing service. Here's why-
With Pepper you get:
Expert email writers who know revenue-generating email writing tips.

High-quality emails with a fast turnaround

Crisp, to-the-point subject lines that grab attention

Emails in multiple regional languages as per your requirements
The main elements of an email
Interactive and engaging subject lines: The first email writing tip is to write creative yet crisp subject lines. It grabs attention and summarizes the email in a few words. A blank subject line is most likely to send your emails to "spam" and an inappropriate one sends it to "trash". In order to make the readers intrigued by your email, we write engaging subject lines that make them interesting and worth opening. Our email writing service takes into consideration all these factors.

Polite tone: One of the most common mistakes made in emails is not checking the tone before clicking on 'Send'. It's natural to get angry and send an email cursing and blaming the other person, but have you ever considered how it might sound when they read it? Imagine someone taping that email to your door. Would you want others to read it? Emails are formal and professional modes of communication and therefore need to be as mature and polite as possible. We always ensure to keep your emails as polite and humble as possible. Remember, what you send is what you receive. No jargon, no slang, emoticons only when relevant and appropriate. The emails you'll get after choosing our email writing service are end-to-end perfect.

Well-suited to your requirements: Is it a formal email for your boss to invite her to a meeting or an informal one, congratulating her on her engagement? The tone and formal email format change based on your requirement. We always ensure to keep the tone of the email as relevant and suitable as possible, without overstepping any boundaries.

Clear and concise messaging: With the reducing attention spans, emails need to be just about long enough to be read within a minute. An email longer than that would be more suitable as an attachment or a document. We ensure your emails are concise, to the point, and simultaneously convey the exact message it aims to convey. Email content writing service coupled with Pepper's ad copywriting service is the ultimate game. It sets the bar very high.

Proofreading: We're doing your work for you and that makes us extra cautious. Instead of only relying on spell checkers, we have a 4-step evaluation process for each email we write. After an advance spell check, the email is proofread by our expert team of writers, passed on to expert editors, and finally delivered to you. Pepper Content provides the best quality email writing services that ensure engagement and communication with your audience.

Attachments, if any: Instead of adding an attachment and forcing the reader to download and go through it, especially when it might not be relevant to them, it's best to copy-paste the most important part of the attachment and leave it to the reader to decide if they want to open it. This is the most actionable email writing tip. More importantly, people often forget to add an attachment after they've clearly specified in the email that they're adding one. This is a common mistake that's often taken for unprofessionalism. We always strive to ensure that our emails are fool-proof and have every element they need.
What do I need to do to get professional Email Writing services?
Share your expectations: If our approach fits your bill, please do reach out to us to share your requirements. Tell us what you expect from our email writing service. Our team will work with you on the deliverables, the deadlines, and the budget. We can also share some professional email writing examples to help you understand our writing better. In the brief you fill, you can also write a few email writing tips and tricks that you'd like us to follow.

Wait for the amazing copies coming your way: Once you have the deadline from us, you will receive the content accordingly. We are strict believers in timely deliveries.

Approve and proceed: Your approval is the final and most important stage of our writing process. It's only after you give it a heads-up that we'll proceed to transfer the content to your name and close the project. Once you choose our email writing service, we won't let you down.