Perfectly Timed & Accurate Subtitling Services
Convey your message to a global audience

Widest network of multilingual translators

Timely and affordable subtitling services
Subtitle your videos to boost watch time & engagement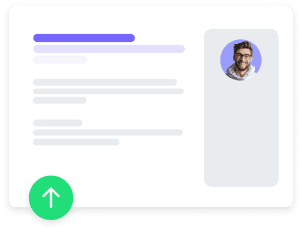 Makes Your Videos More Accessible
Help people with disabilities or those who speak a different language access your content. Increase the chances of your content going viral with subtitling.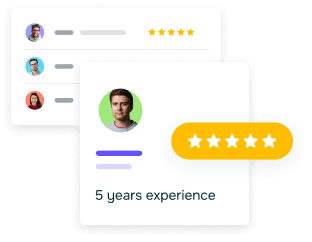 Improve Your Brand's SEO
Subtitling allows Google to show relevant content from your website to individuals searching the Internet in their local language.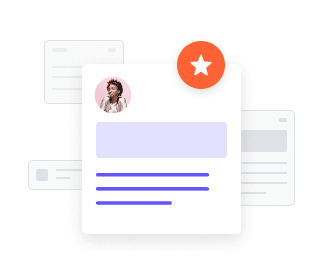 Help Viewers Comprehend & Learn Better
Subtitles help your audience better comprehend the content, while the visual aspect helps them retain it better. And if your videos help your viewers learn better, they are more likely to engage and share your content with their contacts.
Why choose Pepper for your blog?
150,000+
Content pieces delivered
2500+
Brands we have worked with
150K+
Strong creator network
How do we make subtitling easy?
Share your vision
Our platform will analyze your requirements and map out what exactly you need.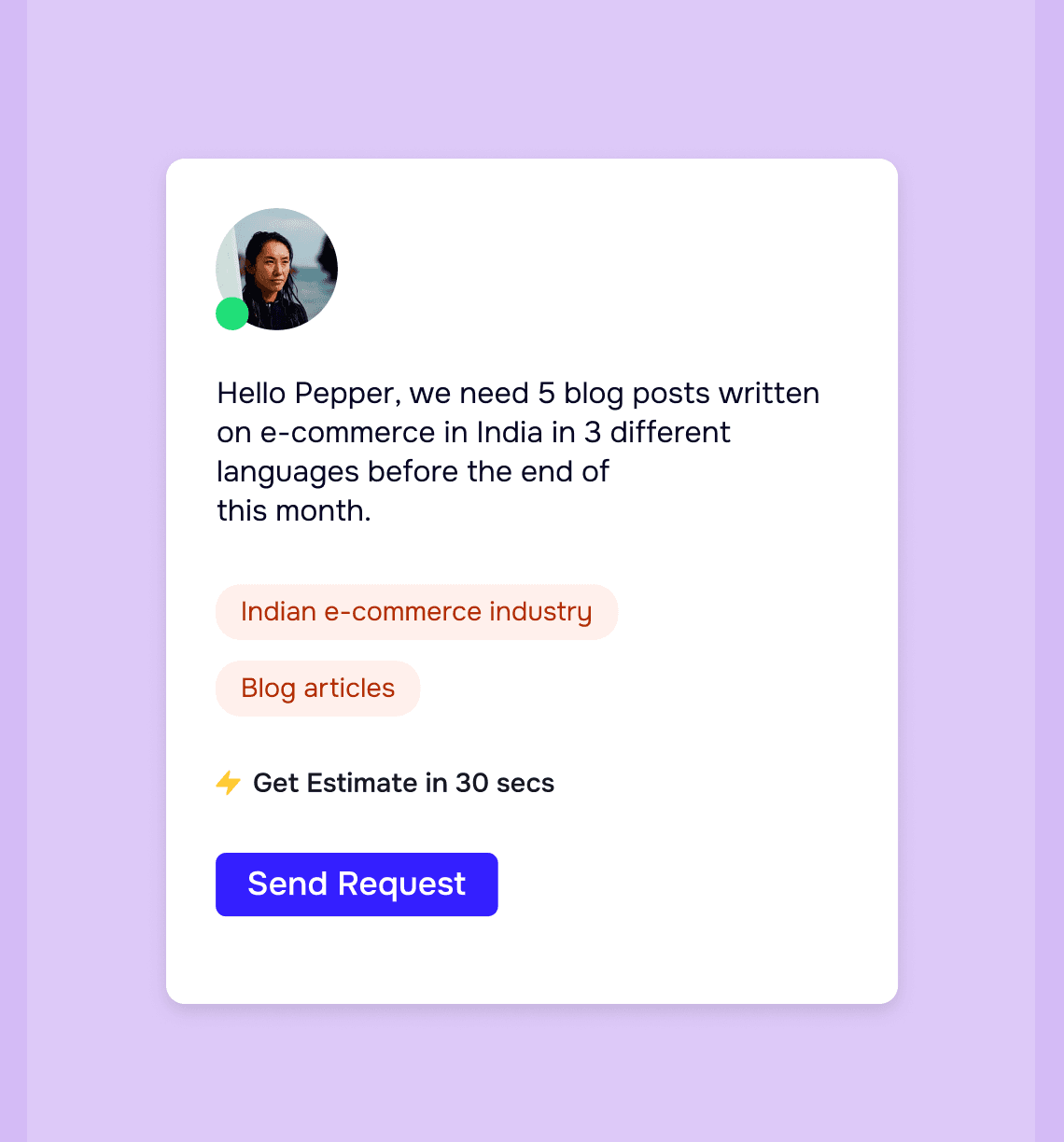 Our Translators Start Working
Our experienced translators will get to work on converting the video assets into your requested language.
Get the Subtitled Video
We work in a fast-paced environment to deliver relevant work in a stipulated time.
Get Subtitling with Pepper Content
Skilled and Quality Native Writers
Best-in-industry Pricing
AI Combined With Professional Subtitles
Frequently Asked Questions
1.
It incorporates text into audio and video content to transmit verbal communication messages in written form.
2.
What subtitling services do we provide?
We offer subtitling services for documentary subtitling, video subtitling, social media & website subtitles, broadcast subtitling, Vimeo and YouTube subtitles, online learning subtitles, promotion and advertising subtitles, and television and film subtitling.
3.
Is hiring professionals necessary for subtitle translation?
There's no substitute for a professional team working together to get the job done right. If you're looking for someone to write (or even research or design) subtitles for your movies and TV shows, then it makes sense to consider hiring professionals. At Pepper, we match the best subtitle translators with your projects, improving the quality of your products manyfold.
4.
Can I trust Pepper with the speed and quality of subtitle services?
We have selected the most efficient subtitle professionals who are aware of content urgency and deliver premium quality services within short deadlines
5.
Are subtitle services worth it?
Subtitle services are a great way to add subtitles to videos or audio. Subtitle services can improve your videos' search engine rankings, making them more relevant to your viewers. They can also help you grow your business by providing search engine-optimized subtitles for your content, which will help expand your audience without spending money on advertising. This clearly shows the worth of such services.
6.
When should I avail professional subtitle translation services?
Perhaps you're short on time and have to manage a lot of things. Perhaps you're concerned about the potential appearance or quality of service. In such instances, it's best to avail of professional services for subtitle translation. Our Pepper subtitle translators can make your workflow very easy.
7.
What are the benefits of subtitle writing?
Subtitle writing can be an incredibly powerful tool when it comes to marketing your product or business. If done well, it can encourage people to take action on something you care about. Subtitles can increase your video views by as much as 300%. They can help build an international following and give your videos more exposure.
8.
Why should marketers add subtitles to videos?
Video transcription has many benefits, including increased reach, better engagement and visibility, the opportunity to rank in search engines on local keywords, more brand visibility, and connecting with your targeted audience globally.
9.
What is the difference between subtitles and captions?
Both these are the text versions of the spoken dialogues. However, subtitles are translated into a different language, and captions are written in the same language as the audio.
10.
What is better, subtitling or dubbing?
Both dubbing and subtitling have their pros and cons. While subtitling is easier, dubbing can be more engaging for a target audience. Make the right choice depending on your time and budget.
See how businesses have transformed their content marketing