Marketing
Here's Why Email Marketing Is Still the Best Marketing Channel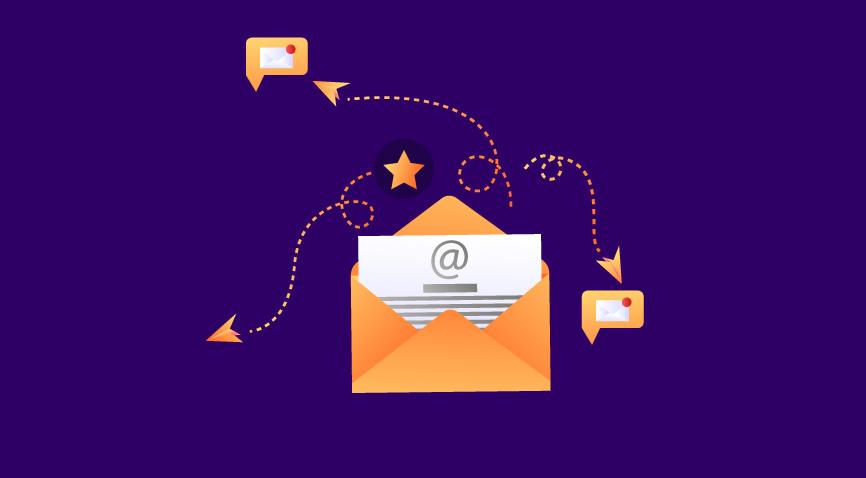 Digital marketers have many resources and tools available at their fingertips. They have social media, SEO, video marketing, and dozens of other ways to market their wares. But there is one channel that's been performing well all through — no surprises for guessing; it's email marketing.
Email Marketing – The King of Marketing Channel
Email marketing has been the most popular way of communication since 1993 i.e., ever since the popularity of the internet increased among the masses. But unlike other technologies which got replaced, email marketing is adapting to changing times. Hence, it is relevant even now for any business and digital marketers to use it to pull web traffic and keep customers engaged. Email marketing is called the king of marketing, and rightfully so. Want to know why? Read on…
Why Email Marketing is the Best
1. It is personalized
People are inundated with information and content that negatively impacts subscribers. Emails help have a personalized real-time experience based on the activity they perform on the app or website. Messages can be triggered based on previous history, purchases, abandonment, and more. It can also be used to send timely messages that are based on behaviour and interests. Here is an example of Flipkart trying to woo customers back after the cart is abandoned.
2. It is permission-based and focused on sending relevant information
Email marketing is a very personal way of communication. Only those who subscribe to the emails and notifications are sent communication. When a customer subscribes, it means they are interested in the business. This can then be used to send customized emails that can help in gaining prospective customers. Also, there is an option to unsubscribe which gives the users complete control. This is one of the most important benefits of e-marketing.
3. Helps in better conversions
One of the most important email marketing advantages is that it can increase sales and conversions because it is a great tool to help build better relationships with both new and existing customers. Email marketing, when used effectively, can be used to retarget the customers through customization and personalization. This especially works well on those who have switched brand loyalties or haven't made purchases recently. It can be used in all stages of the customer journey and helps in nurturing and caring for customers. This, in turn, leads to better conversions and sales. Want to know how? 'Email marketing tools' is the answer. It allows for tracking, monitoring of clicks, bounces, shares, etc., which can help in driving sales and conversions. Below is a sample chart of conversion rates based on email type:
It is pertinent to note that many factors like industry, email type, etc.,. can affect the conversion rate. However, with best practices, as per the above chart, conversion rates increase when companies send follow-up emails and abandoned cart emails.
Modern Email Marketing Trends
To make the most of email marketing, it is essential to be aware of the latest trends in the digital marketing world.
1. Minimum is the new maximum
With all brands focusing on emails, users are overwhelmed. To make it simple yet effective, ensure that your email that is short, clear, and precise. The focus should be more on the needs of customers rather than all that jazz. It should have optimal load time, communicate the right message, and focus on what's being promoted.
2. Segmentation and personalization
Instead of sending the same emails to everybody, developing different mail communications according to the focus group through segmentation can work in your favor. For instance, a business can send different emails to customers who have abandoned their carts, have completed the order, have sent positive reviews, etc.
3. Focus on mobile users
Move from desktop-based email marketing to mobile-based. Most people use their phones to read emails and also make purchases. Hence, emails have to be optimized for mobile devices so that they look good on phones as well. When messages are optimized for mobile, there is a better click-through rate as it delivers your brand message better and increases sales.
4. Use advanced data analytics
It helps in the better understanding of customer preferences and thereby paves the way for developing customized strategies. Activities like list cleansing can also be done better with the help of advanced analytics. Moreover, using advanced systems can enhance customer relationships with the brand as the end-user relates better. This also helps in running customer-oriented campaigns, which can boost sales.
Email Marketing vs. Social Media
Digital marketing is continuously evolving, and there are many ways to engage customers. However, as per stats, email marketing produces more clicks than all social media platforms (Twitter, Facebook, etc.) combined. Additionally, it is more cost-effective when compared to posting ads on social media. Moreover, since email marketing is permission-based, it is more effective for sales and conversions.
On the other hand, social media is popular among Baby Boomers, Gen X, and millennials. Thus, if these segments of customers have a positive experience, with your brand they are likely to share it with their friends and family. Both social media and email marketing have pros and cons and so, digital marketers, instead of negating one channel, should combine both. Social media serves the purpose of building a brand and reaching a bigger audience, while email marketing helps in driving sales. Combining both has many benefits.
The Future of Email Marketing
With email being the surest way to reach customers, here are some of the trends to look for in the coming few years:
1. Artificial intelligence (AI)
The use of AI can make the work of marketers easier. There is a lot of customer-related data and records that marketers have to study. The use of AI can help collate this data. AI can go through millions of records in no time and come up with user patterns and trends to plan effective email marketing.
2. Usage of user-generated content
Commonly used in social media marketing, user-generated content is expected to cross over to email marketing in the coming years. This is the usage of testimonials, comments, reviews, etc., from users of your brand. Using it in emails adds more value to your brand communication since it gives a human touch to the messages. It can also be used to gather data by asking users to send testimonials and comments.
3. Usage of predictive analysis
This is the use of machine learning, statistics, data models, etc., to predict events in the future. It can be leveraged by markets to come up with better campaigns and increase sales.
Automation in Email Marketing
Automation in email marketing is all about sending the right message at the right time. It is also used to perform everyday tasks like sending group emails, sorting through list segments, welcome emails, etc. Automating your email strategy can help increase customer engagement and also boost loyalty and retention. Businesses can also track responses using the right automation tools, create automatic drip campaigns, and provide offers and discounts strategically.
Email Marketing Tips
Segment the email list into different categories by grouping based on common attributes. This strategy can be made more effective by creating stories that are unique to the group.
Send personalized emails by anticipating the subscriber's needs instead of just addressing them by name. By sending personalized content, customers are more likely to take action.
Create subject lines and text that is compelling and engaging. Send the communication at the right time and optimize your preheader text for better reach.
Keep all the text concise and to the point. Highlight the benefits rather than the features as customers are more interested in what is in it for them. Also, perform a thorough spellcheck before hitting the send button.
Improve your email campaigns by split testing regularly. Base all decisions on data rather than instinct. Also, measure the results to know what works best.
The Five Best Email Marketing Service Providers
There are many email marketing services providers, but there are very few that can provide the best services.
Email marketing is still a force to reckon with even in this modern digital world, provided it is used to its full potential.
FAQs
1.

Why is email marketing still so important?
Email marketing still makes it to the content marketing mix of several brands because: 
1. It allows you to build relationships with leads, customers and previous customers
2. It's an opportunity to speak to clients directly 
3. It helps you reach customers at a time that is convenient for them. 
2. What are the 4 types of marketing emails?
The four types of popular email marketing campaigns include:
1. Email Newsletters
2. Acquisition Emails
3. Retention Emails
4. Promotional Emails
3. What is the ROI of email marketing?
Email marketing has the innate ability to provide an attractive return on investment to all sizes of businesses. According to a study conducted by eMarketer, the average email marketing ROI is 122%, which is at least four times higher than other digital marketing channels.