Email Marketing
Interactive Emails: The Crown Jewel of Your Email Marketing Strategy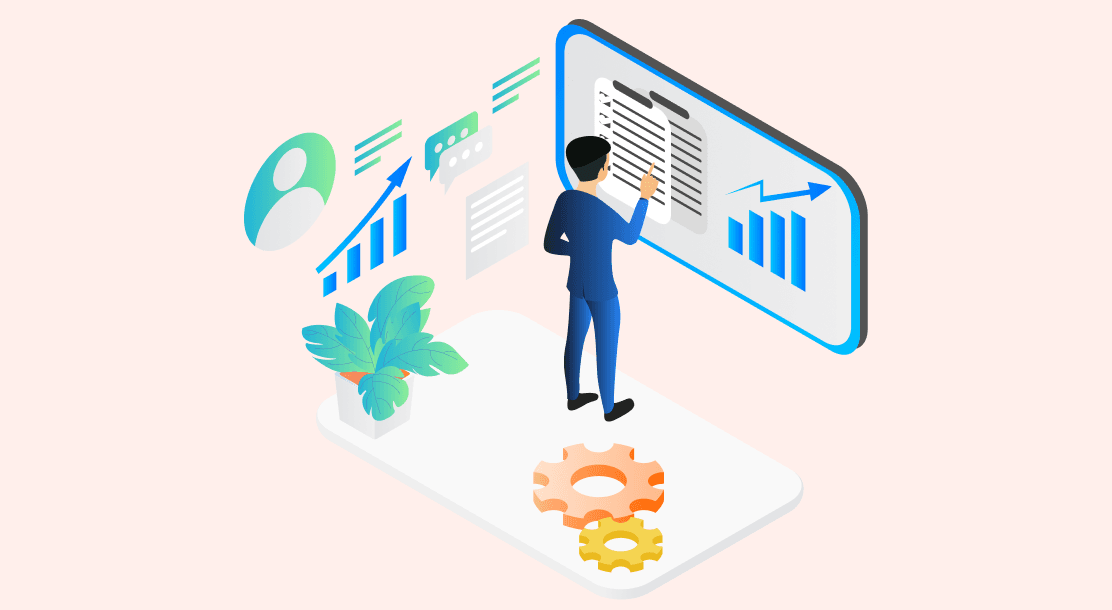 Check out the best interactive email designs to include in your email marketing strategy, and improve engagement and conversions.
Email marketing is evolving. And only those marketers who adapt their strategies to the current trends win in the email marketing game. One such trend to include in your email marketing strategy is interactive emails. Interactive emails have been the talk of the town for a while now, and smart marketers have capitalized on them to catch the reader's attention.
What Exactly Are Interactive Emails?
Interactive emails are emails that contain interactive elements, such as images, videos, carousels, and GIFS, and enable the reader to take some action. They are super-engaging and have proven to increase click-through rates (CTR) by 73%. In fact, just adding videos to email content can boost the CTR to 300%.
There are various ways in which you can add interactive elements to your email newsletter designs. If you want to improve your email marketing strategy, interactive emails should be a part of your game plan.
There are many types of interactive emails. Broadly, we can classify them into the following types.
1. Media
This type of interactive email mainly uses images, videos, and GIFs. The images can be static or in the form of carousels, and the video is embedded in the email.
2. Gamification
Gamification involves using interactive elements in the email to make the reader perform some action and provide a reward for it. Examples include scratch cards, spin-the-wheel contests, cues to tap on a specific area of the email to get a reward, etc.
3. Product-focused emails
This type of interactive email includes elements, such as shopping carts, product tours, or booking sections to enable the user to take action within the email itself. If you've ever received an email from Amazon showcasing your recently viewed products, then that's the type of email we're talking about.
4. Reviews, ratings, and surveys
Interactive emails with embedded survey forms, rating sections, and review columns are a great way to get information from the reader without making them put in too much effort. This is one of the interactive email newsletter designs that you should definitely consider for your email marketing strategy.
5. Countdowns
Countdowns in emails are an impressive way to nudge the reader to take immediate action without being too pushy. They work best for limited offers, new product launches, announcements, etc.
Uses of Interactive Emails
Every day, people are bombarded with emails. Using the same old email format that everyone else uses is bound to make your emails buried under a sea of unread emails in the user's inbox. Given the sundry benefits of interactive emails, it is no surprise that they're being widely adopted by email writing services as well.
Adding interactive elements to your email is like giving a personality to your text, which helps it stand out from the crowd. Here are a few benefits of using interactive emails:
It makes the email feel more personalized.
It increases engagement.
It improves conversions.
It attracts more responses.
Think about your own inbox. Which type of email would stand out for you? A simple text-based email that goes on and on about an exclusive discount or one that lets you scratch a card and win a discount code?
We rest our case and present you with some of the best examples of interactive emails that you should use in your email marketing strategy.
13 Best Examples of Interactive Emails
Here are the best email marketing designs that have interactive elements.
1. GIFs
GIFs help you communicate your message in a simple manner, without making the image overcrowded with text, images, or videos. They also make your email feel less robotic and more personalized.
Here's how Headspace used an animated GIF to offer a discount.
2. Gamification
Gamification helps the user interact with your email, and is the best way to increase engagement. You can use gamification in your emails for promoting offers, increasing the chances of a user taking a survey, or just for improving engagement.
Forever 21 used gamification to make people scratch a card and get personalized discounts.
3. Activities within the email
These types of interactive emails are designed in a way that the user can perform a range of activities right from the email itself. It helps make the email more fun, and retain engagement as well.
4. Reviews and ratings
Interactive emails are one of the best ways to get reviews and ratings for your product. For instance, Amazon uses the rating feature to quickly enable users to rate a product once it has been delivered. And since the design is so simple, users are most likely to complete the intended action.
Expedia goes a step further by also mentioning feedback options for users.
5. Countdowns
Countdowns in emails are a great way to compel the reader to take immediate action without sounding too sales. They work especially well for limited offers, new product launches, announcements, and more. Countdown emails also help build curiosity around your content, thereby making the reader want to know more. Consider the following example by Forever 21.
6. Product-focused emails
Inserting the "Add to Cart" option in emails works best for eCommerce sites, wherein you can send recently viewed or wishlist items by the customer. This method helps create a sense of fear of missing out (FOMO), and your customer may buy the item right after viewing the reminder.
Tu Clothing uses this method to share recently viewed items and enable the user to start shopping from the email itself.
7. Rewards
Rewards provide users with an incentive to complete the action. This email marketing strategy also helps build a loyal customer base. Interactive elements, such as animation, can be paired with rewards to nudge the user to take action. Case in point: the following interactive email example by Fundbox.
8. Personalized calculators
Personalized calculators in emails can be used for sharing website scores, credit scores, investment maturity amounts, etc. They don't just improve engagement, but can also be a valuable tool for the user.
9. Product variations
You can use interactive elements, such as simple animation, to showcase different variants of the same product. With a simple tap, the user can check them out.
10. Quizzes
Almost everyone loves quizzes! They are one of the best ways to get information from users and engage them in a fun and exciting manner.
11. Image carousels
Image helps you show multiple images without them occupying too much space. It's a clean way to showcase your products or features without overwhelming the user. These are especially useful when you have a range of products to talk about and are unable to decide on one. The following interactive email is a stunning example of this technique.
12. Videos
Who doesn't love videos? Videos are personal and engaging and are one of the easiest ways to grasp information. Video content is especially advantageous in email marketing, as it leads to better open as well as click-through rates.
13. Feedback
Marketers have had a long-term love-and-hate relationship with client feedback. And if you're a smart marketer, then you won't miss any chance of getting feedback. One way to get feedback effortlessly is to include feedback or survey forms in your interactive email design and let the magic unfold.
Interactive emails can be a great addition to your email marketing strategy and are essential for all new-age marketers. As discussed above, you can add a whole range of interactive elements to your email, including images, videos, GIFs, quizzes, questionnaires, and games.
Key Takeaways
Interactive elements help make your email personalized and improve engagement, lead generation, and conversions.
However, tread carefully and use only those interactive elements that are essential for your email marketing strategy. Too many elements can overwhelm the user.
The email marketing strategy examples provided in this blog will help you understand the different ways in which interactive email newsletter designs can be used.
FAQs
1. What are interactive emails?
Interactive emails are emails that contain interactive elements, such as images, videos, carousels, GIFs, and more. Readers mostly engage with the content by watching, swiping, or tapping. Interactive emails are a fun way of retaining the audience's attention.
2. What are interactive features?
Interactive features include all the elements that make an email interactive. 

3. How do interactive emails work?
Interactive emails allow users to perform an action directly from the email, without leaving the email or being redirected to another website. The action could include watching a video or a GIF, playing a game, tapping somewhere, filling out a form, participating in a quiz, etc.
4. How do I make a newsletter more interactive?
To make an email newsletter more interactive, include elements, such as moving images, videos, countdowns, quizzes, and carousels in your email. You can also take references from the best interactive emails
5. Does Gmail support interactive emails?
Yes, Gmail supports emails with interactive elements. It also supports dynamic emails.