Content
Best Blog Examples: Exploring the Anatomy of a Great Blog Post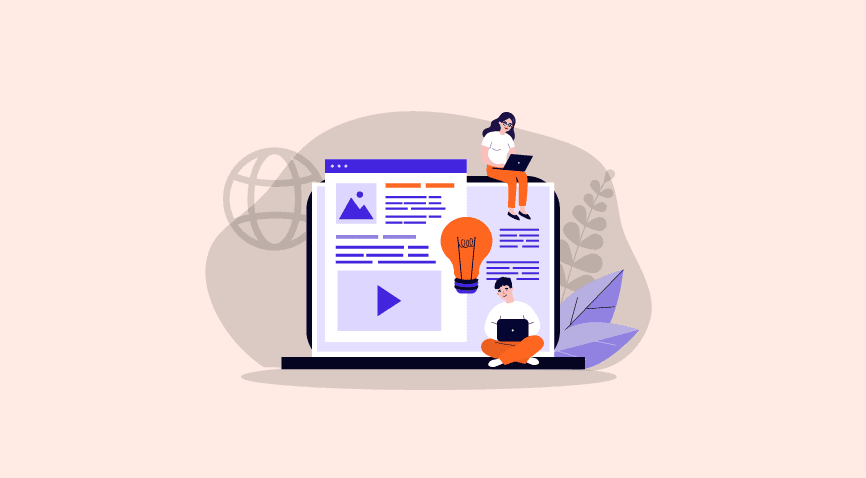 Table of Contents
Creating the Best Blog Example: Top Blog Writing Tips of 2022
How to write a great blog in 2022
Key Takeaways
Conclusion
FAQs
Writing the perfect blog post is no easy chore. It requires creativity, strategy, and planning. As you become a seasoned writer, you can tweak the recipe according to what you feel is right or wrong. Still, as a beginner, it becomes imperative that you follow some blog writing tips taken from the best blog examples to create and enhance the potential of your blog.
Now, that being said, following this anatomy of a good blog post is not compulsory. But understanding its elements and implementing them will help you create something that will entice your audience and is worth reading. So, sit back and relax and learn all about how to write a good blog post.
Creating the Best Blog Example: Top Blog Writing Tips of 2022
There are a few essential elements that make a blog stand out. In this guide, we will look at some of the factors and blog writing tips from the best blog examples to optimize and curate a good blog post.
1. The headline is important
One might think, what's there in a headline? But my friend, the headline is what will first hook your audience. Now, let's say you are looking for blogs on how to write an impeccable headline. The first one reads, 'How To Write Headline' while the second reads, 'How To Write Powerful Headlines Your Audience Will Love.' It is most likely that you will choose the second blog.
A perfect blog post has attention-grabbing headlines to hook the reader. Headlines are powerful when done right! They are the first words your audience will read. A headline can compel your audience to open your blog post and start reading. Now, you cannot have headlines that are too long or too short. A good blog writing tip is to keep the headline 7-13 words long. Four critical factors you must remember while curating a headline are:
Understand your target audience as that sets the tone for your headline. For instance, if you are covering entertainment, you can add a dash of humor to your headline, but you don't have that liberty if you are writing about something serious.
Your headline should hold a promise of something that your audience wants. It must be something that will be of use. You can induce curiosity or intrigue too. But don't make a false promise, as you will lose the credibility of your blog.
Never be vague. Your headline should let your audience know what the blog is about.
Include a keyword you are targeting in your headline to help you rank better.
2. Meta description of your blog
A meta description is an HTML component that summarizes your blog. Your metadata ideally shouldn't be more than 155 characters. A good blog writing tip is to add keywords to the meta description to make it more SEO-friendly.
The meta description appears below the headline on the search engine. So, when your audience reads the report, it must make them want to read your blog. Therefore, good blog posts keep their meta descriptions concise.
Some tips for writing metadata from the best blog examples are:
Write down what makes the blog stand out and why someone must give it a read.
Write in simple language and keep it attractive.
Don't use quotation marks or any special symbol in the meta description.
3. The introductory paragraph
Once the headline is out of the way, what's the first thing your audience will read? That's the introductory or the first paragraph of your blog. It is an essential part of any blog. It should not only hook your audience right from the start, but it should also set you up for the article's structure while giving your audience an idea about the tone and the content of the blog.
According to the perfect blog post examples, the main goals of your introductory paragraph should be to:
Attract your audience and catch their attention
Give a slight background about the topic
Give a sense of what your blog is all about
For instance, let's say you are writing a blog about the importance of social media for businesses. The blog post's point is to get people excited about social media. Your audience doesn't have an account on the platform or doesn't use it often. So, starting with the statistics, like "71% of consumers who have had a positive experience with a brand on social media are likely to recommend the brand to their friends and family," can be helpful as it generates a sense of curiosity.
4. Sub-Heading Of Your Blog
Sub-headers are not only necessary when you look at them from an SEO perspective, but it also makes them easy to read and understand. A good blog post example contains subheadings, as people who are not into reading will also go through the subheadings and absorb the necessary information. A blog writing tip to make the content SEO friendly is to use subheadings to break your blog into different segments, making it easier for search engines to understand all the topics you will cover. Use keywords in your subheadings if possible.
When it comes to the subheading, it should make sense. Some good practices according to the best blog examples are:
Keep it simple: Either give a gist of what you are going to write below or induce humor so that your audience will understand.
Don't keep your subheading more than ten words. It should be short and crisp.
5. The Body Of Your Blog
The next step in the recipe for writing a good blog post is the body of your article. It is, of course, an essential part as that's what your audience will read. Make sure your reader is hooked till the end. Make sure you structure it properly. One of the best blog writing tips to achieve this is to come up with an article outline to ensure your article is structured well.
According to the best blog post examples, a blog post should be anywhere between 500-2500 words. However, according to HubSpot analysis, the ideal blog length is 2100 words. While according to Medium, the perfect length of an article should be something that takes about seven minutes to read. Now, it is not compulsory to follow them. If what you are doing works well for you, you can experiment here and there, but it is ideal for sticking to that method. Finally, the last blog writing tip for the body of the article is to keep it simple. Don't include so much jargon that your reader gets fed up. A couple of words would do, but not everyone is sitting with a dictionary to see the meaning of every other word.
6. Include data and statistics
Ask yourself, why would someone read whatever that's been written by you? Because you offer credibility. To take that credibility a notch higher, include data and statistics wherever it is relevant. A blog writing tip here is to use numbers when presenting statistics or data as it is known to attract your audience more. For instance, write 32 in numbers instead of words if you have to say thirty-two. However, always quote a credible source. Cross-check and refer to multiple sources before including them in your blog. Good blog posts focus on credibility as a blog post backed by data is always more attractive and seems more trustworthy. But, that being said, don't fill your content with statistics. Use it where it is necessary.
7. Visuals and pictures
If you are wondering what can make your content more attractive? It is visuals. You need a colorful element to support what you have written. It can be pictures, infographics, and more. First, you need a featured image. This shows on top of your blog post. This picture should relate to whatever is written below. Let's say you are writing an entertainment post, reviewing a movie. You will use that movie poster as your feature image. If you are doing journal-style blogs, it is okay to skip the feature images. You can also use a couple of pictures throughout the blog to make it more enticing. However, when you are using featured images, make sure you opt for the right dimensions of the images. For instance, for Facebook, the dimensions are 1200 X 628. So, you must use the exact dimensions.
Here are some blogging tips on what you should use for your feature images?
You can use a tagline with the feature image, but don't overload your image with words.
You can include your brand's logo.
You can merge two or more images and create a collage.
8. Writing your conclusion
Once you are done with the blog, you must wrap up properly. The conclusion is an integral part of a perfect blog post. It is a good blogging practice to leave your audience with memorable parting words. You don't have to keep it very lengthy, and even a couple of words will do. You can also end your blog with links to other blog posts or your social media handles to ensure your audience can directly interact with you.
9. Call-To-Action
The main point of writing a blog, apart from spreading information, is to market your product or service. So, adding a CTA or a call-to-action button to your blog becomes essential.
A perfect blog post has a clear CTA. It should be precise and to the point. Also, you mustn't overload your content with CTAs. Your blog will lose its credibility and look like a marketing gimmick.
Some tips from the best blog examples of call-to-action are:
Read more blogs
Sign-up for monthly newsletter
Follow us on Instagram
Share on social media
Book your free trial today
10. Have A Fool-proof Link Strategy
To make sure your post reaches your target audience. A good blog post will generally have a couple of links to other relevant blogs or statistics. When you link the necessary articles, it sends a positive message to SEO. While internal links mean linking your content pertinent to the blog post you are writing. Now, there is no perfect number when it comes to link strategy. Just keep it simple and don't go overboard.
These were the steps on how to write a great blog post. Now that you are clear with the anatomy let's follow the latest blogging writing tips and trends.
How to Write a Great Blog Post in 2022
Blogging is an art where practice can make you perfect. But, there is no harm in educating yourself with the latest blog writing tips and tricks to ensure your blog makes the necessary impact.
1. Don't write without proper research
When you start writing, don't do it just for the sake of writing. Back your blog post with proper research to make sure the content you are publishing is credible and worth reading. Don't stick to one single source. Instead, browse through multiple sources and then write. A perfect blog post is well-researched and adequately enhanced with keywords.
2. Set realistic goals
You probably have an end goal now that you have started or are about to start writing blog posts. Maybe it is to generate leads or gain more followers; well, it can be anything. So, set weekly or monthly goals to achieve your end goal. For instance, there are goals for everything, from page views to how much money you make off blogging. However, make sure your goals are trackable and always start small. Also, try to go through as many good blog post examples as possible. It will give you an idea of ongoing trends.
3. Think beyond your interests
One of the mistakes we generally end up making while writing blog posts is that we tend to pick topics we like. But, you are not writing for yourself but your audience. So, when you choose a topic, it should resonate with your readers. Do proper research and see what you are planning to write about your audience wants. A blog writing tip is to use tools available that can help you with such research, like SEMRush or UberSuggest. Use them and come up with ideas that your readers are looking for. A successful blog demands consistency. If you are running out of content ideas, try using Peppertype.ai. It is brought to you by Pepper Content. Peppertype is an instant content generator that is powered by artificial intelligence. It will help you to maintain consistency.
4. Write like you are communicating
Blogs are all about fun. There must be direct communication between the author and the audience. If you are too stiff in your writing, your audience will lose interest because they are not here to read a term paper. Instead, make it fun. Add humor in between if your niche permits you to. But write like you are talking to your readers. It works. Give it a try.
5. Interact with your audience
A good blogging tip is interacting with your audience in the comments section. A perfect blog post keeps them engaged beyond your blog. Why? Because it makes them feel appreciated. After all, they are taking the time to read your blog. In turn, you can respond to their comments as a thank you!
6. Don't forget your old blogs
Maybe you have a schedule where you publish one blog daily or weekly, and that's great. Consistency is an absolute must. But, dedicate time to revamp your old blog posts too. It is great from an SEO point of view too. Updating content regularly also maintains the quality of the blogs. Don't let your old blogs go stale. Give them a makeover once in a while. It helps.
7. Understand your audience
This blog writing tip is evergreen because you are writing for your audience. So, if you haven't defined your audience yet, you don't have a set target group, and without knowing for whom, you are writing, curating content can become difficult.
Let's say you are writing about Type 2 diabetes. Now, this condition is common in people above the age of 50. So, if you include slang and teenage humor in your blog, your target audience will not give it a read, and you have wasted your time, money, and energy. Therefore, define your audience first.
Some tips that can help you define your ideal candidate include the following questions. Answering these questions can help you narrow down your target group.
How do they dress?
What is their education?
Where do they live?
What do they do?
How much money do they make?
What are their interests and hobbies?
How is your persona's health?
How do they take care of their well-being?
What makes them annoyed?
What are their political and religious views?
What type of products has your persona purchased in the past?
These are just a few questions. You can come up with a lot more to build your target audience. A perfect blog post always has relevant content for its target audience.
8. Write SEO friendly blogs
Writing SEO-friendly blogs can help you rank higher and reach your audience quickly. Some of the easy tips to curate SEO friendly content is;
Do proper keyword research and don't use one keyword more than twice
Never fill your content with keywords as it can deteriorate the quality of your content, but place them strategically
Optimize your content according to the featured snippets
You are writing for humans, so write accordingly, and just because you want a better ranking don't lessen the quality
Your meta description and headline should contain keywords too
Add alt text to all your images
When it comes to link building, use only high-quality websites
A good headline is necessary as a lousy headline can hurt you in SERP
Wrapping up, now you not only know the anatomy of great blog posts but are also informed about the tips to write a great blog post in 2022. Currently, there is nothing that's stopping you from curating the best blog post of your life. Go on, give it a try.
Key Takeaways
To write a good blog post, pay attention to the headline and introductory paragraph. These are the first things that a reader notices about your blog. Try to personalize them as much as possible.
Another tip for writing a good, SEO-friendly blog post is to note the meta description, image title tags, and alt descriptions. Try to include keywords in these areas to increase visibility.
The best blog post examples have data and statistics. It shows that they have conducted in-depth research to reach their derivatives. Customers are more likely to trust them.
A perfect blog post contains high-quality images and videos. They are popular with the audience as they are exciting and engaging. They hold their audience's attention for a long time.
A good blog post has a clear structure, the introduction, the body, the conclusion, and a call to action. A call-to-action is crucial for a blog post as it determines a subscriber's next course of action.
A perfect blog post also contains external and internal links to help increase visibility and grow your audience.
To write a good blog post, constantly research well. Write meaningful content that will be of interest to your readers.
Another tip to note when crafting the perfect blog post is to interact with your audience. The content should not put one to sleep. It should prompt their next course of action in the marketing funnel.
Conclusion
A perfect blog post has a distinct structure, a clear call to action, and meaningful content. If your blog post does not provide any value to your audience, does not educate them about your services, does not address their pain points, it would be futile. You will not yield many conversions with sub-standard, watery content. Focus on content relevance and utilizing distribution channels to send them to your intended audience.
FAQs
1. What are the four most popular blog post types?
The four most commonly used blog types include personal blogs, affiliate blogs, niche, and business blogs. They all have a similar structure but must be optimized as per your goal and target audience. The perfect blog posts have a clear design, a distinct CTA, and meaningful content.
2. What is the best way to research for a blog?
When writing a blog for SEO, it is essential to follow a few guidelines while researching. For one, identify keywords that have a high search volume with the help of keyword research tools. In addition, you should check out the high-ranking blogs of your competitors and understand what they are getting right. Finally, decide on a topic and formulate a strategic headline. When crafting the perfect blog post, a tip to note is not to stuff it with keywords. It will reduce readability.
3. How to find suitable blog topics?
You can find suitable content ideas using social media platforms like Quora, Twitter, or Reddit. These platforms will help you understand the trending topics in your industry, around which you can formulate your content. Further, you can use keyword research tools to find new content topics. In addition, keep up with the latest buzz-worthy news in your industry that has intrigued the audience and write the best blog posts on them.
4. What is the best way to promote your blog?
Merely writing a blog and relying on search engine bots to discover and crawl it isn't enough. You must actively promote the blog, and social media is one of the best ways. You can start by consistently sharing your blog post examples across popular social media platforms. Make sure you make them visually appealing and precise to attract audiences on the media. In addition, you can join industry forums and social communities to promote your blogs.
5. How to make your blogs more appealing?
We have already told you all about writing a good blog post. However, it is essential to make your blogs appealing, and the best way to do that is to post different content types. Explore the other options out there, from listicles to infographics. Besides, always include images and stick to a user-friendly tone.
6. What are some advantages of blogging?
Blogging is one of the most effective and cost-efficient ways to promote your content and connect with your target audience. Once you learn how to write a good blog post, you can actively engage your followers and generate organic traffic for your website.
7. How to name your blog?
Pick any best blog post example, and you will realize they have one thing in common — catchy blog names. You can use humor, puns, or alliteration to stand out among readers. Alternatively, you can use words relevant to your niche or develop new names that sound appealing and unique.