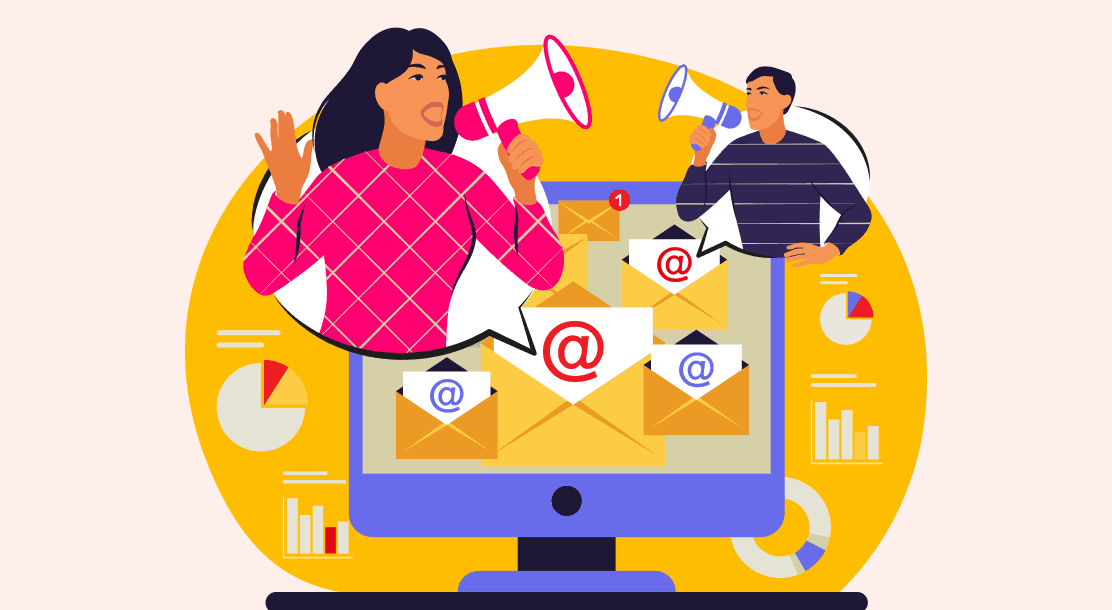 The email design trends for marketing in 2022 are already starting to take shape. And much of it is about being creative and making sure your emails stand out.
Email marketing is, by design, a static format. Usual email design trends dictate that the format you see in your emails is a logo at the top, some text in the center, and a CTA button at the bottom. Email marketing is useful for direct communication with customers and clients.
Emails are still a major tool to advertise products and services or send newsletters, product updates, and even tips about the business.
With more people reading their emails on the go, email marketers must tailor their messages for smaller screens. In a world of bright imagery, screen glare, and information overload, you are always looking for new ways to cut through the noise and reach your audience in different ways.
Some emerging email design trends are inspired by the rise of responsive web design, while others are consumer-driven demands for better email experiences. We will explore the latest email marketing design trends and how you can take advantage of them in this article.
10 Design Trends in Email Marketing
You have different elements to play around with the layout, color schemes, and other interactive features to make your emails more creative or unique. Knowing which one is more effective and relevant for you is important. Let us explore the top ten email design trends that you can use right now in digital marketing.
1. Neon is on
Color is a significant element of email design to impact the success of your campaigns. Trends in color change all the time, so it is good to know what is hot this year.
Neon and neon gradients are another most popular email design trend at present. Neon headers or backgrounds are excellent for creating eye-catching, outstanding email designs. You can uplift your email design with a combination of one or two bright and brilliant hues like magenta, yellow, parrot green, and blue.
Another email marketing design trend is the monochromatic color scheme that gives a cohesive look and tone to your emails by pairing different shades of one hue.
This trend is favored because it is clean and clutter-free, which keeps your content looking fresh and elegant.
2. Dark is the new light
The dark theme or dark mode, for example, is one of the hottest trends that is taking over the website and app, and now we've been seeing lots of dark-themed emails coming through our inboxes, too.
Using dark themes can create a sense of exclusivity and intrigue that makes your subscribers feel like they are part of something bigger than themselves.
It is a remarkable email design trend to make your message stand out from the crowd. The dark interface uses white text on a black background instead of black text on a white background to reduce screen glare and conserve battery power.
Accustomed to the lightness and airiness of white interfaces, users are increasingly switching to dark design. Dark mode, dark theme, night mode – whatever you want to call it, we've seen this trend pop up on every platform from Slack to Twitter to macOS settings to Microsoft Word. And now we are starting to see it more in email marketing design trends.
3. Animate to dominate
They say a picture is worth a thousand words. The same is true for animated images picking up as a popular email marketing design trend.
A moving image can do the job of several paragraphs of text and keep the reader engaged. GIFs are a great way to add movement and life, thus immediately capturing attention by adding a focal point. It makes the email instantly more engaging.
According to Experian Marketing Services, the frequency of animated GIFs in email marketing has increased by 130% year over year. Emails with GIFs have a higher click-through rate than those without: 4.43% versus 2.94%, respectively. It is crucial to know the placement of GIFs for maximum effect in email marketing.
For example:
Imagine you are a travel company wanting to showcase your top destinations. You can easily create an animated GIF that shows each location in turn. It invokes emotions in the recipient about experiences and memories they can create being at each place at once.
GIFs also make the email easier to skim because most people quickly scan their inboxes before deciding what is worth clicking.
4. Interactive is effective
The email marketing design trends are evolving at a rapid pace. It has adopted many digital trends from other fields, such as gaming or web design.
Interactive design is one such trend that has recently made its way into the world of email marketing. Brands now use dynamic interactive features such as countdown timers, sliding images, CTAs, and quizzes to delight subscribers.
Interactivity lets you break away from the typical passive experience of just reading the content of an email. It encourages people to engage with your brand on a deeper level by allowing them to play, click, roll over, swipe, drag, and drop within your email.
5. Illustration is narration
For the past few decades, illustrations have been gaining popularity in the digital world. This year will be a watershed moment for illustrations to blaze email marketing design trends.
Images have been used for quite some time by email marketers now to bring about customer engagement, but with illustrations, you can expect much more.
Recently, Unbounce conducted a study where they found that emails with illustrations got 50% more open than those without any. You can utilize illustrative email design for story-telling and take it to the next level.
The main aim of using an illustration is to clarify or decorate a story, data, or piece of textual information. They can also be used for creating a more personalized newsletter, adding personality to your brand or service, and engaging your subscribers in creative ways.
They are like a breath of fresh air that can rejuvenate your email marketing strategy and make it stand out from the competition. Illustrations add some emotion to your emails, which increases the readability of your emails.
6. Vintage is yet to age
The vintage design has become a hot email design trend in recent times. You can use this effect to provide a retro feel to your email designs. For this, you need to create an image with broken textures, a white border, and fade-out edges. These effects can make your design look more attractive and impressive.
You can create the vintage design effect for email marketing using various techniques like photo filters and clipart. You can convert any image into an old-time-style photograph or the charm of an old newspaper by adding a text overlay effect or by adding a border along with the necessary effects. A good idea would be to combine these effects with a few other elements of your creation.
7. Personalize. Personalize. Personalize
It's crucial that you send personalized emails to your customers. We are not talking about sharing personalized coupons, gift cards, or offers on birthdays, anniversaries, and other special occasions. That is a fundamental email design trend in the industry.
Your email must engage your customer with pertinent information for a successful email design in 2022. Employ data analytics to present attractive statistics about their behavior, purchasing habits, interests, and interaction with your business.
For example, Kindle sends statistics about how many hours, weeks, books you have read, recent books on topics of your interest, leading you back to kindle to read more.
8. Maximize rather minimize
Maximalism is the latest email design trend in digital marketing. It is all about sharing more information and giving more design elements a chance to be used in a single email. But it is not about writing more texts; it is about adding more visuals and giving more options.
So, for example, if you are marketing for a fashion eCommerce brand, add no less than three images of the latest styles you are offering. Similarly, if you are looking forward to promoting a webinar, consider adding the values and benefits your customer will receive.
9. Object the subject
A well-designed and formatted subject line can drive more opens and click-throughs, so learn the mastery to craft the perfect subject line.
You can readily scroll your email inbox to observe that brands like Amazon write their subject lines in title cases. Title case helps to increase your open rates by nearly 20%. These subject lines are neither too short nor too long. Furthermore, Flipkart uses emojis to stick out in an inbox full of boring text.
Another upcoming email design trend that will pick up soon in 2022 is text effects in the subject line. You can highlight subject lines using italics, bold display fonts, and dual-tone colors to improve your email design.
The best subject lines are concise (between 6 and 10 words) and descriptive (convey the subject in the email). They also contain an element of urgency or interest (e.g., Limited time only or Exclusive deal).
10. Emojis for kinesis
The use of emojis has been on the rise in recent years. It is a popular email design trend that has spread to email marketing and will probably continue to rise in the future.
Emojis are a routine in informal communication between friends and family members. Some businesses use emojis more often than others, such as digital marketing and social media companies. Many are still reluctant to use emojis for business communication for fear of being perceived as unprofessional or immature.
In fact, according to a recent report by Retention Science, emails that include emojis have higher unique open rates than those that do not (48% vs. 21%) and are more likely to be shared (5x more likely to be forwarded).
Emojis can help you establish your brand's personality if used appropriately in subject lines and campaign design. You come across as more friendly and relatable to your customers by using emojis.
Key Takeaways
The latest email design trends suggest that you focus on increasing engagement with your subscribers.
It means designing interactive emails that make your recipients interact with your brand.
Interactive features include countdowns, timers, and forms to improve customer engagement.
Neon colors as a header, background, or overlay text will dominate your email design space this year.
Inspired by the latest web designs, fluid layouts with flexible grids are common in email designs.
The use of animation and illustrations in email design is another trend that has picked up fast.
Another design trend in email marketing is a user-focused approach through increased personalization of information and data.
Creating a Jaw-Dropping Email Design
Email marketing is the most effective form of digital marketing, and with the right strategy, it still can be a powerful driver of customer acquisition, retention, and conversion.
To make your emails more appealing to customers this year, you need to design them to meet their needs and expectations. While many trends in email marketing come and go, some design trends are here to stay.
The latest design trend in email marketing is to stop thinking of it as marketing and think of it as a design problem. You must no longer focus on what your customers want to say but instead, put yourself in the shoes of your audience and ask, 'What do they want to hear?'
Recent email design trend in digital marketing includes interactive, bold, fluid, and engaging layouts. Interactive email features such as GIFs, sliders, and quizzes that increase engagement rates are trending. You can take help and inspiration from the trends mentioned above in email design for your next marketing campaign.
FAQs
1. What are the latest email design trends?
Interactive designs using GIFs, countdown timers, and interactive CTA buttons are recent email marketing trends.

2. What is the future of email marketing?
It is one of the best methods of customer interaction and engagement. The future of email marketing will be about personalization, interactivity, and automation.

3. Which color palettes are best for the email design of a design agency?
The choice of colors should be as consistent as possible with the overall brand image of your company.

4. How do you design an email?
To create an effective email design, start with a simple wireframe based on objectives. Then create a rough layout with white space (or negative space), pick an appropriate template, set up an attractive theme for your email, select a suitable color pallet, write appropriate ad copy, and insert a relevant image as per your need.
5. How do I create an email marketing template?
You can get an email marketing template from drag and drop editors like Beefree, Mailchimp, or ReallyGoodEmails.