Marketing
7 Sales Email Tips For a Successful Emailer Campaign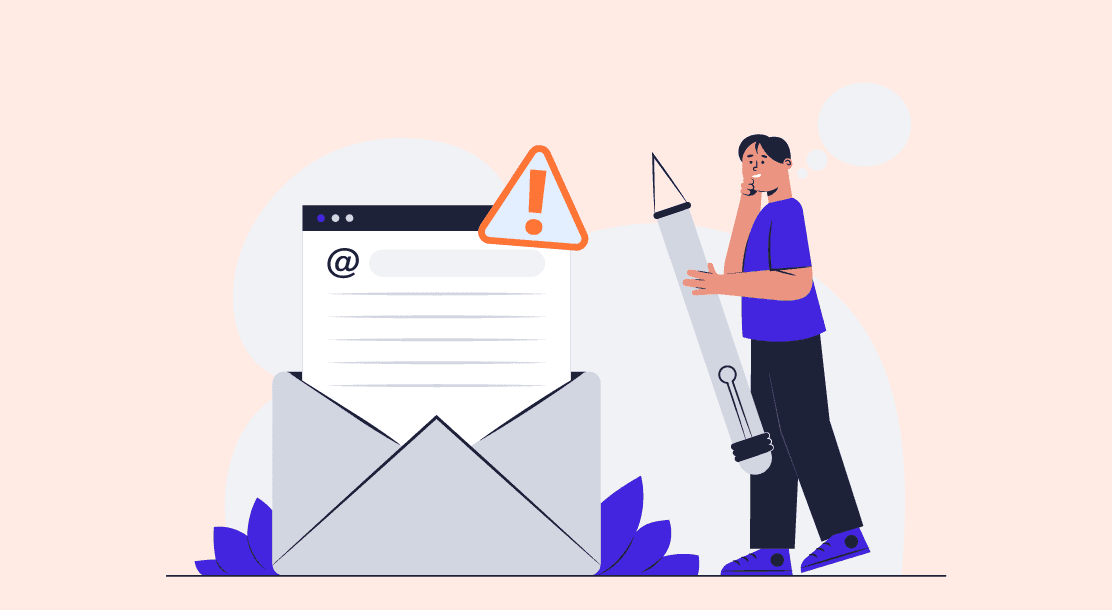 This blog addresses the 7 key sales email tips every marketer and sales professional should use in their next email marketing campaign.
Sales emails are vital for nurturing current leads and enticing cold prospects to become paying clients. According to published research, 81% of those who buy online will do so again if they get promotional mail suited to their needs.
However, sales emails may backfire and damage your sales if done incorrectly. It's easy to make errors when designing an email marketing strategy. Even the most seasoned professional may slip into improper email writing habits at times, which can jeopardize the effectiveness of your email outreach, thereby reducing revenue.
Here are some sales email tips you can consider to prevent significant writing errors and avoid typical pitfalls while increasing your sales Instead of ignoring email marketing altogether.
7 Sales Email Tips For a Successful Email Campaign
The email marketing tips below can help you detect typical faults, eliminate them, and write impactful sales emails.
Let's check out the best email marketing tips that can impact your prospects and existing clients in a positive way!
1. Include a catchy subject line
The subject line determines your customer's initial impression of your sales email. It must entice the customer to open the email.
A poor, generic, or monotonous subject line will not do. It must be short and engaging, stimulate interest and eventually improve your email open rate.
Using marketing terms like "buy now" and "sign up" will not do for today's customers. If you have lower open rates, check that your title is not sales-ey. In fact, personalized emails may enhance open rates by up to 50%. As a result, try to include the prospect's name or other relevant data in your subject lines, such as the business name, job title, or a reference to where you met them.
Short tips:
When crafting your subject line, be polite, professional, and diplomatic.
Emojis are a great way to express yourself, and they increase the open rate by up to 50%.
Don't be scared to experiment with alternative topic lines and track your progress.
2. Ensure your sales pitch is professionally delivered
Be courteous and professional when pitching your products or services through email marketing. Being impolite and aggressive with your consumers won't help you close sales.
Strive to keep a steady pace and get to the topic of your email after a few phrases. Using all-caps words, special characters, and graphics like astonished, scared expressions will sour your relationship with current subscribers and discourage them from purchasing additional products and services.
Instead of pushing your products and services on clients, highlight their merits and practical uses and invite them to come to you. Provide up-to-date links and contact information at the bottom of your emails so that customers may check up on your sales calls.
3. Learn to segment your email campaigns
Your clients and prospects have diverse lifestyle choices and expectations from the businesses they purchase from. An older citizen or a stay-at-home parent will have different expectations of your company than a millennial. Avoid sending out generic sales emails to your whole mailing list.
Instead, segment your audience by age, gender, profession, demographics, and other factors. Consider translating your sales emails for international customers and creating different content for each target group.
4. Avoid including lengthy unstructured content.
In this digital-forward era, an individual gets about 50 emails every day. Consider yourself the cause for a low open rate if you compose a lengthy, unstructured message.
One of email marketing's top tips is to ensure that your email content is short, simple, and concise so that the receiver can quickly absorb the information they need.
Ensure that the content is spaced out well to improve readability. Each paragraph should only include two or three sentences.
5. Personalized emails are the key.
One of the most effective sales email tips to persuade your customers to purchase from you is to include their names in your marketing communications. Personalized emails are the key to your customers' interest and brand loyalty.
Additional persuasive methods such as signing emails with your name and sending them from a friendly email account where people may react also add to your email's overall look and feel. It will be more tailored to each person and far more engaging than it would have been otherwise.
6. Ensure your email content is formatted and error-free
Take the time to format and spellcheck your emails after expressing what you intended to say. Poorly structured emails are a primary red signal, particularly for consumers who have forgotten that they have signed up for your emails.
People will notice your errors. Manually go through your emails and spellcheck them to ensure no anomalies in a tone of voice or writing style to help you adhere to email marketing tips to increase sales.
7. Always include a CTA.
Including a call-to-action (CTA) in your sales email is a critical communication component. Your email is literally building up to that one link that will take your customers directly to the product or service you are attempting to promote.
Most customers will not take the time to visit your website separately just to see what is on offer. It is up to you to ensure that they have the correct link that takes them to the page of the product you are promoting.
In Conclusion
Composing effective sales emails is fundamental to professional communication. To get the sales you desire, you need great sales emails.
The above-mentioned sales email tips are essential for you to create an impactful sales email. Allow plenty of time to fine-tune your sales emails. Proofread them and use a spell and grammar checker to catch any errors you may have overlooked. Error-free emails assist you in achieving your sales goals!
Key Takeaways
Maintain a professional, trustworthy brand image among your email subscribers.
Existing consumers are re-engaged with new sales offers.
You may make your brand more enticing to cold leads by using word of mouth.
Emails can bring increased traffic and content engagement to the website
You get a better return on your time and money with email marketing.
FAQs
1. How is email marketing crucial?
Email is the most popular form of communication and is still the most successful approach to nurturing leads and increasing client loyalty. Email converts better and offers a higher return on investment.
2. What are the features of a good subject line?
Personalize it, keep it brief, and include a relevant message to the audience. Subject lines should be eye-catching enough to get them to read the email.
3. How to pick the most acceptable marketing email content?
Content that connects with the audience tickles their interest in your brand, establishes trust, and then gets down to business. Customers must get value from content to conclude the sales funnel and make a purchase.
4. How often should emails be sent?
Email frequency varies by industry; sending emails twice or thrice builds rapport without becoming intrusive.
5. How can I create a visually appealing sales email?
Designing a visually appealing email takes attention to little details and a creative eye. It also depends on the content and message you're attempting to convey. Use eye-catching images, calls to action, and animated gifs to grab your audience's attention.