Marketing
Email Marketing Automation and Its Significance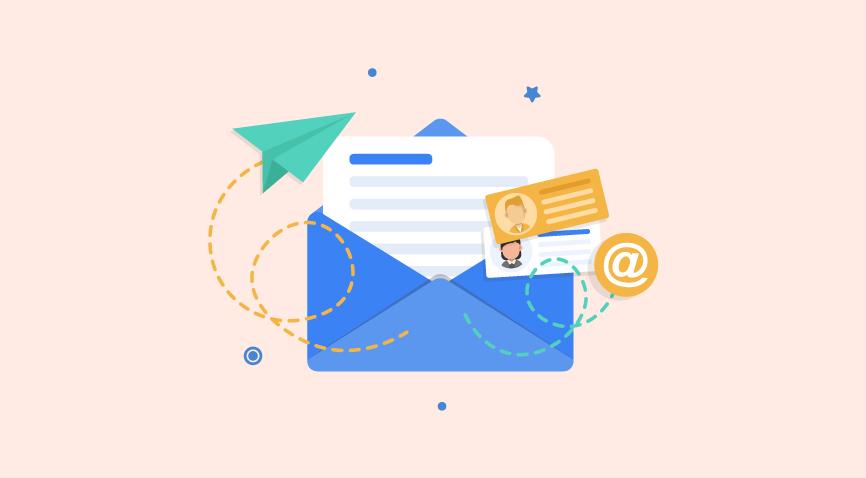 Email marketing automation is crucial in any marketing campaign. Here's a low down on email marketing automation and how it can be used effectively.
Table of Contents
What is Email Marketing Automation?
Types of Email Marketing Automation
Advantages of Using Email Marketing Automation
Advanced Email Marketing Automation
Personalization is no longer just an option. We live in a world where customers expect everything tailored to their preferences. If you're an intelligent business, the chances are that you've already tapped into the power of email marketing automation.
Statista says there were over 3.5 billion email users in 2017 worldwide. Also, the total number of email users is projected to exceed 4 billion by 2021. Email marketing is undoubtedly one of the most successful tools for bringing leads.
What is Email Marketing Automation?
Before we harp on a few of the innumerable benefits of email automation, here's a quick definition: "Email automation is the process of creating emails that reach the right audience at the right moment based on triggers.''
Automated emails act as a bridge between conventional marketing emails and transactional emails. As per findings, 96% of visitors to your website are not ready to buy yet. These statistics show that they are clearly interested in your offering, continue communicating with them.
If you start building a connection, the chances are that you'd soon be able to convert them into a sale. That's where a welcome email can be a game-changer. Subscribing to an email list is a much smaller conversion than making a purchase.
Conversion of a prospect into a subscriber is a massive win. A subscriber's chances of visiting your website are far more than a prospect's. Once they start visiting your website, you can entice them into buying something.
Types of Email Marketing Automation
For a better understanding of such automation, here are some types of email marketing automation.
A time-tested and popular form of email marketing is a welcome email. A welcome email helps you build an instant connection with your new followers. A set of emails are pre-written and then sent out on a schedule each time someone signs up to a mailing list. This is one of the ways brands nail their content marketing.
Check out this example from Airbnb.
Knowing your subscribers' birthdays is a smart marketing exercise. Sending a personalized birthday message can strengthen your relationship with your customers. You can also do the same exercise for anniversaries and other important events.
People are most likely to buy products on such special occasions. So, take it a notch above by adding a special birthday treat in the form of a discount code.
Most e-commerce sites use this email template to boost engagement. The goal is to remind customers about what's left behind in their carts. The average rate of cart abandonment is more than 68%.
More often than not, customers get distracted while shopping online. Sending such email prompts can serve as reminders for customers to go back to the cart.
You can check out an example of an intelligent email template in the image below:
Newsletters are great for maintaining a connection with your subscribers. Plan your emails in advance and send them at regular intervals with the help of an automation service. The newsletters can be weekly, monthly, or bi-monthly depending on your subscribers' preferences.
Businesses can use automatic email reminders to remind their customers about several things. Some common examples can be an upcoming appointment or an account renewal. Sending these reminders can save a lot of administration effort and time.
Advantages of Using Email Marketing Automation
1. Brand familiarity
If your business model involves making many cold calls, email automation can be of great help. People tend to be more likely to respond positively to a brand that they've engaged with before.
If you cold-call a potential customer and they don't know anything about your brand and business, it will be more challenging for the sales rep to gain a conversion. On the other hand, if the potential customer has been actively or passively interacting with the brand, they already know what the brand is.
The critical aspect here is to positively influence their decisions by personalizing emails to the extent that they feel drawn to the products and services that are being advertised. In this case, the cold call simply creates a pathway to a sale.
The prospective customer already wants the product but may not be motivated enough to make the purchase. They will therefore require minimal convincing, making the cold-caller's job much easier.
2. Customer behavior analysis
In the world of businesses and marketing, understanding the customer's behavior is of paramount importance. The greater the insight into a customer's behavior, the greater the chances of understanding the customer's interests.
Not only that, but you may also be able to gauge the customers' future behaviors. With that kind of information at your disposal, marketing to them becomes child's play. You just have to decide which of your products or services best caters to their needs and sell it to them.
Email marketing automation is a great way to acquire this information. Not only can you send them forms and surveys that will help you understand customer profiles, but their actions, engagement rates, and several other factors can help determine their interests.
For example, if your customers often respond to promo emails about collared shirts rather than T-shirts, this can help you gauge an essential part of their decision-making as a clothing brand.
Once you have acquired a reasonable amount of customer information, you can segment them into lists and improve the accuracy of your targeted emails. This doesn't just increase engagement and conversion rates, which is helpful to you. Your customers will surely be happy to receive emails that interest them and consequently be more satisfied with your brand.
3. Reduced potential for errors
Suppose you have several employees sending out cold and promo emails to multiple people. In that case, there are likely to be some customers that may not receive your mail or some receiving numerous emails on the same day. Irrespective of your workforce's efficiency, they're more likely than an automated algorithm to make mistakes.
Have you ever heard about the intern at HBO Max who mistakenly sent a test email to some customers? It happens even at the largest corporations. So, though you can't eliminate it, you can certainly reduce the probability of such errors occurring. You can reduce internal miscommunication to a large extent by using email automation tools.
Moreover, your employees won't need to worry about drafting several emails at the end of the day. They're available to perform other vital tasks that the business requires.
4. Business insights
As important as they sound, the value of critical business insights isn't limited to solely understanding customer interests. They can also help you understand your business better. You can gain insights into what products and services are working and what aren't. There may even be an issue with your business model.
CRM and email automation can help you understand and fix such issues. For example, you are sure to have several products as a consumer electronics brand. If you find that electric kettles are barely selling, you might want to rethink how you advertise them and whether you wish to sell them at all. Email automation tools give you many insights that can help shed light on these aspects of the business.
5. Customer retention
Building a business isn't just about recruiting new customers and keeping old ones happy. Sometimes it's also about "saving" customers and rescuing them from the brink of being non-customers.
This means that customers' abandoned carts must be adequately tended to. It requires insights and constant tracking of customer actions. Every time a prospective customer seems eager to make a purchase or abandons their cart, it is necessary to draw their attention to the purchase and help them complete it.
Email automation tools can help track such actions and make automated recommendations to prospective customers to entice them to complete their purchases.
Imagine if employees had to keep track of these actions and email them with recommendations. This would be a massive strain on the workforce and would undoubtedly be wasteful.
Moreover, many abandoned carts may remain abandoned and ultimately result in letting go of customers within your reach.
6. Unresponsive emailers
An important email marketing tip is engagement and response rate. If you're constantly sending emails to customers who aren't responding to them, you risk being redirected to the dreaded spam box—a nightmare for any business.
The greater the number of recipients who classify your mails as "spam," the greater the chances of your emails getting pooled in the spam box for other recipients.
Automation can help solve this problem. Customers are often just interested in one product and may never want to engage with your business after. This is a hard pill to swallow, but it's the reality of business. In this case, they're unlikely to engage with your email campaigns.
Email automation allows you to send emails to these recipients to confirm whether or not they're interested in continuing to receive mail from your business. Suppose they are well and good. If they aren't, they can be offered the option of unsubscribing.
If they don't respond to that email, the automation can be programmed so that they automatically get unsubscribed. Voila! A cleaner inbox for them and fewer chances of your mails being categorized as spam.
7. Welcome emails
Welcome emails help customers -– well — feel welcome. Users who receive welcome emails show 33% more engagement with the brand. It's an important part of a business' email marketing campaign.
However, sending welcome emails requires constant attention to new engagements with the business. It becomes almost impossible to keep track of all these new customers and subscriptions and meaningfully engage with them without automation.
However, with email automation tools, you can greet your new customers with a welcome email immediately after their purchase. Not only is it immediate, but it can also be personalized with their name, relevant promo offers, and discounts.
8. Goodbye emails
You know when you've cribbed about going to school, college, or your workplace the whole time you're there, and just when you're about to leave, you start remembering the fond moments? Sending "goodbye" emails can have the same effect on customers who wish to unsubscribe.
A "goodbye" email is sent to customers immediately after they have unsubscribed. It can describe your sadness in seeing them leave, but it can be enough incentive for them to stay in a few cases, especially if you throw in an offer or "rejoining bonus" of some kind. Email automation tools make this easy and help craft the perfect email and incentive to nudge them to stay on.
9. A time saver
All you have to do is set up a trigger-based workflow. Once it's done, the email service will send out emails automatically. Email marketing can be very beneficial for small businesses. That's because only a few people take care of several aspects of the company.
10. Higher relevance to the context
Since the automated email is received due to the recipient's action, the email is relevant to him. So open the email and go through the content.
According to eMarketer, businesses saw a spike of 50% in their conversion rates after using email automation.
11. Higher engagement
Sending an email is a quick and easy way to tell your customers, "Hi! We're still here."
Having a solid presence on social media is not enough. Very few people use social media platforms daily. Even if they do, your posts may or may not always appear in their feed. Sending automated emails to your customers now and then is an easy way to boost engagement.
12. Increase in revenue
Every time a user buys something, transactional emails are sent out automatically. The benefits of such emails are two-fold. They confirm the order placed by the customer. Also, it is an opportunity to direct the users towards other similar products. Chances of conversion from one of the related products are much higher.
13. Improved customer loyalty
Building a loyalty program or rewards scheme may seem like a daunting task. Email automation establishes a loyalty program by tracking your customers' buying behavior. Such programs give a big kick to customer retention. They ensure repeat purchases from existing customers and build strong customer loyalty.
Advanced Email Automation
Despite having many benefits, basic email automation can only take you so far. If you want to optimize your conversions, start exploring advanced email automation. Here are a few techniques that can level things up for your business.
Segmenting the subscriber list
Most email marketers have one subscriber list. They send automated emails to everybody on that list. When it comes to sending out weekly newsletters, this approach is fine.
But if you want to send out personalized emails to your subscribers, this may not work. To achieve better conversion rates, you need to segment your subscriber list. You can do this based on several criteria such as location, industry, job title, etc.
Small changes like your email subject or the CTA's location can make a difference. These factors can determine how many people open the email, read through the end, and take action. Most email automation companies have this feature of split testing available. You can send out different versions of the same email by tweaking a few things. Then, compare the results of both open rates and conversion rates.
Specific landing pages for email visitors
Once you have built a sizable mailing list, it's time to capitalize on it. Instead of sending people who read your emails to the usual home page, try something else. You can create specific landing pages for traffic coming from the mailing list. This will help you distinguish between what content you want each set of audience to consume.
In Summary
To determine what works best for you, it's important to explore different strategies. Analyze the results of your campaign after sending out each email. The time at which recipients receive your emails is also critical to the success of your campaign.
Send emails at a time when they are most likely to read them. This can make a massive difference to your conversion rate. Email automation, if planned well, can be a source of consistent engagement. If there's one marketing tool that's indispensable in 2021, that's email marketing automation.
Key Takeaways
Email marketing automation is an essential aspect of any business.
Examples of automated emails include Welcome emails, abandoned cart emails, and newsletters.
It can help save time and resources, improve customer loyalty and increase engagement, among several other benefits.
Advanced email marketing automation techniques include segmented lists, split testing, and designing specific landing pages for email visitors.
It's important to explore different email automation tools and strategies before you can arrive at the right one
FAQs
1. What are some examples of email automation?
Welcome emails
Transactional emails
Re-engagement emails 
Product inventory updates
Event announcements 
Survey/feedback emails
These are some examples of email automation
2. What are some of the best email automation tools?
ActiveCampaign, Benchmark, Drip, Autopilot, Hubspot, and ConverterKit are some of the best email marketing tools.
3. What is email marketing automation?
Email automation is a powerful marketing automation tool that lets you send the right message to the right people at the right time. It makes use of automated workflows and is essential for building a business.
4. What are the benefits of email automation?
Time and resource-saving, customer satisfaction and loyalty, personalized messaging, higher engagement, and revenue are some of the main benefits of email automation.
5. What are examples of some free email automation tools?
Hubspot Email Marketing 
SendInBlue 
Omnisend 
Sendpulse
Mailerlite