Marketing
Email Marketing Evolution: A Brief Timeline [+Tips for Email Newsletters]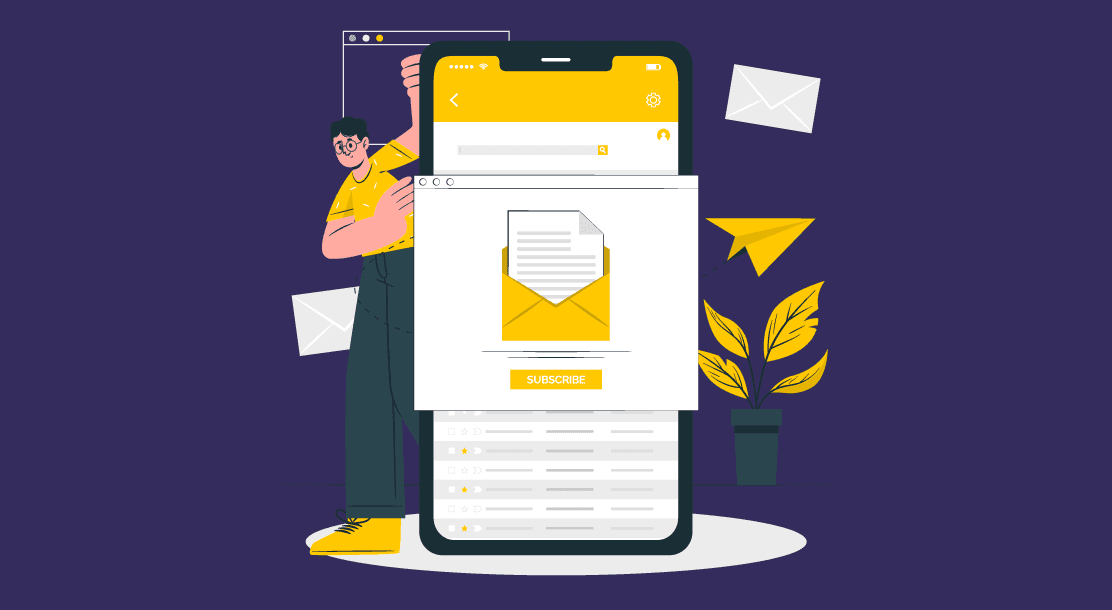 Table of Contents
The Evolution of Email Marketing
Tips for Email Newsletters
Newsletter Marketing Tips
Key Takeaways
Conclusion
FAQs
Email marketing is the use of email for marketing purposes. Email is used to promote products and services, add brand value, and build client relationships. Although email marketing follows standard marketing rules, an email marketing evolution has taken place, changing the way the job is done.
Email marketing has two essential components: the message and the audience. An email marketing campaign is only as effective as the quality of the message and the size of the audience.
The Evolution of Email Marketing
Which form of digital marketing is currently regarded as old-school? You guessed it! It is email marketing. This marketing channel is older than many of the marketers who practice it but just as effective.
The origin of email marketing can be traced back to 1978 when the first email marketing blast was sent out. The campaign promoted a company known as Digital Equipment Corp and reported an extremely high return on investment. It produced $13 million in sales. The internet in 1983 provided the base for modern email marketing. As the internet evolved, newer platforms and channels for digital marketers appeared. These include mobile, video, digital display, etc.
Email marketing, in particular, has kept up with the change. Email is more popular in digital marketing than it has ever been. Earthweb.com reports that currently, 333.2 billion emails will be sent per day. A report by Radicati says that the number of worldwide email users will reach 4.2 billion by the end of 2022. Let's study the evolution of email marketing from 1978 to the present day.
1978: An email blast promoting DEC machines was sent by Gary Theurk via Arpanet. It resulted in 13 million dollars in sales.
1991: The internet went live and revolutionized modern living.
1996: Hotmail, a free internet email service, transformed direct marketing.
1998: The data protection act came into being.
2001: First behavioral email sent.
2003: The CAN-SPAM act is introduced in the United States. Email volumes boom in the new century.
2004: Marketers could gauge what recipients thought of their emails.
2009: It was reported by Return Path that 30% of commercial emails never reached the audience.
2010: 48% of marketers are reported to have used trigger emails.
2012: Mobile gained importance and it was reported that 40% of emails were opened on a mobile device.
From then to now, email marketing has come a long way. Here are a few trends in email marketing that marketers can expect in the coming times.
Real-time collaboration technology is set to boom.
First-party data is gaining importance, fast.
Artificial intelligence (AI) and machine learning are set to give deeper insights into how well messages are received by audiences.
Third-party cookies are on their way out. Marketers will now use AI and machine learning to reach the right clients at the right time.
Tips for Email Newsletters
Newsletters are undeniably crucial to email marketing. They help provide users with essential information about your company, create relationships with the audience via regular contact, and help in brand building. Considering their importance, you don't want any missteps in this department. Here are 8 tips for email newsletters that are meant to give you a headstart into your email marketing journey.
Keep it simple: your newsletter should be simple to read and understand.
Add visuals to the newsletter: a picture is worth a thousand words. Use visuals to convey messages.
Use different types of content, such as how-to guides, blog content, success stories, and surveys.
Send newsletters frequently.
Keep newsletters short.
The purpose of newsletters is greater than just advertising. They help you create relationships with your audience and make them feel part of what you do.
Segment your audience.
Include a call-to-action (CTA) within the newsletter.
Newsletter Marketing Tips
Newsletters are among the new genre of promotional tools. Here are some fantastic marketing tips for email newsletters to get you started in your email marketing journey.
Make it about the reader
Make your newsletter about your reader. Personalize. In every campaign, personalization is one of the most important elements. Personalization is more than addressing clients by their first name; it is about striking a conversation, building a connection.
Personalized emails need to be aligned with the reader's needs. They need to be relevant. They need to be timely. Part of personalization is the technology that informs you about your reader.
Nurturing relationships is more important than promotion
One of the most important newsletters marketing tips is that relationship building is the key part of this medium. Building healthy relationships increases your brand value and drives business growth.
Automation is essential
To get the best ROI, you need to automate newsletter marketing. Automation improves efficiency, increases conversions, and lets you scale your campaigns fast.
The subject line determines open rates
If the readers recognize who the email is from and the subject line is compelling, they are more likely to open it and engage with your business. So make sure you have a catchy subject line.
Unsubscribes are not always bad
When uninterested users unsubscribe from your newsletter, it helps keep your email list clean.
Preheaders can be key to overall campaign success
Ensure you don't repeat the subject line in the preheader. Keep it short, urgent, and curiosity-inducing.
Key Takeaways
Email marketing is a complex mix of AI, machine learning, automation, and human effort.
If done right, email marketing can be the best tool in your marketing toolbox.
Getting email marketing right is a detailed science with several elements.
Using the right tools is one of the top newsletter marketing tips.
Conclusion
Email marketing has come a long way since its beginnings in 1978. The tools and techniques have changed throughout the evolution of email marketing. Email marketing is arguably the most personal marketing channel available. It is also the fastest. In addition, email marketing is a low-expense, high-ROI model of digital marketing.
Newsletters are one of the most significant email marketing tools. They don't just help drive sales and generate leads, but they also enable the marketer to build lasting relationships with users through meaningful content.
Email marketing is essential to the success of modern businesses. In addition, it is also likely to remain relevant for a long time. For these reasons, it makes sense to master the craft of email marketing. And remember: staying current with the email marketing evolution is one of the keys to success.
FAQs
1. When did email marketing begin?
Email marketing began in 1978 when the first marketing email was sent to 400 recipients resulting in $13 million in sales.
2. Are there different types of marketing emails?
There are four kinds of marketing emails. These are promotional emails, retention emails, newsletters, and acquisition emails.
3. What does the future of email marketing look like?
The future of email marketing involves integration among channels, more personalization, more relevance, and better automation.
4. What are some of the top tips for email newsletters?
The top newsletter marketing tips are:
– Segment your audience.
– Re-engage with subscribers.
– The emails should be mobile-friendly.
– Send across lead magnets like ebooks.
– Use short subject lines.
– Pick the perfect sending time.
– Deliver value to your client by engaging, educating, and entertaining them.
– Always follow-up without spamming.
– Your preview text should be inviting.
– Use visuals effectively in your newsletter.
5. Is email marketing profitable?
Email marketing is extremely profitable, with businesses devoting a huge chunk of marketing expenditure to it. In addition, it has a very high ROI. Email marketing traffic has higher conversion rates than many promotional channels.
6. Is social media more effective than email marketing?
Email marketing remains more effective than social media in terms of results/effort.
7. What are modular email templates?
Modular email templates are reusable email templates. You can duplicate and edit them easily. In addition, copies and versions can be easily backed up.
8. How to increase ROI through email newsletters?
Email marketing experts set forth these tips for email newsletters:
– Use of triggered emails
– Continually growing your email list
– List segmentation
– Goal-setting
– Mobile-optimization
– Ongoing tracking and testing