Marketing
25 Biggest Digital Marketing Mistakes You Can Easily Avoid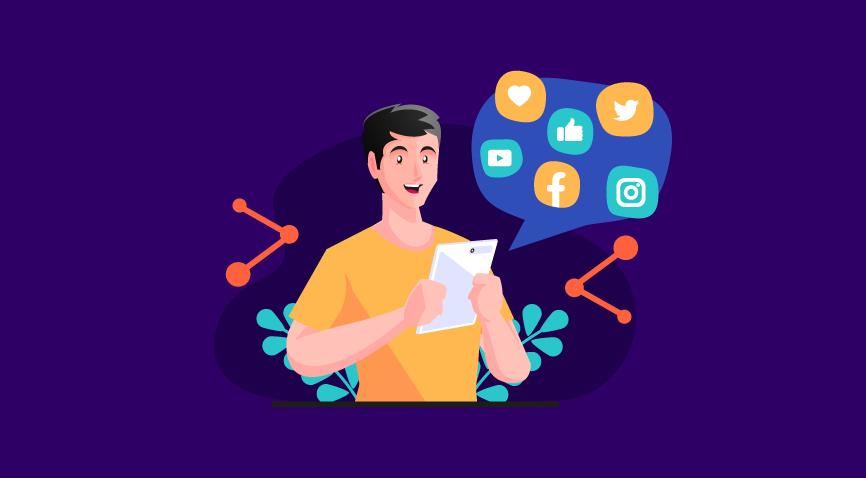 Even professional digital marketers tend to make some common digital marketing mistakes in their marketing strategies. Here are the top 25 common mistakes.
We have seen hundreds of businesses fall off their throne in digital marketing, not just due to their inability to learn about the latest digital marketing trends but by making simple mistakes that cost them everything.
They spend thousands on ads, but their ROI is so low that they waste their money. We have also seen businesses blindly following SEO strategies because they worked well for others. And the list goes on.
Internet marketers aspire to be as effective as possible with digital marketing, and some tips can help avoid some of the most common digital marketing mistakes.
This article provides an overview of the most common 25 digital marketing mistakes to avoid, which can destroy even the best SEO campaigns if committed.
25 Digital Marketing Mistakes to Avoid
1. Not identifying your target audience
One of the biggest digital marketing mistakes is not identifying your target audience. A good marketer knows that marketing comes down to identifying the right audience.
It's easy to fall into the trap of thinking that your audience is everyone. In 2009, 16% of marketing executives said segmenting target audiences was their biggest challenge. And more than a decade later, 91% of them said the same thing.
Marketing aims to reach people who will buy what you have to sell. But if you try to market to everyone, you end up marketing to no one. And that's the key to marketing: being relevant to the people you're trying to reach.
2. Not having a well mobile-optimized website
Today more and more websites are mobile-optimized. Mobile optimization simply means making your website usable on a smartphone. The websites you visit on your phone have to adapt to the screen size, and they use different ways of framing information.
Thus, the single biggest digital marketing mistake you can make is to ignore mobile. Make sure your website is mobile-optimized because even search engines favor fast and mobile-friendly websites.
3. Underestimating the role of social media
In the pre-social media age, marketing was the province of a small, elite group of experts who knew what they were doing. Their clients were similarly elite. But the paradigm has completely changed today.
According to Statista, in 2020 alone, over 3.6 billion people were actively using social media, and numbers are just rising continuously. This has made social media play a crucial role in today's digital marketing industry.
All too often, we see companies not using social media as a way to interact with their customers. They are either not listening or only using it to push out sales messages, causing them great harm.
Thus, underestimating the role of social media in your digital marketing strategies is one of the most common mistakes to avoid.
4. Not connecting with your audience in any form
When you market online, people are investing time in you. They want to know that you're serious about providing value. That you also care about who they are and what they're most interested in.
If your content doesn't address those concerns, why should anyone bother to learn about it? Hence, connecting with your consumers regularly is important to understand them better. Furthermore, it will also help you and your business build stronger relationships with your customers.
5. Not planning out your SEO strategies
More than 90% of online marketers who invest in SEO have the same fundamental SEO mistakes. They're happy to invest in SEO, but they're not planning their content calendar, keyword research, and link-building strategies. They're creating backlinks to their websites, but they're not creating anything of substance. Thus, it's important to have an SEO strategy that will work for your business specifically.
6. Not rewarding your loyal customers
The internet is full of companies that find it easy to ignore their most loyal customers. These companies are so busy chasing new customers that they forget to appreciate those who already buy their products. An indifferent customer may buy once, but a loyal customer will keep buying.
If you sell online, give your customers a reason to keep coming back. This might mean giving them discounts or new things to try out as a reward for their loyalty.
7. Not having a blog column for your website
There is a fundamental mistake people make about blogging. They think it isn't for them. But blogging is for everyone. Once you understand blogging, it changes how you think about websites.
Instead of thinking of a website as a collection of static pages, you realize that a website is a conversation with people. Therefore, all websites must have a blog column, because it is where you can post answers to your users' questions.
8. Superficial approach to keywords research
Keyword research is important, but it's only one part of digital marketing. You have to be careful with keywords because search engines are so competitive.
Many marketers are tempted to use "short tail" keywords because Google shows them more prominently. But the payoff is smaller. Short tail keywords are highly competitive and require a lot of resources.
In general, it's a bad idea to stuff keywords. But you should always have a shortlist of keywords you think people might search for. When you write a post, you should keep that list of keywords in mind.
9. Not keeping an eye on your blog metrics
If your blog is stagnant or falling, you need to find out why. Google Analytics will tell you how many people visit your site and what they are looking for (assuming you have set up Google Analytics properly). It will tell you how many pages they visit, where they come from, and their browsing behavior.
Putting up a blog is the easy part. Keeping it going, and getting traffic, is the hard part. Thus, it is imperative to keep an eye on the metrics to understand where you fall short on your blogs.
10. Not incorporating guest posts
Another one of the most common digital marketing mistakes is avoiding guest posts. If your goal is to create authority, then guest posting is essential.
Guest posts allow you to grow your audience, create relationships, and establish yourself with thought leaders in your field. And to maximize your return on investment, you must incorporate guest posts into your strategy.
Follow these tips to get the most out of your guest blogging efforts.
Only pitch to sites that fit your niche
Ask for a link or blog post pitch first, not a spot
Never submit a guest blog more than once
Always send a follow-up email
Make the title catchy and intriguing
Don't make a sales pitch with the headline
11. Investing recklessly on paid ads
Let us take a look at some of the biggest internet marketing mistakes you can make when it comes to PPC advertising:
Using wrong keywords
Focusing too heavily on PPC
Not doing your research
Not targeting the correct audiences
12. Underestimating email marketing
Email marketing is a way to send marketing messages to people who signed up to receive them, usually in return for some kind of incentive, like a free sample or ebook. You can improve your email by pairing it with social media and other digital marketing techniques.
Email marketing works because it's personal. People are used to getting marketing messages, but very few messages stick. But emails do because they are often funny, interesting, or useful. And people are more likely to read an email than a blog post.
However, many marketing emails are annoying: spam, pop-up ads, and so on. People don't mind these when used occasionally, but they do mind them when constantly. So do keep in mind not to spam your customers in the name of email marketing because it can cause more harm than good.
13. Not making the most out of LinkedIn
The biggest digital marketing mistake you can make on LinkedIn is to ignore it. As the largest professional network in the world, Linkedin does more for your career than almost any other resource.
While Facebook is a great place to be social and share personal details, LinkedIn is purely for business. From finding a job to meeting potential clients to networking with your peers, it's an invaluable tool in every digital marketer's arsenal.
However, as newbies often discover, LinkedIn is a tricky beast to master. It's full of information overload and filled with plenty of pitfalls.
14. Not using relevant CTAs in your marketing strategies
If you work in digital marketing, you probably know that there are some corners that you shouldn't cut. But for some reason, many businesses still don't spend enough time on their CTAs.
Call to action (CTA) refers to the button, link, form, or image on a website or landing page that prompts visitors to take a specific action, such as buying a product or service, signing up for a newsletter, or sharing content on social networks.
Creating a CTA is one of your digital marketing strategy's simplest but most effective elements. It guides visitors down your sales funnel and prompts them to take action. However, many businesses forget to use CTAs, a key mistake that can hinder your marketing efforts.
15. Not planning your content ahead
Not planning your content ahead of time is like trying to drive across the country without a map. You only have so much time, and your content should be a priority. However, it will never get done if you don't plan on your content. Also, if you don't plan on your content ahead of time, your posting times are inconsistent.
Many businesses don't take the next step even after knowing their target audience. They know what their audience wants. They know what they have to say. But they don't know when to say it.
You don't need a lot of content. Maybe just one or two blog posts a week, one article a month, or one video a week. Thus you can simply avoid this common digital marketing mistake by planning your content ahead of time and posting it consistently.
16. Not keeping up with the trends on social media
If you work in marketing, you know this: social media is the future. The problem is that not keeping up with the trends can hurt you. We see a lot of companies today that aren't keeping up with the trends, and, as a result, they are spending their marketing dollars on things that aren't working.
Thus, one of the biggest digital marketing mistakes you can make is constantly sticking to what works. This is the biggest reason why so many companies fail. They build websites based on what they know works, not what the potential market is demanding right now.
17. Not choosing the right platform to market your business
For big and small companies, marketing on the web can be daunting. There are so many platforms, each with its strengths and weaknesses, that choosing which one to use can be a serious challenge.
In the early days of the Internet, platforms were relatively simple. You could build a website, or you could run an email newsletter. There were limited ways to reach people, and they were all fairly straightforward.
Nowadays, there are many choices, and they are all complicated. The more choices you have, the more difficult it is to make the right choice. And once you make it, you have to stick with it. You can't just change platforms every few months because your customers won't stick with you.
Furthermore, the platforms themselves change rapidly. So, choosing the wrong platform is a mistake that can be hard to undo.
18. Expecting overnight results
When we talk to marketers about their websites, we often get the same answer: "We expect our website to make money right away. Why isn't it working?" The answer is that websites don't make money right away. They make money over time. If you expect your website to make money immediately, you're setting yourself up for disappointment.
Remember, your website has to make money for you. If you're selling products, you have to make money for your suppliers, too. If you're selling services, it has to make money for you and your clients. And all this comes with proper consistency and planning.
19. Poor budgeting of the marketing plans
Companies' biggest digital marketing mistake is spending too much or too little on digital marketing.
A lot of business owners are overwhelmed by digital marketing. They fear it, thinking it will waste all of their time and money. But there's no need to fear it.
Digital marketing is like any other marketing. You need to know how to budget your time and your money. First, you need to figure out how much you will spend. Second, you need to set realistic goals. And finally, you need to measure your results.
20. Not providing value to your customers
The first rule of marketing is to create value. Many digital marketers mistake thinking only about what they can get their customers to do. 'Get this, get that, click this, buy that.' But customers aren't thinking about doing those things. They are thinking about buying something they need. And if they think what you sell isn't worth buying, they are not buying.
So, customers need to be convinced that your product is of value to them. Value can mean different things to different people. In one sense, anything your customers find useful is of value to them. But in another sense, value means something important to them or giving them some advantage. Try to think about ways your product will give your customers an advantage.
21. Unnecessarily spamming your customers
Most marketers today understand the value of email. It's cheap, it's fast, and it can reach a lot of people. But email marketers often end up spamming their customers.
Why? One reason is that many marketers treat email like any other channel. They list all their contacts as consumers and send them the same message repeatedly. But that isn't how email works.
Nobody likes spam emails. People know that email marketers are after money, and that their email inbox is just another field for direct marketing. Thus, ensure you are not spamming your customers with your emails because it can sometimes spoil your relationship with them.
22. Having a slow website
A slow website is a big problem. If you are like most websites, your main source of traffic is Google. Google wants to provide a good experience for users. It prefers fast sites. Its ranking algorithm is based on how quickly a site responds. The faster your site, the higher it ranks.
Google's ranking algorithm is complex. But there is one basic equation: faster sites rank higher. That works for two reasons. First, it takes less time to render pages with faster sites. Second, Google's ranking algorithm is designed to reward fast sites.
23. Limited use of videos in marketing strategies
Videos rule the web, and marketers not taking advantage of them is a common digital marketing mistake. The growth of YouTube and Vimeo, and the explosion of video aggregators like DailyMotion, simply mean that more people are watching videos than ever before. So, it's clear that video is the future of digital marketing.
24. Selling the 'product' instead of the story
One of the most common digital marketing mistakes is to sell products instead of your brand and its story. There are two kinds of marketing: brand-building and product-selling. The difference between them is most obvious in how you manage customer relationships, but it's far more important.
Brand-building is about identity. It creates a long-term bond between you and your customers by giving them something to believe in. Brand-building is not advertising. Advertising is mainly about selling something. Brand-building is about giving something.
Thus, focus on selling your brand story and creating long-term relationships with your customer instead of selling them just products.
25. Not tracking your ROI
Most businesses don't track their ROI. Marketing is an expense, and expenses must be paid whether they're successful or not. But marketing is a cost just like any other. If it's successful, it costs less; if it's unsuccessful, it costs more. So, it's crucial to keep track of it.
How to Avoid Common Digital Marketing Mistakes?
This post is about digital marketing mistakes because digital marketing represents a huge business opportunity. The problem is that most people get it wrong. They take shortcuts, use more complex strategies than they need, or don't notice that their strategy is not working.
Businesses need to communicate clearly with their customers; digital marketing makes this easier. But digital marketing is complex, and most people get it wrong.
Research and planning is the easiest way to avoid such common digital marketing mistakes. Start with researching your target audience, their demographics, and needs. Then plan your marketing strategies around them.
Furthermore, observe your competitors and find loopholes in their business strategies. Then, market your product accordingly.
It can be pretty intimidating for beginners to make robust marketing strategies, but with the right tools and research, you can ace your marketing game.
Learning from the Digital Marketing Mistakes
The biggest challenge in digital marketing today is not choosing the right channel but having a successful strategy that can scale and multiply your efforts.
Digital marketing can be very complicated, tedious, and complex, so it is not uncommon for even experienced digital marketers to make some of the mistakes listed above.
Digital marketing mistakes are often difficult to avoid, mainly because marketers focus too much on short-term results. These mistakes often emerge when organizations expect their strategies to deliver ROI and results quickly, without taking the time to consider and plan for long-term results.As the digital age grows and evolves, so do digital marketing mistakes. Hence this list of 25 common digital marketing mistakes to avoid can help you ace your marketing game.
FAQs
1. What are some famous marketing blunders?
The NY Times famous marketing blunder happened in December 2011. NY Times mistakenly sent an email to its 8-million subscribers instead of sending it to just 300 people.
The email was supposed to be sent to only 300 people planning on canceling their NY Times subscription. It was seen as an appeasing gesture by the NY Times to retain its customers. However, it failed miserably when the email was sent to more people than planned. 

2.

What is the biggest mistake digital marketers make?
The biggest mistake digital marketers make is to think their job is to sell things rather than build community. Many marketers still think their job is to sell, even with digital products. That's a mistake. The goal of marketing is to build community: to get customers to buy things, but also to build loyalty, trust, and word-of-mouth.
3.

How to avoid digital marketing mistakes?
Digital marketing is a complex topic, and mistakes can be made by anyone. However, there are mistakes that are common to people of virtually all skill levels, and by being aware of and avoiding these mistakes, you can go a long way toward increasing the effectiveness of your digital marketing. The biggest mistake people make when it comes to digital marketing is jumping in without planning what it is they want to accomplish. This is both expensive and ineffective in the long run and can lead to poor decisions that add little value.