Design
10 Popular Graphic Design Blogs for Creative Inspiration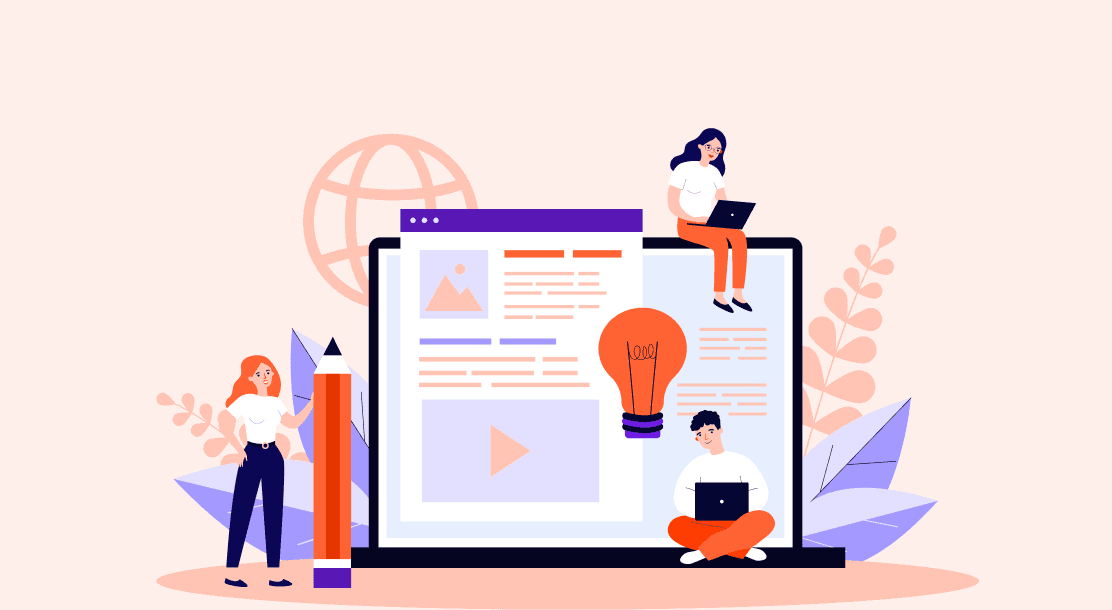 Graphic design is constantly evolving. In order to stay on top of your game, you must follow the best graphic design blogs we have put together in this article.
Graphic design is an integral part of the content creation process. Are you a designer looking for inspiration? Luckily, there are many graphic design blogs out there that are fun to read, and offer inspiration, updates, and advice on designing. These blogs can be an excellent source of expertise in everything from graphic design and UI.
Graphic design blogs are a simple but amazingly effective approach to entering the world of graphic design and finding yourself in the (virtual) company of like-minded people who know exactly what they're talking about. Moreover, keeping yourself updated about the subject will help you stay on top of the current design trends. Plus, when you hit creator's block, graphic design blogs can assist you in overcoming it by giving you a hint of creative design inspiration.
That said, designers aren't the only professionals who can benefit from following graphic design blogs. Even a product manager or a newcomer to the industry, who has no creative knowledge, can benefit from these blogs.
Top 10 Graphic Design Blogs to Undo Creator's Block
We've compiled a list of the top ten graphic design blogs you should follow and take inspiration from this year.
1.
Dribbble
If you're looking for graphic designers, Dribbble is one of the best applications you'll find online. The blog's major purpose is to bring together creative talent from all over the world. It includes a wide range of topics, including interviews, tutorials, inspiration, design updates, and all types of design- and art-related news. From animation, branding, and typography to web design and a variety of other topics, there is a lot to explore.
If we had to pick some of their best content, we'd definitely go with the courses and workshops, as they're quite useful for aspiring creative designers. Additionally, their podcasts, known as The Overtime Podcast, with the best from the business are also excellent.
2.
Adobe Creative Cloud
For creative designers looking for inspiration, lessons, and information on the newest design trends, Adobe Creative Cloud is a must-read. You can participate in popular design challenges to improve your abilities, or learn useful Photoshop techniques. Plus, if you're looking to discover a new font style or want to learn more about the different types of illustrations available, Adobe Creative Magazine is the place to go.
3.
The Design Blog
The Design Blog is the place to go if you're looking for visual inspiration. It was founded by Croatian designer Ena Bacanovic and features a diverse range of work from design studios all over the world. What we enjoy best about this graphic design site is how much emphasis it places on younger designers, providing them with a platform to showcase their work.
From sticker design to digital design, everything on this graphic design site has been neatly organized into sections. This not only makes it easier to find what you're looking for, but it also helps you explore other specialist categories.
4.
Reyna Noriega
Reyna Noriega is a visual artist who is a strong advocate of the inclusion and representation of women of color in art. Her work, which can be aptly described as vibrant, seeks to represent just that. Her blog is a canvas of the sundry female designers and their work/stories, and each interview is accompanied by a stunning illustration.
Overall, the blog features visually engaging design that entices you to discover more: from the quirky aesthetics to the intriguing titles, you can't help but click on something when you arrive at the homepage.
5.
The Inspiration Grid
The Inspiration Grid is a graphic design blog that promises to offer all the creative design inspiration you'll ever need. The site's content is organized around lists of photos that combine to create a specific theme or mood, with contributions from freelance designers.
Each article begins with a brief introduction to the artist, the theme, and the project's objective, followed by a gallery of photographs to peruse through. The overall concept is similar to that of mood boards.
6.
Creative Bloq
Creative Bloq, which is currently one of the most popular blogs for creative professionals, covers all areas of graphic design, from illustrations to animation and motion to 3D art. What we particularly like about this blog is that it keeps you updated with the latest news from the design and tech world. It includes many free resources that are useful to build your graphic design skills.
7.
Women of Graphic Design
Women of Graphic Design is a source of learning, community, and discussion for all artists, whether you're a woman in the profession or want to learn more about how you can support female designers. This blog honors the contributions of women in graphic design, and serves as a source of inspiration for projects involving gender and diversity.
8.
Made by Folk
Made by Folk was established by a group of designers and programmers, who sought a platform to showcase the best design work from across the globe. Whether you're a beginner or have been around for a while, you should definitely bookmark this blog.
Today, the main purpose of this blog is to shine the spotlight on people who are making great strides in the world of design. It features their unique stories in the form of interviews.
9.
Envato Tuts
Envato Tuts is the perfect place for you if you're seeking practical information to help you sharpen your graphic design skills. The blog features a range of design-related tutorials, which are short and quick. If you're looking for more in-depth knowledge about graphic design, the blog also has a wide range of ebooks that you can access anytime.
10.
Identity Designed
There is an endless number of graphic design blogs out there that don't seem to be appealing. Many have a cluttered, out-of-date appearance, but not the Identity Designed blog.
The blog has a refreshing vibe to it, giving you the assurance that you'll always find the most up-to-date graphic design trends on the site. It offers a number of entries on topics ranging from product photography and animation design to book cover design and more. Its main aim is to portray "visual identities" from across the globe.
Depending on your requirements, some graphic design blogs will be more useful than others, based on the type of work you perform, your background, and the style of design you do. The types of blogs you follow should be based on the following for the best results:
● Your line of business
● The type of graphic design your job requires
● The type of clientele or organizations for which you work, as well as the branding you wish to implement
● The type of branding you prefer
Deciding on these characteristics can help you narrow down the best graphic design blogs for improving your job performance and broadening your design expertise.
FAQs
1. What is the definition of a design blog?
Design blogs are online galleries that showcase the best creative graphic design services from all over the world. These blogs provide budding creatives with industry-relevant news, articles, and other resources. They also have tutorials, courses, and how-to guides that designers may use to enhance their careers and broaden their skill sets.
2. Which design blog is the best?
There are several graphic design blogs that provide updates, advice, and much-needed inspiration to both professionals and non-professionals. Some of the popular blogs are Adobe Create Magazine, The Design Blog, Creative Bloq, Canva Design School, and Women of Graphic Design.
3. Where can creative designers get ideas for their work?
Designers can get inspiration from several sources, including nature, online communities, and social media platforms.
4. What is the most common tool used by graphic designers?
Adobe Photoshop is the most widely used graphic design software by many designers.