Email Marketing
7 Ways to Merge Email Marketing with Website Optimization Techniques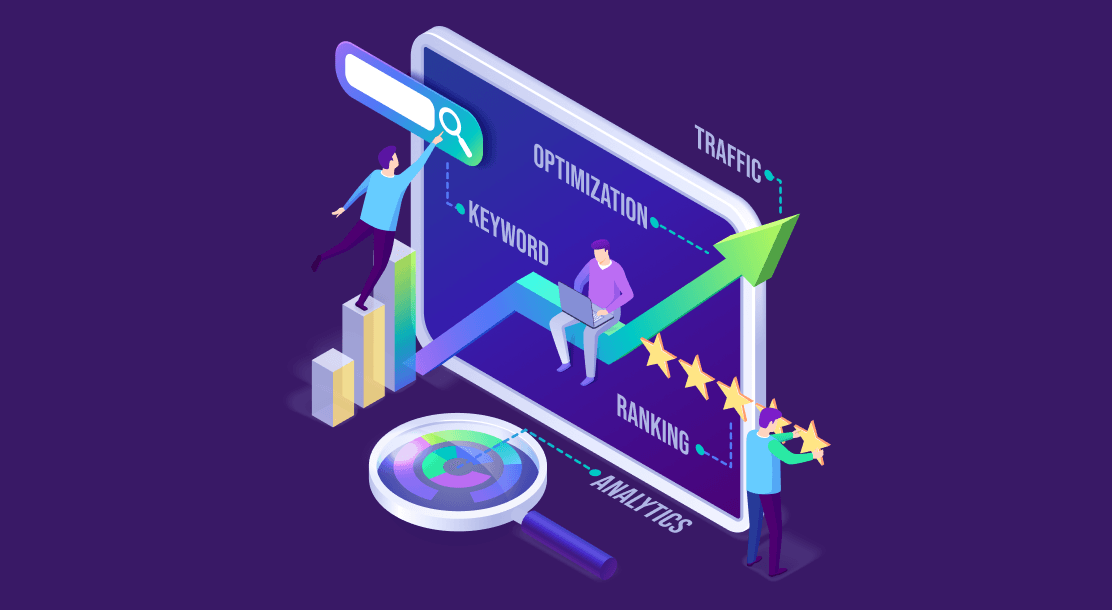 By linking website content to email marketing, you can increase SEO visibility and provide users with specific information about your products and services.
Can you use email marketing to improve website optimization? Yes! You can merge these two tactics into one effective campaign to help you achieve your business goals.
Email marketing is not just about sending emails to people. An effective email marketing campaign can drive traffic to your website, increase engagement with your audience, and boost sales.
It also involves gathering information about the customers interested in your business and deciding how to use that information to build long-lasting, profitable relationships.
SEO content optimization, critical for driving search results, can be merged effectively with email marketing.
By optimizing your email content for search queries and long-tail keywords, you can target your webpage to specific customer groups based on their interests and demographics. This targeted marketing will increase conversion rates and bring more revenue into your business.
7 Ways to Merge Email Marketing with Website Optimization Strategies
Read below to learn how you can combine these two strategies to achieve results that will astound you in terms of traffic and engagement.
1. Merge website optimization with personalized emails
The first way to merge email marketing with website optimization is by sending customized emails. If you want to make sure that your customers trust the emails they receive from you, then you need to personalize them as much as possible. Customizing your emails for specific customer interests can help you maximize the effectiveness of your email marketing campaigns. It means not sending blanket messages out to everyone in your database.
Personalized emails use dynamic fields that change the content for each recipient. You need to ensure that the content in each email delivers specific SEO content based on customers' interaction with your webpage.
Personalized emails can increase click-through rates by 14% and conversion rates by 10%. You can share interesting facts about them, like data about their online activity, their purchasing behavior, previous searches, things similar to what they like, history, or overall activity.
Personalization helps companies foster loyal relationships with their customers by making them feel valued, understood, and appreciated. It allows you to get highly detailed and specific in your targeting so that your email subscribers feel like you are talking directly to them.
You can know how many of your web visitors are coming from email clicks, which emails they opened, and what actions they performed on the website through that email click-through.
Personalized email marketing helps you measure the impact of your email campaigns on your website metrics. You can repurpose a newsletter, create email digests, and correct errors.
Furthermore, you can send a personalized summary to your customer from a couple of emails previously sent within a timeframe or after reaching a volume. You must post your newsletter on your website in an archive to effectively merge email marketing with website optimization.
2. Merge personalized emails with linked URLs within your emails
By linking email content to your website, you can increase SEO visibility and provide users with information about your products and services.
Use product pictures in emails to link back to the product detail page on your site as much as possible. Adding a picture of a product in emails is an efficient way to merge email marketing with website optimization techniques.
Utilize hyperlinks and CTAs in email copy (even in sentences) that link back to your site. Use the anchor text and keywords strategically to boost SEO ranking.
Link back to specific landing pages including, but not limited to, blog posts, product pages, event pages, special offers, new arrivals, etc.
Consider the following example
You sell high-quality bird food. One of your customers visits your website, searches for "bird food," and discovers a product they like. You then send them a "Thank you" email with a link to the product page of similar or related products.
They can click on that link further to go directly to that product page without searching for it again. It will save their time and increase the likelihood that they will look at other products on your website.
3. Create catchy subject lines
We are bombarded with emails every day, and your customers are no different. If a person does not have a solid reason to open your email, they may never notice it. A great way to get them to pay attention is to create subject lines that they cannot ignore.
So, to get your emails opened, create catchy subject lines for your audience. You can create captivating subject lines by using:
Power words
Action verbs
Numbers
You can use your subject lines to drive clicks and conversions if you:
Use your data to create a sense of urgency
Be playful and use humor for audience engagement
Make it about them
Do not overdo it – keep your timing right
Use long-tail keywords if possible in the subject line
Some best subject lines are the ones that create curiosity.
A few examples of curiosity-inducing subject lines include:
You won't believe this!
Your wish got fulfilled!
You can't miss this!
Make sure you have a strong pre-header, too. The preheader is the short sentence that appears right after the subject line when someone opens an email on the phone.
A rule of thumb for a good email marketing strategy is to keep the preheader two sentences or fewer so that people do not have to click "view entire message" on their phones.
It gives you more room for creativity and can reinforce your subject line or lead into the body of your message.
You must optimize your subject lines with specific long-tail keywords, if possible, related to what people are searching for at the moment. It increases the chances that they will open your email and your site on Google.
4. Implement customer segmentation
You need to ensure that your email campaigns are optimized to cater to your subscribers and their specific interests. It means segmenting your subscribers into categories based on their preferences, likes, and history with your emails. Several automation tools can merge email marketing with web optimization techniques and collect data for you.
You need to understand segmenting your contact list into smaller groups based on who they are and what they like. Or try segmenting it into smaller groups based on specific characteristics and interests like gender, purchasing behavior, age, location, frequency of purchases, etc. Then create a buyer persona for each segment.
You may automate segmentation through your email service provider (ESP) to create segmentation rules so that your landing page is displayed only for the right audience. Then, you can optimize your landing pages to capture leads from your campaigns. This way, you will be able to deliver personalized content based on the customer profile.
For example, if you are an eCommerce store and your contact is looking for a new t-shirt on your website. You can send them a personalized email with links to your webpage listing products based on their specific style, previous purchases or searches, and taste.
You can also create a lead magnet, alternatively known as a content upgrade, that customers can download after opting in on your website to build an audience for future emails. You can categorize email leads according to their preferences for a particular product, feature, or page attribute.
Likewise, you can learn more about them by reading their previous interactions or asking them questions when they download your content upgrade. Once you have all of your leads categorized into separate buckets based on data, you can start sending personalized emails. You will need a new copy for each customer group, so choose something relevant.
5. Email as a unique identifier to map CRM
Customer relationship management (CRM) is a way that businesses can keep track of their customers and leads—it tells them who they are, where they came from, and what they find interesting.
It is software that includes many tools that help you organize, manage, and analyze information about potential customers or existing clients. Using this data, you can target them with the right content at the right time.
Mapping the CRM system with email marketing is a terrific website optimization technique to collect data on people who visit your website or open emails from you. You use the information gathered to send targeted emails at predetermined intervals. The more targeted the messages are, the more likely people are to open them and act on them.
If you merge email marketing as a unique identifier with CRM, you get better results because you can analyze all of your customers' data and create a more detailed profile of each one.
You can see how they interact with your company via various channels such as websites, social media, etc. You can use this information to increase their lifetime value. It helps build a strong relationship with the customer and helps keep them loyal to your brand. It will also allow you to send relevant content to them across multiple channels.
6. Map email data for conversion rate optimization
Whether you want more people to subscribe to your newsletter, buy a product, or fill out a lead form, you need to get their attention and convince them with a compelling reason to act. That is what conversion rate optimization (CRO) can help you do.
CRO is the process of increasing the number of your website visitors who take the desired action. It enables you to optimize your site for your users, making it as easy as possible for them to take an intended action. It could be anything from filling out a form to making a purchase.
A/B testing, which is a necessary part of conversion optimization, can place email capture forms on key landing pages for website optimization and conversion.
Split testing or A/B testing is a technique that allows you to compare different website versions and select the best-performing one.
You can use it to optimize several aspects of your site like the layout, design, and content: What type of content works best? Is it better to have more text or more images? Which colors perform best? Do people prefer short forms or long forms? You can test anything: a landing page, a CTA button, signup form, an email campaign, etc. Usually, A/B testing is tried on one element at a time.
For instance, say you are running an email campaign promoting your e-book – The ultimate guide to marketing automation for small businesses. You send emails with different call-to-action (CTA) buttons to your segmented list of subscribers. Now you want to know which CTA performs better – the red or green one?
Append UTM (Urchin Tracking Module) codes to each CTA button URL in your email to find this out. These codes track the source (utm_source=email), medium (utm_medium=email), and name of the campaign (utm_campaign=my_ebook). In addition, one of the buttons must contain an utm_content code that indicates which color it is (red or green).
Then you can review the reports and compare who opened the email to who clicked on the link in the footer after a successful email marketing campaign.
If someone opens and clicks on the link, they are regarded as "customer" and included in your customer database. If someone opens the email but does not click on anything, they are classified as a "prospect," and their information is not added to your customer database.
7. Use URL parameters to test, optimize, and validate predefined segments and landing pages
A parameter is a variable in an email address or URL that lets you transfer information from one page to another. A URL parameter is a unique tag added at the end of your URL to identify predefined segments of your website.
It allows you to target them with specific content through any email service provider. You can use URL parameters to test, optimize, and validate predefined web page segments and landing pages.
These parameters help you segment your visitors and, thus, improve the traffic on your website. URL parameters require no additional investment, and it is an effective website optimization strategy.
When you use URL parameters, you primarily create specific URLs for segments of your audience that you want to target with a landing page or website variation. When your contact clicks on the link, it will take them to the intended version of the page.
For example, let's say you want to test the conversion rates of two different versions of a landing page that you created for a specific campaign. The original version is at this URL: YourWebsite.com/LandingPage
To send the visitors who clicked on a link in your email to one of these two versions, you could add a parameter in the link:
YourWebsite.com/LandingPage?v=1 or YourWebsite.com/LandingPage?v=2
Then you can create two separate emails and include these links (one in each email). It enables you to automatically redirect visitors who clicked on the link in one email to one version of your landing page.
Other customers who clicked on another link in the other email will land on another version of the same landing page. This way, you can test which email content and landing page design or layout are driving more traffic and find your email marketing optimization technique.
Key Takeaways
Use email marketing to target qualified prospects and customers with personalized emails.
Incorporate specific long-tail keywords in your email subject line (if possible) and content as a website optimization technique.
Use automation tools of your email service provider to collect data from your email lists.
Target customers with specific emails promoting products based on their preferences containing URLs.
Accordingly, upgrade web pages using data analytics from these URLs to merge email marketing with website optimization techniques.
You can append UTM codes to promotional URLs to check the effectiveness of your email marketing campaign.
Conclusion
Traditional marketing tools will continue to be replaced by data-driven analytics, which is becoming the norm for marketers and organizations.
Email marketing used for more than 25 years is popular due to its excellent 122% return on investment rate. You can simply and effectively merge email marketing with website optimization strategies.
Nowadays, email service providers provide email data to segment customers based on their interests and help to create buyer personas. Once you have your buyer's persona, you can create personalized email content from email writing services and marketing campaigns to increase conversion rates and website traffic.
FAQs
1. How to utilize links in email content for improved SEO and landing page views?
You can do it by adding links to your emails that lead to relevant landing pages.

2. What is email SEO?
Email SEO is the process of improving email performance within search engines. It is a subset of SEO.

3. How do you analyze email performance?
You can analyze email performance by checking the click-through rate (CTR) and conversion rate (CR).
4. How does incorporate keywords in email marketing help?
Incorporating keywords into emails helps your customers to find you quicker.

5. How do URLs in emails aid website optimization?
URLs in emails aid website optimization because they drive traffic to a specific product page that a customer would be most interested to see.