Marketing
15 Successful Email Marketing Strategies, Backed by Science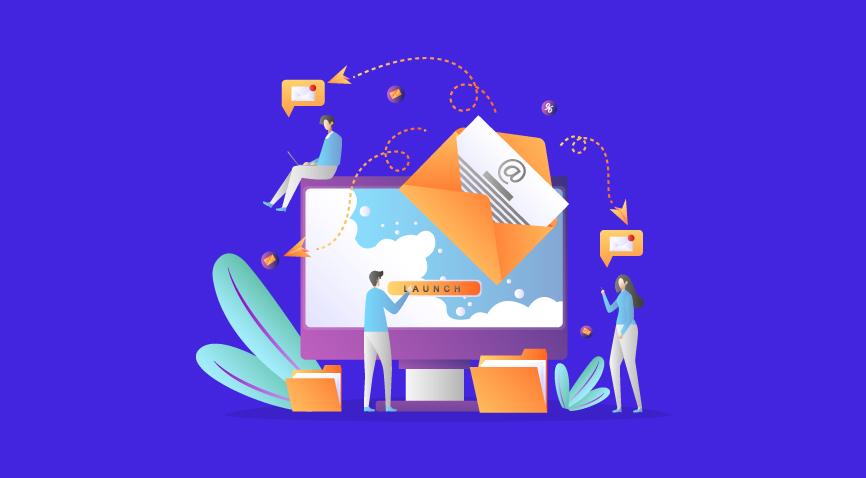 Get access to best-formulated email marketing strategies backed by science and formulate an email marketing plan that will help you increase ROI & convert
Successful businesses use email as one of their top marketing tools to generate ROI. Even though this inbox marketing technique seems trivial, it outperforms most online business-enhancement methods. So, it's a no-brainer that you would want to use email marketing and employ some email marketing tips as a major part of your target outreach tools.
The problem is that billions of marketing emails are being sent out daily. With so many businesses already trying to increase their ROI using email marketing, your audience's inbox is a very competitive space.
How do you make your email outshine the gazillions and get clicked? We'll discuss the best way to formulate an effective email marketing strategy for your business. Lucky for you, these techniques aren't overused, giving you the early bird advantage and an opportunity to use the best email marketing tactics in the market.
Let's look at the best strategies for each marketing email element.
Effective Email Marketing Strategies for your Business
1. Invest in a good email marketing platform
The email marketing platforms offer a comprehensive email marketing suite that includes an integrated template designer and email personalization. It also provides email marketing automation strategies for subscriber timezones, segmentation tools, high deliverability rates, data, and real-time reporting for opening and engagement. Some services are free of cost when you have a limited number of subscribers.
Choosing the right platform is vital to establishing an effective email marketing strategy. Platforms like ActiveCampaign, Salesforce, and Pardot are suitable for large businesses, whereas MailChimp and Constant Contact work well for small to medium-sized companies.
2. Personalization: It's more than the name
Personalization has been one of the best email marketing strategies for years. Is it still working? Some suggest not adding names to prevent growing incidences of identity theft and other frauds. Still, personalized emails outperform those that don't. You must know two things when you're planning on sending an email on a first-name basis.
Addressing the email by their name doesn't necessarily create that 'familiarity factor' you aim for. A 'Hey Alia…' email does not have much relationship-building potential with the receiver.
Customers would benefit better from relevant content than their names mentioned in the salutation or subject line.
So, do we use their names or not use their words? Don't focus only on the title. This individualized email sending can boost ROI. It's not just the endearment that matters. Give attention to the customization of the email body. We're talking about providing information and reaching out to the receivers based on customer data.
Personalized emails connect with people instantly and put them in their comfort zone. It gives them something they have shown interest in (abandoned carts, past purchase behavior, social media buying insights), ultimately helping you compose more targeted emails deriving more sales. Further, personalization gives the impression that the email is sent by a human rather than just a machine. Email personalization can be done directly by asking the consumers what content they like seeing, collecting data with the help of analytics and social media, and sending trigger emails when they subscribe or purchase. Based on gender variables, you can send specific emails meant for men and women.
3. Do not use 'Do Not Reply'
Allow customers to get back to you quickly. That includes enabling a follow-up in the same email thread. One of the purposes of an effective email marketing strategy is establishing relationship-building channels between you and your audience.
When you use an email address the customers can't reply to, they can't reply to it. Using a lesson so they can reach out; makes eliciting a response much easier and likelier.
Provide your contact information within the email. Simply add the detail in your signature. Allowing customers to reach out to you shows your credibility, trust, and openness.
4. Boost emails with double opens strategy
In email marketing, using a double opens strategy can boost the number of emails opened when you send them. This strategy means first determining the non-openers of your email through data and analytics and then resending the same email you sent by changing the subject line. Resending the email to non-openers can boost your company's sales. But before resending the same email, remember to have an engaging subject line that entices non-openers and an optimized pre-header text. Pay attention to your subscriber's time zone and send the second email after 3 to 5 days.
5. Mind the subject line
Besides personalizing the subject line, there are two more factors to consider while writing email crafting it:
Length
Characters: Keep the characters in your subject line above 70 for better click-throughs
Sentence: Have not more than nine words in your subject line
Keywords
Make your subject line SEO-friendly and appealing to the readers' eyes and minds
Craft well-worded subject lines to boost the open rates
Go through these subject lines for inspiration and learning
6. Improve segmentation
The crux of all successful marketing campaigns is the apt knowledge of the target audience, their likes, dislikes, interest in a particular type of content, etc. This is where email personalization plays a huge role. The best way to personalize emails is by segmenting your subscriber's list into targeted groups based on their preferences.
You can segment your target audience based on age and gender, likes and dislikes, city and time zones, purchase behavior, etc. Email segmentation can help you meet your subscribers where they are and improve their experience with your company. This will also keep your marketing return on investment high.
It avoids spamming receivers' inboxes. Your email shouldn't be spam; it should be an anticipated or pleasantly received message. Segmentation can increase your email marketing performance, including revenues, sales leads, etc. It is an integral part of your email marketing strategy.
7. Optimize for viewing on mobile
With more and more people viewing their emails on mobile phones, your emails better appear effortlessly on these smart devices. Like any content optimization for mobile, emails optimized for mobile devices perform better. A significant part of the email conversion rate comes from mobile devices.
8. Optimize the design
The mobile-first approach very much applies here as well. Readers should experience a seamless user interface while going through their emails on their mobile devices. Here are some tips:
Single column template works best for mobile devices
Check font size for readability
Craft a CTA (Call To Action) that is distinct and easy to navigate. Try placing it above the fold of the page
9. Include a great CTA
Include Call to Action and make it obvious. Make it easy for them to follow up according to the call. Nudge them on to take the desired action. Your marketing is incomplete without it.
As an email marketer, you must be paying heaps of attention to your email content and design. But your CTA encourages people to go ahead and take action; hence it has to complement the content written in the email; otherwise, your whole email marketing campaign will fall short of achieving good results. 'Shop Now', 'Buy Now', and 'Order Now' is very generic and can fail to hook your readers. Hence, CTAs should be short and quirky, indicating absolute urgency and unmissable. For example, the above email creates urgency with a 'Discounts Hunt' following up with a contextual CTA 'Go Hunting!'
10. Use trigger emails
These are emails sent automatically. The sending is triggered by the audience's specific action(s) (signing up, hitting the subscribe button, etc.). It's said that trigger emails have a better opening and click-through rate than traditional emails.
11. Test your strategy
A go-to strategy for someone might not be the best for your business. As always, keep implementing smart tips and check to see if they give the desired outcome. Consider A/B testing for your email campaign.
Sender name preference: From 'name', 'name + company', 'name + company + designation' or 'designation'? Test to see which sender format is preferred by your audience.
Email length: Fat email with a detailed body or a short one ushering readers to a landing page? Test and see which performs better.
12. Reactivate subscribers
How many of your lists are actively engaged? Chances are, many of them have completely forgotten they ever subscribed to you. Your list is like a gold mine. Don't ever lose it. Even though half of the list seems inactive, there's always a chance. Re-engage with your list by crafting a well-thought-out strategy to re-establish the lost connection.
13. Time it right
The weekend is not the best time to send out emails. The best time for your email dissemination is the middle of the day and the middle of the week, says this research.
14. Free add-ons don't hurt customers
Sweepstakes aren't just for ads; email marketing needs to take a cue from them. Who doesn't like free stuff? Tools, pdfs, ebooks, course classes, etc. A study says that offering tools and templates work better than ebooks to get your content clicked.
15. Repeat high-performing emails
Success can be repeated. The campaign was successful if your emails got a lot of sales the first time. With data and analytics, you can find out who did not open the email in the first round and resend it to them. Chances are they might extend this time and take action. This will even help you understand the consumer's likes and dislikes better. You can also resend the best email campaign to new subscribers who have not made a purchase yet. The central crux is to amplify your email marketing success by testing and trying with different sets of subscribers.
Conclusion
In short, email marketing is the 'it' marketing technique in scaling business heights nowadays. Successful email marketing needs an intelligent strategy that doesn't simply follow what the crowd is doing. Your plan should be based on your business and your audience. Personalize not just the name but also the content; schedule during prime time; craft the subject line wisely; segment your list according to the campaign; don't forget the CTA. Test and see is the way to go to find out what works best for your business.
Key Takeaways
An email has so much power to drive business revenues.
Attractive content always catches customers' attention and maximizes sales.
The strategies will ensure increasing chances of getting high responses from subscribers and customers. For E.g., an intensely and intricately designed email campaign strategy will help you drive your objectives better.
With these email marketing tips in mind, you find the best way to improve click-through rates and amplify sales
FAQS
1. What are the most effective email marketing strategies to generate more sales?
Some of the most effective email marketing strategies include: 
1. Targeting the right audiences
2. Select the appropriate email platform
3. Select strategic mobile-friendly email designs
4. Use an email template
5. Have a creative subject line and pre-headers
6. Develop attractive content
7. Personalization in emails
8. Use CTA in your emails
9. Email testing
10. Persistency in emailing
11. Schedule emails properly
12. Rewarding loyal subscribers
13. Strategic re-engaging campaign
14. Value your segment list
l marketing strategies include: 
1. Targeting the right audiences
2. Select appropriate email platform
3. Select strategic mobile-friendly email designs
4. Use an email template
5. Have creative subject line and pre-headers
6. Develop attractive content
7. Personalization in emails
8. Use CTA in your emails
9. Email testing
10. Persistency in emailing
11. Schedule emails properly
12. Rewarding loyal subscribers
13. Strategic re-engaging campaign
14. Value your segment list
2. What are the 5 Ts of email marketing?
Email marketing means creating brand awareness and developing trust by informing consumers about the latest brand developments. But you need to follow these 5Ts of a successful email marketing campaign strategy:
1. Tease
2. Target
3. Teach
4. Test 
5. Track

3. Why do you need to optimize mobile for email campaign strategy?
Marketers should remember that many subscribers will open their emails on their phones instead of laptops and desktops. As many as 52% of Indians check their phone mailbox every day. An email marketing campaign strategy customized and optimized for mobile will help you reach your marketing goals efficiently. 
A mobile responsive mail design tactic assists in developing email content that looks great on a small screen. It helps you to display corporate brands more attractively. 

4. How are subject lines and pre-headers important for your email marketing campaign?
When recipients view emails, they first see the sender's name, subject line, and pre-headers. The quality of previous emails sent by you will motivate them to read the subject line and pre-headers.
These two appear below your name. These should be creative and precise to drive subscribers to read the mail thoroughly and get converted into organizational brand buyers.