Marketing
17 Email Marketing Best Practices that Actually Bring Results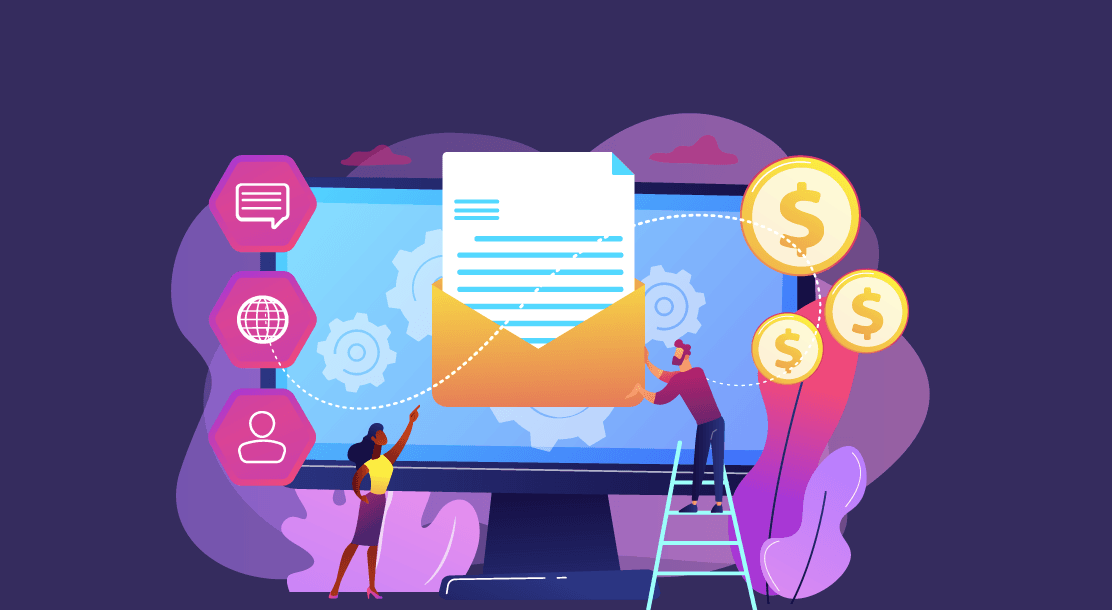 Table of Contents
Purpose of Email Marketing
17 Email Marketing Tips To Drive Sales
Key Takeaways
Conclusion
FAQs
Who said emails were dead? Email marketing is still one of the best practices to get more leads and website conversions. However, it's extremely underrated compared to the newer marketing strategies.
Purpose Of Email Marketing
Email marketing helps you build relationships with customers, clients, prospects, etc.
It's better than any other platform (even better than social media) to reach out to your audience and convert them. It's also pocket-friendly to invest in email marketing. Overall, it's a high-ROI marketing strategy.
Are you ready to take your Email Marketing to the Level Next?
1. Build your own email list
Buying email lists is the sure-shot way to doom your email marketing performance.
When you purchase emails, your subscribers won't know that they've subscribed to your emails. So, when you send them an email, they will either delete your email or unsubscribe to you.
If you want better email marketing metrics, build your own email list and use lead magnets, and incentivize people to join you through ebooks, whitepapers, etc.
2. Give a simple subscribing process
Would you go to a mall if the parking system is complex? No.
Because it would take a lot of time and effort to get what you want. The same goes for your email list. The simpler it is to sign up, the more people would like to join.
3. Create an onboarding email campaign
An onboarding campaign is also called a drip campaign. It is a series of automated emails sent to new subscribers after they join your email list.
Why is it important? Imagine you are visiting someone's place, you'd greet your host, and get something for them.
Email is people's digital homes, their most personal space where you can connect with them. Lead with value in your onboarding email campaign.
4. Write engaging email copies
One of the email best practices of 2021 and beyond is to write an effective and engaging copy.
When your audience can relate to the situation and read until the end, that's what drives them to click on the CTA link or button or to take the action that you want them to.
Don't bombard the subscribers with texts. Instead, make it useful for them to consume the information in the email and encourage them to take that call to action.
5. Give subscribers compelling reasons to click
One tip that will be true in your entire marketing career is: Question everything.
Start with a WHY. Why would someone open your email?
Your headline will play a vital role here. It should not only act as a hook so that people stop at your email within the 100 other emails in their inbox, but also open it to read the content matter inside.
Use strong incentives in your subject line – like free shipping or discount offers, etc.
The key is to capture the attention of your audience and lure them into opening the email.
6. Experiment and deliver emails at the right time
Some blogs online say that Tuesday at 10 a.m. is the best time to send emails. Some say that Thursday, anytime between 8 a.m. – 9 a.m. is the best time. Another stat says that to get the maximum open rate, the frequency of the emails should be 2-5 times a month. But what's best for the internet may not be the best for you.
So how do you find the best time and frequency to send an email?
You can ask your subscribers what time they'd like to receive your email or you can keep experimenting until you find your sweet spot.
7. Plan ahead for special days
Special days like Christmas, Easter, New Year, and other festivals allow you to distribute freebies, offer discounts, and attract more people to your email list.
Capitalize on the important days by resting seasonal templates early, and crafting a well-defined special day strategy and offers well before time.
8. Use curiosity gap in subject line
What would be the best way to attract people to open your emails?
Give them enough information about what's inside the email, but still not enough for them to know the entire story, so that they open the email.
A real-life example:
Here are five things you're doing wrong in your holiday promotions
You're doing it all wrong
The chances are, if you aren't running a holiday promotion, you're less likely to open the first email. But the second email headline is a little vague, even if it gives a slight context that someone's talking about a mistake.
More people will open the second email and might find the tips useful even if they aren't running a holiday promotion.
9. Use storytelling to build trust
People love stories is an understatement to share the impact stories have on the human mind.
It is estimated that people are 22x more likely to remember something if it's drafted in the form of a story.
Stories connect people with the brand and increase trust and loyalty because people connect to it and see the brand in a human form.
10. Optimize the preview email text
Sometimes the headline cannot convey or attract your audience enough. That's why we have the Preview text – the second chance to hook in your audience to read your entire email.
A more formal definition of preview text is the snippet of the copy from the email body displayed next to the subject line.
Have an enticing preview text that builds upon the headline and catches your audience's attention right away.
11. Keep your email list clear
If you have a lot of subscribers, but they don't engage, it would result in low open rates, low click-through rates, and low email marketing performance.
Clean your email:
Remove invalid emails or hard bounces
Remove the emails with soft bounces, when emails are full or temporarily unavailable
Remove unengaged email subscribers

12. Keep the main message and CTA above the fold
Call to Action (CTA) design and place in the email is as important as the CTA itself. To ensure that your email subscribers check out the CTA, you should keep it above the fold.
13. A/B testing different email campaigns
It's only after experimentation that we know what works best for our business. The same goes with email marketing, and experimenting with emails is A/B testing. A/B testing means you can create two different versions of the same email and send it to two different groups in your email list.
Experiment with your subject lines, the content of your email, images, the color and placement of your CTA boxes, your email campaign tone, and length, etc.
Experiment with everything and find out what your audience loves.
People sign up to newsletters with enthusiasm and then forget about it. Strange but true.
It's our job to remind them they are on-boarded with us and provide them with value along with the reminder.
Closely tie emails to the landing page<h3>
Before a flight takes off, we ensure all the passengers are comfortable and everything is ready to take off smoothly.
Landing pages are the take-off to your email list. Ensure that your landing pages provide a smooth experience to the visitors and help build trust in the brand.
You should also use tracking tools to see which of the landing pages and emails are getting the best response and tweak your strategy accordingly.
16. Inspire action
An indicator of a successful email marketing campaign is the click-through rate. Thus, an email needs to persuade the subscribers to click on the CTA button.
The best CTAs are clear, and limited in number. If you include too many CTAs, people may unsubscribe from your email list.
17. Allow your audience to unsubscribe easily
Even if your emails are the best in the world, some people might still want to unsubscribe and that's okay.
If the uninterested subscribers unsubscribe, you won't have to clean those emails later if they don't engage. In short, your email list is automatically getting cleaned. Ensure that their off-boarding is as smooth and easy as the onboarding process.
Key Takeaways
Personalize your emails: Personalization is one of the most basic email marketing best practices. Stats say that 1.75% of email revenue comes from personalized emails. Personalization means using the first name of the subscribers in the email. But that's not all. People have successfully written emails that feel personal, relevant, and speaking right to the customers at a massive level.
Automate the emails: Almost all email marketing platforms today provide the option to automate the emails, with the free or the paid version. Create automated workflows to save time from repetitive tasks like welcome email campaigns. Merge it with personalization to create an even deeper bond with your subscribers.
Be more human and avoid "no-reply" sender messages: An email from "[email protected]" gives a robotic feel, and just by looking at the address, people may not want to open the email, even if there's a human writing it. "No reply" prevents your subscribers from replying to you and may lead to many opting out from future emails. Moreover, adding a legitimate email address would allow and encourage your subscribers to send their feedback to you.
Make a promise to your subscribers and remind them why they signed up: Set the expectations of your subscribers and fulfill them. Tell them in the beginning when you will send them emails, and how frequently you will write to them.
Keep a piece of text at the bottom of your newsletter, where people look for an unsubscribe button, to remind your subscribers why they have signed up.
Reward your loyal subscribers: Loyal customers are the life-giving blood to the business. They deserve to be rewarded because they engage with you, choose you over your competitors, and purchase from you. Rewarding them with things like points is a way to appreciate them for their loyalty and efforts.
Integrate email list with social media: Get your social media followers to your email list and build a better relationship with them. You can also promote your social media content on your email newsletters and cross-promote.
Conclusion
Email marketing is not dead. It is thriving and driving sales in large numbers and is an extremely successful marketing tactic. Following the above-mentioned best practices will get you on the right track in email marketing and drive sales.
FAQs
1. What is email marketing best for?
Email marketing is the best and most effective for growing your brand and selling your stuff online.
Email marketing helps in building relationships, allows you to test your content, and increases organic traffic to your website, social media, or wherever you want your audience to go.
2. How to implement an email marketing strategy?
– Define email marketing goals
– Build a quality email list
– Segment your audience to send relevant content
– Create personalized content
– Make your emails mobile-friendly
– Use automation to boost your mail marketing strategies
3. What are the six basic rules of email etiquette?
– Communication is much more than just words
– Use correct grammar, spellings, and punctuations in your email
– Use an appropriate level of formality
– Professional subject line
– Be careful in using the address fields
– Recheck your email before sending it
4. What are the dos and don'ts of writing an email?
Dos:
– Have a clear subject line
– Use a professional salutation
– Proofread your message
– Reply to all the emails
– Keep private material confidential

Don'ts:
– Forget your signature
– Using hurtful humor
– Assume recipient knows what you're talking about
– Send without thoughtful consideration
– Overuse exclamation points