Marketing
Facebook Chatbot: Build Your Own Facebook Chatbot in 10 Minutes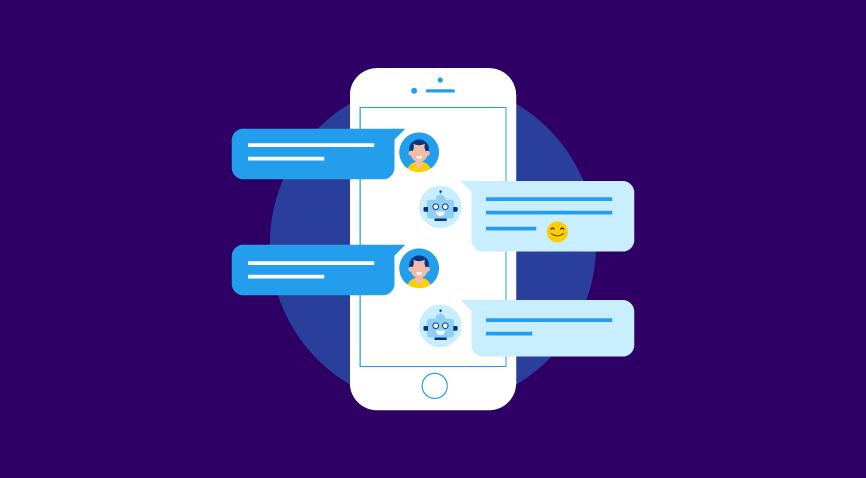 Building a Facebook chatbot allows a flow of conversation. You can get answers to all your queries quickly. Here is a helpful guide on building one yourself.
Chatbots allow you to interact with customers using a digital tool in the same way an actual customer representative would. A Facebook chatbot is one such tool.
Building a Facebook messenger chatbot would be immensely helpful for your business. It uses keywords to understand the questions and then reply to them. These chatbots have proved to be beneficial to not only business owners but also to their customers. Chatbots are not being extensively used yet, but gradually they are gaining traction and becoming more useful.
Chatbots have evolved a great deal over the last five years, thanks to their extensive use in social media marketing. From basic, rudimentary programs that provide one-line responses to your queries to more sophisticated digital assistants to extract codes and process information, chatbots have evolved as the marketing industry takes a huge leap of faith.
They are truly the best use of conversational AI tools that have changed the whole marketing game. Building a Facebook chatbot would obviously take your business to the next level.
A Step-By-Step Guide to Building Your Facebook Chatbot
You do not need to be a software engineer to build a chatbot messenger. If you want to enhance your social media marketing potential, you can follow these steps to build your chatbot:
1. Define the objectives
Before embarking on this journey, it is important first to set goals for the chatbot. You can do this by analyzing your initial customer data and the top needs related to customer experience.
2. Assess and identify the channel
Depending on the need, you may consider the following channels to build a Facebook chatbot:
Mobile career channels like SMS or USSD
Messaging apps like Facebook Messenger, WeChat, Viber
Social networks like Facebook, Twitter, Instagram
Webpages
3. Draft the architecture of the chat
Unlike traditional graphic User Interfaces (UIs), conversational UIs, or those used by a chatbot, are designed to be infinite. This is because you would want the chat to be as personal as possible, just like interacting with a real person.
4. Design the storyboards
This is an important step where you envisage all possible conversation flows between the customers and the chatbot. Use a dialogue flow design to embed variations of the conversations while building the chatbot.
5. Choose the platform and implement
This is where all your previous steps come together to create a classifier to map an incoming message to the variations embedded in the chatbot.
6. Internal testing
Before you deploy the chatbot in real-time, ensure you have done multiple rounds of testing internally to fix errors, bugs, and make relevant changes.
How to Build Your Own Facebook Chatbot
Building a chatbot on Facebook is not a difficult task. Apps like Chatfuel can easily create a chatbot, and you do not need to be an expert for it. Follow these simple steps and learn how to create a messenger chatbot or how to build your own Facebook chatbot:
You need to start by creating a Chatfuel account. Visit the Chatfuel website and select the "get started for the free option."
You will be redirected to your Facebook page. Grant permission for access.
After linking your Facebook account, select "connect" to add the Facebook page.
Create a welcome message for your customers. This message will be shown to customers when they open the chatbot session.
Go to your Facebook page and change the messaging settings to "yes." Enter your message in the box and click on save.
Open your Chatfuel dashboard and click on the "welcome message." Write the content in the box. The message can be customized like "Hey, I am (name), how can I assist you" or with a simple message.
Create a default reply for the questions that the chatbot can answer. Go to your Chatfuel dashboard. Click on "Default Answer". Enter your desired text and click save.
Add AI to your Chatfuel. In the Chatfuel dashboard, select "set up AI" and then Add "AI rule." Enter relevant keywords that you expect the customers to use in the "If the user says something similar to " box. In the next "Bot replies with text" box, enter a reply to it and attach your website's URL. Repeat the same process for other keywords and test them in real-time. You must include all the relevant questions and their answers.
Go back to your Facebook account and click on the Add button. In the pop-up box, select the option of "contact you" and then "send message." Select "messenger" when asked about where the button should send people. The button will now appear on your Facebook page.
Recheck everything and launch the Facebook chatbot.
How Do Companies Leverage Chatbots to Enhance Customer Engagement?
According to a 2019 Forbes report, twice as many customers were more willing to engage with chatbots than salespersons because they found them more helpful.
HubSpot reported that it made no difference to 40% of buyers whether a human or a robot catered to them. Chatbots are simply great tools to engage with customers 24×7, especially in the face of stiff competition in social media marketing. There is no better time for your brand to build a Facebook chatbot.
So, how do companies take advantage of this?
1. The power of data
Understanding and analyzing customer preferences is key to any business and its growth. Companies can gather useful insights from queries, likes, and comments on particular products and services.
As a company, if you are collecting data through a 24×7 channel like a chatbot, there is no limit to how much information you can collect about your target markets. And all this by just keeping communication channels open round the clock.
Building a chatbot will reduce your chances of missing out on critical information and trends, which might be a challenge for human employees, who are not available 24×7.
2. Leverage the power of omnichannel
Chatbots have the potential to improve the omnichannel experience for customers significantly. Other social media marketing tools like email marketing, for example, are helpful to a certain extent.
But if you amp them up with a chatbot that can address queries 24×7, you will have many happy customers who want to keep coming back to you just for the high-quality engagement. You can always reprogram and modify the chatbot on occasions like Independence Day or Diwali to garner more attention.
3. Customize customer experience
Repeated conversations and analysis of the same will throw up important data on trends. Companies can build Facebook chatbots to offer customized responses. This data is also useful for making changes to overall marketing and product strategies.
4. Manage operations
Chatbots can also take care of your sales, bookings, leads, etc. You can easily replace an online booking system with a chatbot to reduce time and enhance customer experience.
Chatbots can redirect the customer to specific pages on your website to either sign up for a certain service or make purchases. This is faster and more hassle-free than waiting in the queue for a long time for a customer representative to be available.
Examples of Chatbots for Lead Generation
Every chatbot is created to serve a particular purpose. Chatbots help with common customer problems and increase engagement. Facebook Messenger Chatbots ensure that customers get proper answers. They also help track shipments, set reminders, suggest changes, etc.
Social media marketing and chatbots are great tools to help companies generate leads in different industries. In fact, according to a Tidio report, 59% of businesses worldwide prefer to use chatbots to provide a more efficient and faster customer service experience.
Unfortunately, many companies are still not confident about building Facebook chatbots and hence, not adopting this revolutionary technology. Take a look at how chatbots can help different industries generate leads:
Financial planning
The investment industry is a very competitive, especially for new businesses. When you want to guide investors to your business, you can simply introduce a Facebook chatbot as part of social media marketing. This will direct traffic to your website, where a chatbot will greet them to capture important information. And then the ball is in your court.
Scheduling
If you have a business that involves a lot of scheduling and busy customers seeking appointments, you ought to resort to a chatbot to help you do so. Use your Facebook bot to help customers book appointments without you doing anything to employ expensive assistants.
Calculating EMIs
If you are in the business of lending and borrowing, building a chatbot can reduce your costs drastically by using technology to help with loan calculations.
Customer services
Many companies providing home services like appliance repair, plumbing, or carpentry use chatbots to help customers identify the actual problem and choose the right kind of service apart from scheduling a service.
Key Takeaways
Facebook chatbots are artificial intelligence programs capable of solving doubts and conversing with people.
Building a Facebook chatbot would help businesses grow and respond to customer queries on time.
Companies may consider building a Facebook messenger chatbot to leverage the power of omnichannel and constant customer interaction.
Organizations can build a Facebook chatbot to give instant replies in multiple languages and service their customers faster. They are quicker in giving responses than humans.
Building a chatbot messenger would help an organization hold onto customers and eliminate response errors.
Building a Facebook chatbot would help an organization collect tons of data to improve customer service.
Final Words
Building a Facebook chatbot for social media marketing is not as difficult as it may sound or appear. As long as you are clear on the objectives and know which platform to use, the rest of the process will fall into place.
If you are a small business, you may be unable to gather the funding to build a chatbot. However, make sure to keep it as a priority in your upcoming social media strategies. Brands like MakeMy Trip leveraged chatbots to provide the correct information to their customers quickly and stayed afloat even amidst a raging pandemic.
FAQs
1. How much will it cost to create your own Facebook Messenger chatbot?
On average, for small businesses, it only costs around $3,000 to $5,000. However, there are many companies that build chatbots for more than $50,000. It totally depends on the company and how much they are ready to spend on their chatbots.

2. Do customers like chatbots?
Customers surely love using chatbots. In a survey, it was seen that more than 60% of the customers like using chatbots. They find it convenient and a better alternative for customer care.

3. How can I test my chatbot on Facebook?
There are multiple ways to test your chatbot on Facebook, but one of the most preferred ways is to mimic a request coming from Facebook. You can ask relevant questions using your keywords and see how the chatbot replies to them. If you find any error in replies or with the keywords, you can easily correct it. You must make sure that the chatbot is replying accurately to all the answers. Misinformation can create confusion in the minds of customers and there are chances that you might end up losing your potential clients.

4. Are chatbots on Facebook available for free?
It is not necessary that building a Facebook chatbot comes for free. There are a few websites that provide free chatbot-building tools to help you in creating the desired chatbot. For creating chatbots on these websites, you do not require any prior knowledge about coding, programming, or developing. You only need to sign up and start creating your own chatbot.

5. How does chatbot work on Facebook?
Chatbots in Facebook work effectively on Artificial Intelligence technology. These chatbots are capable of replying to queries, providing solutions and suggestions, etc. Every business can create its own chatbot based on its requirements. These chatbots are proven to be helpful in many ways.