Marketing
How Link Building Tactics Can Help in Lead Generation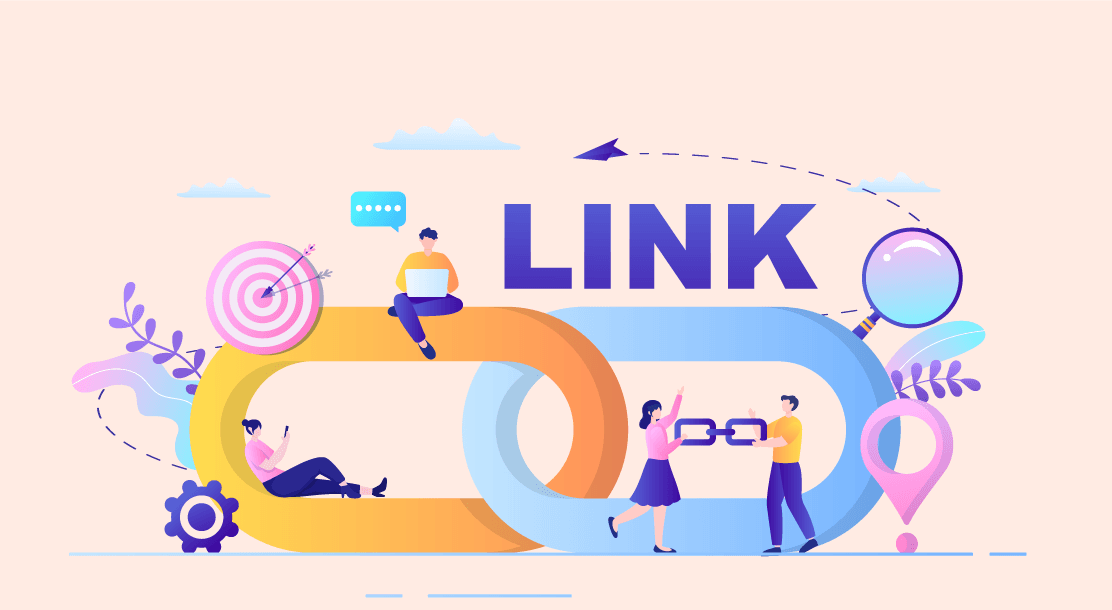 Table of Contents
What Is Lead Generation?
How Are Link Building and Lead Generation Connected?
How to Add Lead Generation Processes to Your Link Building Strategy
Conclusion
FAQs
We're living in an era when the internet is a huge part of people's lives. The way they interact with brands, be it through social media or email, has changed drastically over the past few years. If you want your company to keep up with this ever-changing landscape, your lead generation tactics need to change too.
Lead generation tactics play a major role in how successful your link-building results are and how much traffic your website gets from search engines like Google. They are an essential part of any marketing strategy. Lead generation tactics are often overlooked because they are not as exciting to talk about as other digital marketing strategies.
Lead generation is the starting point for all other promotional activities, so it's imperative to know what you're doing here. It can be done in many ways but this blog post will focus on how lead generation can help boost your link-building results.
What Is Lead Generation?
Any individual who expresses an interest in a company's product or service is referred to as a lead. Nobody and no one is a leader, since everyone has unique tastes and requirements. Numerous firms make the error of marketing to everyone when they should be concentrating their efforts on those who are interested in what the business has to offer.
The process of acquiring prospects and turning them into someone interested in your company's goods and services is referred to as lead generation. The majority of businesses choose to stay with what works best for them since lead-generating tactics vary by sector. For example, while email and social media marketing may work for online fashion retailers, they may not work for other firms. Individuals searching for software may demand further facts and knowledge about the product, which is why a blog or series of webinars may be a more effective lead-generating method.
When someone expresses interest in your brand's goods or services, the steps toward their first purchase appear natural. You've just aided someone in meeting a need or resolving an issue.
When a person has no interest in what you have to offer but you continue to attempt to persuade them to make a purchase, they may feel compelled to do so. This might give the buyer the impression that they were coerced into purchasing your goods, which can be detrimental to your brand's image.
How Are Link Building and Lead Generation Connected?
The objective of any firm's marketing strategy is to generate sales. However, you must do more than just concentrate on the eventual result. That will do nothing on its own. According to research, almost every buyer needs multiple interactions before completing a purchase. As a result, if you concentrate entirely on sales, you will overlook all the other processes that lead to a sale.
As a marketer, you must include some kind of secondary statistic. Its objective is to act as a link between a stranger and a customer. This is where the concept of a lead originates. Thus, a lead is a contact that we regard as a prospective client.
Fortunately, the path to becoming a lead from a stranger is far shorter and more predictable than the path to being a customer from a stranger. What's more, after you've converted a visitor to a lead, you can communicate with them more meaningfully. This is the moment to use tactical local email marketing and link building to increase interaction. This is one of the most crucial B2B lead generation tactics.
The primary goal of link building is to get links, just as we seek sales in marketing. As it turns out, few link builders go beyond sending a single targeted email. Following the first contact, individuals rely on automatic follow-ups. That is precisely where you need to be careful. What we mean is that if you combine lead creation and link development during this time, you will get far greater outcomes.
We've previously discussed how prospective consumers need several interactions. Additionally, they may need anything other than an email. If you want people to consume your content, you need to make it link-worthy. A sound link-building strategy should contain a mix of inbound as well as outbound links to make your brand credible and trustworthy.
As you can see, obtaining high-quality backlinks is a little more complicated in 2021 than it was before. That is entirely okay since your results will continue to improve as you collect more leads. The following are some of the most critical ways to generate leads through link building efforts:
Create expert round-ups
An expert round-up article contains authoritative views on a certain subject or answers to a particular inquiry. True experts are often ecstatic to be positioned as influencers and authoritative figures. Simply doing interviews helps individuals feel comfortable and respected.
Additionally, you will provide them with a space to include their website links. Following the publication of the expert round-up, these influencers are likely to share the content and include a link to your round-up for their audiences to read. This way, you'll get visitors to your website and higher domain authority as a result of this.
Fix broken links
This is a link-building tactic that entails looking for broken links on a certain website and telling the website's owner that you've developed good material that can be used to replace the broken link. By identifying the broken link, you give value to the website's owner, and in return, the owner may include your link on the site.
The simplest approach to finding broken links is to utilize a competition research tool like Ahrefs, which is used by some of the greatest marketers, such as Neil Patel. It's really easy to locate them with this convenient tool. You'll see a page of results highlighting the website's broken links. Thoroughly check the connections and then give resources or information to fill up the gaps. This also helps you improve your B2B link development approach.
Contributor blogging
Guest blogging continues to play a significant role in B2B link development methods. It is a long-term link-building strategy that may have a significant impact on your page's rankings. Therefore, how can you use guest blogging to get authority links online?
To begin with, you must seek guest blogging possibilities; in other words, you must choose where you will publish your guest post before pitching. Above all, you want to ensure that the websites you're considering allow you to publish your link and are actively seeking guest bloggers to contribute their thoughts, views, or information.
From a link-building standpoint, you'll want your link to appear on a website with high domain authority. You can use tools to determine a website's domain authority. These tools provide you with information on the domain's authority, the number of backlinks it has, and the site's typical traffic.
Once you've identified the locations where you'd want your link to appear, it's time for the most difficult part—selling your guest blog proposal. We would encourage you to keep the following parameters in mind while crafting your pitch:
Be sincere
On a monthly or annual basis, authoritative blogs get hundreds, if not thousands, of proposals. A substantial portion of them are bots and copy-pasted templates that lack the necessary personalization. You must differentiate yourself from the competition by customizing your guest blog pitch with an authentic admiration for the site, its owner, and its authority.
Observe the rules
This is a self-explanatory guideline. Nobody will consider linking to your site if you do not adhere to the guest blog standards.
Maintain humility
Nobody appreciates arrogance, even if you are an authoritative blogger who has worked your way to the top. When pitching your issue, you must maintain a sense of humility. Mention your successful guest articles and the fact that an authoritative website in your field will benefit from your contributions.
Follow up regularly
Everyone is busy, including bloggers and editors. Occasionally, they just need a little prod. Check to see if there is a more convenient time to contact them or to inquire about the possibility of discussing your idea in further depth with them.
Links to social media
If you want to exert control over your brand's visibility on Google, you must rank high for your brand's keywords. Your social media accounts may be a significant component in search engine results pages (SERP), particularly if you choose to add your website links in your bio. Include a link to your website in strategic locations across your LinkedIn, Twitter, Facebook, and Instagram profiles. Social media shares are significant! High-quality content garners a great deal of attention and social shares in the B2B world. The more social shares your material receives, the more likely it is for your content to be recognized by websites with greater authority, which can help in lead generation.
Use relevant tools
Help a Reporter Out (HARO) is a free service that provides reporters with a large library of materials for their articles as well as daily possibilities to get excellent coverage. Additionally, it is a wonderful method for establishing a high-quality backlink and quality leads.
HARO enables reporters to contact you, which is the polar opposite of conventional B2B relationship development tactics. Mashable, the Wall Street Journal, and the New York Times are just a few of the major news websites that utilize HARO to locate high-quality connections.
It's simple to join HARO. All that is required is a valid email address. Following that, you must decide on the sort of resources you will supply. You'll get up to three requests every week if you use the free version. To maximize the effectiveness of HARO in your B2B link development strategy, you must:
Respond only if you are capable of delivering the resources.
Provide the necessary information and adhere to the requirements.
Ascertain that you are capable of responding to the journalist's queries.
Your response should contain a link to your website and an author bio.
Additionally, ensure that you promote yourself as an authoritative source and that your pitch to the journalist is succinct.
How to Add Lead Generation Processes to Your Link Building Strategy
Here are a few ways in which you can leverage link building to scale up your lead generation efforts.
Before developing content, define your leads
If you're acquainted with B2B marketing, you might know about the outcome-driven data approach. This simply implies that you must first define your objective precisely before establishing a method for accomplishing it. Regrettably, this notion is employed seldom to link building. Typically, the method involves two steps:
The content team generates what they believe is an outstanding asset.
The outreach team identifies website owners who may be interested in that asset and initiates contact.
The issue here is that both teams are operating independently. Therefore, you should employ critical B2B link development strategies. Essentially, you'll be reversing the technique we just discussed. The outreach team does prospect research and determines what attracts connections on a certain issue. They then communicate these findings to the content team.
The content team then generates something superior to what is presently available on the subject. The outreach team distributes the material to the contacts they selected before.
The aim is to allow your research on link development to lead your content production process. In this manner, even without active outreach, you'll end up with an effective campaign that generates both links and leads.
Organize leads for linking
As you may guess, each lead will need a unique amount of touchpoints to connect. As a result, you should add lead nurturing to your strategies. Before sealing a transaction, B2B marketers often warm up their leads. Similarly, you'll obtain more connections if you contact your leads more often and remind them of your asset.
This is when an outreach tool comes in handy. It will take care of the lead nurturing for you by keeping all of your emails and automatically updating their status and dates. However, as the link department may agree, you should not stop there. Creating a complete profile for each lead and engaging with them on social media is a wise move.
Diversify your points of contact
Email is still the most effective technique of outreach for link development. Additionally, follow-up emails might open up additional opportunities for you by demonstrating your enthusiasm in sharing your value. However, there are more avenues for communication. And they will very surely boost your chances of receiving a response. We're talking about factors like Twitter following, direct messages, LinkedIn communications, website comments, and social media tagging. All of these factors may help you stand out.
Conclusion
The lead generation tactics mentioned above are not always the quickest and easiest employ for high-quality backlinks for your B2B website. However, they are typically effective.
While certain backlinks will be simpler to obtain than others, the most prudent and effective strategy involves a long-term attitude, several pitches and rejections, and a continuous relationship-building process.
Utilize the strategies outlined above, and with the work and time you devote, you'll develop an astounding lead generation tactic that will leave your rivals in the dust.
FAQs
2. What is lead generation?
Lead generation is the process of attracting the interest of potential customers by developing informative, entertaining, and meaningful content. The end goal of the activity is increased sales.
3. How do link-building tactics help lead generation?
There are a plethora of link-building tactics that help generate leads and attract traffic to your website. Some of these include guest blogging, creating expert roundups, using lead generation tools, and linking to social media.
4. What are some tools to find broken links?
Ahrefs and Dead Link Checker are two of the many tools you can use to find and fix broken links.