Marketing
26 Actionable Email Marketing Examples to get Responses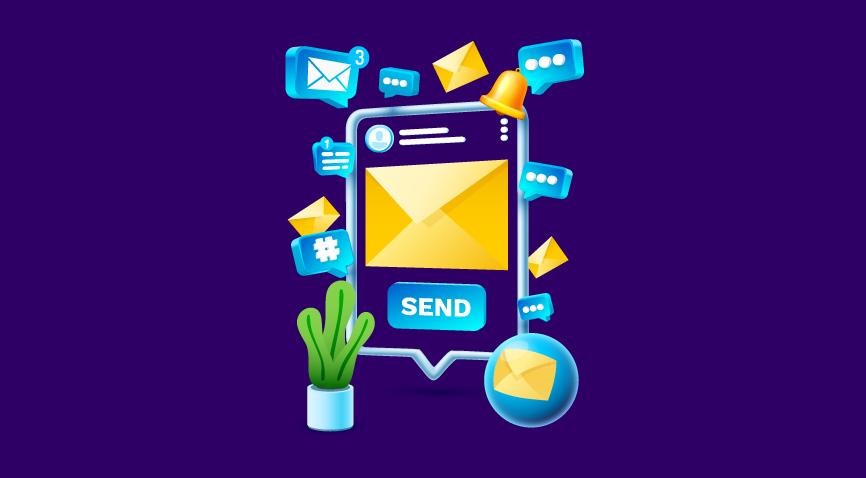 Table of Contents
Excellent Email Marketing Examples with Templates
Key Takeaways
Conclusion
FAQs
Email marketing is a good way to stay in touch with your subscribers and audience, attract new audiences, and keep your audience updated with what's going on in your company.
Although many businesses use email marketing, it is often considered an outdated channel. However, let us tell you that now is the best time to use email marketing content to leverage customers. Here's an eye-opener: 4.03 billion people worldwide used email in 2020 (Statista)! What's more? The number is expected to increase further.
By this time, it is obvious to conclude that it can't beat social media platforms. But here's another fact check: all the social media channels combined have an active user base of 4.33 billion as of April 2021. Personalized email marketing would surely yield positive results. Also, see the image below!
Imagine the time, efforts, and money you will save reaching out to all those people through one medium. Besides, it will also result in an increased retention rate and better focus on your target users. A great email marketing content strategy is to focus on retaining the existing customers, that most brands often neglect.
We receive emails from companies daily. Most of them are automated, some are boring, and the others you just want to skim through. And if you feel like skimming through an email instead of reading it, that means that the email's not doing its job. The best email marketing examples would hook the reader immediately, with just their subject line.
Do you remember the last time your inbox made you go, 'Wow, the emails I've received today are so engaging'? Probably not. Only around 10% of people who open marketing emails tend to engage with them. Although this may seem disheartening to a marketer, it can be used to your advantage. With people receiving so many uninteresting emails, it's easier for an engaging one to stand out. All you need to do is elevate your email marketing campaign.
An email marketing campaign is the distribution of planned content via email to accomplish a certain goal for the enterprise, like marketing products or services. It's usually sent to individuals who have previously engaged with the company. These are powerful marketing tools when used correctly.
How do you use them correctly? Well, we've lined up 26 great email marketing content examples that'll answer just that.
Excellent Email Marketing Examples with Templates
We have selected excellent and personalized email marketing examples of companies leveraging email newsletters to connect with their audience. Maybe, they will inspire you to get equally creative!
1. Personalization: Myntra
Myntra is an online fashion eCommerce platform known for its lively marketing communication. Whether you take its app's push notifications or emails, they get your attention.
The below email marketing content example highlights the availability and low price of the wish-listed product. Thus, creating a FOMO and pushing you to buy it. The design boasts gif animation and creates a soothing visual.
Myntra uses AI-powered email delivery to send personalized emails. The essential is to track the data of how the user interacts with your website. You can get insights on Google Analytics or heat maps software like Zoho. This will help you send relevant emails.
Sending personalized emails requires more research, data, and time (and probably money). But they also end up garnering higher ROI.
2. Upselling: Swiggy
Already made a sale? Upselling can help further increase it.
Swiggy is India's most popular online food ordering and delivery platform. Its email marketing strategy has always been to build curiosity among its users.
And this personalized email marketing example is a visual treat. It not only creates curiosity but also hunger with its lucrative offering, thus, reminding you to check the app or website and order something!
If you look at it, the design is pretty simple. Its vibrant orange color reminds the recipient of Swiggy, thus, creating a solid brand presence.
Offering a promo code or a surprise is probably the most actionable way to get attention, clicks, and convert leads. It makes your customers feel valued.
You can send out an email with a discount code to observe a special occasion or remind them of shopping with you.
3. Re-engagement: Zomato
Not everyone is waiting for your newsletter to make that purchase or engage with your product. Hence, re-engagement emails are the best way to grab your customer's attention and gently remind them of your presence.
Zomato did a great job at that with their personalized email marketing newsletter, a simple love letter. An out-of-the-box content that hooked many and even created a buzz on social media platforms.
Whether you are creative, funny, witty, or informative, don't deviate from it. Set a consistent tone to (re)establish your presence and the way people perceive you. The same applies to your email campaign. Keep the message concise and make that emotional connection to ensure people remember you when they need your product.
4. Customer feedback: My Protein
Getting feedback and acting upon them is a powerful way to bridge the gap between your business and customers.
And email marketing is one of the most efficient methods to get individual feedback seamlessly. The best part is you don't need any expertise to follow up with your customers for this.
But the only thing you must remember is to send a feedback email out on time. For instance, when a customer shops or after the products are delivered (if it's an online store).
Here's an example of My Protein. The email marketing content template is simple and makes it easier to share feedback in a few taps without writing a lengthy email.
The simplest one on the list. It doesn't need you to go design-heavy or brainstorm for concepts. A few lines with a call-to-action will get the job done.
5. Welcome mail: EasyJet
Welcome emails have an 80% open rate (Oberlo) and provide a great opportunity to get customers engaging with your business. Users like to know about the service they've just bought or subscribed to. This inviting welcome email succinctly expresses their offered services in a simple, visually engaging manner.
If the visual appeal of this email wasn't already enough, this airline has brilliantly executed one of the best email marketing strategies by inducing a sense of nostalgia in the customer. They've taken personalization to the next level by celebrating their milestone through the customer's journey with them.
6. Engagement newsletter: Trulia
This email marketing content example is sent by a property search engine website. The crux of the marketing in this email is the curiosity sparked by posing the highlighted question. Even if the viewer isn't looking to buy or sell property, they are likely to have their interest piqued, and therefore engage with the email.
7. Abandoned cart: Lime Crime
Users on retail websites abandon their carts for several reasons. Reminding users that they have abandoned carts is a great email marketing content strategy since their reasons for abandonment may no longer be applicable. This website is doing a great job of playfully reminding them of it and also offering an incentive to complete the purchase.
8. Compelling content: PayPal
This is a great email marketing example from an online payments platform. The caption concisely outlines that they have a solution to a problem that's known to be ubiquitous. The email explains how the solution works in simple steps. Even if users don't further engage with the email, they're likely to use the presented solution in the future.
9. Addressing pain points: J Crew
Relatability is key to engagement in any context. Rather than focusing on how good their products and services are, this email marketing content example focuses on allowing the reader to relate to a problem and offers their retail product as an alternate solution. The touch of humor surely makes it more engaging as well.
10. Goodbye emails: JetBlue
'Goodbye emails' are instrumental in giving a business a chance to win their customer back. One of the best email marketing content templates, goodbye emails remain empathetic and offer alternatives to unsubscription. More importantly, they remind the customer why they subscribed in the first place. This won't always prevent unsubscription but will make it less likely.
11. Humour: Shinesty
Everyone loves a laugh. Adding a touch of humor can be a great way to engage potential customers. Like this email marketing example by a face-mask retailer, it's best to keep the content minimal when you choose to use humor. Even if they don't require the product/service at the time, they're more likely to be interested in future emails.
12. Unresponsive users: Hire Vue
You don't want your emails ending up in the customers' spam boxes. That could affect deliverability. Personalized emails like this one serve to sift out unresponsive receivers and remind customers of their lack of engagement. If they're as well-designed as this one, the customer may even re-engage.
13. Images galore: Redbubble
Pictures certainly can speak a thousand words, especially when they're this eye-catching. Well-designed email marketing content examples are a great source of engagement. An added selling point of this email is that it sparks curiosity about the featured artist.
14. Short and sweet: Uber
You don't need to have fancy words and convoluted sentences to get your audience piqued. Sometimes simple and tasteful, like Uber's email marketing content example, works best! They get straight to the point in their newsletters, in which the text is usually very brief with a clear CTA. This is perfect for subscribers who don't have a lot of time and just skim the message.
15. Subject lines: Buzzfeed
BuzzFeed has awesome subject lines, which are always short and pack a punch. A Buzzfeed trademark is that preview text will accompany the subject line. For example, if the subject line is a question, the preview text is the answer.
16. Gifs: Postmates
Gifs are easy to consume, and they catch your eye. Postmate emails are one of the best email marketing content examples that use gifs to tell their audience about a new product that not only catches their eye but makes them crave the product because of its visual texture. You can also use animated GIFs in your marketing to show a fun header or display your products and services in action.
17. Sweet reminder: Dropbox
You'd think that an app you use daily might just be plain and boring, but Dropbox has found a way around that with simple and cute cartoons. Plus, the email marketing example is short and sweet. By doing this, the app subconsciously reminds us that it doesn't want to intrude but just reminds its audience that it exists and how it could be helpful in their day-to-day life.
18. Feedback email: Oyo Rooms
Oyo Rooms sent a feedback email reinforced with quick ratings. In this case, a hyper-personalized email marketing example would seem too interactive for something as simple as feedback.
19. Offers: Flipkart
Flipkart talks about the specific discount on women's day with the hashtag #ForEveryHer. They also focus on 'Top Offers' and ensure that they have a phone offer in place because this is an age where 12% of the total online strategy is mobile-phone-based. This is one of the best email marketing content examples.
20. Visually charging: Swiggy
Swiggy steps up their game with engaging visually-charged emails like this one. Like they've named their campaign "Match Day Mania," you can also brand your email marketing campaigns with a name. This email marketing content example will not only hit your target audience but stay as a memory.
21. Customer retention: Zomato
Zomato's email marketing campaigns are integrated with images of mouth-watering images of food, coupled with a simple line that reinforces customer retention: 'for the love of food'. When there's fierce competition from Swiggy, the primary thing that Zomato focuses on through its email campaigns is customer retention, for which they send food coupons.
22. CTA: Amazon
Amazon does it again with a creative email marketing strategy that focuses on Alexa and integrates it with questions that its audience has asked in real life, asking their audience to use the same to search for products online. There's also a product and service discovery CTA.
23. Value add: Hotstar
Hotstar is a streaming platform that uses email marketing campaigns to tell its audience what's trending on its platform or what's new. It's simple, but it adds to your audience's watchlist, and who doesn't want new things to watch every weekend?
24. Alert messaging: Goibibo
Goibibo uses the alert messaging strategy to remind its customers of updated flight rates, in this scenario, for example. This kind of email marketing content works in a highly competitive atmosphere and is a great retention strategy.
25. Unique promotions: ICICI Bank
The last thing you'd want is for your bank to send you an email. Banks are boring, right? ICICI bank turns this stereotype on its head, and this email marketing campaign example is proof. Instead of telling you directly to use your bank card, it connects banking to food in this promotional email.
26. Miss the customer email: Netflix
Netflix's 'are you still watching' has become a meme, but it's used that effectively to convey a sense of personal attachment to its viewer. The 'miss the customer' email works with Netflix as a viewing platform, as it does with food apps like Swiggy and Zomato.
Key Takeaways
Email marketing is one of the most inexpensive and popular ways of interacting with your customers. It is probably the first channel of communication with your users, once they subscribe to your website.
Never underestimate the importance of writing an amazing subject line. It is the first thing that your audience reads in your email and the best email marketing examples have hyper-personalized subject lines.
Never buy email lists, as they won't reach your content to your target audience.
The best email marketing examples are listed above. Nowadays, with every brand utilizing the channel of email marketing, brands have to innovate and draw the attention of customers to stay afloat.
Mailchimp, Hubspot, SendPulse, Freshmail, Moosend, Pixel Buddha, Mail Jet, are some of the greatest email marketing platforms that offer free templates and tips and tricks to ace the email marketing strategy.
You have to add value to your customer's life, offer interesting content, or make them laugh with every email newsletter. If you constantly spam them with promotions and do not provide valuable information, you will be blocked.
The best email marketing examples sound genuine and not spammy. Do not use too many punctuations and capital letters, as they make your email look unprofessional.
Try to make your email marketing campaigns as personalized as possible. If you manage to hit the right spots, your customers would be more willing to go to your website, in turn increasing organic traffic.
The best email marketing content examples contain high-quality images, gifs, and videos. It is obvious that motion content holds the audience's attention for longer than a static image.
Conclusion
Email marketing is a profitable direct marketing platform to reach out to new leads, engage the targeted audiences, increase customer loyalty, and drive sales revenue. These email marketing content examples are of brands spread across various domains to help you get a clear idea of what works for which brands, which will help you design and brainstorm your company's email marketing campaigns.
However, one thing to ensure here is that the feedback/survey is well-integrated to collect the responses in actionable data.
You can use email marketing tools for your surveys/feedback. It is free and easy to use.
These were some of our favorite email marketing templates. We hope this guide helped give direction to your email marketing ideas. It may seem a lot, but the email newsletter can make a big difference with little planning.
FAQs
1. What is an email marketing campaign?
An email marketing campaign pushes planned content via emails to achieve a specific goal of the organization. But, you must ensure that the email recipient has opted in to receive such content.
Businesses may have single or multiple goals for pursuing email marketing. They include: 
Brand awareness
Upselling
Lead nurturing
Traffic generation
Some of the best email marketing content examples are listed above to inspire you to start curating an email list now!
2. Why is email marketing important?
Email marketing is the evergreen and most popular channel of marketing for all types of businesses. You will be amazed to learn the below statistics that prove that email marketing is the most effective marketing tool for brands.

Email marketing has an estimate of  4200% ROI
85% of brands use email marketing for lead generation, 84 % for sales, 78% for lead nurturing, and 74% for customer retention
Email is 40% better at converting in comparison to other digital marketing channels
89% of marketers use email marketing as the primary channel for generating leads and sales
21% of sent emails are opened within the first hour of delivery
62% of sent emails are opened by the customers.
3. Why choose email marketing with the availability of more contemporary mediums?
Here's what makes email marketing more lucrative: it is cheaper and delivers higher ROI.
But not all emails are created equal or generate ROI. It can perform better or even worse depending on your planning, design, and content. The above-listed email marketing content examples would surely aid you in designing your next email marketing campaign.
4. What are some essentials to get started on an email marketing campaign?
– Understand your audience and their needs to create actionable content that resonates and gets hits.
– Design a measurable email. After all, what gets measured gets improved! You need to be able to see its performance to plan a better next email. Use email marketing tools.
– Push them out on time. Time is money! What's the use of sending a feedback form after a month from the day of shopping.
– Avoid heavy designing. Your emails need to be readable. So go for a no-frill design to reduce distractions due to unnecessary elements.

Wondering how to achieve all the above without consuming much time? That's where designing an email marketing template comes to the rescue. They take the headache out of planning the same thing again and get the job done in a few clicks.
5. How to create your email marketing template?
Emails need to be presented smartly to get traction in the busy inboxes. However, being a busy businessman, it isn't scalable to design a creative email every time. Moreover, it may discourage you from starting an email campaign.
It's better to create a template for your email marketing campaign. Take inspiration from the above-listed email marketing content templates. However, first, you must figure out your requirements.

1. What do you want to achieve through email?

– Promote your products or services
– Informative emails to nurture leads
– Promote seasonal sales or discounts
– Get feedback or encourage people to participate in surveys
– Send transactional emails
Typically, businesses send at least 2-3 types of emails from the above list. If that's the case with you, create a separate template for each.

2. Choose an email marketing tool

As a business, you will have to consider your resources and make a decision accordingly. For instance, if you don't have an in-house designer or don't want to spend on an email manager, go for an external tool.

There are various multiple marketing tools available online for design and management for free and paid subscriptions.

Some of them include:
– OptinMonster: For email management
– MailChimp: For designing and campaign management
– Canva: For designing the email

Although they're available for free, we'd recommend using the paid version for their advanced features.

3. Get started with the template

After selecting the appropriate tool, create a standard design. The point here is not to create the content but to envision the content you'd send and create accordingly.

Include personalization, add limited elements, and position the Call-to-action button carefully to navigate to users where you want to. Canva has in-built designs to customize and use if you don't want to start from scratch.
6. Which email marketing software offers free templates? 
Some software offering free email marketing content templates to pick and choose from to jumpstart your email marketing include: 
– MailChimp
– HubSpot
– Gmail
– Wrike
– AirTable
– iContact
– SendGrid
– Hunter
– Marketing 360
– Streak