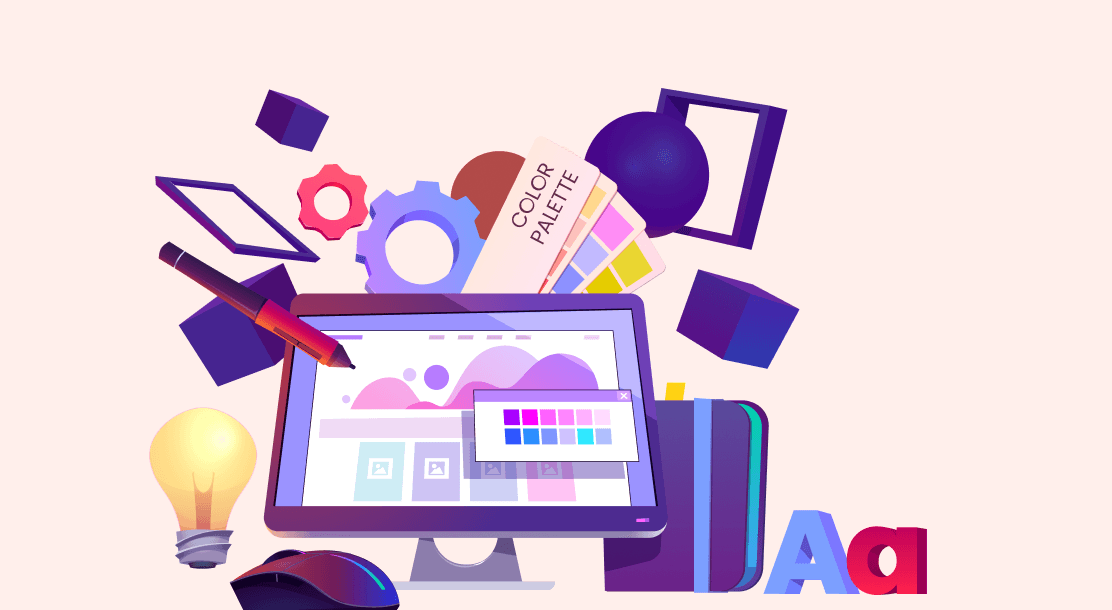 Table of Contents
What is UX design?
The Next Big Thing in UX DESIGN
Top UX Design Trends for 2022
Conclusion
FAQs
According to Forester, a good UX design can increase a website's conversion rate by up to 400%. Alternatively, even the most worthwhile website can fail to evoke interest if it's integrated into an obsolete or poor-quality design. Hence, it's crucial to understand the top UX design trends and use them in your website or app deliverables.
In the past few years, there has been an increased focus on the use of the internet and technological devices. This was further fuelled by the onset of the COVID-19 pandemic. Thus, there has been constantly evolving user demands and consistent feedback, making UX design one of the most dynamic design fields out there. And this has left many UX designers feeling jumbled.
To help you out, we have whittled a list of the leading UX trends for 2022. A lot of these trends showcase an enhanced focus towards experiences such as personalization, emotive interaction design, material design, and much more. Let's take a detailed look at these design trends that are most likely to shape the future of UX in 2022.
Simplistically talking, UX design is the process design teams use to develop products that offer evocative and appropriate experiences to users. It involves everything, right from product branding and design to usability and function. A good UX design boosts the experience for the users, making it much more positive, seamless, and hassle-free.
This is a concept with many dimensions. Essentially, it involves several aspects that alter the manner a customer will perceive your brand.
Image: Source
The primary goal of UX design is to enhance customer satisfaction and loyalty through the utility, ease of use, and pleasure offered in the interaction with a product. It's about improving the experience so that people find value in your product.
To make your product feel and look fantastic, it must keep users engaged with stunning UX elements that are based on the latest UX trends. And to take leverage of the top UX design trends, only a professional and experienced design agency can help.
The Next Big Thing in UX Design
With everyone catching up with the new normal, product design is constantly changing. Things such as frequent lockdowns, forced closure of retail stores, etc. have had a massive impact.
Consequently, remote collaboration, streaming services, online shopping, work from home, and communication platforms have seen rapid growth. And as always, in times of dramatic change, technology and design developments reflect the customer's precise needs. So, in the coming years, there will be several UI UX trends that will discern how users interact with the product.
Let's take you through the top UX design trends that are all set to shape the future of UX.
1. Increased personalization
Personalization has always been a key UX element and now companies are focused on it, even more, delivering highly targeted and tailored content to users. A classic example of this includes curated Spotify playlists and movie/TV show recommendations on OTT platforms. It's safe to say that this trend is only going to surge in 2022 and the years to come.
Hyper personalization is anticipated to play a vital role in UX design. It will help enhance the customer experience by addressing their needs before they even ask for them.
Another aspect in this regard will be localization. This implies that users can alter the appearance, position, and tone of the digital elements to suit their individual preferences. So, if you wish to keep your users hooked to your app or website, you must focus on this UX design trend.
2. Designs led by AR and VR
AR and VR technologies are much more than just a buzzword. As per statistics, the number of AR users in the US will reach 95.1 million by the end of 2022. With constant advancements in these technologies, this will become one of the key UX design trends that will continue to flourish in the coming years.
AR and VR drastically change how users interact with products and increase engagement. For instance, AR has been used in many e-commerce apps, enabling users to virtually try on clothes or check out how different furniture pieces will look in their homes without even stepping out into a physical store. Apps like Nike, Ikea, and Home Depot are all examples of such apps. This will likely retain user attention and offer an enhanced user experience.
UX designers must keep up with these technological advancements to create the best possible customer interactions.
3. Data visualization
Visualized data has been prevalent in digital marketing and this UX trend is anticipated to resurface in 2022. Essentially, data visualization is the process of presenting significant data in a simple and easy-to-comprehend visual format such as infographics.
Data visualization is quickly becoming an invaluable aspect of user experience since it boosts how users interact with certain products. It even promotes a more trusting relationship between them. For instance, the ability to check out screen time on mobile devices provides a level of transparency that makes the users more accountable for their cell phone usage.
In 2022, there will be an increased focus on the data that can improve users' interaction with the products and have a positive impact on users' lives. The annual Spotify Wrapped is an excellent example of this. It not only presents the user's chosen songs and artists, but it also displays their listening time, which is a great way to validate their interest and boost engagement.
4. Immersive 3D visuals
Several brands are moving towards integrating unique and immersive 3D visuals into their websites and apps. Such visuals not only lend an artistic flair to the product but also help boost the overall user experience and engagement.
Earlier, 3D visuals weren't extensively used because of the heavy load they cause on user machines. However, with modern front-end frameworks, these visuals can be integrated without any significant increase in page load times. Consequently, UX designers are experimenting with 3D animations, shadows, and layer effects to create depth and dimension in their designs.
Here's an example from Home of the Future website. The incredible website with 3D graphics allows users to move from tab to tab, checking out houses at different times and environments.
5. Advanced cursor interactions
A cursor is an advanced tool that permits the users to interact with a product's UI. In fact, everyone who visits a web product uses the cursor to navigate and take action. Thus, a cursor's importance has always relied on functionality.
However, with the emerging UX design trends in 2022, the cursor is now more of a sophisticated design element playing a bigger role in yielding a trendy and clean user experience.
Over the past few years, cursors have evolved in terms of their shape and size. Now, the primary aim of these cursors will be to facilitate a more effective user experience. Some experts feel that a cursor can help to give a minimalist look to a website. UX designers can eliminate several buttons and use a cursor instead to offer smart and minimal UX designs.
An example of this is showcased by the Obys Agency, a Ukrainian design company. They use a cursor creatively in a way that when it hovers over an image, it provides users a glimpse into that project.
6. Biometric authentication
Another significant UX trend, biometric authentication, ensures device security. This technology embraces a security-first approach for users and businesses alike, thereby ensuring a great and safe user experience.
Different biometric technologies are flourishing in the market. This includes facial recognition, iris scans, voice recognition, and even vein pattern recognition.
So, if your product has a password for authentication, it's a great idea to move on to iris scans. Similarly, if you already have iris scanning in place, it's time to introduce facial recognition. The idea is to keep advancing and innovating.
7. Emotive interaction design
Also known as emotional design, this UX trend is most likely to shape the future of UX. It's all about creating experiences that invoke an emotional response in users. Through these experiences, users develop a deeper connection to the website or the app and have a more positive and memorable interaction. They closely follow the user journey and offer support and encouragement.
The best example of this is Duolingo. The website offers stunning animations that resemble human interactions. It uses special characters that congratulate a user when they perform well, present them with rewards, support them when they accomplish a challenge, etc. Thus, the entire user experience becomes more human and positive.
8. Micro-interactions
Micro-interactions are small visual components that have a massive impact on the UX. These can be the 'like' button on Instagram, the 'Retweet' button on Twitter to innovative scroll bars that guide the users. Micro-interactions have been used for a while now but these interactions are expected to become a standard for good UX design in 2022.
Micro-interactions serve the purpose of making the user experience more interesting, engaging, and enjoyable. Designers must become creative in how they can implement micro-interactions by reaching harmony in elements without scattering attention to all sides of the screen.
An epic example of this is displayed by the About page of Spatzek Studio. Here, the page uses an engaging storyline asking the users to respond by choosing either Yes or No. while the user's answer is the primary user interaction, circling the answer chosen by the user is a form of micro-interaction.
9. Creative scrolling experiences
Scrolling is an experience on its own. And in the coming years, this experience is anticipated to get even more creative. Earlier, scrolling was just a passive activity that served as a means to end function. Now, UX designers are creating immersive elements to make the user experience interactive.
Essentially, this UX trend focuses on the user's journey of discovering novel bits of a website by scrolling. As the user scrolls, the elements in the background change, different components move through pages, and more. And all this happens in a way that immerses the users into the experience that a website has to offer.
An example of this is demonstrated by moooi.com. The website shows how creative scrolling techniques can add greater emphasis to already bold designs.
Key Takeaways
UX design is now focusing on hyper-personalization to engage audiences before they even expect them.
AR and VR technologies have led to users virtually trying on the service or product without stepping out of their homes.
Visualization, data-based and 3D visuals, are a highly effective method to sustain users' attention and this increases dramatically when it's personalized.
Even something as simple as a cursor design plays has a lot of importance with the UX.
Security is another key feature in UX design trends in 2022. Place a huge emphasis on it.
Be sure to have an emotive interaction UX design in your product/service as users are more likely to be engaged when they feel a personal connection.
Subtle UX features like micro-interactions (which include "like", "tweet" on social media, and so on) and scrolling experiences are set to get a lot more innovative in 2022 to improve user experience.
Conclusion
UX design trends are constantly changing under the beating of different events, breakthroughs in technology, user's changing demands, and much more.
The list of trends mentioned above can help you stay up to date and deliver what your digital consumers expect. It can also help you increase customer retention, engage more users, and deliver a better ROI.
So, get out of your comfort zone. Experiment with different things to stir innovations in design. Try out different agencies offering Design Services. This will surely ensure a happier user experience.
FAQs
1. What are the latest UX trends?
Some of the latest UX design trends include:
– Clean user interfaces
– Augmented and virtual reality 
– Advanced personalization
– Data visualization 
– Micro-interactions
– Emotive Interaction design
– Creative scrolling experience
– Biometric authentication
2. What is the next big trend in UX design?
Several UX trends are anticipated to drive change in 2022. However, one of the greatest trends is expected to be Virtual and Augmented Reality. Designs led by the two disruptive technologies will become a standard in 2022.
3. What are the challenges that UX designers are facing?
Some of the top challenges faced by UX designers include:
– Reducing the gap between design and development
– Conducting research under time and budget constraints
– Deciding the problem that needs to be solved
– Navigating the ever-altering landscape of UX job titles
4. How much demand is there for UX designers?
UX designers' demand has been steadily increasing for a while. In fact, LinkedIn ranked UX design as one of the top five demand skills of 2020 and Glassdoor added this skill to their list of 50 best jobs to have in 2021.
5. What is the future of UX?
UX design's future lies in the professional's ability to master human-centric design skills revolving around storytelling, empathy, and design ethics. While many technology trends will come and go, ensuring human-like connections in UX design is the key to its survival.