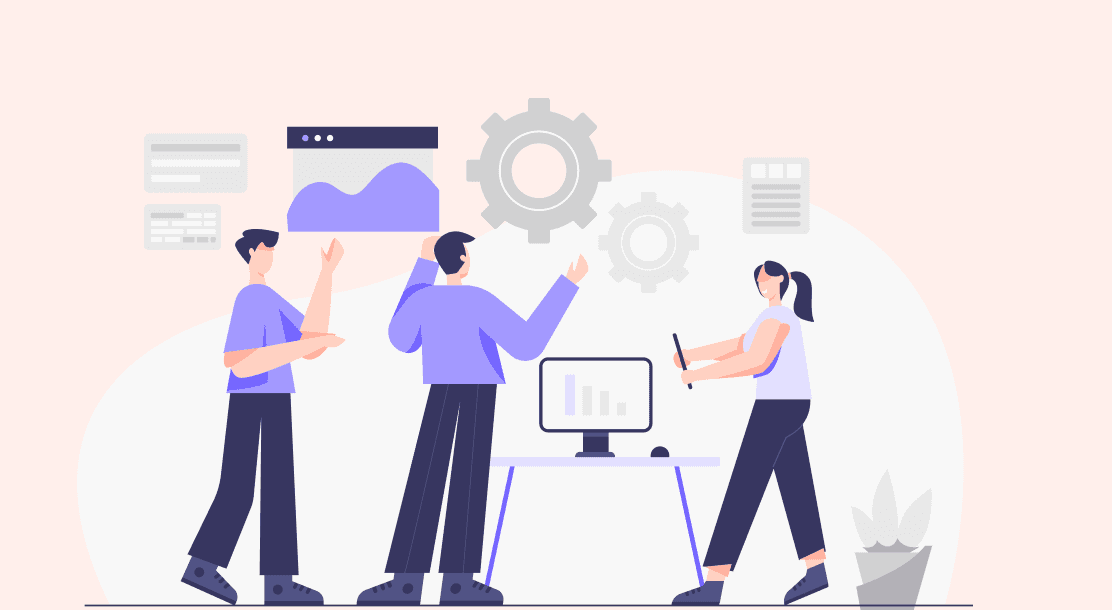 Are you following these email marketing tips to boost your B2B email marketing campaigns and generate greater sales? Read on to find out more about it.
Table of Contents
What is B2B Email Marketing?
Why Should Every Business Create a B2B Email Marketing Strategy?
Effective Email Marketing Tips for B2B Marketers
Key Takeaways
Conclusion
FAQs
Email marketing is one of the best tactics for businesses. According to statistics by a renowned blog, email generates $42 for every $1 spent, which is an incredible 4,200% ROI, making it one of the best and most valuable content marketing options. Today, we will look at some effective email marketing tips to help you get the highest productivity out of your B2B email marketing campaigns.
81% of the B2B marketers say that email newsletters are among their most used forms of content marketing. And this is because it is one of the best ways to ensure that content developed for leads will be consumed.
Content and social media are indubitably excellent means of nurturing leads, but they have limitations. Getting your website content in front of your potential customers requires high search engine rankings for relevant keywords. On the other hand, social media posts are short-lived and face immense competition. Also, there is no certainty that your leads will discover content published on these channels.
But email marketing is different. Pretty much all of your existing and potential customers use their email regularly. Thus, reaching them via email is the quickest and most effective way. To make your email marketing campaign effective and profitable, you must directly deliver relevantly, targeted, and personalized content to leads. Here will take you through the best email marketing tips for B2B marketers.
Note: When we refer to B2B email marketing, things take a diverse path as compared to B2C marketing. B2B email marketing is primarily based on logic and reasoning. Let's understand more about it in the next section.
What Is B2B Email Marketing?
Business-to-business email marketing denotes a particular email marketing strategy where the aim is to target your email campaigns to businesses and not individual customers.
Unlike a B2C relationship, where every marketing campaign must tap into a consumer's emotions and convince them to purchase a product, B2B relationships are based on logic. When working with another business, it is important to understand the logic and reasoning behind the buying decision.
As a result, B2B email marketing campaigns must be more in-depth. They must focus on things that matter most to a business entity, such as money, time, and resources.
Why Should Every Business Create a B2B Email Marketing Strategy?
Image: Source
With 4,200% ROI, we know that email is important to sales. But it is much more than that. Email marketing also helps to build relationships and initiate quality interaction with leads. It is an excellent channel to maximize the effectiveness of your communications in many areas throughout the customer journey.
Email marketing enables B2B marketers to reach potential clients who are a perfect fit for their services.
The marketers can build an audience that is inclined to be highly engaged with your business by exchanging value gated content for increased opt-ins and email addresses. And when you start a customer relationship by offering good value, you kick off on the right foot.
Effective Email Marketing Tips for B2B Marketers
1. Define your ideal customer profile
If you lack direction and focus with your B2B email marketing campaigns or get inadequate results, try outlining an ideal customer profile (ICP). By getting a clear idea of who your ideal clients are, you will be able to:
Personalize your email marketing content
Segment your email lists for better and more effective call-to-actions
Craft emails that are highly relevant, targeted, and address the specific pain points of the customers
Moving on, here are some ways to define an ideal customer profile:
Talk to your most loyal customers
Every business has some highly engaged and loyal customers. They are a perfect fit for your solution. And talking to them can help you outline an ICP.
Identify their pain points
Talking to this engaged group about their goals and challenges will give you great insights. You can identify their biggest obstacles and find out ways in which you can help them break them down.
Map out their purchasing process
You must aim to understand better who the decision-makers are, how they conduct their research, how they make decisions, and what they consider while purchasing a product or service. Also, find out what channels they are most active on.
Once you have gathered all the information above, use it to draft your email content. It is one of the best email marketing tips to ensure that your approach is relevant and addresses the pain points of your target audience.
2. Personalize your B2B email marketing campaigns
Personalization is one of the most important email marketing tips. It works well when you create unique and personalized experiences for your customers and prospects. So wherever possible, add a personal touch to your emails.
In the words of Val Geisler, an email marketing strategist, "the most effective emails come when written from a human to another human."
Once you have defined your ideal customer profile, use the information to tailor your email messages. Remember, it is not just about the email body. Every part of the email, including the subject line, must be personalized and holistically developed to address a typical customer's pain point.
Consider what kind of subject line will appeal best to each customer segment. According to a study, a personalized subject line boosts the email open rates by 29.3% across industries.
If you know the recipient's name, integrating it into the subject line will make your email sound much more effective and special. Also, pay attention to the CTA. Personalized CTAs convert 202% better than default versions.
By offering a personalized message, B2B brands have a much brighter opportunity to put themselves in a competitive B2B world. Now let us look at an excellent example of personalized B2B email in the image below:
Image: Source
Notice that they started at the right note by addressing the reader by his name. Next, the email lets the reader know that it is from George, who is supposedly the VP of client relations. George not only tells the reader that he will be his primary point of contact but also projects a feeling of warmth, letting him know that he is available to address any queries.
The email is a good way to build an instant rapport with the reader and get the ball rolling with new leads.
3. Craft the perfect subject line
Another crucial business-to-business email marketing tip is to focus on crafting the best subject line. Remember, strong subject lines will make or break your email campaign. It will mean the difference between your campaign receiving high open rates or going straight to the junk.
Image: Source
When writing your subject line, you must think of it as a single line of text to explain your email. When an email is sent to your leads, the first thing they will notice is the subject line. Thus, you don't get more than a few seconds to make them curious about your offer. And this is why you must tell them everything they need to know in one go.
But how do you develop an intriguing subject line? Well, there are two components of a good subject line:
It builds curiosity
It taps into the audience's buyer intent
And the best subject lines have both these components.
One of the most critical elements of writing a persuasive subject line is to make it the ideal length. There have been several studies on this, but the recent data from Campaign Monitor established the right length to be between 28 and 50 characters.
Ideally, shorter subject lines, with 28 to 39 characters, are considered best as it also caters to mobile users with restricted screen space.
4. Keep your emails informational, rational, and value-packed
A golden rule of selling is that you give something valuable in return if you want something. Thus, you need to offer your customers and potential leads quality material or collateral they can use to boost their confidence in your offerings. Only then will they likely provide you with information such as their details.
When creating a B2B email marketing strategy, you must remember that B2B communication focuses on facts and information. So as a marketer, your main goal should be to put your audience's information needs above everything else.
Instead of constantly pushing sales-y content to your contacts, empower them to make their minds up. The educational and informative content you share will eventually reinforce the value of your product or service.
Thus, you can provide them with informative content such as free assessments, whitepapers, industry statistics, professional blogs, top-ten lists, etc. This will help you earn your audience's trust and maintain an ongoing dialog.
Furthermore, it is good practice to make your B2B emails more visually engaging. According to a study, 45% of the recipients claimed that they like brands that do not take themselves very seriously. So, it is a great idea to include images, videos, and emojis to enhance the visual appeal of your email.
5. Include a Call to Action
Most B2B marketers develop an email marketing campaign to nurture and generate leads. These emails play a crucial role in building an ongoing conversation with the audience. However, marketers still need to remind the customers that they exist from time to time.
So, how to do that? One way is to include a call to action (CTA) to visit your landing page or provide customers with some more ways to continue the conversation with you. CTAs can take different forms, depending on the customer's purchase cycle.
Providing one call to action is enough in most B2B email marketing campaigns. However, how it is presented is equally important. Thus, copy plays a crucial role in whether or not the leads will follow through on the action you are promoting.
Let us look at a good example of B2B email marketing campaign CTA:
Here, the CTA isn't just clearly visible; it is also well-related to the content. Now let us look at some great tips to write a perfect call to action:
Make sure to express the CTA clearly so that it addresses the most important customer query, "what's in it for me?"
The location of the CTA must be easily visible and accessible.
Your email content must always naturally lead to the CTA. Use professional email writing services for this.
Offer clear directions so that your CTA answers the following queries: "what should the leads do?", "where will the leads go?", "why should they click on the CTA?"
6. Go beyond one email
We know that B2B purchasing isn't based on pure impulse. B2B purchases often require bigger investments, and thus, the buyers need to think through their purchase decision.
So as a B2B marketer, you will have to work hard to make a favorable impression on your potential clients and educate them more with each step. This will also include sending more than one email to get them well exposed to your offer.
Remember, expecting your B2B email marketing recipients to purchase from you on the first email will only lead to disappointment.
Your B2B campaign must contain multiple emails that are spread over a while. And the frequency must depend on the type of product or service you are selling.
Also, you must start by sending your leads a welcome email once they join your email list. This is very important since most of your readers expect to receive a welcome message. It is vital to fuel new leads' interest in your brand.
Key Takeaways
Email marketing is one of the top ways for B2B brands to nurture leads. It is a highly cost-effective channel to move leads from the top of the sales funnel to the bottom while establishing lasting relationships.
Understanding your core audience and their pain points will help you tailor your email messages and boost the campaign's effectiveness.
With email personalization, you make others feel special. This can encourage them to read further and even do business with you.
Craft subject lines that pique your reader's interest. Keep the subject line short, ideally 3-5 words, and provide lots of value to your email content by providing rich information sources such as whitepapers, free assessments, top-ten lists, etc.
Include a single call to action in your B2B emails and keep it easily visible, bright, and relevant to the content.
When it comes to B2B marketing, you need to deal with long buying cycles. So plan a series of B2B emails spread over a long period to boost opt-ins.
Conclusion
B2B email marketing has always proved to be an effective marketing strategy. Before starting your campaign, the aforementioned email marketing tips for small businesses must be considered. They will help you fuel your potential customer's interest in your brand, build lasting relationships, and generate B2B sales.
FAQs
1. What is the importance of an email marketing strategy?
A powerful email marketing strategy helps you associate with your target audience in a personalized way and cost-effectively boost sales.

2. How to develop an email marketing strategy?
Some of the best practices to develop an email marketing strategy include:
1. Define your buyer persona
2. Build an organic email marketing list
3. Segment the email marketing lists based on interest levels
4. Craft persuasive subject lines
5. Get the tone and timing right
6. Use a clean and attractive email design
3. How to write a good B2B email?
To write a good and persuasive B2B email, you must do the following:
1. Write to gain trust and not sell your product or service
2. Focus on the pain points of the reader
3. Tell intentional stories that pique the reader
4. Don't make the title and subject line be an afterthought
4. What are the different types of B2B marketing emails?
There are many different types of B2B emails, such as welcome emails, brand stories, re-engagement emails, customer stories and case studies, whitepapers, helpful tips and tutorials, order follow-up emails, etc.

5. What are some effective B2B email marketing tips for small businesses?
Some noteworthy tips include:
1. Choose quality over quantity
2. Create a segmented list for the most engaged customers
3. Use embedded sign-up forms rather than using a link in the email
4. Make your emails mobile-friendly
5. Send automated emails