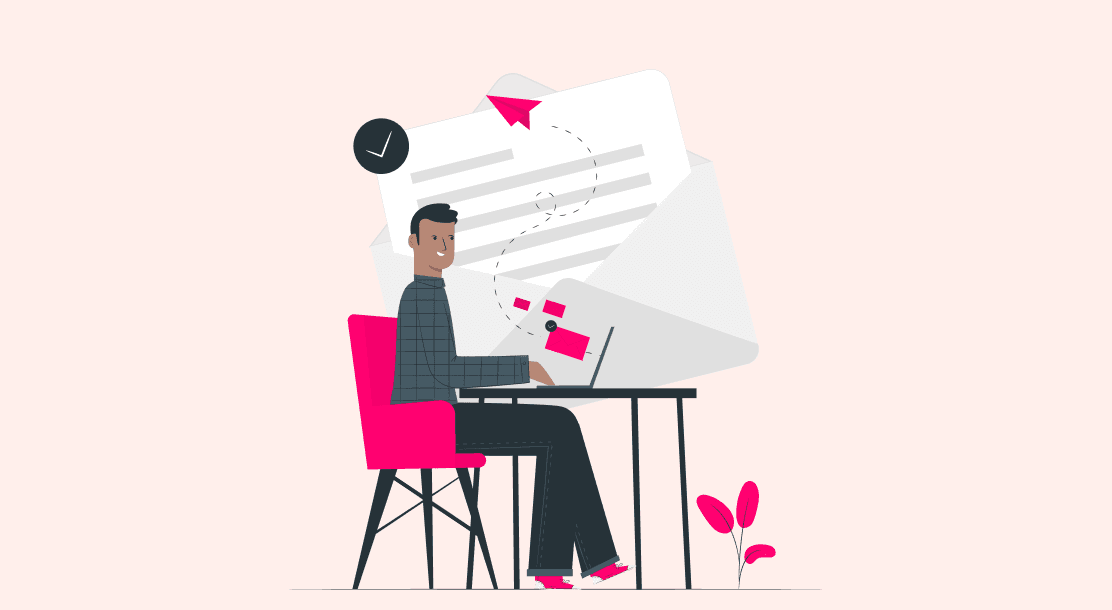 Get the most out of your email marketing campaign with the power of interactive emails.
There has been an incredible increase in marketing emails sent every day since the last decade. Interactive emails are a prominent example of how email marketing has evolved lately. So, let's provide you with a detailed guide to help reap its benefits.
What are Interactive Emails?
Interactive emails essentially are emails that contain any type of intuitive element. They ask recipients to interact with the email message by – clicking a link, hovering the cursor over a picture, or participating in a poll.
An interactive email design aims to develop an exciting user experience and urge recipients to have an optimistic perspective about your content.
Advantages of using interactive email design
One of the excellent advantages of a responsive email design campaign is increasing overall reader engagement rates. Interactive components utilized in an email template design evoke eagerness and excitement that prove their superiority over emails sent with a traditional email design.
The following are some of the reasons why you should use an interactive email design in your upcoming email marketing campaigns:
Increased click-through rates
A responsive email design captivates and engages your followers in a novel way, increasing click-through and multiplying the number of new visitors to your website.
Acquire significant data
Interactive emails are an incredible way to acquire priceless and insightful information regarding the likes and dislikes of your clients through feedback, surveys, and forms. As an email marketer, you can use this powerful tool to closely understand your target audience's needs, which will help you plan out your future campaigns accordingly.
How to Craft the Perfect Interactive Emails
The following are some of the interactive elements you can use to turn it into massive success in your next campaign.
Hamburger menu
A hamburger menu is an incredible method for attracting recipients who open emails on their phones. They can effortlessly navigate through your product or service categories presented on the hamburger menu.
This component asks recipients to tap on a category to interact solely with the content they wish to look into. An appropriately designed hamburger menu helps to create an excellent user interface and leads to a great user experience.
Slider
A slider is an outstanding way to consolidate data to decrease the length of your email. It captures recipients' attention and leads to higher engagement as they have to tap on it to experience the next slide.
Sliders effectively display a wide range of products in an insufficient space. They can likewise be placed to evoke curiosity in the readers' minds by uncovering data, one element at a time.
GIFs
GIFs are an ideal center point between pictures and videos. A video can overload your email, leading to a slower loading time. If you wish to create some movement to your email but don't have any desire to insert a video, GIFs prove to be the best option as they are attention-grabbing.
Compared to a basic static picture, GIFs are more attractive and thus lead to higher click-through rates.
Scratch element
An email design with a scratch element works incredibly well to persuade your recipients with an offer. This type of interactive email uncovers hidden data when readers "scratch" the content block like a scratch-off lottery ticket.
If you intend to send a coupon or a sales offer to your readers, take a stab at using the scratch element and witness the power of higher conversion.
Animations
Keyframe animations effectively boost reader engagement by providing an experience directly in the email. The animation is triggered when users take action.
For instance – Tapping the Call to Action button starts the animation and makes the user interact with the email.
Timers with countdown
Do you wish to get your target audience excited for an occasion or a sale? Countdown timers are a terrific way to create an atmosphere of urgency and build up excitement. While creating a countdown timer requires some HTML know-how, it will be worth your time.
You can use countdown timers for the following:
Product announcements
Event celebrations
Landmark achievements
Quizzes
Quizzes are an exciting way to build reader engagement. Quizzes with specific themes or topics can assist you with improving your email open rate.
You can add numerous themed quizzes for celebrations, events, subjects, etc. The goal is to persuade your readers to be constantly engaged with your emails and ensure that they open each email that you send from that point onward.
Polls
Polls are one of the best types of interactive emails that you can send to your recipients. They assist you in offering the very thing our readers are searching for.
If you are baffled about the type of content you should propose in your next email, you could ask your readers to take the necessary steps by presenting information in a poll.
Hover element
The hovering element changes components in an email when a reader hovers their mouse cursor over it. This element is an attention grabber and pushes recipients to make a move.
You can use CSS3 coding to create this interactive email design element. The hovering effect works well for "Call To Action" as it is known to boost click-through rates.
Gamification
Gamification is presently the most underused one of every known strategy to make your emails intuitive.
Even though your users belong to different age groups, everybody loves to play games, from youngsters to grown-ups. Adding a gamification element to your email template design is an extraordinary way to grab your audience's attention.
You can use level-up mechanics or progress bars to transform monotonous emails into exciting ones.
Dynamic Emails
Dynamic emails are focused on boosting reader personalization using their details, buying trends, answers to past quizzes, etc.
The following variables can be tested out using the dynamic email template design:
Recipient details: Adding personalized customizations like the recipient's name, birthday wishes, time spent by them on your application are some of the details that you can use to evoke a feeling of personal attention.
Email details: You can change specific parts of your email as a feature of dynamic emails. This can include sending a quiz to a specific group of recipients and a mini-game to another group. This is an extraordinary method for testing the advantages and results of your interactive email design campaign.
Ratings and reviews
Giving your clients the power to rate your products or services in your responsive email design campaign has the following benefits:
It improves their possibilities of interacting with your content
You get their genuine ratings and reviews to refine and polish your product
Simply ensure that your email template design itself has the rating scale, and it doesn't ask readers to get to a new webpage as there is a possibility of a client not responding well to that.
Making an Epic Interactive Email Design
Assuming that you are a business owner using emails to market your products, you might already know that you are not the only one to do so. Your clients' inboxes are constantly overflowing with offers from your competitors.
With the rise of more organizations, you need to understand that consumers are generally inclined towards a brand that engages with them intuitively and thrillingly.
The tips referenced in this article could be useful to immediately help you become your clients' beloved company while driving a higher return on investment and further developing your brand image. Be sure to use services that enhance your email with superior visuals and ad copy.
Key Takeaways
Email is usually considered to be a static medium. But with the rapid evolution of email marketing, interactive email design is gradually gaining prominence.
An interactive email template design helps you acquire more qualified leads, which assists in boosting the conversion rates and, ultimately, your overall sales.
While numerous interactive elements are easily available, there are plenty of holes in the support. Take a look at how your different interactive elements are viewed and perceived by your audience.
Interactive emails come in all shapes and sizes. Visualize how you can make each section of your email captivating – by using sliders, countdown timers, or ratings.
Cutting-edge interactivity is just around the corner. Keep a close eye on the latest advancements to ensure that you don't pass up a great email marketing opportunity.
FAQs
1. How can I measure the results of an interactive email campaign?
Like conventional emails, it is essential to utilize results from your past campaigns to enhance your future campaigns. Measure the progress of your interactive emails by making use of the following metrics:
– Click-through rate (CTR)
– Open rate
– Unsubscribe rate
2. Why should I be using interactive emails?
With email marketing becoming supersaturated every day, staying ahead and focusing on your audiences' needs using interactive emails is imperative. The interactive email template design gives no indications of slowing down; thus, using them is vital to develop your business exponentially.
3. What is the difference between a traditional and an interactive email?
On the one hand, traditional emails usually direct recipients to a webpage to complete a particular action. On the other hand, Interactive emails eliminate this unnecessary step and allow users to make that move right from the email.
4. What are the advantages of using an interactive email template design?
The following are some of the advantages of crafting interactive emails:
– Increased engagement rate
– Higher conversion rates
– A rise in social sharing
– Ease of receiving feedback and ratings
– More personalization
5. How do interactive emails improve the user experience for mobile users?
Mess is awful; thus, you have to clarify the content displayed on small-sized screens without over-simplifying your content. Interactive email design effortlessly solves this issue. You can uphold a mobile-optimized design without sacrificing your content by presenting moving elements.