Marketing
How to Create and Track Great Social Media Campaigns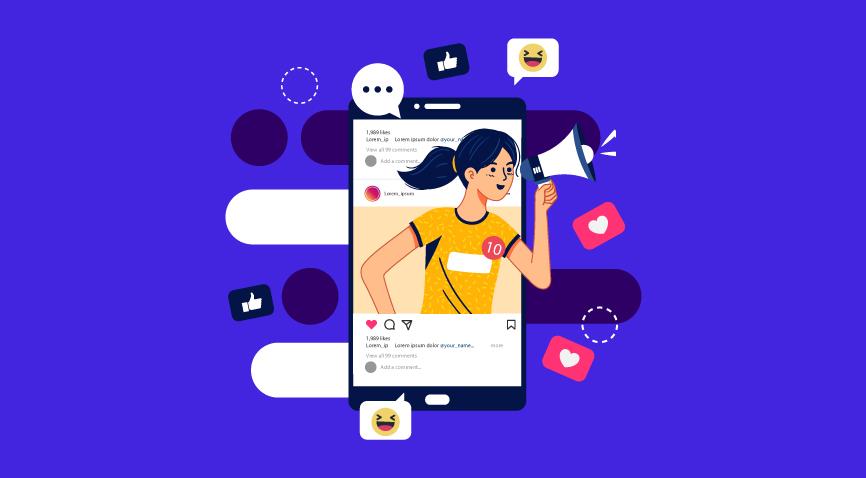 Learn how to track social media campaigns and usher in extraordinary results for your business with the right strategy and tools.
Table of Contents
Need for a Social Media Campaign Management Strategy
Step-by-step Guide to Creating Social Media Marketing Campaigns
How to Track and Analyze your Social Media Campaign Strategy
Remarkable Social Media Campaign Examples
Social Media Tools Every Marketer Must Try
Conclusion
Key Takeaways
FAQs
Ask any (or as many) successful marketers what the single most important way to make a brand successful is in the present times, and the answer will always be 'Great Social Media Campaigns.'
And the occasions deemed fit to launch social media marketing campaigns are many – a new product, a new feature in a product, a holiday, a festival, or even a viral trend. However, a successful social media campaign requires advanced planning and data-driven strategizing.
With so many young people even in their teens making big bucks on platforms like Instagram and YouTube, it is possible to believe that social media campaigns are a cakewalk. But social media marketing campaigns is not just about posting videos that go viral — it is about connecting with new users (brand awareness), building relationships with them (reputation building), and driving sales. That is achieved only by keeping a smart balance between creativity and strategy.
Let's see how you can create best social media campaigns that lead to authentic, long-lasting, higher engagement, and higher sales. More importantly, you need to know how to track social media campaigns and how to avoid making mistakes.
Need for a Social Media Campaign Strategy
1. To keep a schedule
The first reason why you need a social media strategy is that it will assist you in developing a defined, well-planned timetable. You'll be able to plan out posts ahead of time and schedule them. All of this, in turn, will assist you in adhering to the first social media rule: publishing regularly. One of the most common reasons why a social media campaign strategy fails is because of lack of consistency.
2. To manage time effectively
The second advantage of developing and implementing a social media strategy is saving time.
Gathering everything you'll need to establish a content calendar and the content bank could be daunting initially. However, organizing and scheduling your posts for the coming week or month can drastically minimize the time you spend on publishing each day.
You'll be able to spend a bit more time on other chores and evaluating what's working instead of looking at a blank screen and racking your brains about what to publish.
3. To target the right audience
Integrating audience interaction components (such as polls or open-ended questions) into your updates as part of your plan will help you better understand the problems and issues faced by your audience and how you can give value to alleviate them.
4. To utilize your finances optimally
Haphazard planning may cause you to spend more, thus decreasing ROI. Remember that creating a social media marketing campaign is about generating ROI that involves conversions, sales, etc. But decreasing your business cost and expenses also helps in increasing returns.
5. To reach your goals step-by-step
Having a social media strategy in place will guarantee that your efforts on social media are more productive and help you achieve your larger business objectives.
Outlining your company goals so that you can work backward to generate posts that reinforce them is part of putting together a plan. You'll also want to set some social media objectives (track and analyze them) to have something to strive for and see if your efforts are paying off.
6. To have scope for creativity
A social media strategy identifies the components, strategies, and networks that are effective for your company and those that aren't.
A plan aligned with your company objectives makes it easier to create content that connects with your target audience. Moreover, it allows you to improve the content quality, and consider how you can be more creative with social media posts.
7. To be better than your competitors
Last but not least, a social marketing campaign will assist you in staying ahead of the competition.
With daily postings scheduled, you can focus on those tiny details that make you stand out from everyone else in your area. You'll be able to assess what's working, begin creating your brand story and voice, and create a distinct look and feel for your accounts while being consistent and adding value to your audience.
Step-By-Step Guide to Creating Social Media Marketing Campaigns
1. Set goals
Do you want to create/improve brand awareness? Or do you want to acquire leads? Or maybe boost sales? Or enhance engagement? When you know what outcome you are looking for, you will know how effective your campaign has been.
Defining concrete goals helps you clear up things. There could be many things you want to achieve but might not have the resources to have everything at once. Thus, listing down objectives helps prioritize what's important and brings a sense of clarity.
The best way is to set quantitative goals, also called metrics, to help measure the effectiveness of your campaign. Simply writing a goal such as "Increasing reach" doesn't justify much. Instead, "I want 5000 more people to sign up for my website's newsletter" is a good, measurable goal.
2. Understand your target audience
Just posting content about the benefits you offer is not enough. To craft an impactful message, you need to understand your target audience. Understand the person who would pay for what you are offering – their age, location, income, interests, problems, needs, and challenges.
Once you have these details, you will know where to run your campaigns (their favorite social media channels), when to run them (weekdays/ weekends/holiday season, etc.), and most importantly, how to earn credibility with them by offering solutions to their needs and challenges.
3. Use the right tools
Different platforms need different tools and at different stages of campaigns. Visual content, in the form of pictures, illustrations, and videos, would need different tools, while written content in the form of posts and stories would need a different set of tools.
You may also need to curate content from other sources and need other tools to find relevant content for your audience. You will need tools to manage various social media platforms to optimize your posting routine, schedule and share updates, and collaborate with your team. Finally, you will also need tools for analytics to track your campaign.
4. Study your competitors
Research always pays – especially in social media marketing, and more so if you research your competitors. Knowing what works for them can help you chalk out your strategy. You can use their strengths and put your spin on those.
5. Make the most of the power of the hashtag
Let's accept it – hashtags have their entities on social media. Unique, brand-centric hashtags are great for tracking user engagement. For example, #CouldUseABeer became synonymous with Coors Light Beer, as free six-packs were given to anyone who tweeted at Coors with the hashtag. They generated immense brand awareness and connection with people; because who doesn't love free beer!
6. Say Yes to influencers
Social media influencers is a huge thing in the present times, and influencers command fan followings as big as, if not bigger than, movie stars. They are the superstars of social media, and millions trust their word.
What's more, they are masters of their craft, which happens to be content creation. So, collaborating with them is a win-win – it takes a load of content creation off your hands and helps you build trust for your brand since their audience holds their words in high esteem.
Their content will also be unique since it will be their take on what you are offering and could fill the gaps in your promotional content. All you have to do then is repost what they post.
7. Also, say Yes to user-generated content
When posting content, pose questions, start polls, or ask people to share experiences related to what you offer. When they respond to polls and share experiences, share all of that on your social media profiles.
This personal sharing is authentic and more credible than a brand preening and calling itself awesome on social media. Moreover, when you put people's voices out there, it makes them happy and excited, their word of mouth, in turn, encourages people around them to engage with your brand, and you get more followers.
Starbucks is a great example in this regard – the #RedCupContest was all about user-generated content, each post rolling in hundreds of thousands of 'likes.'
8. Offer customer service on social media
Respond to what users say to you or about you on social media – even if it is not always positive. Their concerns could help plug the gaps or shortcomings in your product/service. Respond to their concerns – show empathy, respond to their appreciation – be thankful and respond to their queries – offer information and solutions.
You could even put up live demos of your products to help users understand your product's benefits and influence them to purchase your product.
9. Make purchases easy
When users love your content, trust your brand, and are ready to buy your product, make sure you have the most uncomplicated, swiftest purchasing process in place for them.
Your social media should have links that make it easy for them to buy your product without wasting any time. Also, encourage buyers to share their purchase experience on social media – it will cascade into more people and lead to more sales organically.
How to Track and Analyze your Social Media Campaign Strategy
After all the brainstorming, content creation, curation, and posting, you need to track how your campaign is doing to formulate the strategy for your next one.
Choose the right metrics to analyze and assess how well (or not) your social media campaign plan has done. Engagement metrics – clicks, likes, and shares – are great for insights into how your content has circulated on social media and has become popular among users.
Also, look at conversions. All the social media hype without actual sales wouldn't be of any use since it's all about ROI. You need to hop on to the next wave soon, you can't repeat the same mistakes or even the same success.
Your social media goals determine your metrics. Every objective should be accompanied by a measure that can be used to assess whether your social strategy is on track.
Social media metrics are essential because they demonstrate that you can assess the success of a campaign, the effectiveness of your social strategy, and, ultimately, whether you will influence your whole organization.
Not only will having these metrics allow you to demonstrate the effect of your work to executives but producing consistent social media metric reports can lead to substantial changes for your social team, such as higher budget and resource availability. Let's look at some reasons why this is important.
1. Awareness, reach, and brand visibility
The number of possible unique viewers for a post (typically, your follower count plus the follower counts of the accounts that shared the post) is referred to as reach. While impressions can tell you a lot about your content's potential for social visibility on its own, it's also necessary to look at other metrics for a complete picture of success.
If you have a good reach rate but a poor engagement rate, it simply means that viewers didn't find your content interesting enough, even though they saw it.
2. Engagement
The engagement rate is a statistic frequently used to determine how engaged your audience is with your content and how effective your brand efforts are. Consumers that are engaged connect with companies through activities like "likes," "comments," and "social sharing."
The amount and frequency with which audience accounts connect with your account are referred to as engagement. Every social media platform will have an engagement statistic that aggregates smaller interaction possibilities such as likes, comments, and shares. Many platforms offer many types of metrics or distinct naming standards, such as Retweets vs. Shares, for example.
3. Voice and opinion share
A statistic known as a share of voice is frequently employed in public relations and in competitive research and paid advertising campaigns. It shows how much of the internet world your company is involved in.
If you're a baker in Vancouver, for example, you might want to see how many people are talking about your brand online compared to your competitors.
4. ROI, actual sales, and conversions
Social referral traffic and conversions are related to sales and marketing goals, ultimately to significant company goals, and are most applicable to firms with websites or ecommerce platforms.
To track them, you'll need a publishing plan that includes UTM tracking and a website traffic analytics software like Google Analytics (or a built-in one if you're using Shopify).
The way a user finds your website is through referrals. They'll be split down into sources in web analytics. The source/medium you'll be watching is generally "social" and then split down by network.
When someone buys something from your website, this is referred to as a conversion. A social conversion occurs when someone comes to your website through a social media channel and then buys anything during that same visit.
The click-through rate (CTR) in advertisements and articles goes hand in hand with referrals and conversions. The number of times someone clicks on your material is compared to the number of impressions you receive (i.e., how many times the ad was viewed). A high CTR indicates a successful ad.
Remarkable Social Media Campaign Examples
Wix Melt the Ice Campaign
What was the purpose of this campaign?
Users were urged to enter Wix's Super Bowl sweepstakes, in which they could win up to $50,000. What was the catch? They'd only be able to pick a winner if a football was thrown from a frozen block of ice.
Why did it work so well?
This campaign was successful because Wix took advantage of Facebook's (then) new Live video function.
They'd help thaw the ice, but only if viewers left comments on the video, which would result in greater interaction. The more individuals participate, the higher up the video would appear in people's newsfeeds.
Key learning
Don't hesitate to try new features on social media sites. And sports is always a beloved topic to get people together.
Airbnb's We are Here Campaign
What was the purpose of this campaign?
Airbnb used this Facebook Live promotion to demonstrate to potential clients how much there is to do in cities worldwide. The best thing is that they could do so with their Airbnb hosts.
Why did it work so well?
For the past several years, we've witnessed a significant increase in video content on Facebook, especially when it comes to Live videos. These in-depth tours go a great length to show viewers the greatest parts of the world they could visit.
Key learning
Video content can never go out of trend. People certainly show enthusiasm if they are educated about it.
Deadpool – Digital DVD Release Campaign
What was the purpose of this campaign?
Deadpool, the sassy superhero, was getting set to release the film's DVD/Blu-ray. This was a multi-channel campaign with a bespoke Snapchat filter thrown in for good measure.
What made this advertising so effective?
Several channels have been flooded with blunt posts rich with Deadpool's comedy. Deadpool was able to distinguish between numerous social media sites by incorporating his personality into the campaign's voice and tone.
Key learning
Comedy is certainly a pleasant element to incorporate into social media marketing campaigns. However, it should be done while keeping the customer segment in view.
Eggo: Stranger Things, Season 2
What did Eggo do in this campaign?
Stranger Things 2 premiered on Netflix, and Netflix and Eggo partnered to promote the show's launch.
With the program's premiere falling on Halloween, Eggo went all out, retweeting individuals with frozen waffle boxes, providing hints about the show, and posting recipes for various waffle combinations.
Why did this campaign succeed?
Eggo capitalized on the popularity of Stranger Things by launching a campaign that engaged their audience and promoted Eggos' Stranger Things fanaticism.
Key learning
Today's audience is well connected to OTT web series' and their favorite characters. Incorporating such an element brings a sense of excitement to the campaign.
Disney: InstaGatson
What was the purpose of this campaign?
Disney invited fans to the premiere of Beauty and the Beast by handing over their Instagram account to Gaston (played by actor Luke Evans).
What made this marketing so successful?
A fan's odds of attending a movie premiere in person are minimal. As a result, Disney gave them special access via the eyes of one of the film's stars, making them feel involved.
Because fans couldn't obtain that material anyplace else, exclusivity can help increase following and engagement.
Key learning
Treating your customer like a special client always pays off. Disney has proved this time and again that there is no match to its hospitality standards. When people feel acknowledged, they're more likely to be involved with the brand.
Starbucks: What's your name
What did they do?
Starbucks UK launched the #WhatsYourName campaign in collaboration with Mermaids, an organization that supports transgender and gender-diverse kids. The ad expands on a well-known feature of the Starbucks experience — having your name written on the side of your cup — by ensuring that customers' preferred names are respected.
Why did it work?
This campaign deployed one of the most classic advertising tactics to generate discussion on social media, a TV advertisement. They came up with a straightforward promotional hashtag. They also led with their principles, allowing this ad to have a genuine emotional effect.
Key learning
Some companies refrain from discussing topics on which people still have conflicting opinions. Yet, Starbucks proved that there is room for discussion regarding human rights for all.
Social Media Tools Every Marketer Must Try
Managing several social accounts is daunting with so many popular platforms to choose from. After all, company owners would have to find the time and energy to go to numerous social media accounts, compose a post for each, and schedule them throughout the day as needed.
There are many social media managing apps to save you a lot of trouble and time. We have listed a few of them below.
Sprout Social
Sprout Social is a social media management and optimization tool for companies and agencies of all sizes. Across all of your social profiles, the platform provides you with a single center for social media publishing, analytics, and interaction.
Hootsuite
Hootsuite is a social media management tool that covers nearly every part of a social media manager's job. Users may do anything, from curating great material and scheduling articles to manage team members and calculating ROI with just one platform.
Zoho
Zoho Office Suite is an online office suite from India that includes word processing, spreadsheets, presentations, databases, note-taking, wikis, web conferencing, customer relationship management (CRM), project management, invoicing, and other features.
Zoho CRM serves as a central hub for all of your sales, marketing, and customer service operations, allowing you to simplify your processes, policies, and people all in one place.
MeetEdgar
MeetEdgar is the most popular social media management software for small companies and entrepreneurs. MeetEdgar allows you to schedule and organize material to automate publication.
With MeetEdgar, calendars are simple to put up, and the greatest thing is that there is never a shortage of information. You won't have to worry about rescheduling your blog post to go out several times each day or week since MeetEdgar will take care of it.
Sendible
With all of your social media data in one place, Sendible's analytics and reporting may save you time. Google Analytics is also integrated into the social media management tool, so you don't have to leave the platform to track your online data.
Sendible supports direct video uploading to Instagram Business Profiles. A single video up to 100 MB can be scheduled either in or out. You may schedule posts like you would for any other network using 'Instagram Reminders,' you'll get a push notice and an email when they're published.
Social Pilot
Digital marketing experts, teams, and organizations can use SocialPilot to automate their social media management operations. It assists marketers at every stage of the process, from scheduling and posting content to assessing the performance of their posts.
Buffer
Buffer is a website and mobile application that allows users to manage their social media accounts by allowing them to plan posts for Twitter, Facebook, Instagram, Instagram Stories, Pinterest, and LinkedIn, and evaluate their performance and interact with their followers.
Loomly
Loomly is a cloud-based marketing tool that assists freelancers, influencers, and social media managers manage content across their many social media channels. Marketing analytics, automatic posting, keyword filtering, multi-account administration, and post scheduling are its important aspects.
Key Takeaways
Having a social marketing campaign is crucial for any marketer to monitor the ROI effectively.
A social marketing campaign helps prioritize goals, reach objectives, track performance, and modify the content according to audience response.
Creating an effective campaign starts with establishing quantifiable goals and working upon them.
Knowing and understanding the target audience is an important step that will help you plan your content material.
Make the most of all elements specific to a site such as hashtags on Instagram and Twitter, like and subscribe on YouTube, keyword monitoring for all channels.
Use the power of influencer reach, user-generated content, organic content, etc.
There are many social media campaign management applications that can help you with integrated posting, tracking your campaign across various channels, and more.
Some of the best social media ad campaigns have been simple yet effective.
Conclusion
These are some pertinent points that must be incorporated extensively to create impactful social media marketing campaigns. Keep the following in mind:
Set goals
Understand your audience
Use the right tools
Research your competition
Use the power of hashtags and influencers
Inspire user-generated content and share it
Empathize with users
Give users the ease of purchase and a platform to share their experience
Track social media campaign plans seamlessly with some great applications available out there. Learn about content marketing strategy and what trailblazing brands are doing. And finally, track and analyze your campaigns consistently to create better ones in the future.
FAQs
1. What components make up an effective social media campaign?
Step 1: Create a focused, clear vision.
Step 2: Obtain management commitment and consistency.
Step 3: Carry out your research.
Step 4: Set goals and prioritize them.
Step 5: Develop and design goal-achieving tactics.
Step 6: Calculate the price and set a budget.
Step 7: Purchasing and allocating resources to achieve the objectives
2. What are the six basic steps of social marketing?
Set goals, know your target audience, use the right tools, make purchasing and transactions easy by enhancing user experience, study your competitors, and say yes to user-generated campaigns.
3. How to create social media campaigns?
Set SMART goals.
Track your metrics, analyze, rework and track again.
Learn about your audience.
Gather data about your target audience.
Know and study your competitors.
Do a social media audit.
4. How do you define a successful social media campaign?
Clearly stating goals – Be objective and state quantifiable goals
Know your target audience – Making generic content won't help much with engagement. Understand what your target segment wants and create accordingly.
Establish the budget according to the tools that you'll use
Track and evaluate metrics regularly
Define your brand voice strongly
5. What is a social media campaign management strategy?
A social media strategy is a list of everything you want to do with social media and what you aim to accomplish. It directs your behavior and tells you if you're on track or not. Your social media campaign strategy should also include a list of all of your current and future social media accounts, as well as goals unique to each platform.
6. How much should you spend on social media ad campaigns?
There's no fixed answer when it comes to keeping a budget for social media ad campaigns. It entirely depends upon your goals. If you are just starting, then there are some free tools and trails which you can use. However, if you are looking to step up your game, there are many social media campaign management apps that will help you immensely.
7. What are the benefits of a social marketing campaign?
Having a social media campaign strategy helps to increase ROI, lower costs, save time, effort, and energy. It also keeps your schedule lined up and organized. With an effective social marketing campaign, you can say goodbye to management hassles, improper metrics measurement and not knowing what to post when. 
8. Which are the best social media managing apps?
Social media campaign management apps offer various services that help to post across multiple channels and track progress seamlessly.
Some of the best apps used by marketers in 2021 are Hootsuite, Social Sprout, Buffer, Loomly, Sendible, etc. Such software provides an all-integrated management service and comes with other features such as analytics, keyword filtering, optimization, and a lot more.