Branding
A Comprehensive Guide to Crafting a Brand Strategy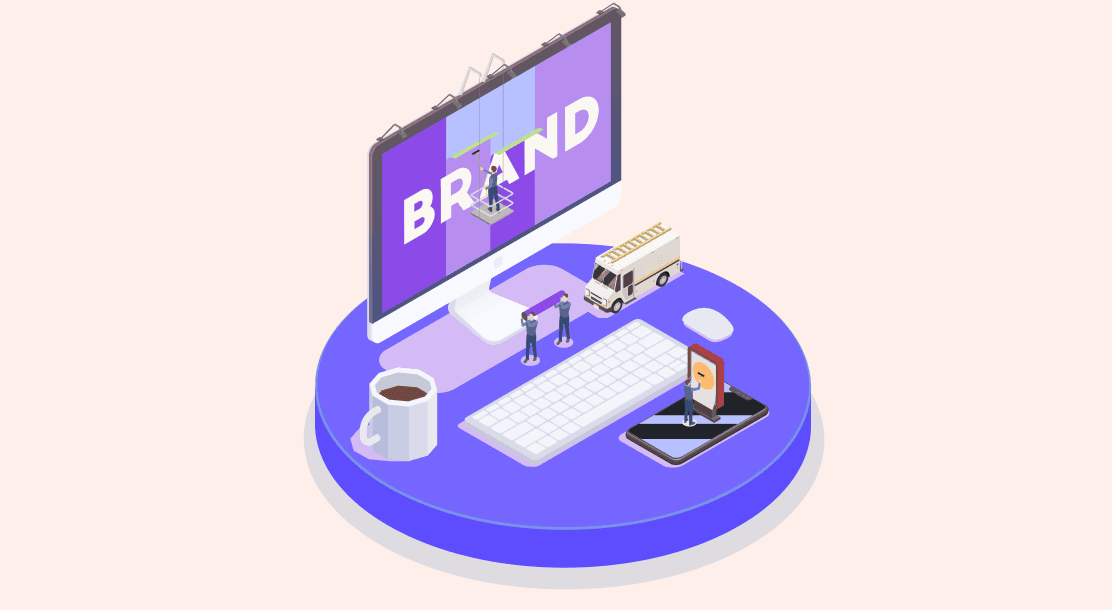 Table of Contents
What Is a Brand Strategy?
5 Key Factors of a Business Branding Strategy
How to Create a Business Branding Strategy
How Can You Gather Customer Responses?
Key Takeaways
Conclusion
FAQs
Brands need to tell their story effectively to be noticed and to stay memorable. No business can hope to succeed and survive without a well-planned brand strategy. Your brand will suffer without an integrated identity that reflects your content and culture. However, the problem can persist, because brand development strategies never happen overnight. It is a process that takes time, consistent effort, and unwavering commitment, and most businesses are at a loss as to how to overcome all this and stride forward.
What Is a Brand Strategy?
A brand strategy is a detailed, abiding plan meant to achieve a spate of long-term goals to build a strong brand. Successful companies are passionate about branding and make all-out efforts to ensure their brand development strategies are successful.
So, what tarnishes a brand? Faulty design, a fragile brand identity, unplanned marketing, erratic messaging, and incompatible partnerships are all responsible for tarnishing a brand.
Hence, before you can start fussing over which shade of green is best for your company logo, or what typography you must follow, take a broader look at the canvas and hatch a plan to help you establish a successful brand.
It is only a brand strategy that can help you accomplish this. After all, your brand strategy is a comprehensive plan that helps you give shape to your brand. Without effective brand development strategies, you may flounder like a rudderless ship, unnoticed, and drifting aimlessly in the vast market.
The lack of an effective brand strategy can lead to communication issues with customers, and may even cause a high level of attrition in your company. If you are unsure of your purpose, mission, vision, you can make faulty marketing and business decisions. Without a well-documented marketing plan, anything you attempt will not work to produce the desired results.
Moreover, such unplanned branding can cause disunity and confusion amongst your team members, and employees lose enthusiasm and interest in all marketing activities. Without a cohesive branding message, even your content becomes ineffective and causes more confusion instead of being engaging.
5 Key Factors of a Business Branding Strategy
Some of the best branding strategies have a few things in common. They are listed below.
1. Target audience
The buying process is always in the customers' hands, and marketers must create a personalized experience for their customers to engage them better. When you get to know your buyer persona, it is easy to identify your target audience.
After all, your target audience is a niche group that may want to buy your product or service, and they are the relevant people who should see more of your ads. The factors deciding your target audience include gender, age, demographics, income, interests, etc. Your target audience may fall in a narrow or broad niche.
For instance, if you are into footwear, your audience base is pretty broad and can comprise women, men, and kids. But if you sell high-quality running shoes, the niche is narrowed down by age (18 to 40), and to people who run daily. Defining and segmenting your audience is crucial, and creating content that resonates with them is equally important.
2. Well-defined story
Your brand story must have value, and storytelling with good content is effective enough. Storytelling is crucial for establishing your brand voice, and it also helps drive revenue. People don't mind spending on a product or service when it is presented with a story.
What makes storytelling so crucial for your brand? The way you tell your brand story can trigger positive biological responses. Brand stories tend to grab attention and engage people instantly. Scientific research indicates that a good story can induce your brain to release oxytocin, a feel-good chemical. It holds the power to influence your behavior and actions.
However, you need to know what makes your story impactful. Firstly, it must be meaningful. What with thousands of brands telling their story, which one will anyone pay attention to? So, instead of focusing on what you want to create, you must focus on something people care about.
Tell a story that is interesting and relevant to your target audience. Your story should make people feel personally connected to your brand. It should also be both simple and emotional, and focus on making people's lives simpler. Most importantly, your narrative must be authentic, meaning you have to be transparent, open, and honest in your approach.
3. Brand association
A brand association is when people mentally connect a brand to a concept. Brand associations are flashes of thought that appear in your mind the instant you think about any brand. For instance, think athletics, think Nike. Think soft drink, think Coca-Cola.
Branding through association is the ability to connect a buyer's mind to places, people, emotions, things, etc., instantly. The idea is to have your brand fully entrenched in the minds of the customer. It is such brand associations that turn people to your brand.
Unless there is a positive association with your brand, people are not likely to buy your product or find your brand engaging. Brands are alive in people's minds, which is more like a network. Concepts are like a chain of events, linked to each other, and stay in your subconscious memory. Marketers can use brand associations to their benefit. If you are trying to sell an energy drink, your brand must associate with an Olympics champion or a basketball celebrity.
4. Customer loyalty through brand ambassadors
Brand loyalty directly impacts the growth and health of a business. Ambassadors are the best assets for your brand, and they are right on the front line, vigorously promoting your brand. Sometimes your fans turn into brand ambassadors, and that's when your brand's voice becomes more authentic and can easily attract new customers.
You must build a healthy relationship with your brand ambassadors, who will themselves become your loyal customers. It's simple logic: your brand ambassadors promote your brand and help gain new customers. In turn, the ambassadors are rewarded either monetarily or with a generous coterie of free products, substantial discounts, and new opportunities.
Remember, brand ambassadors, lend an authentic voice to your brand, which automatically helps attract new customers. Customers also love a genuine brand. Reports indicate that 63% of consumers prefer to purchase authentic brands or brands that appear more trustworthy than those of their competitors.
5. Consistency
If you want to earn lasting customer trust, consistency is essential. What's more, it also helps you increase your ROI. Being consistent is being reliable, and reliability gains recognition. It leads to new customers and earns you an existing customer base that is loyal.
Perhaps Nike, the brand that all sportspeople swear by, is the best example of brand consistency. Just the logo is enough to convince a customer of its branding prowess, demonstrating the power of consistency.
The best way to achieve brand consistency is to set rigid branding guidelines and follow them religiously. The guidelines should include the tone of voice, code of conduct, etc., and make sure you don't budge an inch from it, whatever the circumstances.
It is interesting to note that although 85% of the brands have brand guidelines, only 30% enforce them. It is better if your branding consistency starts with your company. Your employees are the first people who should be on board, and know the brand's history, values, tone of voice, authenticity, etc., like the back of their hands.
How to Create a Business Branding Strategy
When you create a robust brand strategy, you gain a distinct competitive edge, which pays for itself down the line. To build a successful brand, you may have to make several smart decisions about what your identity should look like, and what story it should tell. The great thing about any brand strategy is that it is not prohibitively expensive, and is affordable even by small companies.
1. Figure out whom you want to sell to
As a first step towards creating an effective business branding strategy, you must determine to whom you plan to sell. Find out who your target audience is, what they want, and what their pain points are if any. Ask yourself why their needs aren't being met. To build a strong brand development strategy that enables you to engage your target audience, you must first determine your buyer persona. Understanding your target audience and how you can serve them brings more clarity to your plan.
What if you don't have a brand identity to start from scratch? There is no reason to be dismayed or alarmed. You can start by assessing your existing brand identity, which is linked to your company's vision and mission. Take a closer look at what values are closest to your heart, and the beliefs you go by.
After establishing your brand identity, it is time to do some intense market research and find out what your competitors are up to. While conducting market research, ask yourself the following questions.
How big is the market I am surveying?
Who are my customers?
Who are my main competitors?
Has the market changed since I started my company?
What have I done until now?
3. Understand your customers better
From a long-term perspective, you should be in a position to understand your customers' needs and meet them through your brand strategy. To understand your customers better, you need to dig a little deeper. Assess demographics, such as whether they are male or female, or a mixture of both. Are they boomers, millennials, or a combination of both, and where are they located?
The next step is to find out what they do for a living. Finding out what their interests, likes, and dislikes are will take you a step closer, making your marketing efforts more effective. You can also ask them what keeps them interested in your brand.
Knowing why they are in the market for a particular product makes it easier for you to match it with what you have to offer. You need to also find out precisely when they plan to buy. Finally, assess their buying preferences.
4. Don't forget the feel-good factor
You must target customers who have the budget to make the purchase. Check if their buying power matches the prices of your product or services. Also, learning what makes them feel good is crucial for quick conversions. When such customers are made happy, they always come back for a repeat purchase.
5. Get a clear picture of customer expectations
Understanding customer expectations is key to your brand development strategy because you can strive to meet their expectations. Regardless of whether they expect next-day delivery, or want around-the-clock support, knowing these things beforehand helps take you halfway through in creating a brand voice.
It is also crucial to learn if the customer has ever heard about your brand name, and is aware of your brand identity. While testimonials heaping praises are cool, you should not ignore complaints that highlight customers' pain points. Addressing these issues can go a long way in establishing a brand identity. In the same breath, you need to know what your customers think about your competitors. Here are some quick questions you can ask your customers.
Would they recommend your brand to others?
It is often referred to as the net promoter score (NPS) question, which helps you gain a deeper insight into your customers' ideas about your brand. If they say they are happy to recommend your products and services to their family and friends, especially for the product they bought recently, you have scored a point.
What is their latest experience with your product?
Remember that any negative experience with your product can spread quickly, much faster than a positive experience. It is a good idea to send an email to your users, asking them to describe their experience in detail. It lets you find out how your customers feel about your product. And if they sound unhappy, you must make amends immediately.
Would they like to change anything about your product? If yes, what?
No product or brand is perfect, and there is always some room for improvement. It makes sense to involve your customer in the discovery process and take their ideas and feedback seriously. You must be open to suggestions, and select the best ones to incorporate. After all, your customers are the people using your product, and they should know best about its pluses and minuses.
Did they check other brands before choosing yours?
Although you may be aware of your competitors' activities, you can't be sure if you missed out on some vital bit of information. Ask your customers about what they think about your competitors, and you'll get some authentic answers. They may be able to give you some points to ponder on and help you improve your product by adding the features they liked in your competitors' products.
What made them choose your product amid all the competitors?
This is a chance for your customers to tell you why they think you're special. It is a direct question about your brand identity and gives you an insight into why your customers prefer you over all the other competitors.
You can easily identify your unique selling proposition (USP) from this answer. Remember, sometimes the USP need not be tangible, but can be something with emotional appeal. Although you need not strive to be better than your competitor, you must at least endeavor to be different.
Would they like to add anything more?
It is a great idea to convey that you are open to feedback and suggestions. It is not possible to cover everything in a few questions. So asking such an open question gives your customers the liberty to speak their minds and tell you what they think is important. It also gives you a chance to understand things from their perspective. Moreover, giving the customer the chance to say the last word helps you gain their respect.
How Can You Gather Customer Responses?
There are several ways to collect answers from your customers, and you can choose the ones that are closer to your goals. Here are some ideas.
1. Surveys
Feedback surveys are one of the most common ways of collecting customer feedback. However, you must be careful not to appear annoying. You may want to use the services of professional survey companies who have mastered the art.
2. Feedback forms
You can send brief questionnaires to customers through email, requesting them to fill in the answers and click on the submit button. Many brick-and-mortar stores have a dedicated feedback box kept at a prominent location in the store. It can be recreated online as well.
3. Approaching directly
Although forms and surveys are the easiest tools for gathering crucial customer information, you may miss some customers who may not care to respond. A better method to get feedback from your customers is to approach them directly, either over the phone or in person.
Some companies try to connect with their customers via video chat, but not all customers prefer it. When trying out this method, ensure you are mindful of the customer's privacy and don't appear spammy.
4. Social media platforms
You may already have a page on Facebook, Twitter, and LinkedIn. Getting your customers to follow you makes it easy to gather feedback. Today, most social media platforms offer poll platforms you can use. You need to share the same brand identity on all social media platforms for better clarity, and to not confuse your customers.
Key Takeaways
You must understand your customers better, before attempting to establish your brand voice.
Fulfilling your customers' needs and wants should be your first step towards creating an effective brand strategy.
Identify your buyer persona and understand their pain points. These factors should inform your business branding strategy.
A robust branding strategy can help you gain an edge over your competitors.
Storytelling, buyer personas, competitor analysis, and market research are all important factors of a brand development strategy.
Conclusion
It makes sense to narrate your brand story before introducing your products or services through a comprehensive brand strategy. The best of products don't make an impact if there is no narrative. Also, besides being better than your competitor, it is crucial to be different and consistent with your story.
FAQs
1. What essential elements make up strong branding?
Consistent and focused branding makes the best brand development strategies, as they help customers understand what can be expected from the brand. Defining the community or target audience helps you reach them directly, and is a recognized brand campaign strategy adopted by most successful brands.

2. What other tactics should a brand strategy include?
Your brand strategy is the action plan that helps you portray the image of your company you want your customers to see. A clearly defined purpose and achievable goals are important parts of your business branding strategy.

3. How can I create a strong brand identity?
To start with, you must conduct a thorough brand audit, and follow it by identifying and establishing your USP. You must then issue your messaging statements to the public. You must also focus on developing your brand's creative elements to make your business branding strategy successful. Last but not least, you must endeavor to establish a unique brand identity as part of your brand campaign strategy.

4. What is the framework for a successful brand strategy?
A successful brand strategy is a plan you create to support your brand and grow it. Having a plan as part of your brand development strategies helps you be clear about the goals you want to set and accomplish. 
Your business branding strategy may include anything from developing a unique logo and using specific color themes to selecting typography. Whatever you do, try to make branding an essential part of your marketing strategy.