Marketing
Warning: These 19 Mistakes Will Destroy Your Digital Marketing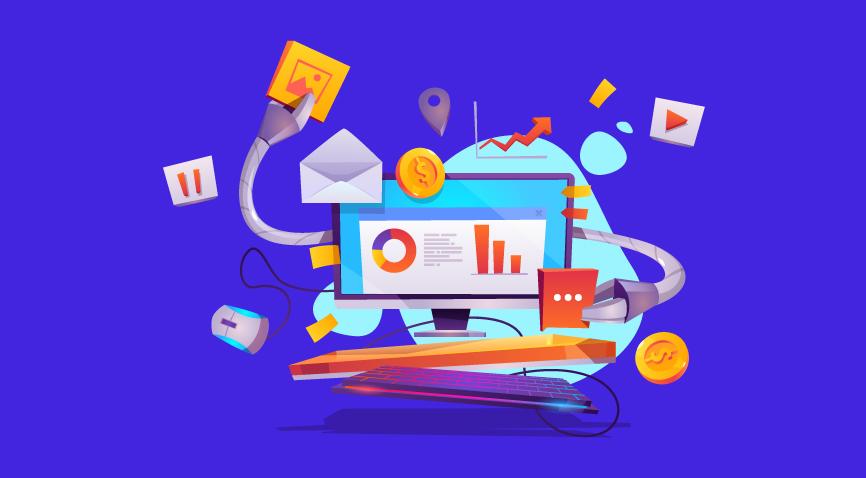 Most brands rely heavily on digital marketing strategies than other traditional marketing tools.
Marketing professionals avoid talking about digital marketing mistakes. But, it is crucial to know about common mistakes in digital marketing to avoid wastage of money and effort. Digital marketing consists of many measures and tools that can skyrocket your brand's growth. However, incorrect use of these digital marketing strategies can turn out to be potential obstacles in campaign effectiveness.
19 Digital Marketing Mistakes to Avoid
Here's a list of digital marketing mistakes to avoid:
1. Lack of clear goal-setting
This is one of the most common mistakes in digital marketing. Many digital marketing professionals fail to set realistic goals for brands. Without any set vision and goals, your digital marketing efforts are usually futile.
Brands need a good amalgamation of short-term and long-term goals to direct resources and efforts.
Goal setting problems often arise from a lack of understanding of your niche audience. Having a broad approach in goal setting is one of the common mistakes of digital marketing that makes your brand lose out on a valuable opportunity to be insightful about what your audience says, feels, and thinks.
Without having an in-depth understanding of your target audience, your overall strategy may turn out to be inefficient. Many marketing professionals fail to narrow down their audience and end up with low conversions.
Having your brand's presence on social media platforms like Facebook, Twitter, Instagram, LinkedIn is mandatory these days. Mistakes in digital marketing often arise from an insufficient understanding of how these platforms function.
Social media platforms like Facebook and Instagram need good quality visual content to increase engagement. Research suggests 65% of people are visual learners. Social media posts created by using images are 180% more engaging than just text-based posts.
Visual appeal is one of the deciding factors of your social media reach and engagement. Just hoarding social media accounts and lacking a proper strategy is one of the most common mistakes in digital marketing.
The users of these platforms are diverse, therefore the use of an umbrella strategy to cover every platform may not work in your favor, for example, landscape video format may not do as well as square format.
Marketing professionals must design a dedicated strategy for each platform as per their specific function. Lack of call-to-action can also jeopardize your digital marketing efforts.
3. Poor content strategies
Social media platforms are great ways to connect with your existing or potential customers. When it comes to content, many brands try to replicate their competition's tone of communication and content strategy.
The data suggests over 90% of digital marketing professionals put efforts into content marketing for brand awareness. Overlooking the power of content and churning content without the right strategy are huge digital marketing mistakes your brand can not afford in today's times.
Even after churning out regular content, you may often notice the lack of interest of your brand's followers. Even content generation needs to be backed by clearly defined goals-based insights. With the human attention span shortening every year, your content needs to be able to grab attention by breaking clutter.
User-generated content can be a great way to constantly engage your brand's followers. Mistakes in internet marketing often include a seamless merging of the brand's voice and the content.
Digital marketing mistakes include poor quality content that reflects on your brand's perception. Substandard content can drive away your followers. It is one of the most common digital marketing mistakes that lead to a low CTR rate.
It is natural that you will share your brand's content on your social handles. However, sharing curated content often reflects positively on your brand. Sharing curated content can boost your follower base.
4. Wrong SEO practices
Search Engine Optimization is a great way to get your brand noticed. Marketing professionals swear by SEO strategies to increase the organic discovery of your brand and build trust. However, many professionals indulge in keyword stuffing. It is one of the common mistakes in digital marketing. Stuffing your website content with many keywords can actually harm your SEO strategy. Overuse of keywords can hurt your search rank.
Internet marketing mistakes include broken internal links, outdated website content, lack of competitor analysis to study their ranking, performance, content, and keywords.
Title tags and meta descriptions are contributors to your website's ranking. Many brands fail to realize its importance. Skipping these crucial elements can negatively impact your digital marketing efforts.
Building a decent quality backlink is not that easy. However, many brands fail to capture their competitor's broken backlinks to their advantage. Before claiming backlinks, you must check for their quality. Ignoring this strategy can make you lose a valuable opportunity to increase your website ranking.
Internal links are even more crucial, as they help crawlers to understand your site's navigation. Not having your best-performing web pages linked to the home page is one of the most common mistakes in digital marketing.
Many brands find SEO and Google Analytics complex. Without advanced SEO techniques, most of them go wrong with their SEO marketing plan. Not tracking a campaign's success with analytics can make your strategy random.
5. Bad user experience
Just like the real world, the virtual world also needs a great experience. User experience helps to enhance your brand's appeal through utility.
It is important to look into your brand's user experience to turn potential users into brand loyalists.
Clickbait, difficulty to navigate to obtain certain information, unoptimized content across various screen sizes, ambiguous design practices are some of the examples of digital marketing mistakes every brand must avoid. Bad user experience affects your campaign's profitability.
Common mistakes in digital marketing include slow website speed. Many brands make appealing websites, but fail to make them responsive and faster. Prototyping and testing are indispensable parts of building a great user experience. You can use a/b testing methods to gain insights into your campaign creatives.
It allows you to experiment with content images, fonts, colors, and messaging to identify the best performing creatives.
The study suggests users' attention span is constantly on the decline as it is reduced from 12 seconds to 8 seconds. Your user experience should be able to grab the user's attention as quickly as you can.
Bad user experience can hurt your lead generation efforts and increase bounce rates.
To increase your site's usability, your digital marketing strategy should focus on recognition rather than recall. Human short-term memory is limited. Using recall strategy in design is one of the worst design mistakes in digital marketing.
Every time a user has to recognize elements on your site or app can add to his cognitive load. It not just creates confusion, but also discourages the user from visiting such sites again.
A common mistake that most brands make is to ignore users' feedback. Design is an iterative process that needs constant feedback and iterations. Taking user feedback and constantly making your user experience better is a way to win users' hearts and helps to get rid of things that may cause errors.
6. Over-enthusiasm of trying new trends
New marketing and content trends are known to gain more traction in a short span of time. Brands and their digital marketing teams are often adamant about trying every new digital marketing trend because of FOMO. It is natural that every brand wants to capitalize on these new trends.
Digital marketing trends are often most talked about among marketing circles. At times, brands do not need new trends as they do not fit well with the brand's image and vision.
Trying new trends without research and replicating competitors are digital marketing mistakes to avoid. Many brands miserably fail in trying new trends and jeopardize their brand perception.
Avoid these pushy trends when you are uncertain if it adds value to your digital marketing strategy. Study your users and understand their needs before trying out every new trend in the market.
7. Lack of keyword research
Many SEO practices are often mistaken. Most internet marketing mistakes involve wrong SEO practices. Choosing the right keywords can positively impact your brand's search ranking. Whenever a user is looking for the right brand, he or she uses a search engine to conduct primary research.
Lack of keyword research takes away a precious opportunity to learn what your users intend to find online. Without thorough keyword research, you miss out on a chance to reach the right target audience for your brand.
Search intent is important for keyword research. Common digital marketing mistakes involve ignorance towards search intent and understanding how to optimize your content.
Without using proper search intent tactics, your content may not be a part of SERPs.
Brands often suffer from using one-word keywords, as they become too broad. It is best to use long-tail keywords that are rich in context.
The world is getting closer, but indulging too much in this thinking may not be useful when it comes to global and local keyword usage. Many brands focus too much on using broad and global keywords. This mistake comes at a cost, as brands fail to divert local traffic to their sites.
Use Google Keyword tool and location filter to target users in your geographic location.
Choosing local keywords can turn out to be a great upside when it comes to
targeting new customers.
8. Lack of effort towards the organic traffic
Paying attention to only paid advertising and ignoring means of reaching audiences organically are common mistakes in digital marketing.
Though paid advertising seems to work for your brand, not paying attention to strategies to gain organic reach and engagement can negatively affect your marketing budget.
Organic success not just saves big ad money, but also helps to enhance your brand's credibility. Organic traffic not just offers better conversion rates but also increases your chance to rank at the top of the Google search pages. It is a proven long-term digital marketing strategy.
9. Listening is important
Clear and smooth communication is the main pillar that increases any brand's credibility among customers. Even in the real world, it is considered rude to not respond to someone who tries to interact with you. The digital world is no different. Many brands tend to ignore feedback or complaints received from customers.
Not responding to customers' emails and messages is a grave internet marketing mistake that can ruin your brand's image. Many customers stop using such brands after being ignored. It is important to value your customers. Having a dedicated resource to respond to customer emails and messages can add great value to your brand's growth. Listening and using user feedback is an important part of the user experience design process.
10. Little or no interest in analytics' findings
Google Analytics is a strong tool that finds detailed insights into how every aspect of your ad has performed. Ignoring findings and insights from analytics data is one of the worst mistakes in digital marketing.
Creating campaigns without analyzing data is almost like shooting in the dark. Your luck may work a few times. But it is impossible to create a successful campaign while ignoring important data from analytics.
Google Analytics is important to understand user behavior that influences factors such as bounce rates, conversion rates, sessions, top-performing pages, average session time, and more. You can track the metrics of your campaigns and make them more effective in the future.
11. Unrealistic expectations
Many digital marketing professionals and brand owners have unrealistic expectations from the campaigns. They expect ad campaigns to be an overnight success.
Be it SEO or user experience strategies, nothing can change your brand's outlook overnight. Brand owners often get disheartened and lose their patience due to such unrealistic expectations.
These mistakes will destroy your digital marketing effort. SEO has some amazing tools that show a great impact on digital marketing over a period of time. Brand building exercises, loyalty programs need consistent efforts across a timespan to evaluate a brand's performance.
12. Lack of branding
Consistency across every communication piece is important when it comes to branding exercises. To break from the clutter and gain the most out of a customer's short attention span, it is important to take branding seriously. Many brand owners commit these mistakes in digital marketing by completely ignoring the fundamentals of branding. With the right branding approach, your brand awareness can witness a significant upside.
Lack of branding or ambiguity in creating branding can lead to a massive waste of marketing efforts. Cluttered brand identity and inconsistent branding may not help to create an impression on the user's mind.
13. Fail to see a bigger picture
Without having a bigger picture in mind, your brand's marketing strategy may not work. It is one of the most common mistakes in digital marketing.
Most tools in digital marketing cater to specific needs of advertising. If you as a brand owner fail to see how the performance of these tools affects your brand's overall performance, you may end up wasting your time and ad spending.
Without any bigger picture, your marketing efforts may look random and affect your desired outcome from them.
14. Overselling your brand
Social media platforms are known to sell your brand. But there is a thin line between overselling and just the right amount.
Internet marketing mistakes such as overselling may work well if your target audience is too broad. It may waste your ad spending if your advertising is not optimized.
Overselling practices are widely seen as digital marketing mistakes. It also affects your brand's perception.
15. Lack of storytelling
People love storytelling, and brands are no exceptions. Over the period, many successful brands have managed to create a great sentiment towards their products by the art of storytelling.
Great storytelling can appeal to your target audiences and increase engagement.
Lack of storytelling may turn out to be a loss of a great opportunity to establish a great connection with audiences. Churning out good brand stories helps communicate how your brand creates value.
Every brand must use storytelling to its advantage to make itself stand out in the crowd.
16. Spamming your audience
Too much of anything is toxic. It also applies digital marketing practices. Excessive promotion is one of the most common mistakes in digital marketing.
When you spam your target audience with too much content, you annoy them to an extent that they start losing interest in your brand.
Spamming especially with the use of excessive automation practices can make your brand perceived as cold.
Provide real valuable communication with a moderate frequency of mailers and newsletters. Create an email campaign strategy to decide when and how you want to announce important news, launches, and offers.
Create educational and relevant pieces of content for your email marketing communication.
Excessive spamming without a proper content strategy can repel your users and significantly drop engagement.
17. Not experimenting with content
Many brands suffer from boring formats of content.
Social media platforms often introduce newer formats of creating content.
If your brand is only restricted to static posts or blogs, your brand may experience a loss of interest from audiences.
Using new content formats can help tackle the monotonous perception of your social media accounts. Infographics, Reels, GIFs are great ways to create engaging content pieces.
Use guest blogs and influencer marketing to boost your brand's credibility.
18. Dig deeper
You may often see products left in your shopping cart. Not digging deeper into user behavior is one of the grave internet marketing mistakes.
Identify potential reasons behind stranded products in the shopping carts. The most common reasons may include slow website speed, difficulty applying promo codes, website crashes, complex check-out processes, extra shipping costs, and more.
Having an optimized check-out can add a great percentage to your conversion rates.
The data suggests the conversion rate is likely to go up by 35% with the optimized check-out process.
19. Poor customer retention strategies
Gaining new users may be important, but retaining them is the key to a successful long-term business.
Many brands fail to see the value in customer retention. It is one of the digital marketing mistakes that take away your chance to build a loyal customer base. Retaining existing customers is more cost-effective than acquiring new ones.
Seamless communication, great service, and personalization are secrets to retaining your customers.
Do's of digital marketing
Digital marketing mistakes can be fixed by making some amendments as below:
Data is everything
Create user personas or marketing personas based on existing data to ensure your ad spending is optimized. You can use parameters like demographics, hobbies, interests, buying habits to narrow down your target audience. Empathy maps and personas can help you avoid digital marketing mistakes.
Define goals for every aspect of marketing strategy and save your brand from commonly seen digital marketing mistakes.
Use legit data sources to plan your digital marketing strategies so that you can avoid common digital marketing mistakes and increase credibility.
Pay attention to user experience
Create user-friendly websites with ease of navigation. Keep the call-to-action buttons prominent and easy to find. Use high-contrast while designing call-to-action buttons.
Have a mobile responsive design of your website to cater to audiences who predominantly use mobile phones as a medium to interact with your brand.
Churn out attractive banners with good ad copy to grab attention. Keep brand logos and fonts consistent across all creative mediums. Consistency brings familiarity whenever any potential or existing customer sees your advertisement.
Use infographics to make text-heavy creatives engaging.
Use compressed media on your website. Bigger file sizes can take more time to load and these are common mistakes in digital marketing. Though GIFS and animation can make your website engaging, it may be frustrating for a user if it takes more time to load than estimated. You can use tools like TinyPNG to reduce file size without much hassle.
Bounce rates are the most annoying parts of any ad campaign. Get rid of UI elements that are disturbing. Maintain desired server response time to avoid any delays in site loading. Slow websites can spike bounce rates especially in the case of new visitors. Use browser caching features on your website.
Let automation do its magic
Handling social media posts for your brand is a time-consuming process. Failure to see their importance is a common digital marketing mistake. To streamline this, you can use tools such as eClincher. These kinds of tools can help to schedule your social media posts, auto posting RSS feeds, keeping track of hashtags, mentions.
Get your social media right
Be consistent in social media posts. Avoid digital marketing mistakes of posting at a random hour, skipping posts on important occasions for brands. Check ad copy and captions for any grammatical errors. Update your website content at regular intervals.
Market research is a great way to learn and implement strategies to improve your brand's ROI. Once you identify the pain points of your audiences, it is easy to identify repeated internet marketing mistakes your brand makes.
Use features like Facebook groups to connect with lookalike audiences.
Limit your Facebook posts to fewer but best-quality creatives. Good quality posts are received well by Facebook audiences.
A tailored approach is the key
Use a tailored approach to create content for every social media platform.
Go for the right metrics to save yourself from chasing the wrong audiences. It will help you stay focused while measuring contributors to your brand's successful campaigns. Measuring the right metrics can lay the foundation of the next brand campaigns.
Use a/b testing to understand which new trends can be experimented with your brand. Analyzing the right trends for your brands can increase the effectiveness of your ad campaigns.
Use remarketing strategies with the help of personalized ad campaigns to acquire your customers back.
Use personalized communication tools for creating a brand loyalty program. Keep your existing customers updated with newsletters or emailers.
Content wins hearts
Use high-quality content without any plagiarism. Plagiarized content can harm your brand's ranking as well as reputation.
Use compressed media on your website. Bigger file sizes can take more time to load and these are common mistakes in digital marketing. Though GIFS and animation can make your website engaging, it may be frustrating for a user if it takes more time to load than estimated. You can use tools like TinyPNG to reduce file size without much hassle.
Learn from the best
Create a unique selling proposition for your brand. Identifying USPs help with brand awareness and gives an advantage over your competitors.
Monitor your brand's social media and competition to learn from common digital marketing mistakes.
Common mistakes in digital marketing involve too much focusing on quantity rather than quality. The study suggests, 60% of content produced by brands is often poor in quality and irrelevant. High-quality content is not just loved by everyone but also by ranking algorithms.
Track your competitors' successful campaigns to learn without failing.
SEO makes a difference
When it comes to SEO practices, avoid common digital marketing mistakes by
Creating a keyword list with a good balance of long-tail keywords and popular short keywords. Use context mapping while using keywords from your list.
Use a valid backlink analysis tool for auditing backlinks. It is an important tool that can enhance your website's discoverability.
Plan monthly content in accordance with relevant keywords. Relook at keywords that do not seem to work.
Avoid stuffing keywords in your content. Keywords should be used only 4 times in 1000 word content.
Conclusion
In a nutshell, it is important for every brand to identify common digital marketing mistakes and avoid them. Even if you have committed some of the above-mentioned mistakes while implementing your brand's digital marketing strategy, it is never too late. While making amends, you need to address mistakes one by one. It is important to plan and analyze at every step. The use of the right digital marketing strategies can skyrocket your brand's growth.
FAQs
1. What social media platforms my brand should use?
Once you figure out where your target audiences spend most of their time, you can choose those social media platforms for your brand. Facebook, Instagram, LinkedIn are some of the platforms most brands use to connect with audiences.

2. Do I need email marketing?
Email marketing is still relevant and effective for most businesses. You can take the help of automation tools to bring ease and personalization to your emails. Newsletters and emailers are cost-effective ways to stay connected with your customers.
3. How often should I post on Facebook?
You can plan one post a day for at least thrice a week. Facebook posts should have high-quality images and content to reach wider audiences in an organic fashion.
4. How often do I need to update my website?
Staying relevant and updated is a new mantra in digital marketing. It is best to keep your website updated as you make any worthwhile news to share with your audiences. Updated content can enhance your website ranking. 

5. How often do I need to publish blogs on my website?
Ideally, your brand should publish at least one or two blogs every week.
6. Is ORM effective?
Yes. Having online reputation management(ORM) is a good idea to ensure your brand's right perception in the online space. Guest blogging, positive reviews, PR are some of the commonly used ORM methods.
7. What is the newest digital marketing trend?
AI-powered marketing is the newest digital marketing trend that involves the use of artificial intelligence.