Video
How To Make Corporate Videos: The 2023 Guide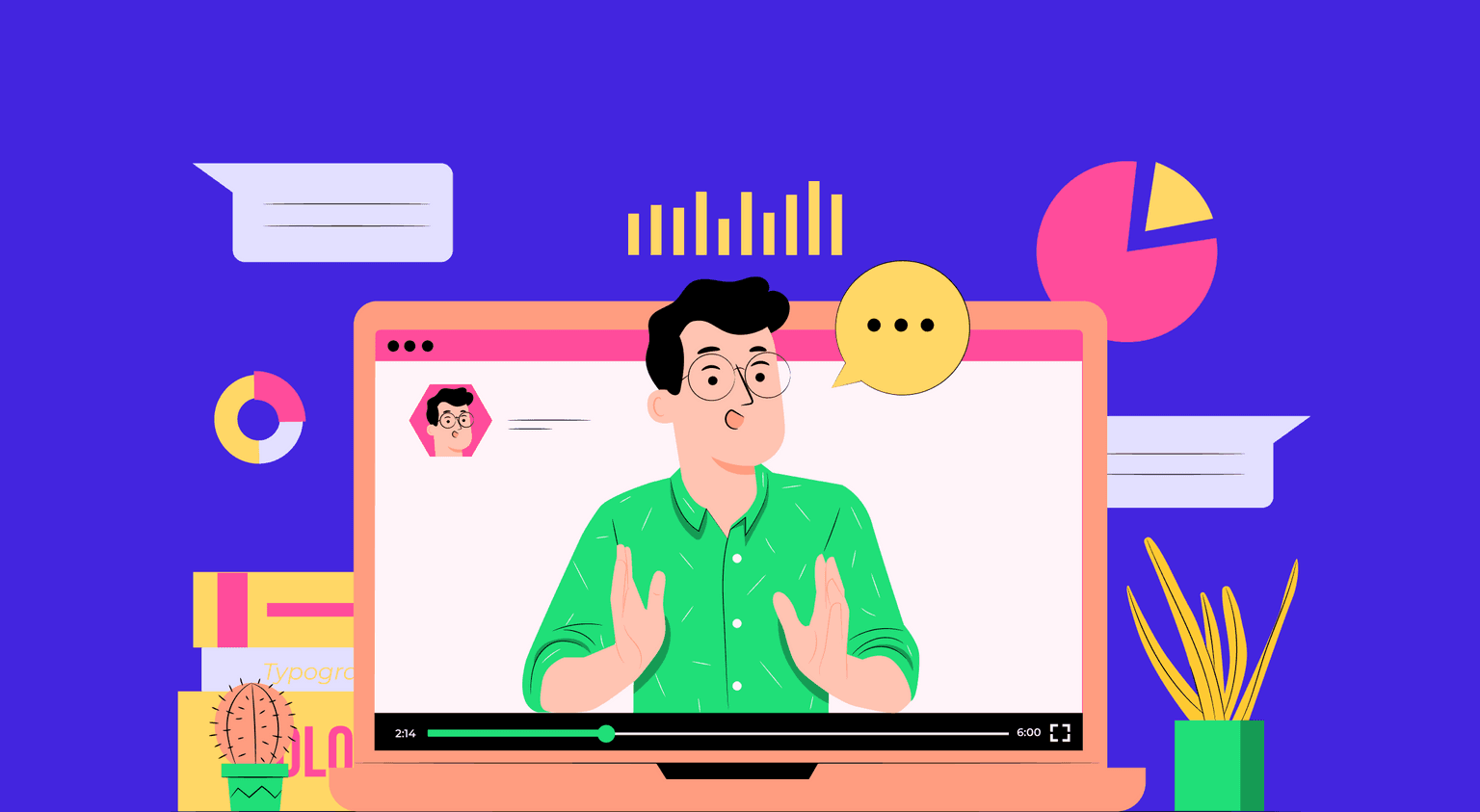 This step-by-step guide to corporate videos will delve into the many types of corporate videos and their importance for the success of your business.
Marketing is as old as business and was practiced even before companies and brands came into existence. There was a time when there were no digital media, and selling was by word of mouth. Today, you have social media, which offers opportunities to create specialized marketing strategies. Corporate videos play a decisive role in how your corporate video production skills can mesmerize your target audience in a few seconds.
No wonder a corporate video production company is the most sought-after by aspiring video buffs and leading brands. Videos are no longer restricted to the big screen and TV; today, a video production company should be adept at filmmaking for purely advertisement purposes and to help establish a brand.
Today, there is a video for almost everything, from T20 ads to arcane video tutorials and detailed user manuals. Our step-by-step corporate video production guide is an endeavor to delve into the various types of corporate videos and how they can be crucial for the success of your business.
What is Meant by Corporate Video Production?
It definitely is much more than merely pressing the record button. It is an innovative marketing tool that empowers your business by using moving images and trick motion graphics (3D animation) to help your marketing efforts.
Video production is no longer limited to creating soap operas or shooting A-list movies. Movies and shows are peppered with advertisements in between to help you establish your brand. So much so that brilliantly made corporate videos often overshadow the main movie or show, with people eagerly looking forward to the ad break for a few seconds of exhilarating visual pleasure.
Such ads inserted between movies and shows helped brands establish themselves. And this helped them gain customers and eager subscribers just with a brilliantly-crafted short video.
In today's digital age, corporate video production has evolved and moved online, where most of the action takes place. Corporate tutorials and do-it-yourself (DIY) videos published on YouTube are probably the most watched. Company websites sport short videos showing their accomplishments and the testimonials they received for their products.
The corporate video business is booming, with corporate video production taking the limelight. Today, businesses either outsource their corporate video production needs to companies specializing in corporate video services or form their in-house teams. With YouTube and Twitch commanding unprecedented viewership, companies are eager to present their brands by promoting their products and services through these domains.
Corporate video production is one of the most successful online marketing strategies because it is much higher than a typical social media marketing strategy using static images and posts with captions in text. The current trend is to post short videos such as Instagram Stories and Highlights.
Today, short tutorial videos are hot on the Internet. Corporate videos are also recorded as impactful customer testimonials to showcase a brand from the correct perspective. Such videos help build confidence in your customers and add to your credibility as a brand.
The 8 Types of Corporate Videos That Are Impactful
Corporate videos can fulfill the different needs of different brands, provided they use the correct approach at the production and distribution levels. Most corporate houses use the following eight types of corporate videos to help sustain their brands.
1. Videos depicting company profiles
Corporate videos or videos depicting company profiles help give a brief overview of a company, including its brand value, products, services, and standing in the market. Some company videos are used as testimonials, while some are used to feature CEOs and stakeholders elaborating on their business and its mission and future goals.
2. Promotional videos
Corporate videos used as a promotional help portray your products and services, detailing the smallest details like discounts, new offers, new launches, etc. Companies use their social media handles to post promotional videos, which is an impactful marketing technique that makes your customers sit up and take notice, prompting inquiries leading to conversions.
3. Explainer videos
Otherwise known as tutorial videos, explainer videos are corporate videos that guide customers on how to use a specific product or service. These videos are useful for explaining technical intricacies in a way that lay people understand quickly. Explainer videos can quickly walk you through a process within minutes and are the best ways to educate your customers. They are useful in showcasing your products and services in an engaging manner.
4. Earnings report videos
Earnings report videos are corporate videos that help describe a company's financial results and help maintain cordial relations with investors. They may be a single video, or a series, providing a company's end-of-year earnings reports. These videos help reassure investors and stakeholders that the company is in good financial health.
5. Safety, recruiting, and How-to Videos
Recruiting videos are the mainstay of HR managers, and you can see many such corporate videos uploaded on B2B platforms like LinkedIn and other social media channels. You can even upload such videos on your company website and career pages. It provides an excellent opportunity to talk about your company culture and outlook for the future and to draw top talent to work with your brand.
Safety videos are essential to safeguard the safety of your employees and visitors, especially in an environment where hazards are part of everyday activities. How-to videos are probably the most popular on the Internet, where you can learn practically anything to do with DIY (do it yourself).
6. Internal communications videos
These are corporate videos dealing with the internal affairs of an enterprise. These videos are part of a corporate house's internal communication strategy and are handy for updating employees with the latest information. Company news, events, upcoming changes, new joiners, and other resources fall into this category.
7. Event videos
Event videos probably present one of the best opportunities for companies to connect with their employees, customers, and well-wishers. They are excellent for recapping exciting and interesting events, webinars, get-togethers, and Townhall meetings a company participated in or conducted. These corporate videos are great for updating employees and customers about upcoming events, what's trending in the industry, and the exciting internal changes the company proposes to make soon.
8. Testimonial videos
Testimonial videos are corporate videos that give you a chance to highlight the positive feedback your customers give you after a pleasant experience with your product or service. You can have your customers talking about your product or service, and what better testimony than that which comes from the horse's mouth?
Moreover, a testimonial video is short, crisp, clear, and convincing and appeals to your customers instantly. Another plus point of a testimonial video is that it addresses the pain points of the customers looking for a solution to their problems.
4 Reasons Why Corporate Video Production is Critical for your Business
1. Videos are an excellent way to tell a story
Brands subsist on the stories behind them. It could be how they humbly began, how they achieved their goals, what their vision for the future is, and how they are achieving their corporate dreams. Conveying all these graphically to your customers is critical for your business, and corporate videos are the best way to do it. Videos show real people talking and authenticating a product or service; nothing can convince them better.
2. Videos help increase sales
Although you have an excellent product, you need the best means to take it to the market, and videos help you reach your customers quickly. While static images may also work, nothing matches a corporate video for instant conversions. Especially for companies wanting to sell their services, videos are probably the best means as they are one of the best digital tools that help engage customers and coax them into purchasing or subscribing to your service.
3. Helps with your SEO and Search Results
Videos can help you achieve better rankings on search engines. More often than not, people turn to Google while searching for any product or service online. And most of the top search results feature short videos about the product or service because Google's spiders also love videos more than text. You must add catchy titles, Meta descriptions, and appropriate tags to make your products more visible and rank better on search engines. Most companies leverage YouTube to reach customers searching for similar products online.
4. Videos help increase conversions
Any website with only text and no images or videos on its pages looks pretty drab and uninteresting. People love videos because human brains process visuals 60,000 times faster than mere text. That is one of the primary reasons why videos get more views than text, and it makes perfect sense to use videos as they help increase your conversion rates.
If your website lacks videos, you can bet that your conversion rates will slide fast. Moreover, videos cater to mobile phone users, and 60% of online traffic is attributed to mobile phone users. Your conversions will zoom if you add videos to your web pages. Any high-quality video attracts mobile phone users, giving them quick access to the information they seek.
Using corporate videos helps enhance your company's reputation as you can present its profile authentically. Videos help you tell your brand story better, and they quickly explain to your customers how your product or service should be used. Corporate videos help drive more traffic and help increase conversions.
The above points should help you understand how crucial it is to use corporate videos to help you tweak your marketing strategy. A few seconds of video can tell a story more convincingly than tons of text.
FAQs
1. What are the significant features of corporate videos?
Corporate videos are generally meant for employees for training, safety, and instructional purposes. When a company launches a new product, corporate videos are used during the launch to demonstrate the product or service. Corporate videos are often used as a testimonial when customers appreciate a brand. Companies also need corporate videos during any special events or business event summaries.

2. How are corporate videos structured?
Companies specializing in corporate video services pay great attention to detail when making corporate videos. The video has to primarily address the problem, risk, or opportunity, as the case may be. A corporate video production company must ensure that the video is good enough to introduce a product or service with professional fanfare to grab attention. While delving into the bitesize details is essential, highlighting the key benefits is equally crucial.
3. What are the different stages of corporate video production?
Producing a video involves taking a concept and presenting it after completion. It involves three stages, pre-production, production, and post-production. The pre-production stage involves video strategy and goals, considering the budget, creating a storyboard, setting project timelines, selecting a production team, and scouting the location. The production stage involves setting up sound, lighting, and video equipment, recording voiceovers, etc. The post-production stage includes creating the final story, adding music, graphics, and video editing.   

4. How to create the best corporate videos?
You must first establish the purpose of the video and ensure that the video is engaging and appealing to your target audience. You must also ensure that the script is not too long; keeping it short and sweet does the trick. The audio and visual elements need to be perfectly synchronized. Ensure that your video has an intriguing introduction and a brilliant conclusion. How you distribute your video makes a difference in the impact it can create.