Marketing
14 Free Email Marketing Tools That Will Also Save Your Time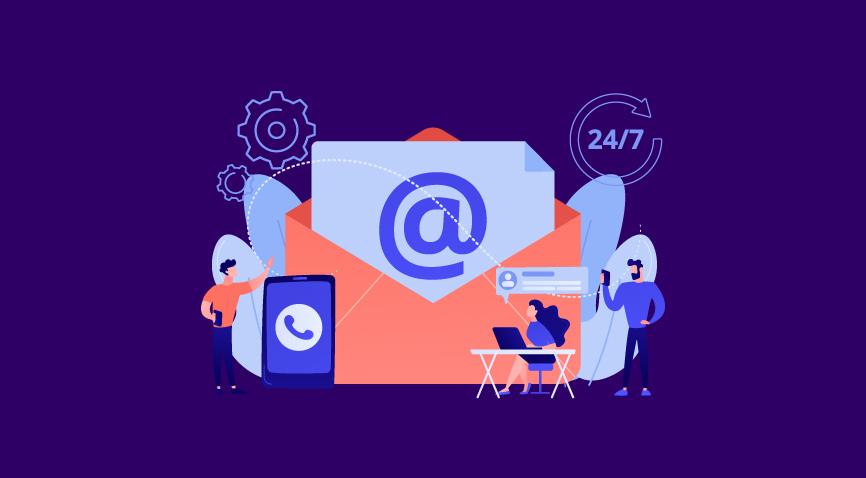 The COVID-19 pandemic and the resultant lockdowns have created a lull in the marketing industry, with movement restricted and businesses opting to work remotely. While things are slowly improving, content marketing channels need to find new opportunities to reach out to their customer base, and email marketing is one of the best channels out there. In a world where face-to-face conversations are now rare, targeted email marketing is one of the best possible options to engage with the target audience.
Despite the rising popularity of digital and social media channels, email continues to be a top channel for engagement and relationship building, be it a B2B or B2C business. In fact, 87% of B2B marketers and 77% of B2C marketers (Content Marketing Institute) primarily use email marketing to nurture their leads.
Social media and other marketing channels are great to amplify reach, but email is the right approach when it comes to specific and targeted messaging. With tools available to help brands segregate their contacts based on industry, seniority, stage in the customer journey, and other criteria, it can quickly help businesses provide a high ROI on their content marketing.
But with several email marketing tools available, which one is the right option for your needs? To help you make the right decision, here are 14 free email marketing tools to help you save time and money.
Top Free Email Marketing Software in the Market
This is one of the most prominent email marketing tools to manage your email services. The platform offers several features to help you design and create your email using the content manager, and you can even automate the emails according to the buyer's journey. The service also provides ready-to-use templates, a preview of the email before sending, scheduling, and in-depth analytics like opened email, clicks, etc.
Although there are additional features that will get only after an upgrade, the free plan is good enough for those just starting.
Free plan: Up to 2000 contacts; once your contact list exceeds this limit, you'll be upgraded to the essentials plan.
HubSpot is probably the most talked-about marketing automation platform. It offers extensive services for marketing, sales, and a free CRM. The Hubspot Email Marketing services provide extensive features and can help you build and design emails from scratch. The best part about this tool is its ease of use, with ready-made templates, drag and drop editor, and analytics on the email campaigns.
What's more, it also provides easy integration with other tools and its free-forever CRM. So you can get access to both tools for free before you decide to upgrade and get the additional features.
Free plan: No limit on contacts or email sharing. You can design emails, landing pages, manage contacts and get live chat support with the free plan.
If you are using Amazon services for your enterprise, EmailOctopus will be the perfect tool for you. Although it may not have the features that most other free email marketing tools on the list have, you can still send up to 10,000 emails per month to up to 2500 subscribers.
EmailOctopus runs on Amazon SES infrastructure. It also provides essential support in case there are any issues to be reported. It can also easily integrate with third-party apps like WordPress, Zapier, or MailOptin to ensure seamless exchange of customer data between multiple tools.
Free plan: Send 10,000 emails per month to up to 2500 contacts; will need a paid plan when the limit is exceeded.
Zoho is slowly getting popular because of its extensive marketing suite, office productivity, and other professional services. Zoho Campaigns is another extension of its sales and marketing suite that provides features at par with any email marketing tool. The free plan offers impressive features and allows you to send up to 12,000 emails per month, which is excellent unless you have a heavy-duty email marketing strategy for your organization.
The best part of Zoho Campaigns is that it works in sync with your CRM and other tools, enabling you to gain insights on your contacts and leverage this data in multiple services and departments. You can upgrade to avail of additional automation features, but you are good enough to start with the free plan too.
Free plan: Send 12,000 emails per month to up to 2000 contacts; will need a paid subscription after.
This is an excellent free email marketing tool that allows you to create emails without HTML knowledge. Sender.net includes stunning templates and customizable options for image, text, and video. It also has a robust analytics feature to help you keep track of your emails. The best part is that its forever-free plan also includes all the features, which means you can build customizable automation, schedule delivery, and do a lot more than you usually only get in the paid services.
Free plan: Send 15,000 emails per month, 2500 contacts limit; all features available even in the free plan.
Another excellent email marketing tool, Moosend, allows you to automate your email marketing, design email campaigns, and create triggers based on your buyer personas and activities. Even in the free version, Moosend includes fantastic segmentation features, which are extremely powerful to increase open rates and gain actionable ROI. Another reason to choose this email marketing platform is that it does not include any information or its own logo in your emails. This helps add a more professional touch to your email marketing, as your readers do not get the standard footer that is mandatory for other free email marketing tools.
Free plan: Unlimited emails, no contact limit, get started without any credit card.
When it comes to email marketing nowadays, just sharing the email and getting open rates is not the goal. It takes sophisticated landing pages and instant pop-up information in the email to ensure the reader's action. MailerLite is an ideal free email marketing tool for this very reason. Although it may not have the templates and features at par with other services, it enables you to build landing pages with your emails and improve your conversions. The analytics features are also in-depth, and you can easily keep track of user actions in the email and the landing page from a single platform.
Free plan: Send 12,000 emails per month, up to 1000 subscribers.
This is a multi-channel marketing platform that also has a feature-rich email marketing offering. Like most other email builders in the list, SendPulse features professionally designed email templates, a customizable drag and drop editor, and more. You can even get analytics and set up customized emails to be sent according to event triggers and other variables. The free plan includes the core features, while you need to upgrade to the paid versions to gain more advanced analytics, automation, and additional features.
Free plan: Send 15,000 emails per month, up to 500 subscribers.
This is another marketing communication platform that provides wholesome marketing tools and CRM features along with email marketing. While Sendinblue is relatively unknown, it provides some fantastic features for email marketing. You can choose from 70 design templates, build your email according to your desired format, and even A/B test them to understand what works best for your brand. This makes it a viable option, especially for those looking for free email marketing software.
Free plan: Unlimited contacts, 300 emails per day.
This is an integrated platform for your email marketing, SMS marketing, and ads, all in one place. The service provides a convenient approach for businesses to create email marketing and utilize other communication channels for a targeted marketing strategy. Although the email features for the free option are limited and best for small and medium businesses, it allows you to automate email delivery using triggers and timely communications based on customers' convenience, making it a great option.
Free plan: 15,000 emails per month, with limited features.
The free plan offered by ConvertKit allows the user to send out personalized emails to 1,000 subscribers. However, the user is prompted to switch to a paid plan once the subscriber count increases. Along with the liberty to craft detailed emailers, ConvertKit also provides weekly live sessions on how to get the most out of the email marketing efforts.
Convertkit provides email designers to create interactive emailers with relevant content for those who are not so tech-savvy.
The personal newsletter service offered by MailChimp, TinyLetter, is completely free. It started as a newsletter platform in 2010 and later turned into MailChimp's primary email marketing service provider.
A user can send emails to up to 5,000 contacts via TinyLetter. However, once the number exceeds, it prompts the user to switch to MailChimp. It also allows consumers to sign-up for an email newsletter. Moreover, the amazingly simple email editor also makes it hassle-free to design a newsletter.
A cloud-based omnichannel marketing automation solution provider, Pepipost claims to connect more than 11 billion customers, sending over 10 billion emails and more than 3 billion SMSes every month.
The free email marketing software service allows a user to send out 30,000 emails free for the first 30 days, and later, one can send 100 emails every day, free, forever.
For any business with a select bunch of audiences, Pepipost is the one-stop solution as it provides multiform solutions in artificial intelligence, email Application Programming Interface, data security, real-time reports, and more.
A very user-friendly email marketing tool, Benchmark comes with simple design formats like drag and drop, customizable templates, and images. It has a proven history of being an email marketing tool with one of the most responsive campaigns.
The free plan offered by Benchmark lets a user roll out emails to up to 2,000 subscribers. However, the paid plan, which increases the subscribers to 2,500, also offers 133 other features, including A/B testing and targeted email.
What do you need to get started?
Most of these free email marketing tools for small businesses and entrepreneurs include robust features that can help you get started. But before you start sending out emails, the ideal approach is to have a strategy and focus on the right product, services, and content for your target audience. The email marketing tools are just here to make your life easier and keep track of your audience, but it is ultimately your approach to determine how effective your email marketing is.
Moreover, you can upgrade these tools once you have more focused requirements and explore the plans depending on your budget and flexibility.
Also, just like any other promotional strategy, email marketing also works well with proper planning. Here are a few things you should consider while chalking out your email marketing plan:
Never buy an email list. Always try to grow your subscribers the right way. Consider only those who have asked for a newsletter.
Set a format starting with a welcome newsletter for a new subscriber. Making them wait to hear from you might make them lose interest in your brand. So be regular with your updates.
Do not send the same email to every subscriber. Customer segmentation based upon their interest and purchase history is the right way to relay the right information. This is also key to maximizing the conversion rate.
Keep the message simple and never forget to add a Call to Action button that prompts customers to immediately interact with the brand via redirecting them to either your purchase page or making a call to make a reservation or whatever it is your business offers.
We are sure you are excited to try out these email marketing tools for your business. For more interesting content on how you can amp up your marketing strategies, keep checking this space.
FAQs
1. Why should businesses use email marketing?
According to Sendinblue, email marketing is the process of sending a commercial email message to your subscribers and is used to inform, increase sales, and establish a community around your brand.
Statistics state that around 21% of emails are openend in an hour of delivery. Email marketing has a 4200% Return on Investment. At least 59% of B2B marketers in 2021 prefer email for lead generation.
2.

Which are the best email marketing software, services & Platforms (2021)?
A list of 20 best email marketing software, services, and platforms you should opt for in 2021 are: 
a. Autopilot: Autopilot is a user-friendly email marketing service provider with a full suite of helpful and effective tools. 
b. MailerLite: One of the best free email marketing tools for marketers from all spectrums. 
c. ConvertKit: ConvertKit is an email marketing tool made for professional bloggers, authors, and content creators. 
d. Constant Contact: Constant Contact is easy to use for those just getting their hands on email marketing tools. 
e. SendX: With powerful software like SendX, you can design emails without HTML, automate emails as per subscriber's time zone, best deliverability of emails, and built-in support system which never lets you get stuck. 
f. Freshworks CRM: Freshworks CRM is a must-have AI-enabled software for start-ups as it allows you to operate email marketing, sales, reporting, and data analytics all in one place.  
g. OptinMonster: Optinmonster helps turn website visitors into long-term email subscribers. 
h. Sender: For eCommerce platforms, Sender provides effective email marketing tools with features like drag and drop editor, automated abandoned cart emails, adding products to newsletters, that too backed by a really nice customer relationship management (CRM). 
i. Klaviyo: Klaviyo, email marketing services, are truly made for eCommerce platforms and integrated with Shopify, Magento, and even direct integration with platforms where you are selling your products. 
j. Rare.io: Rare.io is an intuitive email marketing software that suggests the best products to recommend to your subscribers and which one's they will buy. 
3. What are some tips to keep in mind when choosing an email marketing service?
Some pointers you should keep in mind while looking for a good email marketing tool are:
a. Should enable you to create highly engaging email newsletters 
b. The user interface should be easy, ideally with a drag-and-drop editor
c. Should be able to send bulk personalized emails easily
d. Should make it easy to manage your contact list and segment users into groups
e. Should be able to track the performance of your email marketing campaigns
f. Should ensure that your email campaigns do not end up in the spam folder