Marketing
19 Brilliant Examples of Email Marketing Campaigns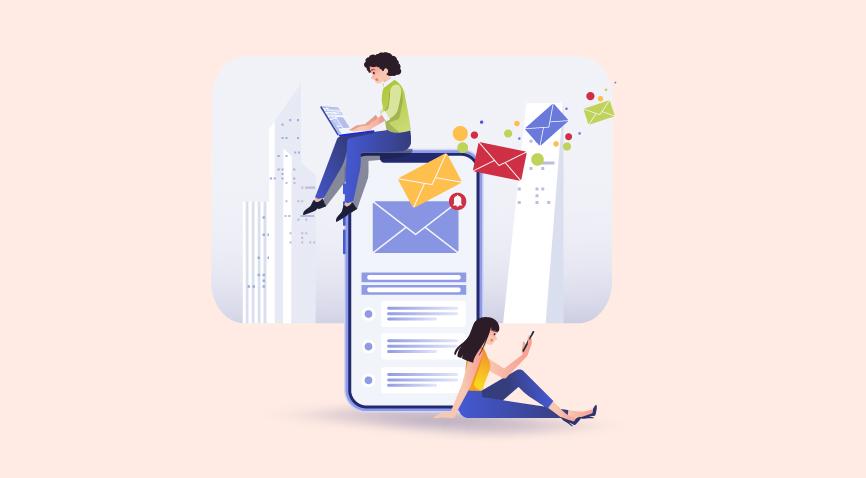 Table of Contents
What Is an Email Marketing Campaign?
What Makes an Effective Email Marketing Campaign?
19 Examples of Email Marketing Campaigns
Key Takeaways
Conclusion
FAQs
Email is the internet's money, and almost everyone who uses the internet has an active email account. Although Facebook and Twitter may appear to be omnipresent, the continuous battle over data theft and privacy is causing many users to abandon social media sites.
Due to the different actions that it commands, including sorting, archiving, tagging as spam, and much more, email marketing may seem time-consuming and fruitless. Think of brands whose emails you enjoy or whose services/products you love. Those are the perfect examples of email marketing campaigns, and they never make it to the bottom of your inbox.
Nowadays, marketers must do more with less. They must engage their audience individually while sticking to their budget. Marketers who can accomplish this—connect with prospects and customers in a highly focused way—will be successful in generating revenue and high returns on investment (ROI) for their companies.
What Is an Email Marketing Campaign?
A sequence of emails sent by a company to present and potential consumers is known as an email marketing campaign. This pre-planned material is sent out through email with the intention of achieving a specific business objective, such as nurturing leads or increasing engagement.
In the sphere of email marketing, there have been numerous key advances that a modern digital marketer cannot ignore. Email outreach is no longer limited to desktop computers; it can now be done through mobile apps. It's not only about sending out promotional emails to consumers; it's also about building a buzz about your product in the marketplace.
What Makes an Effective Email Marketing Campaign?
Do you have a good understanding of how to set a successful email marketing campaign example? Are you unsure if your email marketing plan is effective? Nowadays, there's a lot of competition for audience attention, especially with billions of emails exchanged every day, which only keeps increasing. That's why learning how to perform email marketing correctly is critical if you want to reach your target audience and maintain their attention.
Before discussing email marketing strategy examples, it's essential to learn how to execute the best email marketing campaign that will give impressive results.
1. Prepare a targeted mailing list
The most conversion-worthy email marketing campaigns are based on email lists full of marketing-qualified leads. The best way to create a targeted email list is to convert your website visitors into subscribers. Use the end intent pop-up. For first-time visitors, you can install the "Subscribe to our marketing database" pop-up on your website. Make sure you place a button on every landing page for users to register with the database. If your marketing database is small, but your social media community is thriving, take advantage of online fans. Give incentives to new subscribers for signing up by hosting contests and offering discounts.
2. Add a touch of personalization
Today, "Dear sir or madam" alone is not enough as a salutation. Customers now expect personalization, so don't take a generalized approach and turn them off. We're not saying you need to know their favorite fast-food restaurant, but calling them by their first name is a good place to start.
You can further segment your audience based on some key characteristics. For example, determine whether they are a regular customer or whether the product they purchased is a gift. By splitting your subscribers into smaller groups, you can send more personalized and relevant emails. In addition to this, segmentation also has a positive impact on open rates, click-through rates, and unsubscribe rates. This is a regular practice in the best email marketing campaigns.
3. Use email marketing software
Follow in the footsteps of most marketers and invest in an email marketing tool, also known as an email marketing software. These widely used tools can make email campaigning much easier. Email marketing tools are most commonly used to automate email workflows, test A/B pilot messages, manage subscribers, and streamline reports. There are quite a few email marketing platform providers out there, but we recommend Mailchimp, Drip, Klaviyo, HubSpot, and Marketo.
4. Have your own email domain
Having [email protected] is neither the most user-friendly step, nor does it promote customer loyalty. Instead, it makes it clear that it is a mass-market, automated mail and negates the efforts you have made for personalization. In addition, a no-reply domain is more likely to result in your email address being marked as spam. This means the email is less likely to reach your audience's inbox. This tip is adopted for most email campaign examples.
5. Keep your message clear
The best email marketing campaigns don't undermine the significance of focusing on the message. Trying to cram too much information in a single email may make the email heavy for your reader. This negatively impacts information retention and increases the chances of your target audience missing out on the central message. If you need to send a long message, break it into smaller chunks to make it as concise and brief as possible. Attention-grabbing words and titles are critical.
However, ensure the content of the email is aligned with your purpose so that your email doesn't seem like clickbait. Put the maximum amount of critical content first for those who have a shortage of time (it truly is why we recommended setting a few CTAs too). Furthermore, add subheadings and bullet points to break up the content material into scannable, bite-sized sections.
6. Plan your strategy according to your target audience
If you've been doing email advertising and marketing for a while, you'll probably realize who your target market is. But if you're just getting started, you'll need to make a few knowledgeable guesses so that you can fine-tune your content.
Don't worry; you'll begin accumulating subscriber data the minute you send your first campaign, so subsequently, you'll have actual information to use. In the meantime, you can accumulate user information from Google Analytics and social media insights.
When it comes to publishing, the right time depends on when your unique target market is most active. You can use enterprise averages in the earlier phases of email marketing. However, it's vital to perform A/B checks when you send emails, in order to identify your target audience's preferences. Email advertising and marketing systems consider all these factors, as proved by the best B2B email marketing examples.
19 Examples of Email Marketing Campaigns
Now that we have discussed some tips to build good email marketing campaigns, let's take a look at some genius email marketing campaign examples.
1. RunKeeper
With this polite, informative email, RunKeeper tries to re-engage users who have stopped using their services. The content focuses on convincing recipients to give their app one more chance by highlighting its latest upgrades and features. It also informs its audience about the perks that they may not have been aware of when they last accessed the software. It succeeds because minor details make the material feel more friendly and organic.
The RunKeeper team was searching for a method to leverage email to make use of all of the data they had on user activity. To do so, they shifted to a new email service provider that helped them achieve their objectives. When compared to another challenge-based campaign that ran at the same time last year, RunKeeper saw a 100% boost in the open rate from this campaign. Thanks to segmentation and a distributing strategy that targeted active users, the team experienced a 1.5% increase in deliverability. This makes it a brilliant email marketing campaign example.
2. Loft
Source: HubSpot
One of the best email marketing campaign ideas, Loft's email demonstrates its awareness of your messy and overflowing inbox. It asks its recipients to alter their preferences to give them a more customized experience. This allows them to send their customers what they might actually be interested in opening. Their customer-centric email marketing does an excellent job of making the recipient feel that their opinions and views are valued and important.
The motto "Happy Inbox, Happy Life", puts the primary focus on the recipient. The language is straightforward and powerful and is paired with an equally simple yet powerful CTA.
3. Uber
While most companies send promotional emails to subscribers in excess, Uber always gets it right. The ride-hailing app's marketing emails are always straightforward and appealing to the eye, as well as informative without being excessively long. A clear CTA, a catchy headline, and succinct content enable subscribers to grasp the offer and take the necessary action in the shortest period of time.
To guarantee minimal distraction, all additional information is put in single lines and placed below the primary CTA. Uber's emails use the same color palette and design elements as its app and social media profiles, which helps the company retain consistency and relatability with its clients.
The simplicity of Uber's emails is what makes them a brilliant email campaign example. Deals and promotions are announced to email subscribers via emails. We like how concise the first description is, along with a very obvious CTA—ideal for readers reading the email fast.
4. Medium
Medium is an excellent resource for finding new and interesting content on a regular basis. It's also a simple email marketing campaign idea. Thanks to a profusion of articles produced by well-known personalities and publications, combing through the content when you don't have enough time to explore may become an issue.
Medium's newsletters, which deliver updates from publications you've subscribed to on the site, are an excellent answer to this problem. Medium's emails follow the same aesthetic as the site, curating the finest stories and sending them right to your inbox. Its email marketing approach is one of the greatest we've ever seen, limiting the number of times such emails are sent and constantly ensuring relevance to their subscribers.
5. JetBlue
JetBlue is largely considered as one of the top email marketers in the industry, and for good reason. The company understands that no matter how hard a business tries to prevent it, subscribers may always perceive its emails as blatant marketing attempts. This is why the airline remains honest with its customers in every sense of the word.
In their email campaign, they acknowledge their customers' hatred for marketing emails and present them with entertaining and imaginative ways to opt-out of or minimize communication. These types of emails improve your brand's image, while also preventing your customers from unsubscribing.
6. Netflix
When Netflix informs you about shows you might have missed, their way of caring is always appreciated. Their material is updated regularly, and they make sure that everyone on their email list is informed. Those emails won't be too often to appear spammy, and they won't be too long to appear promotional.
Retargeting may be as simple as sending a text email. According to Netcore Cloud, text-based outreach programs, contrary to popular belief, are 74% more successful than other forms of emails. This is one of the most straightforward and effective advertising efforts. Netflix employs email marketing to welcome new customers to the streaming platform (via the signup procedure). Following that, it divides viewers into groups and tailors content suggestions and upgrades to their tastes. This surely is one of the best email marketing strategy examples.
7. Amazon
At first, this seems to be a standard advertising email. However, if you look closely, you'll notice two significant brands being promoted: Amazon Pay. In addition, the letter contains an enticing offer of a rebate, an 80% discount, and a further 10% discount.
Promotional messages and newsletters are used frequently in many firms' email marketing strategies. Amazon, on the other hand, takes an entirely different route. Every email is tailored based on the information they have about their consumers, including on-site activity, previous purchases, the amount spent, location, age, gender, and so on.
This email marketing strategy example is aimed at Amazon customers who are anticipating the end-of-season sale and consumers who use Amazon Pay often. Customers who have not yet used Amazon Pay will be enticed to do so because of the cashback offer. This would result in more sales, customers, and revenue. If you want to generate more leads, you should combine various offers into one email marketing campaign right away.
8. edX
Everyone enjoys getting something for nothing. The education sector, which has moved to a digital realm, has seen a huge surge in the number of free courses offered, adding to the traffic of a website.
edX is following the same path and has sent this email. There is a strong and clear message in this email, giving it the appearance of a mini-website landing page. It's topped off with a solution, i.e., a personalized list of recommended courses, along with a clear CTA. It also gives users an incentive (a discounted verified certification) to take action. If you're in the education field or have an academy page, be sure to adopt a similar email campaign idea.
9. Paytm
Paytm is constantly open to constructive criticism because of its excellent marketing strategies. One such email marketing example is "Paytm Travel", which conveys the company's value proposition of affordable fares in a straightforward but creative way. They immediately and elegantly tackle an all-too-common pricey transportation problem.
When you are reeking of disruption, such internet marketing strategies function wonderfully. Paytm recognized a market need and worked to fulfill it. They continue to issue payment reminders to clients. The notifications are designed to inform customers that they may quickly make those payments using their digital wallets.
The company's internet advertising approach focuses on delivering their ad to as many people as possible by sharing it on Facebook and Twitter, as well as sending polite reminder emails.
10. SproutSocial
Adding to the list of examples of email marketing campaigns is Sprout Social. The platform's popularity spans the world, with top influencers promoting it as one of the finest social media management solutions on their websites. There's a clear CTA at work in their emails. In order to distribute one of their reports, they crafted a neat and powerful subject line. This was followed by text that told the readers exactly what they should expect by clicking on the CTA button.
11. Charity: Water
Many individuals overlook transactional emails when discussing email marketing. These are the emails that arrive in your mailbox after you do certain activity on a website. This might be anything from completing a form to making a purchase. These are simple text emails that marketers send and may forget about.
Charity: Water, on the other hand, took a different path. When a person makes a donation to a project, their money travels a long way. Most organizations don't inform them about that trip at all, but Charity: Water sends out automatic emails to contributors to show them how their donations are being used over time. You don't even need to read the email because the project schedule and accompanying table tell you where you are in the process right away, allowing you to move on to other items in your inbox. What an amazing email marketing strategy example.
12. Dropbox
Dropbox used a pair of whimsical cartoons and an emoji to make their emails pleasant and entertaining. Plus, the email is kept short and sweet to underscore the notion that Dropbox doesn't want to intrude—it only wants to remind the recipient why signing up may be beneficial for them. When sending these emails, consider including a limited-time voucher as an incentive for consumers to return to your service. A sweet and simple email marketing campaign idea, Dropbox makes innovative and distinctive use of its logo to promote its product as a solution.
13. RCN
Internet service providers and inclement weather are natural foes. You'd think telecommunications providers wouldn't want to bring up storm-related power disruptions, which is the one thing that irritates customers. And then there's RCN.
RCN, a cable and wireless internet provider, transformed an email marketing campaign example into a personalized weather prediction for its subscribers. This "storm update" helped the firm get ahead of an event that threatened its service, while also allowing consumers to obtain weather information directly from the service provider they trust. Personal safety is also advised in the email, which is a lovely touch of consideration to go along with the guarantee of prompt service. RCN also used the opportunity at the bottom of the email to showcase its social media accounts, which it utilizes to keep people informed of network failures.
14. Redbus
Redbus illustrates how you can save money on your vacation with their trip bookings using the rPool function in an amazingly straightforward way. Professionals who want such booking possibilities are targeted by the creative.
This email marketing campaign idea succeeds because the concept is given a visual that is so simple that the new product feature is stated in the fewest words possible. It's always a win-win situation to actively execute an active campaign to notify clients about a new feature. When combined with good design, these emails have a greater open rate.
15. Adobe
Adobe requires no introduction. They can simply put information on their website to attract the appropriate audience; even so, they have an outreach campaign. This is because every little or large change that benefits consumers must be communicated clearly and consistently.
This email marketing screams exclusivity from every angle. With a powerful tagline, exciting offer, and clear CTA, this email campaign example is surely a winning one. Do notice the limited-period offer on the Adobe Creative Cloud apps. Adobe has surely devised one of the best email marketing campaigns.
16. Swiggy
Everyone is looking forward to hearing the fantastic news! And if this occurs during the Cricket World Cup, the pleasure of purchasing your favorite foods from Swiggy is amplified. A named email campaign is successful in capturing readers' attention. "Match Day Mania" appears to be the most cost-effective option.
If you give your email marketing campaign a name, it will reach your target audience more effectively and stick in their minds for longer. Swiggy's team is now captivated with the chance to alter how India eats by delivering pleasant experiences, which began with a desire to develop a business at the confluence of logistics and technology.
Swiggy's email marketing strategy example is primarily designed to pique users' interest. The CTA in the email links consumers to the Swiggy app, where they may view their unused vouchers.
17. Mailchimp
Next on the list of email marketing strategy examples is Mailchimp. Mailchimp is the industry leader in email marketing, and it serves as an example for all campaign software. This email urges users to try out Mailchimp's templates for the many benefits it offers. It highlights the quickness of the process by mentioning the duration of 15-20 minutes, followed by a simple CTA.
18. HireVue
The topic of HireVue's automatic unsubscribe email was how it is never easy to say goodbye. From the humorous header pictures to the wonderful CTA button language, we appreciate the uncomplicated messaging here.
We praise HireVue for sending automated unsubscribe letters in the first place, and not only because the design and language are excellent. Because poor open rates may drastically harm email deliverability, it's a good idea to cleanse your subscriber lists of those who aren't opening your emails. This is a logical email marketing campaign example.
19. Paperless Post
This is the last on the list of email marketing campaign examples. You might think of Diwali and Christmas when you think of holiday email marketing, but there are other holidays peppered throughout the year that you can construct campaigns around.
Take, for example, this email from Paperless Post, which is centered on Mother's Day. It has a clear CTA that builds a sense of urgency. The subheader then poses a query that prompts recipients to ponder, "When is Mother's Day this year? Is it true that I forgot to buy mom a card?"
It then elicits a pleasant response by reminding the receiver of something they may have overlooked, i.e., send a card (a free one, no less!) There is hardly any reason why users wouldn't click on the CTA.
Key Takeaways
Email marketing is an indispensable tool for any digital marketer or brand, since it has a high CTR. The importance and usefulness of email marketing hasn't gone down yet.
BeThe best email marketing campaigns have a high success rate.
Tips such as adding a personalized touch, having a domain name, and a well-planned schedule to send mails are some effective strategies.
Some of the best email marketing campaigns have been executed by big brands like Adobe, Amazon, Uber, Sprout Social, Netflix, etc.
Email marketing campaigns should focus on connecting with the audience through personalization and creating a sense of urgency.
There is no one-size-fits-all approach to email marketing. Trial and error is the only way to know which strategies are actually working.
Conclusion
The examples of email marketing campaigns discussed in this article might have given you an idea about where to start. Remember that testing your email messages is the most effective technique to discover what works best for your company. This can help you avoid typos and other issues.
It's also worth noting that testing isn't something you should conduct once in a while, but rather on a regular basis. You may learn a lot about how your subscribers respond by experimenting with different variants of the same email campaign. In your upcoming campaigns, you'll know what works well and what has to be improved.
FAQs
1. How to create an email marketing strategy?
Here are a few tips to create an email marketing strategy: 
– Make your messaging unique. 
– Segment your email list. 
– Send emails that are optimized for mobile devices. 
– The copy, design, and buttons should all be tested before being sent. 
– When feasible, automate email marketing.
2. How to measure an email marketing campaign?
There are three main key performance indicators (KPI) in email marketing:
– Open rate: the number of potential customers who open an email. 
– Response rate: the proportion of people who reply to an email. 
– Conversion rate: the percentage of responding prospects who go on to make a purchase.
3. Which company has the best email marketing strategy?
Some companies with the best email marketing examples are as follows: 
– Adobe: this email marketing example screams exclusivity from every angle. 
– Swiggy: a named email campaign is successful in capturing readers' attention. 
– Amazon: if you want to generate more leads, you should combine various offers into one email marketing campaign. 
– Redbus: this email marketing campaign succeeds because the concept is given a visual that is so simple that the new product feature is stated in the fewest words possible.
4. What are the best email marketing strategies of 2022?
Mentioned below are some of the best email marketing strategies. 
– Make your emails more personal. 
– Keep it brief and visually appealing. 
– Make your CTAs more effective. 
– Create an enticing preview text. 
– Keep in touch, but don't spam. 
– Create emails that are mobile-friendly.
5. What is the most effective email marketing strategy?
Here are a few more tips to create an effective email marketing strategy. 
– Make it personal, but keep your boundaries in mind. 
– Keep your subject lines crisp.
– Choose the best time to send emails. 
– Try distributing freebies.
– Make emails mobile-friendly. 
– Divide subscribers into groups. 
– Try to re-engage inactive customers.
6. What are some of the advantages of direct email marketing?
Developing a direct email marketing plan helps you engage and communicate with your target audience in a personalized manner. It also boosts revenue. Email marketing solutions allow your company to reach clients more easily than ever before.