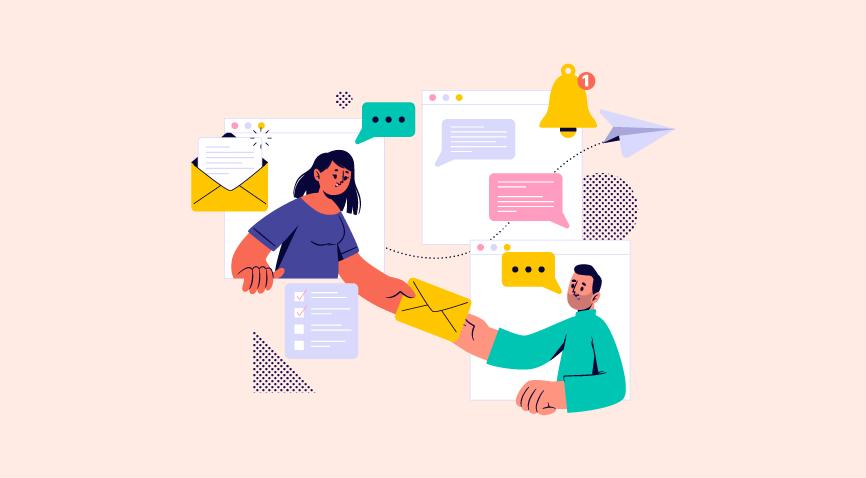 Table of Contents
Importance of Email Marketing for small businesses
Email Marketing Tips and Tricks for Small Businesses
Key Takeaways
Conclusion
FAQs
One of the oldest and most effective ways of marketing is still email. The tool is robust, packed with features, and popular for its ease and efficiency. For small businesses, email marketing could become the most valuable resource.
Importance of Email Marketing for Small Businesses
Before we get into the email marketing tips and tricks, we must address the elephant in the room. Many small businesses live under the impression that email marketing is not a worthy investment in the times of videos and social media. Here are a few reasons why small business email marketing remains superior :
For a small business, email marketing is a very low-cost investment with a very high return rate.
They remain accessible at workplaces and universities when other social media platforms are banned.
Small business email marketing helps to drive revenue and build a loyal fanbase.
They are a global tool, both in utility and reach.
The metrics from email marketing are much easier to measure and always provide valuable insights about end-users.
Here are the top tips for mastering email marketing for a small business.
Email Marketing Tips and Tricks for Small Businesses
1. Make them resourceful
One of the most important small business email marketing tips would be to spread knowledge. The only reason an end-user would open an email is if they find it resourceful. Do not send out random updates and sales offers; the content should be innovative.
This factor is the basis of content marketing. One does not simply spam a user with a sales-emails without providing them valuable content. Your email could be a guide, a newsletter, an update, a discount, or much more.
An email that does not add value to your users will see almost no click-through rate in this era of surplus information.
2. A single CTA
Firstly, your email should be simple enough for the reader to comprehend and written in a language, tone, and voice that your target audience understands. This process is the only way you derive a call to action from the users.
If you ask an expert for the most valuable email marketing tips for small businesses, they recommend you keep a single ask on each email blast. Your email should prompt a reader to visit your website, landing page, blog, or service.
The user would remain confused by adding more than one of these; the opened email is unfruitful.
Another small business email marketing tips and tricks to note is to consider adding social media links to your emails. This cross-promotion will ensure the user always remains in your ecosystem and follows your business across platforms.
3. Ensure visuals
Gone are the days of text-only emails. While this is not a hard-and-fast rule for those building a personal brand, a small business cannot have blank emails. Email campaigns for small businesses should be focused at delivering value, fostering engagement, and appealing to the target audience.
A visual, like a poster, image, video, graphic, and much more, will make your emails more attractive and welcoming to the users. That being said, ensure your visuals are legible on both phones and desktops.
They must not draw attention away from the message but to support it.
4. Don't stop testing
No amount of email marketing tips and tricks can help you if you use the same formula for many months together. A user who is ready to give you an email address should not be disappointed, which is why running frequent tests is essential.
The most important small business email marketing tip would be for starters,to ensure all your text, usual links, and icons are in order. Check if the CTA is clickable and leading to the correct pages. Double-check the responsive nature of your emails. As many rounds of A/B testing are welcome.
Some small businesses also go as far as setting up a focus group and testing the mail formats and click abilities multiple times.
Additionally, your email campaign for your small business should track engagements and use them as a basis for your next campaign. The data from every email blast is precious to design future campaigns.
5. Stick to a schedule
The biggest email marketing tips for small businesses would be to stay relevant, deliver value, and stick to a schedule. List most content; a newsletter or email blast must remain on a schedule. Find a day of the week, and ensure your content is scheduled ahead of time for the same. Some of the most successful newsletters are popular for their time-bound approach.
This helps in two ways. One, it builds a habit for the end-user to accept your email at the same time each week or month. This practice will enhance the click rate of your emails. Second, it makes content creations much easier since there is a timeline to work against.
6. Learn more about subject lines
Many email marketing tips and tricks online will tell you that your subject should be clickbait and grab the user's attention. That statement is only half-true. Yes, you must hold the attention of the user but not with clickbait. Over time the end-user will lose interest if the subject line and the content do not match.
Your subject should be short and to the point for small business email marketing. They should not mislead the users about the contents of the email. The subject is one of the most critical pieces of copywriting you need. Jot down up to ten options before you pick one on a hunch.
7. Value the end-users
The user has trusted you with their email; use this with discretion and never spam the user. The second disservice many small companies do is sending out boring emails. Failing to provide value will simply rank your mail lower. Email campaigns for small businesses should always strive to deliver what their user wants.
It helps to segment the email list. Do not send mail that does not concern the users. Use different templates and checklists to manage and segregate users. The more your emails get marked as spam, the harder it becomes to use them as an effective marketing tool. Additionally, do not write elaborate essays on your email; they are hard to read and easy to tune out of.
Bonus Tip: Encourage Personalization
Have you ever noticed when emails hit your inbox, and the subject line has your name? This process is called personalized messaging. It is an effective small business email marketing tactic. Most email management software will allow you to use the first or last name of the users to make emails personal.
This practice will improve the clickability of your emails and keep them from looking like any other spam in the mailbox.
Key Takeaways
For small businesses, email marketing is one of the most low cost promotion options.
Email marketing has a global reach.
It is easy to track metrics from email marketing for small businesses.
Offer your target customers value through your email. Do not spam.
Make it appealing with pictures or visual content.
Personalise your email campaigns for small businesses as much as possible.
Stick to a schedule. Ideally, you could send three emails per week to stay on top of your target audience's mind.
Always keep your target audience in mind when strategizing for small business email marketing. Create content that your end-users would find interesting.
Conclusion
Some standout email marketing tips would be to customize new email templates and refresh one's content often. Spend time designing new email templates that fit the image of your brand. Refer to your brand's colors, language, texts, photos, and tone to help make them.
These small business email marketing tips and tricks listed above will act as a basis to guide you in the right direction, but they are not a one-size-fits-all solution. You will have to discover what formula works for your business and replicate more of that.
FAQs
1. What is the best email marketing strategy for small businesses?
Some tips to follow for creating a successful small business email marketing strategy would involve: 
1. Adding value for your users.
2. Keeping each email blast to a single Call To Action.
3. Ensuring a small business does not have blank emails, ensure visuals.
4. Tracking engagements and using them as a basis for your next email campaigns for small businesses.
5. Having a time-bound approach and being regular.
6. Having short, engaging, and to-the-point subject lines.
7. Never spamming them.
2. What are the best tips for email marketing success?
Some of the email marketing tips and tricks include: 
1. Always use automation. 
2. Use segmentation to get the best results.
3. Always use A/B testing. 
4. Don't get disheartened due to unsubscribes.
5. Focus on the From name and subject line. 
6. Only send an email when you have something valuable to share.
3. What emails should a small business have?
A small business should have emails like: 
1. hi@ or info@ for general inquiries 
2. billing@ for billing and payments.
3. support@ for customer service.
4. admin@ for technical administrative purposes.
5. careers@ for job applications.
4. What are the 4 types of marketing emails?
The four types of popular email campaigns for small businesses are:
1. Email Newsletters
2. Promotional Emails
3. Acquisition Emails
4. Retention Emails
5. Why should I invest in email marketing?
Email marketing is one of the easiest and inexpensive ways to foster engagement with your users. For small businesses, email marketing can also improve direct response rates. The biggest email marketing tips for small businesses would be to send personalized, valuable, information-packed emails. You could collect the emails from those who have subscribed to you, and send them personalized emails. Keep the 'reply' option open and include a single CTA. Value content does not always have to be about your business. It is a personal space between the customer and your business. Talk about your personal life experiences, your journey, funny incidents, and so on.