Design
What Is a Design Strategy, and Why Is it Essential?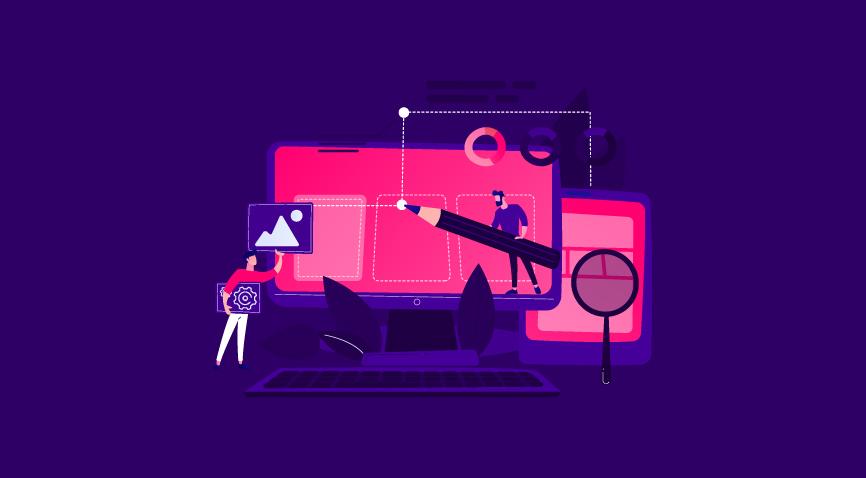 A winning design needs a winning design strategy. Here, we discuss the significance of a design strategy and tips to create your own.
"Brand is the story. Design is the storytelling."
– Susan Sellers
A design strategy is developed by gaining knowledge about the business goals. After formulating a design strategy, a design process is created, which is aligned with said business goals. At every step of the design strategy creation, the goal and outcomes of the business problem are assessed with a vision of the business problem that needs to be resolved.
What Is a Design Strategy?
A design strategy is defined as the bridge between business and design thinking. A business strategy is a process used by organizations to identify, plan, and achieve their long-term business objectives and goals. A design strategy, on the other hand, is about formulating and structuring design processes that align with both the business' and customers' needs.
A judicious mind helps the creative designers to create a design strategy blueprint that contributes towards improving client and customer relationships, as well as increasing user experiences. A sound design strategy also helps align the operations with the desired business outcomes.
What Is the Significance of a Design Strategy?
Sometimes, designers fail to realize how important a strategy-driven design is. However, for an organization's marketing team, an in-depth and clear strategy not just demonstrates how the design will impact the product's market, but also provides a bird's-eye view of how an organization and its team will be able to make and promote products in a step-by-step manner.
Strategy is at the core of any problem-solving activity. It defines how an organization decides to get ahead of its competition, how to move ahead by applying processes consciously, and, more significantly, it helps measure how often the important things really get done.
The significance of design strategy in the workplace is about moving toward goals that create a positive impact on the target audience as well as the business. This is achieved by using a set of predefined tools to overcome challenges that arise along the way to meet goals efficiently.
By applying a well-thought-out design strategy, a business can engage with a customer or prospect much more persuasively. It enables a productive work environment that is focused on both goal-achievement and bringing about cost-effectiveness.
6 Elements of an Effective Design Strategy
Keep in mind the following elements to create a holistic design strategy.
1. Analysis
An analysis is about gaining an understanding of the business in a holistic way. It includes analyzing business constraints, scanning market opportunities, and looking at the bigger picture through the lens of a critical business thinker.
2. Understanding
It's highly significant for the designer to make sense of the organization in terms of the defined design and business objectives. They should then tie the business outcome back to the predefined goals. The key results that will help to support those objectives.
3. Learning and development
After meticulously assessing the business objectives, you should formulate the core elements of your design, by plotting tasks and setting milestones that directly support the business goals. At this point, business leaders may have many questions for the designer.
4. Execution
Execution is all about acting on the design strategy and making sure the entire team is aligned with the plan. Design thinking works best in collaboration with a focused and disciplined team.
5. Checks and feedback
After each step is completed and goals are accomplished, it's a brilliant idea to seek feedback and measure the effectiveness in achieving the intended goals and outcomes. Regular feedback helps you polish your design strategy.
6. Collaboration
A design strategy helps in achieving a common goal, which means working together. Collaboration is the lifeblood of all design teams. It is a must for delivering quality outputs.
How to Create an Effective Design Strategy
Be it product design strategy or content design strategy, you need to be able to ascertain the wants of both the end consumer and client. In order to ensure a premium-quality user experience, here are a few things you need to keep in mind:
Current business challenges and a way to resolve them
Possible benefits from the strategy
Client requirements that need to be addressed
Differentiating market dynamics and customer behaviors and attitudes
Upcoming ideas and trends
Opportunities to create a competitive edge
An efficient brand design strategy is straightforward and comprehensible. When it is communicated within a team of an organization, all the employees are allowed to utilize it as a reference point. To create a business design strategy, you need to reconsider your starting point and visualize your end goal clearly, and then plan the roadmap to get there. The three main questions that design strategists ask themselves are as follows:
What stage is the business at currently?
Where does the business aspire to be?
How can it get there?
It is critical for designers to have a tactical thinking approach in order to work with an organization's internal stakeholders. By doing so, they gain a more in-depth understanding of the business goals and objectives and are able to transform these goals into meaningful design services.
In addition to the above, here are some tips for crafting a successful design strategy.
1. Set quantifiable goals
It is important to identify all the relevant business challenges and opportunities when initiating a strategy. At every step of the brand design strategy, establishing goals is an utmost priority. These may be in the form of key performance indicators (KPI) or objectives and key results (OKR). They are important because they motivate the team, keep the client updated on the progress made so far, and overcome any difficulty along the road. It's also helpful to remind yourself that what gets measured gets managed.
2. Ask thoughtful questions
Because creating a business design strategy can be a highly creative task, it can get abstract at some point. So, it's important for the designer to keep it realistic. You can only be pragmatic with creative processes by giving them some kind of structure related to the end goal. And in order to achieve that desired outcome, you'll need to ask thoughtful questions to all the relevant stakeholders.
3. Focus on the key issues
Focused communication is key to remaining undistracted in a business environment. Stay concentrated on your primary goals and results. A designer's mindset should be more result-oriented. Once your design strategy is in place—and their strategic thinking wheels are running at full speed—it's time to execute and implement the preset plan.
Time and again, successful design-based businesses like IKEA have proved that a design-driven approach can be profitable. By following a design thinking approach, IKEA was able to achieve multifold sales against the set target of 45.5 billion in 2019. In fact, IKEA is thriving as one of the world's design-driven furniture companies.
A design strategy combines an astute methodical view of your organization's creative and innovative processes and outcomes. It takes time to grow a business and delight the customers by giving an exceptional experience, and a sound design strategy helps you do that.
FAQs
1. Will design strategy help revive my business after COVID-19?
Definitely. Design strategy is a great tool to revamp an existing business. You'll need to consult an expert and get them on board to work with your management. Prepare your management and employees towards accepting the changes that a design strategy will bring about. Also, be prepared with your business objectives to be accomplished and problems you are seeking to resolve with the help of a brand design strategy.

2. What are the benefits of deploying a design strategy?
A well-planned design strategy will benefit your business immensely. It will help with the following things:
1. Accomplish both tangible and intangible short and long-term business objectives
2. Organize, entail, and engage consumer thought sequences
Use known visual language to increase customer loyalty and trust
3. Direct the consumer's attention to significant segments at the right time
4. Boost businesses' financial performance across the different business units
5. Improve brand recall and recognition in the market
Increase productivity, thereby decreasing the time for the final product to reach the market
6. Positively impact the organization's market share
Increase user satisfaction and bring about customer delight

3. What should be the focus of a design strategy?
A design strategy should focus on predefined business goals and objectives. Accomplishing these objectives will contribute to the growth of the organization.