Freelancing 101
23 Platforms and Websites to Help You Land Freelance Writing Gigs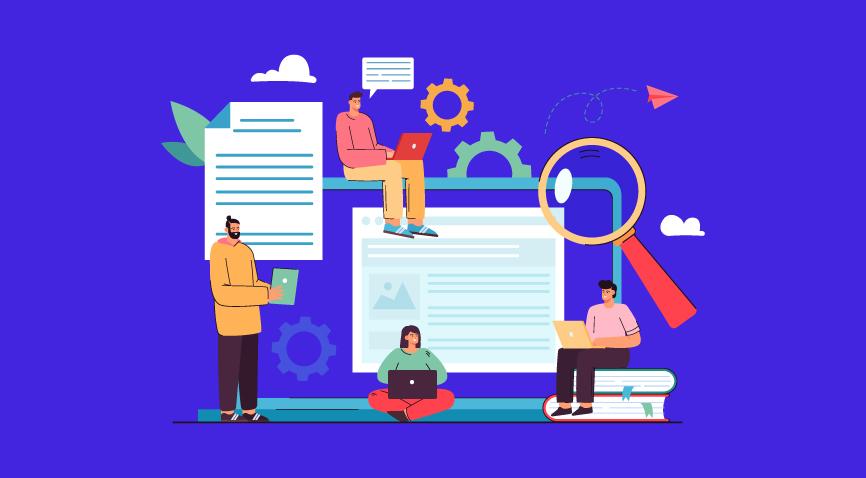 Table of Content
23 platforms and websites to help you land freelance writing gigs
PeoplePerHour
Guru
Moonlyte
Upwork
Fiverr
Pepper Content
The Muse
Text Mercato
Constant Content
Freelancer
Flexjobs
FreeUp
TextBroker
Problogger Job board
Freelance Writing
Crowd Content
Content Writers
Media Shower
Writer Access
CopyPress
Zerys
iWriter
WorknHire
Conclusion
Key Takeaways
FAQs
According to Business Line, there are about 15 million freelancers in India. In fact, it is the second-largest freelance market in the world. Although there's enormous competition in the field, there are also plenty of freelancing websites to build your niche clientele. Indian freelance writers are not just limited to working for companies in the local geography but can also bag global orders, thanks to our solid reputation in profession-level English.
If you want an organization's connection to expand your client base, check out the best freelancing websites and platforms to land top writing gigs.
List of 23 Best Websites for Freelance Jobs
1. PeoplePerHour
PeoplePerHour is a freelancing platform that matches the best job-finders with clients. It is one of the top freelancing sites for those who wish to post jobs, as the verification process for freelancers is quite thorough. Content and copywriting jobs get posted almost daily on the website, meaning there are plenty of gigs. Although companies can hire freelancers for other jobs, content writing is the most popular job posted on the portal. Price your content well, and you'll be able to land projects quite easily.
2. Guru
Another one of the top freelance websites, Guru, is a preferred platform for hiring software developers. As a result, you're likely to find several startups and small-cap and medium-cap companies on the site. Guru aims to build a collaborative environment for its clients, meaning you may be asked to work closely with a designer if you're a copywriter to help deliver better results. The competition at Guru is quite high as both freelancers and agencies can use the site to land gigs. Currently, the site boasts 400,000+ freelance writers and translators. Guru allows you to feature past work so that those who are seeking freelancers can check your portfolio before hiring. This adds credibility to your price quote.
3. Moonlyte
As a new freelancing site, Moonlyte is a great platform for putting global and Indian companies under your umbrella. Companies on Moonlyte usually hire more than one person per project, meaning you'll get a fair understanding of working in a team remotely. If you're new to quoting a price, this freelancing site can take the pressure off you as the hirers themselves post how much the pay is. Based on that, you can choose to apply or not. Sometimes you may be asked to quote between a maximum and minimum range. Since the prices are capped, be sure to get a fair understanding of the project's scope before you accept work.
4. Upwork
One of the first freelancing websites, Upwork clientele includes AirBnB, Microsoft, GE, and GoDaddy. With over two decades of experience, Upwork has helped organizations discover greater flexibility and connected talent with new possibilities. Expect to find quality work from reputed companies here. Although there are many experienced writers on the platform, don't feel overwhelmed when applying, as the scope of finding good gigs is quite high here. Build your profile gradually and maintain a good reputation to ensure you can land jobs easily as you gain experience on the site.
5. Fiverr
Upwork's biggest competition, Fiverr, is another global freelancing platform. Facebook, Google, and Netflix are among the companies that hire from Fiverr. Companies hiring from Fiverr can filter results based on budget and timeline, meaning you can easily find jobs here even if you're new to the freelance writing world. Be sure to include all your niches, as Fiverr allows you to choose from 200 different creative categories. If you are new to freelancing, try some of their courses to upskill and better understand the marketplace.
6. Pepper Content
India's premier content marketplace, Pepper Content's clientele include Swiggy, Cars24, Cogoport, and more. Customized content solutions are available through Pepper's network of talented writers around the country. More than 18,000 creative writers have applied to this freelancing platform so far. They have a rigorous hiring process where you'll be tested for your grammar skills. Only if you pass will you be chosen as a verified writer on the portal. This is to ensure that their clients are confident of the quality of the work they receive.
7. The Muse
The Muse has a fantastic work-at-home freelancing arena, where you can search for remote/flexible employment or jobs connected to a certain place. You can also filter the job list by desired employment level (internship, entry-level, mid-level, or senior), preferred company size, job keyword, position, profession, and place. When you find a job posting that interests you, bookmark it, study the position's full criteria and benefits, and apply directly.
8. TextMercato
Started in 2015, Bangalore-based TextMercato is one of the best freelance websites for beginners and is ideal for exploring new niches. Their grammar test can be taken on the website and is fairly simple. If you are looking for non-regular income or writing only on a part-time basis, you can find good work here.
9. Constant Content
A dedicated freelance platform for blog posts, articles, e-books, and PLP descriptions, Constant Content has garnered a favorable reputation in the digital marketing community from those seeking projects and hirers. The best part is that they have partnered with Shutterstock so that bloggers or brands can easily find stock images to go with their pieces. This way, they attract a niche audience that regularly requires content and has built a good following online. The quiz-based grammar test is easy to moderate and allows only verified and qualified writers to work for the portal. You will also need to submit a full writing sample to test for plagiarism, tonality, and general sense. Payments occur through PayPal.
10. Freelancer
Used by Amazon, Facebook, and Airbus, among others, Freelancer.com is among the top marketplaces for hires. You can find niche work in a variety of verticals here. Its user-friendly interface makes it one of the best freelance websites for beginners. They run contests regularly to showcase talents in which you can participate even if you have no experience. Be sure to quote appropriately based on your experience, or you may lose gigs as competition is relatively high here. To cut out the competition and land the best gigs, you can choose to join their Freelancer Pro program. However, this is advisable only for experienced writers.
11. Flexjobs
Since 2007, Flexjobs has been one of the greatest sites for freelance content writers. There is full-time and part-time employment available in over 50 career fields. Flexjobs is the undisputed industry leader in the remote and flexible freelancing search sector. It provides a substantial amount of information for free, but full access to their whole employment database is only available to members. It offers a plethora of extra tools to help you with your job process and other aspects of your career and life. It is a fantastic site for individuals who want to work remotely or virtually all of the time and those seeking a side business or additional income that allows them to use their talents and knowledge in a professional setting.
12. FreeUp
It is a fantastic freelancing platform that is utilized by businesses all over the world to obtain expert writing services. FreeUp does an excellent job of linking clients with freelancers. They are highly attentive to project-related inquiries and concerns and are also expanding their scope in content areas. There are no sign-up or recurring expenses to use the FreeUp marketplace to find jobs. The FreeUp marketplace is distinct from other online recruiting platforms in that you must complete a one-of-a-kind interview procedure before receiving a FreeUp Marketplace account. Once admitted into the network, you will be able to see available projects from clients regularly.
13. TextBroker
Textbroker is a specialized freelancing website. The benefit of utilizing Textbroker is that it pays for articles as soon as the customer approves them. Textbroker allows even experienced experts to start a successful freelancing journey. It supplies high-quality content through its field expert authors in a wide range of disciplines, including travel, health, and cryptocurrency. The Textbroker platform enables rapid, simple, and accessible translations in any language, anywhere globally.
14. Problogger Job board
ProBlogger is a site for writers who wish to start writing and expand their horizons before going pro to earn money. It is an online platform that provides guidance and information on how to improve your blog's visibility. ProBlogger will not give you a job, but it does offer a job board where you may look for one. There are no membership fees or catch-up payments. The site provides a wealth of useful information for freelance writers, such as how to apply for jobs safely (including those mentioned on the site), how to style pieces properly, and how to employ influencer appeal to generate more traffic.
15. Freelance writing
Freelance Writing is another excellent website for freelance content writers. It is really simple to use for everyone. This website's registration process is simple and takes very little time. This website has grown in popularity among writers due to its numerous opportunities for authors and abundant writing tasks. It provides daily and real-time online freelance writing employment for both novices and specialists. The benefits of freelance writing jobs include flexible career options for novices since it allows authors to establish their own operating time and operate from home.
16. Crowd Content
Crowd Content is among the best freelance writing sites. It offers thousands of fantastic freelance writing assignments with twice-weekly income. It links agencies, companies, and retailers with the top content writers on the net to assist them in carrying out their content marketing plans. They may provide a wide range of writing services, such as writing articles, booklets, ghostwriting, bulletins, etc. Pay rates for authors at Crowd Content range from a few cents to ten cents per word and occasionally much more. Editors are paid 1.5 to 3 cents for each word. Their portfolio includes thousands of professional authors from nearly every area, allowing us to generate high-quality content at scale to fuel the business.
17. Content Writers
One of the greatest venues for freelance article writers is ContentWriters. Clients may select writing tasks from various areas, including tourism, finance, technology, sports, to name a few. ContentWriters offers custom writer screening and management, as well as high-quality content output, along with reliable publishing schedules and provide excellent customer service. They develop SEO-friendly product descriptions, websites, and meta descriptions.
18. Media Shower
The hosts of Media Shower contact authors, send them assignments, and assess submitted material through the site's editors. They offer a professional editor who will develop a content plan to assist you in fulfilling your content marketing objectives. It exclusively works with experienced journalists who have been carefully verified and well-versed in various subjects. Before it is given to customers, all material is checked by expert editors to ensure that it satisfies quality requirements. All Media Shower authors receive free continuing training and mentoring. It also provides chances for advancement to top editorial roles.
19. Writer Access
Writer Access is a content production freelance platform that provides you with the talent, resources, and training necessary to expand content marketing, promote the business or organization, and master content marketing. It provides blog articles, white papers, and other material. Clients may choose from two- to five-star content authors, with higher-rated writers costing more. A customer pays a deposit to purchase material, selects authors, wins bids, controls the process until it is completed. They also provide a variety of subscription packages with various degrees of information and professional services. WriterAccess has made it simple to create high-quality material quickly.
20. CopyPress
CopyPress is a complete system for creating, promoting, and growing marketing-related content. CopyPress is trusted by agencies, enterprises, and mid-market organizations to create high-quality, customized writing for their branding. Before they are allowed to start on the campaigns, they train and test all freelance authors. A professional CopyPress Production Manager will carefully choose resources with the appropriate abilities and expertise to complement the content and objectives of the project. Their design and authoring work has aided our content marketing approach. Furthermore, their customer relations managers are quite attentive, and their response times are excellent.
21. Zerys
Zerys is a content management and production freelancing platform that is easy, effective, and award-winning. It enables the production of tailor-made content, optimized blogs, white papers, and e-books, the organization of content, and the discovery of top writing talent. Zerys offers quick and expense-bound access to experienced authors without incurring the costs of dealing with an agency or recruiting an in-house staff. Zerys also provides monthly silver, gold, and diamond plans, increasing preparation and content generation degrees. This solution completely meets the demands of the clients, and the content they get is beyond their expectations.
22. iWriter
iWriter is a quick, simple, and dependable freelance website to get material produced. The content creation procedure at iWriter is comparable to that of other services that employ author ratings and empower consumers to select the writer. It contains a wealth of information, such as the article title, writer instructions, intended length, intended keywords, and writing style. When producing pieces for customers, writers are not permitted to utilize HTML. They are unable to make text bold or italic, establish hyperlinks, or incorporate graphics.
23. WorknHire
Worknhire is an Indian freelancing platform. It acts as a job-posting site and an escrow service among freelancers and customers, protecting both partners. WorknHire is extremely easy to use. Its primary goal is to connect Contractors/Freelancers and Customers in India through an online platform where users can post jobs based on their needs, and professionals can submit proposals without needing to go through any documentation. Worknhire is a platform for freelancers searching for employment with low service costs. It's for clients who don't mind spending a little more to get the job done right.
Conclusion
As the need for content marketing increases, keep trying and dishing out good content regularly. Maintain a portfolio and update it frequently with new and interesting samples from your niche. Take ideas from the top writers and best-performing blogs in your field to keep abreast with the competition. You need not spend money on a website to maintain a portfolio; simply include a link to your Google Drive folder with neatly arranged samples. Make sure to upskill and take up courses online to brush up on grammar. These will help you be a favorable candidate for the top freelancing websites.
Further, you can invest in plagiarism and grammar checking software and mention the same in your profile. Most of all, keep all your social media profiles up to date so that companies are confident that you are, in fact, a real person who can take up responsibility and deliver good content on time.
Key Takeaways
The most significant opportunity to work as a freelancer is that you are the leader of your freelancing portfolio in various firms. You have complete control over the type of clients and individuals you wish to deal with.
The most significant part of working on a variety of projects is that each new project provides an opportunity to learn something new. Freelancing websites allow you to venture outside of your comfort zone.
Working with freelancing platforms has the advantage of allowing you to make as much as you want. A person can work on as many projects as they choose without violating any laws.
The best aspect of being self-sufficient is that you are not reliant on others for promotions and raises.
Since you are your boss, it makes sense to develop and practice the skills required to manage all of the extra jobs.
When compared to full-time employment, freelancing provides more chances for advancement. It also aids in developing strong interpersonal skills and the capacity to deal with a variety of circumstances.
Working with freelancing websites allows people to live the much-desired laptop lifestyle. It comes with enormous freedom to work whenever and wherever you choose from, as long as the task is done correctly and on time.
A freelance profession may be seen as a microcosm of one's whole life. It eventually transforms a person into a better person. Freelancing will allow you to develop, broaden your horizons, and gain a wealth of information as well as an attractive portfolio.
One of the advantages of freelancing is that you may select who you work with. If your customer approaches you with a project idea that does not suit you, or if his conduct does not suit you, you may always decline.
FAQs
1. What is a freelancer portfolio?
A freelancing portfolio, in its most basic form, is physical proof that you can do what you claim you could do, and if you were employing someone, you'd probably like to see evidence of their work. To get the tasks you truly desire, you must give relevant examples and demonstrate your competence.
2. Why should writers have a website?
In addition to providing networking possibilities, a website with a blog may help you improve your self-confidence. There is no way around meeting people, whether you are a novelist or a non-fiction author. 
3. What should be included in a freelance website?
Those who are serious about their freelancing careers and want to see their business thrive should include a headshot and bio, as well as services, work samples, and pricing on their websites.
4. Why are people opting to become freelancers?
People choose to work with freelancing platforms for various reasons, including freedom, independence, and the potential to earn more money.
5. Who can become a freelancer?
There are no limitations on who can work as a freelancer. You can offer your skills as a freelancer if you have a talent or service that a company or person needs.
6. How to make a career out of freelancing?
Freelancing is frequently a solitary occupation. Freelancers do get together to collaborate on projects and meet with customers on occasion, but you'll be working alone for the most part. If you don't mind spending long periods alone, generally in your home office, freelancing is an excellent employment option.
7. Which freelance skills are in demand?
Some freelancing skills in demand are social media marketing, writing, editing content, web design and website administration, graphic design, photography, accounting and bookkeeping, virtual assistant, customer support, web development, sales, spreadsheets (data analysis), and e-commerce.