Marketing
9 Examples of the Best Email Subject Lines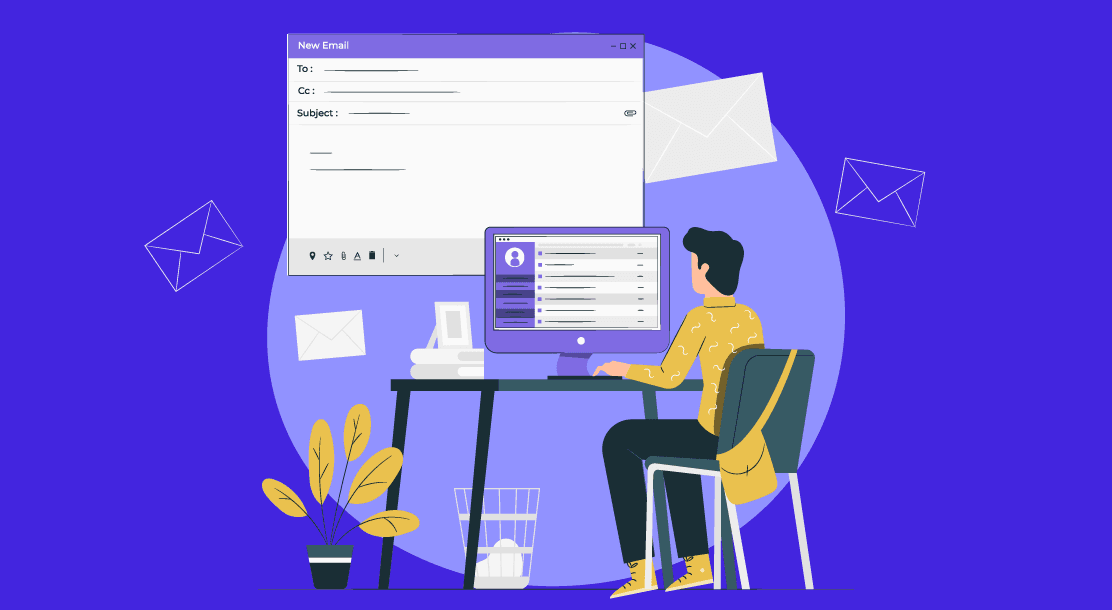 Table of Contents
Key Email Subject Line Tips
9 Top Email Subject Line Examples
Key Takeaways
Conclusion
FAQs
Do you want people to open, read, and click on your emails? The subject line is where it all begins. According to HubSpot, 47% of marketers claim that they test alternative subject lines to improve the performance of their emails. This makes it critical to write intriguing subject lines that entice visitors to click through. While the best email subject lines appear to be a minor aspect of your message, they are one of your readers' initial impressions. They're also a marketer's ticket to making their message stand out in a congested inbox. After all, people do evaluate emails by their subject lines.
An effective email begins with a subject line that captures readers' attention. People are more likely to read your material if the subject line is personal and concise. Whatever method you use, keep your audience in mind and experiment with different terms and phrases to determine what they like. In this post, you will discover how to write compelling subject lines and measure their effectiveness.
Key Email Subject Line Tips
Some subject lines have been proven to be more effective than others. Here are a few email subject line tips ideas to get you started.
1. Personalize the experience
Personalize your subject lines with each recipient's name or location by using merge tags. Personalization has been demonstrated to enhance open rates, and you can pair it with specific automation strategies, such as birthday wishes or post-purchase surveys.
2. Be detailed with your writing
Sometimes it's best to be straightforward and detailed rather than fashionable. Seasonal phrases such as "Fall into savings" or "Sizzling summer discounts" are attractive, yet they lack a clear call to action (CTA). Instead, strive to highlight certain bargains or describe the benefits of your promotions.
3. Keep it brief
Shorter subject lines are frequently better for many receivers, especially those who read your emails on mobile devices. We recommend that you stick to a maximum of nine words or 60 characters.
4. Use as little punctuation as possible
You should not use more than three punctuation marks in a subject line. Too many punctuation marks, especially if you use a lot of special characters, might make your email appear spammy.
5. Emojis should be used with caution
When using emojis, there are a few things to keep in mind. You should only use one emoji at a time. Emojis should be used to augment rather than replace words to ensure that your core message is conveyed. Emojis appear differently on different operating systems; therefore, it's crucial to send a test email first.
9 Top Email Subject Line Examples
A good email subject line is concise, clear, and to-the-point. It grabs and retains the reader's attention and gives them a taste of what your email is about. Here are some of the best email subject lines to incorporate in your emails.
1. To-the-point subject lines
There's a lot to be said about simplicity; people want you to be precise and simple in your subject lines, because time is a valuable commodity. Short, detailed subject lines outperform corny ones. Some may scoff at the suggestion that comedy and inventiveness should be ignored when crafting email subject lines, especially when many marketing gurus disagree. It's worth mentioning that this concise approach works best with notification emails, because the recipient already has a connection to the material you're sending.
Keep in mind that people check their inboxes rapidly, so make your subject line as clear and brief as possible. Unless you're looking for an elusive subject to intrigue your recipients with, it's typically best to be brief than to throw around flowery words. When writing a subject line, consider how it will help your receivers understand the email better. For example, instead of saying, "How to look beautiful in our kimono", you can write, "3 ways to style our kimono".
2. Controversial or shocking subject lines
Controversy tends to sell and attract a lot of attention. It's hard to simply skim through subject lines that may scandalize readers. However, you must be careful when using shock or controversy in your subject lines. By using such subject lines generously, you could gain more open rates, but at the risk of losing clients. This method necessitates trust in your knowledge of your audience's preferences and requirements. It's a bit of a tightrope, but the payoff may be great.
3. Urgency-inducing subject lines
Creating a sense of urgency is a great tool for compelling users to act. When you write a subject line that screams urgency, users browsing their inboxes may stop to open your email and check if there are any limited-period offers worth clicking on. You can also apply this strategy through a series of emails, but make sure not to spam the reader.
4. Use a familiar sender name
Make your sender name as human-like as possible. When people check their inboxes, [email protected] is both welcoming and unintimidating. Even though the email is officially coming from the organization, use your own name as the sender's address if you've previously met your recipients. The best feeling you can give your consumers is that they're dealing with you, not the company as a whole.
5. Get the timing right
Sending an email at the right time and with the right subject line may significantly improve open and click-through rates. Is there a good email subject line example for this? Yes. If you have a bar and it's International Women's Day in a week, you can shoot an email with a subject line carrying a ladies' night offer. Another great example could be a subject line alerting the reader to the fact that their subscription to your service is about to expire. Sending an email at the accurate time—and including a CTA button—is an important email subject line tip.
6. One-word subject lines
Using one-word subject lines is another great email subject line tip. With millions of emails vying for readers' attention, how do you make sure yours stands out? By crafting a single-word subject line. It evokes curiosity in your readers, and makes them want to click on the preview text in order to see what awaits them.
7. Subject lines with questions
Another way to stand out from the crowd is to use question marks. Exclamation marks are good, but they're overused in subject lines, so they may not be particularly effective. You can instead play around with some colourful symbols or question marks to catch people's attention. In contrast to a typical statement, asking your readers a question hooks them right away. Questions start a conversation with users immediately, making your emails more likely to be opened.
8. Subject lines with scarcity strategies
Almost all of us are governed by this profound fear of missing out (FOMO)—it used to be a survival instinct, but today, it's simply another subject line trick to get us to buy something. Limited-period offers are one such example that perform well. To avoid "losing out," people can do unimaginable things. If you use scarcity strategies or incorporate the FOMO element in your subject lines, you might be shocked at how your click rates shift. For some real subject line success, use numbers, scarcity, punctuation, and partial capitalization (the operative word being "partial").
9. Subject lines that evoke curiosity
Curiosity is one of the greatest tools to capture the interest as well as attention of the reader. Curiosity-inducing subject lines cause the reader to wonder what lies inside, thereby luring them into clicking through. However, even if the subject line is curious, make sure it aligns with the rest of the content. If it's too secretive, it can be considered spammy. Some words that you can use for such subject lines include "secret", "unbelievable", "strange", "unlock", "little-known", etc.
Key Takeaways
The key to an effective email marketing campaign is a powerful subject line.
Some of the greatest email subject line examples use strong words, imagery, and emotion.
Creating a sense of urgency and curiosity helps greatly in increasing your email's clickthrough rates.
Single-word subject lines help trigger immediate responses among users.
Use elements of controversy and shock sparingly in your subject lines.
Conclusion
At the end of the day, if your emails aren't being opened, they aren't being viewed. We hope that by following some of our suggestions, you will be able to come up with your own innovative and appealing subject lines. You already have excellent material to refer to; now, demonstrate your knowledge by creating some of the best email subject lines.
FAQs
1. What are the things you should consider before sending an email?
A few things to remember when writing a professional email are: 
1. The subject line should be clear and concise.
2. Don't underestimate the importance of a proper salutation. 
3. Only the essentials should be included in the body text.
4. Finish your email with a clear CTA. 
5. Keep a simple sign-off.
2. What are the elements of an email?
The subject line, body text, and signature are the three most crucial elements of any email
3. How do you come up with interesting subject lines?
A few tips to come up with intriguing subject lines are as follows: 
1. Create a number of subject lines. For each email, come up with a list of five to ten subject line alternatives. 
2. Keep your subject line to 50 characters or less. 
3. Use alliteration, but sparingly
4. What should the subject line of an email be?
The subject line should clearly state the purpose of the email so that the receiver can understand its relevance without having to open it. Your subject lines should be informative, brief, and powerful.
5. What is the purpose of the subject line in a business email?
A subject line stating the email's intent appears above the salutation and the body of the email. Subject lines in business correspondence, just like in any other area, help the recipient get a better understanding of the purpose of the email. In other words, a subject line summarizes the contents of the email without giving too much away.