Email Marketing
The Best 5 Drag and Drop Email Builders Every Marketer Should Know About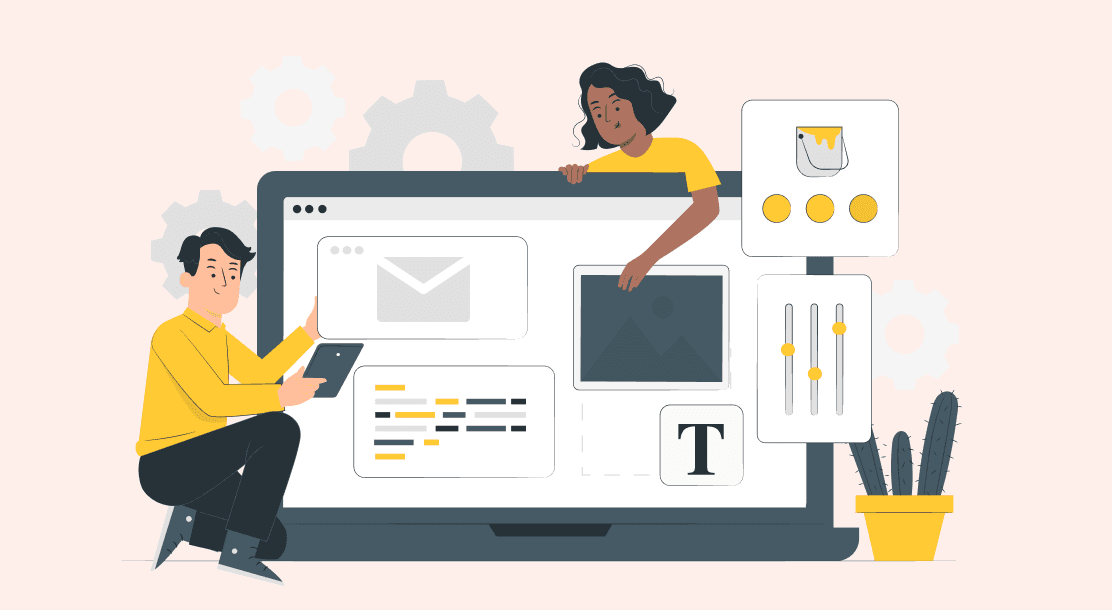 Want impactful Email Design Templates? Here are the top 5 drag and drop email builders to choose from best email builder
Despite the many advancements made in marketing, email still reigns supreme!
There are two main reasons why email marketing is still the most popular channel of communication:
It is permission-based
It is one-to-one
Email marketing has been around for over 40 years. And it is still the most widely used medium of communication among marketers for establishing meaningful relationships with customers.
But what determines the success of an email campaign? The message and the design of the email! And that is why creating attractive email template designs is imperative for successful email marketing campaigns.
To stand out in a sea of campaigns, email marketers have started to move away from the default templates offered by ESPs in their template libraries. But the difficulty associated with building templates with HTML coding puts them in a state of fix. Here comes the role of drag-and-drop email template builders that help create stellar email templates without coding knowledge.
Looking for options? This blog lists down some of the best email builders on the market.
Why Do You Need An Email Template Builder?
Drag-and-drop email builders significantly ease marketing efforts. Here are a few benefits that they offer:
1. They help save time
Advanced email builders use intuitive mechanics like drag-and-drop to make it easier for users to design their email templates.
2. They help add more design features
Engage your audience by adding videos, image carousels, and surveys. These content blocks are included in many email templates. All you need is to drag them into the email you're creating, and you are good to go.
Note that you might face trouble organizing your content into blocks or adding videos to your email without an email builder.
3. Variety
Almost all email builders come with email template libraries that save time and effort. Besides, they bring variety to the table. You can easily choose and edit existing templates to create new emails.
4. Replicability
Received impressive results from your latest campaign? You can easily duplicate it using an email template creator.
5. In-depth analytics
Some of the best email builders include built-in analytics that you can use to review your email marketing campaigns and make improvements.
Depending on which email template builder you use, you might also have access to additional features.
6. Customization
Templates created using an email builder are highly customizable. You can add or remove buttons, image blocks, text and use colors that reflect your brand. You can easily modify the parameters and code to suit your needs.
7. Cloud storage
You can store your designs in the cloud. Since they are online tools, email builders automatically save your sessions and allow you to return to your templates at any time. There is no need to install software on your computer. This is a great advantage for large teams that want to collaborate on an email campaign, as most tools allow multiple users. This makes it easy to edit and reuse a template.
8. Branding
Upload your logo to customize the template using your brand colors. You can also save certain elements for future use, such as your header or footer.
What Makes a Good Drag And Drop Email Editor?
All drag-and-drop email builders look very similar at first glance. But when you look closely, you see that each one is unique in its capabilities. This makes choosing the most appropriate builder for your needs extremely difficult. We want you to be aware of what to look out for when selecting an email builder so that you don't make any costly mistakes. Read on for guidance:
Easy onboarding is key to speeding up your ability to build an email campaign. This is especially important in situations where you need to meet tight deadlines.
You should have a wide range of templates to pick from. It doesn't matter how many templates you have, but it is important to have separate templates for every occasion.
You may need to import HTML elements from other sources or create HTML templates. In such cases, an HTML editor proves helpful.
Support for multiple file formats
Text and images are not enough; engaging forms of content like GIFs or videos have a better chance of capturing recipients' attention.
Easy exports and improved compatibility
Email template builders perform better when integrated into other marketing tools than when they are used as standalone solutions. So, features like ease of export and compatibility are highly desirable.
Unexpected system downtime or an avoidable error could cost you many customers. You should always be able to reach the support team quickly and easily.
It is important to ensure that you only pay for what you actually need and use. So, analyze the pros and cons of all the pricing plans of the vendor before finalizing one.
The Best 5 Drag and Drop Email Builders Every Marketer Should Know About
BEEFree is an excellent email editor, originally introduced by MailUp. The interface of this email designer is simple and easy to use—you just need one click to change the elements such as text. All options are available exactly where you want them to be. This means, you don't waste time locating functionalities on the builder.
While you can take time and design your email from scratch, many pre-made templates can save you time. BEE Free allows you to customize your email in any way you like. You can adjust the size of images and column widths and access different content blocks.
Notable features:
Use email templates and other features free of charge. Even if you have no experience with email builders, you won't face any difficulty in learning the ropes.
You can edit your emails in mobile view. This is an extremely helpful feature because a mobile view allows you to see how your email will appear on your users' screens.
BEE's Pro Packages offer useful customization options.
Accounts have permission controls and can even be customized with brand styling. Besides, multiple users can be added to a single account.
You can easily integrate your design editor with your existing email service with ESP plugins.
Ideal for:
BEE works well for both beginners and experienced email marketers. This is one of the best email builders available, considering its affordability and feature offerings.
Stripo is a unique drag and drops email editor that comes with its own email testing tool. It is great for quick and easy email generation. The drag-and-drop feature makes it easy to move content modules from the side of the interface into your email.
The Stripo template builder offers great ease of use. It supports AMP, emails testing tools, previews for different environments, and includes an HTML email designer.
Notable features:
This drag and drop email editor can generate dynamic emails with AMP blocks which help you create carousels or dynamic images. You can also add CSS animated buttons and countdown timers on this platform.
You can save any block of the email you add to your HTML editor and re-use it later.
For an email preview test, you can check the email layout on tablets and mobile devices.
You can connect this email template builder with your favorite software tools.
The email editor includes 750+ email templates that you can choose from.
Ideal for:
It's ideal for both beginners and experienced email marketers. The tool allows you to easily test the quality of your HTML design before exporting it. Although Stripo is best suited for agencies, individual users can also use it.
This fast, efficient, drag-and-drop email template is designed for larger agencies. It promises a 10x increase in output compared to other email template builders. This is the template builder you need if you work in a team.
It is easy to integrate and can be used to create all sorts of templates.
Chamaileon offers a great alternative for complex email designers that you might find on the market with limited capabilities. It is responsive and precise to the pixel. It also allows you to arrange elements to create nests, modify columns, and save blocks.
Notable features:
This email template editor shows your designs in both mobile and desktop versions.
It has a block-saving feature, making it easy to recreate previous designs.
There are hundreds of templates available: You can choose from 600+ blocks and templates or start from scratch.
Easy collaboration helps you work with your colleagues to create responsive emails in real-time.
Ideal for:
Chamaileon is a versatile drag and drops email template designer that allows you to customize and create your own design features. The product is, however, recommended for large companies and enterprises.
MailMunch's Unlayer drag and drop email template builder is both user- and developer-friendly. You can find all development-related documentation and support on their site. Unilayer is similar to BEE in many respects. You can find plenty of pre-made email templates on the site that look professional, sleek, and modern.
Notable features:
Unique blocks and dynamic content modules create incredible email experiences.
You can save your custom creations for later use.
Send your templates directly to your email software.
Ideal for:
Unlayer can be used to manage large amounts of email templates from one location. This WYSIWYG editor is great for email design agencies that value collaboration.
Postcards is an online HTML editor. It is part of Designmodo's stable design tools.
Postcards allow you to create blocks or mini templates for every aspect of your email. Having mini-templates for different elements is a pretty innovative feature that makes designing easier on your part. So, even beginners can use it to create stellar email templates.
However, Postcards' email marketing editor is more limited in capabilities than other options like Stripo and BEE; it is also more expensive.
Notable features:
Compatible across iOS, Android, and Windows devices.
Ideal for SMBs, enterprises as well as freelancers.
There are over 900 fonts available.
Comes with ESP support.
The HTML codes can be modified as per need.
Deployment across Cloud, Web, and SaaS is possible.
You can export unlimited email designs with a free account.
The templates for postcards emails are clean and modern. To quickly build your content, you can use any existing templates.
Ideal for:
Although it is not as advanced as Stripo or BEE, it is a decent editor with essential features. Postcards also make sense if you are already using Designmodo bootstrap page creator.
With Topol.io, creating a beautiful email marketing campaign is super easy. This responsive email design tool offers numerous great features. Designers can create email campaigns from scratch or modify an existing template. Topol.io's collection of attractive designs will save you time and effort that otherwise go into creating HTML codes.
It's a highly efficient drag and drops email editor that allows campaign changes to get synchronized across accounts in real-time.
Notable features:
You can choose from many template options. Also, the Email Template Builder offers responsive designs.
The editor allows you to save content blocks to your email and import custom HTML.
All members of your team can use the tool simultaneously.
Many email tools are compatible with it. Some of the tools you can export your email elements include HubSpot and MailChimp.
Ideal for
It's best suited for teams that look for collaborative features in their email builder. With Topol.io, team members can simultaneously edit images and play with modules.
This email template drag and drop tool allows companies to create landing pages and emails.
The designer is only suitable for teams or enterprise users as the prices start very high, at around $9,000 annually. Although it might seem expensive, you can link the email editor to enterprise email service providers such as Salesforce, Marketo, and Eloqua. This will enable you to centralize your email templates and save time and frustration.
Knak users can create flawlessly rendered landing pages and emails without prior programming knowledge. This builder optimizes everything you make for responsiveness.
Notable features
This enterprise-grade product offers campaign-ready integration for Eloqua Marketo, Adobe, SalesForce Marketing cloud, and Marketo.
You can create email templates and landing pages with this drag and drop email template builder.
Keep in touch with your team members while creating email designs.
Intelligent optimization technology allows you to get the best responsive designs.
Ideal for
Knak can be considered an enterprise-focused solution due to its high price tag. It's the best email builder to optimize and centralize your designs.
Sendgrid is an email service provider cum responsive template creator. Developers mainly use it to integrate their email sending API. You can integrate Sendgrid's email design app into any other tool your team might be using.
It is an excellent choice to integrate transactional emails or trigger emails directly from your backend.
Notable features
Sendgrid is an open-source email template builder API solution that provides SMTP relays and webhooks access.
You can create emails and automate campaigns from the same platform.
It facilitates reaching more customers by reducing the delivery time.
Ideal for
Sendgrid is a great choice for developers who need API access. Opt for this builder if you need to combine email automation with template design.
For successful email marketing, it's important to create and send impactful brand emails that your recipients will remember. And when it comes to impactful marketing emails, design is key. A well-designed template doesn't just boost engagement but also drives conversions.
It's important to consider your current requirements, growth goals, budget, and personal preferences when choosing one of the Email Builders listed above.
Looking for an email marketing writing service? Go for Pepper Content and get access to a pool of freelance writers and marketers to get your email game right.
Key Takeaways
Despite all the advancements in communication, email is still considered one of the most critical communication channels.
The success of an email campaign is determined by its message and design.
Email Builders offer customization, cloud storage, template variety and help you save time and effort.
Some of the most in-demand drag-and-drop email template builders include BEE, Stripo, Moosend, Unlayer, etc.
Some characteristics to look for in an email template builder have flexible pricing plans, a rich content library, ease of onboarding, etc.
FAQs
1. What is an email template?
An email template is a pre-written, preformatted email that can be customized. You can replace the existing elements in the design like image and content with your own to suit specific needs.
2. What is an email template builder?
An Email Template Builder is an efficient, reliable, and simple-to-use tool that allows you to design, build, and share all types of emails, including follow-ups, newsletters, and transactional and campaign emails.

3. How to choose the best email template drag and drop builder?
The most effective way to choose the best email template drag and drop builder is by figuring out your requirements. The best tool is not the one that your competitors are using; it's the one that best aligns with your requirements.

4. Which is the best email builder on the market?
Although all the options listed above are great, which one you finally obtain depends solely on your needs and marketing strategy.

5. Who should use an email template drag and drop builder?
Anyone who wants to build email templates but isn't proficient in HTML coding can use and benefit from email template drag and drop builders.