Marketing
10 Advantages of Social Media Advertising Over Traditional Advertising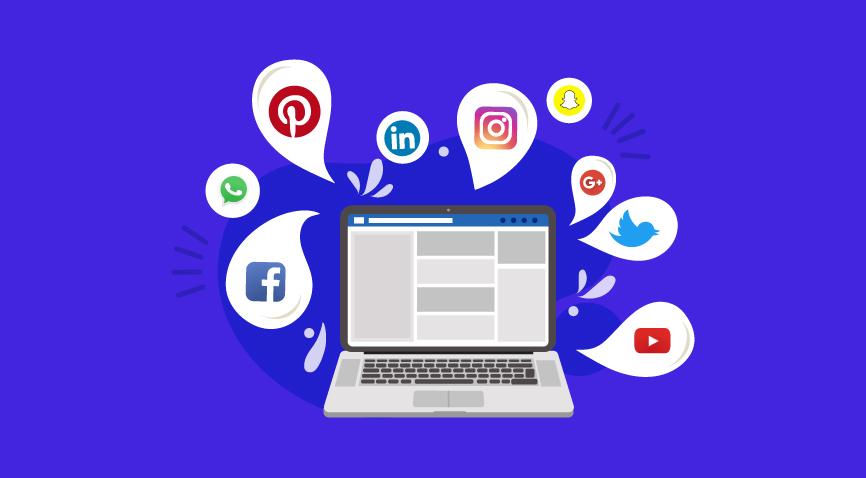 Table of Contents
Social Media Advertising v/s Traditional Advertising
10 Advantages of Social Media Advertising as Compared to Traditional Advertising
Key Takeaways
Conclusion
FAQs
The internet might have started as an innovation, but it has seamlessly invaded all aspects of our lives today. With the increasing number of gadgets, the internet has become increasingly accessible and widely used. From mobile phones to tablets and smart TVs, reaching people has never been easier. The ease, inclusivity, and comfort of social media have made it one of the main communication channels today. This has led to the inception of social media marketing.
Marketing is an aspect of business that you cannot ignore. It is no surprise that most marketers have started to identify the advantages of social media marketing over traditional marketing and have begun to set aside a significant amount of the budget for internet marketing. They leverage the popularity of these social media platforms to promote their business and products. However, the debate of advertising on social media v/s traditional marketing is intense, and we are here to break it down for you.
Social Media Advertising v/s Traditional Advertising
Marketing is the act of reaching your target customers to convince them to engage and purchase with your brand. Traditional advertising includes conventional means of advertising such as newspaper flyers, billboards, radio and television ads, etc. But a marketing strategy is only as significant as the impact it has.
The trick here is to connect to your customers at the right time and the right place. This is where the social media advertising advantages over traditional forms of marketing shines through. We exist in a digital age now, which means that millions of people worldwide spend a lot of time online. And that is exactly why social media is extremely relevant and effective today. The social media space is essentially a standard ground of target audiences for marketers to leverage. The advantages of social media advertising are so huge that the ones missing out on it are refraining from a huge opportunity for marketing exposure. This industry has grown exponentially in the last couple of years. If you are still confused, below are ten advantages of social media marketing over traditional advertising.
10 Advantages of Social Media Advertising as Compared to Traditional Advertising
1. Targeted and focused with a wide reach
Social media, by its sheer nature, is a medium of maximum and indefinite reach. Being a wide reach low cost medium is one of social media's biggest advantages. Conventionally, the traditional advertising methods would give you a mere 1-2% return offline in terms of reach. On the other hand, social media advertising makes reaching, targeting, and focusing on your target audience easier.
2. Low cost
Advertisement cost is one of the biggest burdens on every marketing budget. This is especially the case with traditional advertising. Though it might not be that much of a hardship for bigger businesses, small businesses might find it difficult to set aside thousands of rupees for marketing and advertising.
The biggest advantage of social media advertising is that it is possibly the most cost-effective medium of marketing. Signing up on a social media platform is free for most platforms, and paid advertisements are much more flexible and low-cost than other marketing tactics.
3. High return on investment
Another advantage of social media marketing over traditional is that it aids the consequent growth of the advertising budget. Since the investment cost in social media advertising is less, it shows a greater return on investment. With the amount of traffic on social media, you can expect significant results with low-budget advertisements as well. This aspect makes it a relatively safe ground for marketers to test and try content repeatedly till they strike the right chord.
4. Real-time insights and analysis
This is one of the most valuable advantages of social media advertising over traditional forms of marketing. The measurable impact of traditional advertising is usually made in the long term. On the other hand, with social media, you can instantly measure and gauge an advertisement's impact. Further, it allows you to interact with your customers and target audiences directly. This allows brands to capture marketplace insights like never before. Using social media as an extended research tool can help marketers better understand their niche and apply that knowledge to advertising campaigns and strategies.
5. Increased brand awareness
The number of people present on social media is huge! And thus, it is the perfect ground to establish your brand identity online strongly. Executing a marketing strategy on social media will considerably improve your brand recognition since your brand will be exposed to a broad audience of buyers. As you begin to utilize social media advertising advantages, people will start engaging with your content. This mere activity will increase your brand awareness and establish your brand's reputation in the digital space. Consistent and strategic use of social media can help your business significantly.
6. Easy to share and repost
Social media internet communication concept. Signs of apps on the labels. 3d illustration
The share and reposting feature of social media platforms is one of the biggest advantages of social media marketing over traditional marketing in so many ways. Your content gets a second lifecycle when reposted or shared by one or many of your target customers. What is even better is that sharing on social media is almost effortless. So if your content is valuable or relatable in any sense, your target audience will be encouraged to share it and get you more leads and brand awareness for your business.
7. Easy to adjust
Ever thought about redistributing or restrategizing a newspaper ad or a radio ad immediately after you publish it? It, at the very least, is costly and inconvenient, if not impossible. However, fortunately for us, social media advertisements can be fairly adjusted. But if a social media ad is not delivering as anticipated, it can be adjusted proportionately. You can also delete your promotion, edit your reach, target audience, region, etc., and publish the ad again.
8. Global
Traditional advertising methods are, to a great extent, location-centric. The area that your radio ad, billboard, or newspaper ads cover is limited. Even television ads cover a limited national and international audience. However, with social media advertising advantages, your reach knows no bounds. Your piece of advertising content can be accessed and shared globally throughout multiple regions and time zones.
9. Better engagement
The world of social media is getting noisier day by day. The amount of competition in any niche today is incomprehensible. The key to staying relevant amongst your target audience is by constantly engaging with them. The absolute correct way to do this is to be where they are, and as for the current decade, that place is social media. Due to the popularity and inclusiveness of these platforms, the advantages of social media advertising provides active engagement on published content. Thus, new-age marketers have a huge opportunity to interact with their target audience and understand their developments constantly.
10. Humanizing your brand
The digital space is clearly taking over various aspects of our lives. Thus, it becomes extremely important for brands to approach the digital space competitively without losing their human touch. Social media provides brands with this opportunity as social media content can have a voice of its own. It also allows customers and brands to engage with each other directly, giving both parties a moment to demonstrate compassion and personality in public.
It is evident that this is the age of social media advertising and that it has immense advantages over traditional advertising. And there is no way around it; social media is here to stay. Thus, this is the right time for brands to leverage the advantages of social media advertising before they are washed away ruthlessly by their competitors.
Key Takeaways
Advertising on social media vs traditional advertising has some advantages. It allows the business to spread word amongst a target demographic and has a wider reach.
Another advantage of social media advertising over traditional marketing is that you will get real-time feedback from your audience.
Traditional marketing would cost more money and resources.
The ability to foster constant engagement and take your business to global levels are also some social media advertising advantages over traditional marketing.
The low cost in production and higher engagement leads to a higher revenue count in social media advertising than traditional marketing.
Conclusion
It is no secret that there are many advantages of social media marketing over traditional marketing. The biggest social media advertising advantage is that it requires low cost. If you are displaying a billboard, the cost of hiring workers and paying for their labour would cost plenty more than creating social media posts for different platforms. Another advantage of social media advertising is that it gets better engagement and real-time feedback from the audience. Having a social media presence would certainly boost your business.
FAQs
1. What is Facebook advertising?
Facebook advertising is one of the most popular forms of social media advertising that has many advantages over traditional marketing. It is the process of using paid ads to promote your products and services on the Facebook social networking platform. It is one of the best ways to market your business on Facebook. The trick is to create ads that are relevant to your target audience and promote your business effectively.

2. What are Instagram ads?
One of the biggest advantages of social media advertising over traditional marketing is that it gives businesses an immense creative opportunity to foster engagement. An Instagram ad is a form of advertising that appears on the Instagram platform when users use the app to post or view media on the app. Creative campaigns tend to do very well on Instagram.
3. Which social media platform is most effective?
All social media platforms are equally effective when used appropriately. You must understand your target audience well enough to know which social media platform they are likely to use and for what purpose. Overall, Facebook is the most popular platform for businesses to reap the advantages of social media marketing. Twitter and Instagram Ads also continue to deliver splendid results in terms of social media advertising over traditional marketing. .

4. How do you measure the success of your social media advertising campaign?
Tracking relevant metrics is the best way to find the success of your social marketing campaign over traditional marketing stints. For example, you can track the engagement rate, reach, and conversions over a specific period, etc., for a social media campaign. The real-time feedback, whether negative or positive would help you in gauging customer demands. 

5. Why is social media such an important part of a digital marketing strategy?
Keeping in mind the ten advantages mentioned above of social media advertising, it is pretty clear why social media should be an integral part of your marketing strategy. With a huge user base, social media offers your business the opportunity to reach potential customers worldwide. It fosters real-time interaction and helps the business have a global reach.
6. Will digital marketing take over traditional marketing?
Digital Marketing is growing exponentially day by day. According to Statista, the global internet/digital advertising industry was worth $319 billion in 2019 and is expected to grow to $1,089 billion by 2027, with a CAGR of 17.2% from 2020 to 2027. Maybe we would still see billboard advertisements. But, it is no longer possible to deny the advantages of social media advertising over traditional marketing.
7. What are the 4 Ps of social media marketing?
The 4 Ps of social media marketing or advertising are: 
1. Product
2. Price
3. Place 
4. Promotion
It refers to selecting the right product, presenting it at the right price on the right platform, and selecting the correct promotion method.

8. How does social media boost brand presence?
The advantages of social media advertising has led it to become one of the best ways for businesses to boost their presence. If you want to create a strong relationship with your customers, use social media. By using social media, you can interact directly with your customers. This means that you can ask them questions about what they think of your product and give them information about new features. This can not only result in more sales but greater customer retention.