Marketing
15 High-Performing Types of Content Marketing to Supercharge Your Content Game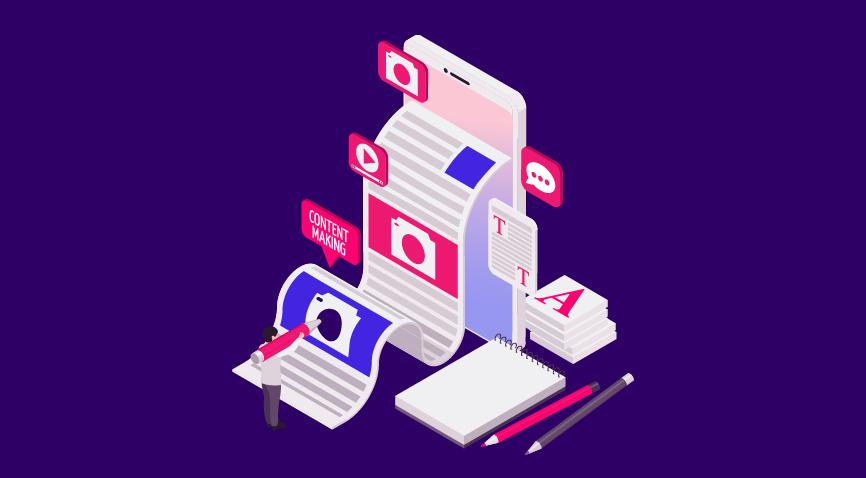 According to a HubSpot 2020 survey, 70% of marketers are actively investing in content marketing.
According to a HubSpot 2020 survey, 70% of marketers are actively investing in content marketing.
Content marketing strategies are widely used by most businesses and brands to reach out to their audiences. If you're a marketer, it's essential to understand your audience and find different ways to keep them engaged. Content marketing is all about using different types of content marketing strategies to attract visitors, engage with them and finally turn them into leads. According to a HubSpot 2020 survey, 70% of marketers are actively investing in content marketing.
Content marketing is a strategic way of marketing your product. Instead of pitching your services or products, you provide your audience with helpful content about your brand and its offerings. There are many different types of content marketing, and hence, it can sometimes be tough to decide which type to use for your brand.
You must always experiment with various forms of content before deciding which is the perfect one for your brand. Also, whatever content you choose, always make sure it is engaging and attractive for your audience.
In this article, we'll discuss 15 high-performing types of content that you can use to supercharge your content game and keep your audience engaged.
Difference Between Content Creation and Content Marketing
B2B content marketers know the importance of a content marketing strategy, but they may have different views on where to invest their time when they have to develop content. So, when you decide on your budget and the time you spend on your strategy, are you concentrating on content marketing or content creation? Do you understand the difference?
To explain it in simple terms, content creation is sharing content that adds value and engages your audience. Content marketing is distributing your content to increase brand visibility and engagement.
Types of Content Marketing
Delivering useful information to your audience and customers helps your business grow. Remember, there's no particular content form that can appeal to all your customers. You may require different types of content marketing strategies to reach out to your audience. Hence, the content you create for an audience in the age group of 18 to 25 may be different for an audience of 30 to 40. To help you make a more informed decision, here are 15 types of content marketing forms that you can use to up your content game and help you perform better. Make sure to choose the right one for your brand.
1. Blogs
Source
Blogs are one of the primary forms of content used in content marketing strategies. Today, most businesses use blog posts to reach their audience. It's a very powerful communication channel to use for your business. It's relatively easy to create, and you can make an impact if your content style is engaging and interesting. Blog posts help to keep your audience hooked and can also generate traffic. When you adopt the correct blogging style for marketing, it can help you create authoritative content, resulting in a higher search ranking.
When you have an effective strategy in place, then blogging can generate more leads than ads. It also helps drive traffic from SEO and various social media platforms. Companies that use blogging are four times more likely to show up in organic search results. If you're aware of your industry trends and your clients' needs, then blogging is one of the best ways to reach out to your audience.
2. Video content
People are glued to video content today, be it Facebook or YouTube. Video content has now overtaken infographics and blogs, becoming the most common form of content marketing effort used by brands. Research says, by the year 2021, individuals will spend an average of around 100 minutes watching videos online.
Most brands and businesses widely use video content, but the trick is to create captivating videos that engage audiences. Video content isn't just about informing but more about narrating a story in a way that your audience can relate to it.
Videos are a versatile form, and you can develop a variety of videos in your niche that help engages your market and leave your audience asking for more.
3. Infographics
Using bright, captivating, and visually attractive content to present data and stats is a great way to go about your content marketing strategy. Of all the different types of content marketing, infographics are quite powerful. It's an impactful, meaningful, and straightforward content form that can be used together with blogs or as a standalone piece to create an impact.
When you use infographics as your strategy, it's important to use graphics correctly to make them attractive. You should plan your content material in a way that tells a story. You can begin with an overview of your blog post and provide eye-catching headlines and subheadings to make it enjoyable. Infographics are fun, quick, and a low-cost content form that marketers can use for their marketing strategies.
4. Case Studies
Case studies are helpful for leads who are interested in finding out more about your brand from customers themselves. When you use case studies, buyers can look at a customer's journey in real life. You can use case studies to highlight how a specific service or product has helped your customers. Most consumers prefer case studies as this type of content marketing helps them understand their brand better and look at how the brand can add value to their businesses or lives.
Source
This LinkedIn case study shows how Adobe uses the LinkedIn platform to market and drive traffic. The study gives relevant data and screenshots of the campaign and shows how Adobe measured its success by using the platform.
Case studies provide in-depth information about the success of a product and discuss how the organization has solved a certain problem by using specific methods, ideas, or products. Today, case studies are widely used by businesses because they contain a story. The emotions involved in the stories often strike a chord with customers. The tone used for case studies is more conversational style content and should be free from technicality.
5. E-books
When talking about the different types of content marketing forms, e-books are a great medium. They are long-form content like blogs and are used to give out valuable information to your clients and audience. If made well, an e-book can help fix your customers' problems. It's one of the best forms of content to use to attract new customers as well.
Today, businesses are adopting many different ways to connect with their audience, and e-books are one of them. One of the best ways to build trust with your customers is by creating an engaging e-book.
6. Brand Stories
Content that is based on brand stories will help your brand reach more people. These types of stories give a practical explanation about your brand and are an excellent way to show the artistic side of your business.
Brand stories are narratives that surround the facts that the brand develops. While traditional advertising focuses on speaking about the brand, a brand story must stimulate an emotional audience reaction. Product, quality, price, and purpose are things that can help influence a brand.
7. Whitepapers
When it comes to types of content marketing to use for your business, a whitepaper is also a great medium to include in your marketing strategy.
A whitepaper is an authoritative and insightful report that talks about a particular topic. They offer a solution to problems and also promote a service or product. It convinces readers that your idea is the best solution to their problem. When creating a whitepaper, care must be taken when selecting topics. The aim of a whitepaper must be on expediting the buying process. Avoid topics that require analytical thinking as consumers will not have the time and patience for that.
Businesses use whitepapers for advertising their idea, service, product, or strategy and are often used for sales and marketing purposes. When you create whitepapers, it's essential to make them engaging. Make sure always to include a call to action at the end of the whitepaper.
In the beginning, whitepapers may be challenging to write, but they can be beneficial for your audience and your business in the long run.
8. Podcast
A podcast is another content marketing medium that's becoming very popular. It's one of the best ways to engage your audience today. It's a medium of publishing content using the internet. According to Edison Research, podcasts receive about 104 million listeners every month.
Podcasts can be accessed whenever the customers want. Content marketers also use podcasts to repurpose existing content. They are generally hosted by a group of people or individuals and are usually heard by people on their smartphones, mostly while driving. Today, podcasts have become very popular because they are easily accessible, entertaining, and educational.
9. How-to Guides
Source
This type of content marketing format helps create interaction with your audience. How-to guides are teaching documents designed to help with a specific issue. They come with helpful information and step-by-step instructions or videos that are educational and interactive.
How-to guides are created in many different ways. These posts can sometimes be lengthy and complicated; therefore, it's important to ensure that you make your content engaging. You must make sure to use various formats, including videos and visual elements, to attract your audience. YouTube tutorial videos are the best example of this type of content marketing format.
10. User-Generated Content
Among the various types of content marketing mediums, user-generated content has also become quite popular. It refers to content that users of a particular brand create. In today's world, where social media is all about expressing your emotions and views openly, customers are more than willing to talk about your services and products. This type of content can range from images and posts to comments and reviews.
According to the State of UGC 2021 Report, 93% of content marketers agree that consumers trust content created by customers more than they trust content created by brands.
11. Quizzes
Quizzes are another high-performing and exciting content form. With the increase in social media platforms, people are spending more time online, and quizzes are a great way to keep your audience engaged. It also helps in collecting data and informing your audience about your service or product.
It's a great way to tell your customers more about your brand and its offerings. Through quizzes, they can get an idea of your business goals and other essential aspects of your brand without navigating through the website. With quizzes, you can improve interaction with your customers and also build your target audience quickly.
12. Question-and-answer Content
Businesses are adopting different types of content marketing strategies to engage with their customers. Another way to increase customer interaction is by doing a question-and-answer (Q&A) forum. This type of content works well for most businesses, and there are many different ways to incorporate it into your content marketing strategy.
A question-and-answer session helps to develop trust, inform and network with your audience. It provides an interactive platform where you can bond and build customer relationships. It's a great way to answer your customers' questions about your brand and its offerings. Through a Q&A session, you can also get ideas about blog posts and articles that might provide value to them. It's perfect if you're looking to show the audience that you're an expert in your niche. Holding a question-and-answer session every once in a while is a good idea to help build trust in your brand.
13. Email content
Source
Email campaigns are also a great content marketing tool to target your audience. It helps brands to connect with their prospective clients and leads. Users sign up to your marketing list because they are interested in receiving timely updates and learning more about your brand.
With email marketing campaigns, brands can inform their customers about promotions, discounts, business expansions, new products, and essential information regarding the business. You can include email campaigns in your marketing strategy to supercharge your content game.
14. Testimonials and Reviews
Testimonials and reviews are just like user-generated content. This type of content comes right from the audience. Testimonials refer to a summary of why the brand stands out. For example, the shoe brand Nike uses testimonial content from athletes to advertise their product. You can also benefit by adding several customer reviews to your emails or website to attract your audience and generate leads.
15. Influencer Marketing
Source
Today, brands are going the 'influencer' way to attract their audience. Influencers can help with your marketing campaigns and can prove to be very beneficial for business. Influencer content can help reach a larger audience and sometimes new audiences that you may not reach through other forms of content. Collaboration with an influencer is always a good idea if you're looking to boost your brand awareness.
You can create content in collaboration with an influencer or use a quote from a particular influencer. Since influencers have a trusted following, the ROI is usually guaranteed and very measurable. Influencer collaborations could be paid or on a barter basis, depending on the influencers and the usefulness of your product among the influencer's followers.
Conclusion
All businesses need to experiment with various content marketing forms to determine what works for them. The content you create must be engaging and exciting with eye-catching headlines, visuals, text, formats, and other elements to attract your audience.
Different types of content can help you engage and improve interaction with your target audience. Remember to create useful content to increase loyalty and build confidence in your brand.
FAQs
1. What are the different types of content marketing?
Ten types of content marketing that customers are likely to respond to faster include:
Blogs
Videos
Infographics
eBooks
Podcasts
Webinars
Case Studies
Polls, quizzes
Newsletters
Live Chats
2. What are the 5 Winning types of content marketing to grow your business?
Five types of content that millennials respond to and help you grow your business include:
Video
Trend-driven and authentic content
Informative content
Share and tag-worthy content
Content that promotes a cause
3. Which content formats are part of content marketing?
Content formats in content marketing that will help you optimize your marketing funnel include:
Social media content
Blogs
Videos
eBooks
Infographics
Emails
Webinars
Podcasts
Presentations
User-generated content
4. What are the best ways to do content marketing?
Five effective ways to do content marketing and generate leads include:
Use LinkedIn to generate leads
Use influencer marketing and guest blogging
Webinars and Podcasts
Create lead magnets
Nail your landing pages
5. What is a good content strategy?
A good content strategy includes the below factors:
Goal setting
User personas
Content audit
Editorial calendar
Content infrastructure