Design
13 Useful Email Template Design Ideas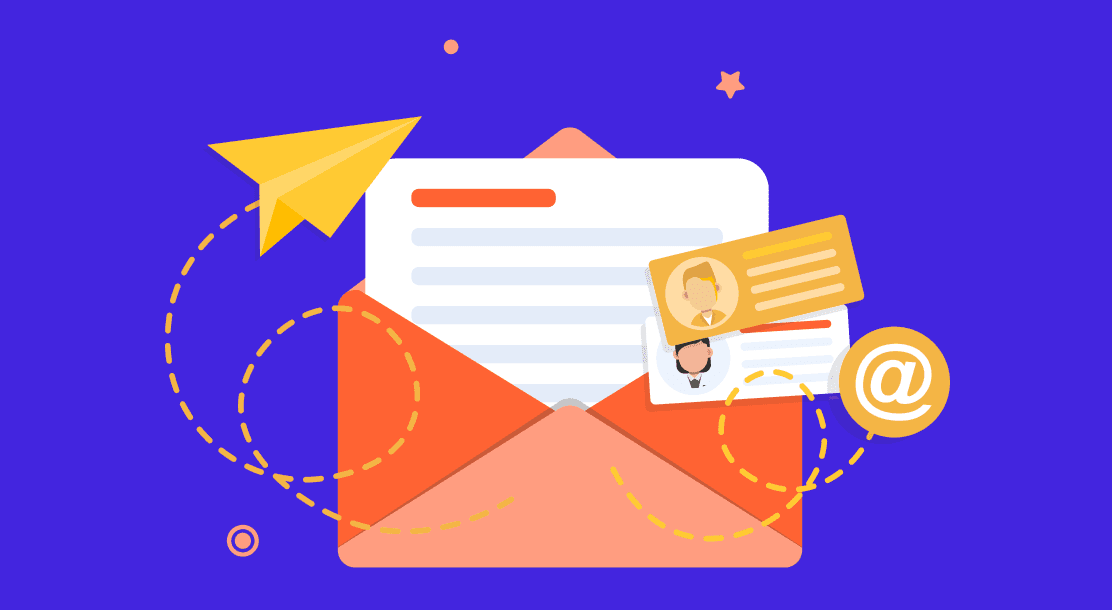 These 13 email template design ideas are meant to guide your design process. A prudent application of even one of these can lead to success.
Email template design is a crucial part of your digital marketing efforts. Statista reports that the total amount of consumer and business emails that were sent and received in 2021 was a whopping 319.6 billion. And, that's just the beginning. By 2023, this figure is likely to touch 347.3 billion.
Where there are numbers, there is an opportunity. Marketers are vying to stay on top of email marketing tactics and strategies, and the reason is the bottom line. Here's where emailer design comes in. In the 80-20 rule, email design fits in the 20% of effort that results in 80% of outcomes.
For maximizing output, designing an email campaign from scratch isn't the fastest route to success. Email templates are the answer. The high level of mechanization and automation in email template design requires the application of default principles.
The right approach to emailer design does the following:
● Improves customer satisfaction
● Increases response rates
● Ensures personalization
● Results in brand consistency
13 Email Template Design Ideas
Follow these 13 email design principles for sure-shot success in your digital marketing efforts.
1.
Use color carefully
Bright, youthful colors grab the reader's attention instantly. Remember to keep your color palette in consonance with your brand identity. In short, match the email design to your brand colors. When you create the call to action (CTA), match the button with your logo design. When choosing colors, remember to conform to the seasons of the year. The below example of email design works, as it uses bright colors in good contrast.
2.
Add visuals
An effective emailer design relies on powerful visuals. The aesthetic arrangement of images can create a captivating effect. Use these elements creatively to capture your reader's imagination. Always use high-res images. The resolution should be at least 2x the requisite quality on mobile devices. This ensures proper display.
Make sure the visuals you use complement the text, or add further meaning to it. The following email design works well because it uses eye-catching images strategically.
3.
Utilize space effectively
What will set your email apart is the effective use of space. The limited screen size begs to be used powerfully. Balancing white space, visuals, and text effectively leads to successful email design. Opt for 40-60 proportions of text with images. This lowers the risk of your mail going into the spam folder. Here are a few more ways to do that:
● Pair images with short descriptions.
● Promote readability using visual organization.
● Don't use too much text.
The following example of email design works because it uses space effectively:
4.
Grab attention with icons
Icons are great for grabbing attention. They don't increase the size of your message and add value to your content. However, make sure they don't overwhelm the reader by dominating the design. The following emailer design is a great example of this:
5.
Make your emails interactive
Digital marketers know that interactive emails engage more. A great example of an interactive email design feature is a countdown timer that generates urgency for a limited-time offer.
Some other interactive features are:
● "Add to cart" options
● Offer reveals
● Image galleries
● Carousels
● Surveys
● Games
Animation attracts users. Remember to use just one animation per email: less is more. Keep the email simple while using GIFs or animated PNGs (APNG).
6.
Mobile-responsiveness is essential
Mobile users of the internet now outnumber desktop users. That is why more and more marketers are making their emails mobile-responsive. A responsive email template design enhances the user experience. The following emailer design templates work great on mobiles.
7.
Personalize and segment
Big data allows for the use of consumer information to segment and personalize data. GetResponse reveals that personalized emails increase open rates by 29.5%. Artificial intelligence helps with tailored content within master templates.
8.
Provide an option for dark mode
Many pioneers in emailer design like dark mode. Providing the user with a dark mode option will set you apart. When doing so, ensure that image colors contrast well with both dark and light backgrounds. Light blue and orange work great for graphic elements. The following example shows the effective use of email template design in dark mode.
9.
Keep it simple and clean
Short attention spans mean email designs need to be minimalistic, simple, and clean. They should be easy to consume and follow. Overdoing it may be counterproductive. Remember, your design should be easy on the mind, and should enable the reader to navigate the content seamlessly. Ensure there is organization in your design. The following is a great example:
10.
Wed copy with design
Marrying copy with design is one of the best email marketing tips. It makes your brand identifiable and builds your brand persona. It brings balance and organization to your message. Imagery, ad copy, and font should be aligned to project your brand power.
11.
Try a monochromatic palette
A monochrome email stands its ground among dark mode and colorful emails. The presence of predominantly one shade in the email can make your message stand out. This lack of color can create striking contrasts and accentuate other elements in your email. The following is an example of a monochrome email design done well.
12. Divide and conquer
Divide your information geometrically. Experiment with angular grids, geometric designs, and horizontal divisions. Use divisions to maintain order and arouse interest. You can easily implement icon libraries by formatting email content into icons. The following example uses these principles well:
13.
Use infographics
Sometimes marketers need to communicate a lot of information in one email. Just words are not enough. Just like we use animations and APNG, infographics are a powerful tool for communication. Likewise, visual maps help data to be communicated simply and powerfully.
Soon, it is likely that video infographics will become popular. With increasing internet speeds and advances in technology, video infographics are likely to dominate the world of email design. Watch out for this trend!
Email marketing is one of the most personal methods of marketing communication. The last decade has seen email design morph into a highly specialized subset of email marketing.
Keep in mind the above principles of email template design. Even by focusing on a few effectively, you can ensure success for your firm in its email marketing efforts.
The principles of emailer design are gleaned from timeless graphic design principles. Using design effectively, you can, for sure, communicate more than a thousand words.
FAQs
1. What is an email template?
Email templates are pre-written/preformatted email design ideas to which you can add your content.
2. How can I learn email design?
It would involve practical experience combined with learnings from split testing. There are a few online courses on email design on platforms like Udemy.
3.

How technical is email template design?
Email template design is both a science and art. It is at once highly technical, while allowing great room for out-of-the-box thinking.