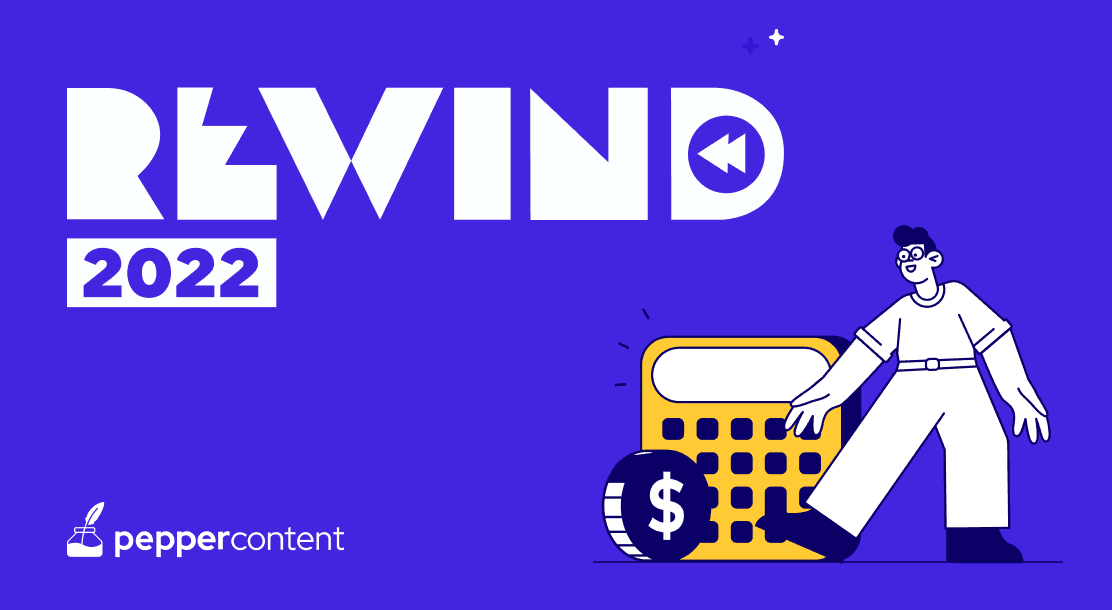 From the dorm rooms of BITS to Times Square in Mumbai, it's surreal how far we've come since we started in 2017. 2022 has been a crazy ride for the Pepper rocketship, but we're proud of and grateful for where we are today.
Let's cast our minds back to the key highlights from 2022!
February – Next Big Creator 2022
Pepper Content organized the Next Big Creator to recognize the creator economy and celebrate the rise of creators from around the world. The aim was to reward some of the outstanding creators.
The creators were divided into six categories – writers, designers, creators for change, video creators, audio creators, and product creators – and were judged on the parameters of originality, creativity, community connect, impact, consistency, and vision.
Read more about it here.
May to August – Marketing Mixer 2022
In the process of building the world's largest content marketplace, Pepper Content organized a Marketing Mixer. This three-month event was held in three cities – Delhi, Bengaluru, and Mumbai. Marketing leaders from around the country gathered at one place to indulge in an evening of conversations around content marketing over cocktails. It was indeed a blissful experience filled with learning.
June – Pepper Raises $14.3M Funding + Times Square, New York Announcement
In a Series A funding led by Bessemer Venture Partners, Pepper Content raised $14.3M! The round also saw participation from Lightspeed Venture Partners, Tanglin Venture Partners, Titan Capital, and some wonderful individual investors like Kunal Shah (Founder, CRED), Gokul Rajaram (Doordash, Board Member – Coinbase, Pinterest), Ritesh Agarwal (Founder and CEO, OYO), Abhinav Sinha (Global COO and CPO, OYO) Ankur Nagpal (Founder, Teachable), Dheeraj Pandey (Founder, Nutanix and Board Member, Adobe), and Ashish Gupta (Founder, Helion. VC and Board Member, HUL).
Read more about it here.
September – Creative Solstice
Pepper Content organized the Creative Solstice – A Virtual Design Marketing Summit. Over 500k creative professionals, leaders, and marketers were a part of this 2-day event, which included fireside chats, masterclasses, keynotes, and panel discussions.
About 50+ brilliant speakers indulged in 20+ conversations. Some of the speakers included Mayur Hola – SVP (Global Head of Brand) at OYO, Hitesh Rajwani – CEO of Social Samosa, Harshil Karia – Founder and MD at Schbang, Sahil Vaidya – Co-founder at The Minimalist, Ansh Mehra – Sr. Product Designer at Zuddl and Content Creator, and more.
October – Offsite Meet-up on Pepper's 5th Birthday
Pepper Content turned 5, and we celebrated it in style! After being stuck at home due to the COVID-19 pandemic, we knew we had to meet the awesome team behind our successful venture. And Pepper's birthday was the best time to do that!
December – Pepper Content Ranks 3rd in Deloitte's 50 Fastest Growing Technology Startups in India
It's moments like these that make us feel like we made it. With a 3-year average growth rate of 2,695%, Pepper Content was recognized by Deloitte Touche Tohmatsu India LLP as one of the 50 fastest-growing technology startups in India.
"Being ranked in the top 3 startups and being among such great companies is truly a testament to the hard work the entire team has put in, in the past few years. This is also proof of the fact that content marketing as an industry has truly come of age in India. While businesses were struggling during the pandemic, we were able to thrive due to the digital-first nature of our business. We are grateful and honored by this award." – Rishabh Shekhar, Co-founder and COO at Pepper Content.
Read more about it here.
An Amazing Year in Product
2022 was a year when our ambitious projects came to life. Pepper is well on its way to building a powerful content marketing stack. That being said, let us look back at the top product features launched this year.
Favorite Creators
We can help you build the team that you want and deserve! With Pepper, you can favorite the creator you liked working with and build a list of the best creators from the industry, vetted subject matter experts, creative designers, skilled language experts, and talented writers who resonate with your brand voice and style.
Pepper Chat
Collaborating with your team has never been easier. With Pepper Chat, experience the ease of sharing attachments and Loom videos, requesting video calls, tagging project members, and getting notifications for unread messages over an email. This can help you ensure seamless collaboration between the members of your team with reduced scope for miscommunication and working in silos.
Peppertype.ai + Pepper Docs
With Pepper Docs, you can organize your projects, communicate with the stakeholders, and build an ecosystem of apps that will help you generate high-quality content quickly and with ease. Furthermore, it is integrated with Peppertype.ai which can help you leverage the power of AI while creating content.
Pepper and Creators
Creators are close to our heart (and business model). 2022 was a successful year for our creators. Let us look at some key highlights:
Around 220 million words were written and edited by creators.
Creator earnings exceeded $2 million.
4000+ creators surpassed the client's expectations.
Pepper and Business
In 2022, Pepper Content served 2500+ clients and created over 1 million pieces of content.
Ketto
When faced with the challenge to increase website traffic and rank higher in search results, Ketto partnered with Pepper for SEO blog services.
Pepper helped Ketto drive 6x growth in traffic with high-ranking blogs, generated 40+ content ideas by Peppertype.ai, and increased the number of visitors by 525%.
"I loved how intuitive and easy-to-use the platform is. The content audit feature seems the most valuable as it lets me know the readability level, word count, etc. without having to remember it each time. Really appreciate how the team is always a call away to resolve any issues that we might encounter. Pepper is definitely our friendly neighborhood content partner." – Christopher Meyers, ORM + SEO Content Manager at Ketto
Check out How Pepper Helped Ketto drive 6X organic traffic with premium content
CRED
CRED's biggest challenge was scaling copy that converts for product listings. As a result, it partnered with Pepper for product description services.
Pepper helped CRED drive 5x faster content production, 100% confidence in deliverables, and 200% satisfaction.
"To replicate the amount of copy Pepper churns out for us, we would have to work 3-5 times harder. Plus, they have greatly reduced the turnaround time for content production. Many of our teams rely on copy, and having that element sorted gives us the ability to spend our time in brainstorming how to improve conversions and get more traction." – Hari Krishna, Creative Team at CRED
Check out How Pepper scaled CRED's product listings that drove app conversion
PharmEasy
Generating quality content reliably at scale was a challenge for PharmEasy. They then partnered with Pepper for product description services.
Pepper Content helped PharmEasy generate 15x product descriptions and 30x scalable content in 6 months. As a result, their overall conversion rates increased by 25%.
"Scalability with any sort of platform or agency is difficult, and that's where Pepper helped us most. We initially partnered with them on orders for 50 content pieces, which has gone up to 1500 in a month. Post our partnership, we generated 15 times more product descriptions than we did with our in-house team." – Sharad Harjai, Vice-President of Marketing at PharmEasy
Check out How Pepper helped PharmEasy curate 1,500+ Product Descriptions leading to higher conversions
2022 has been a year of growth and experience. We are ending the year with 200 employees while we aim to make 2023 even bigger and better. As we move forward, we are excited to unveil the project that we have been working on for the past few years. Well, we can't dive into the details, just yet, but we will say this – our platform will revolutionize content marketing.
More on that in 2023. Till then, stay tuned!