Pepper Content
Pepper Content raises $14.3M Series A funding led by Bessemer Venture Partners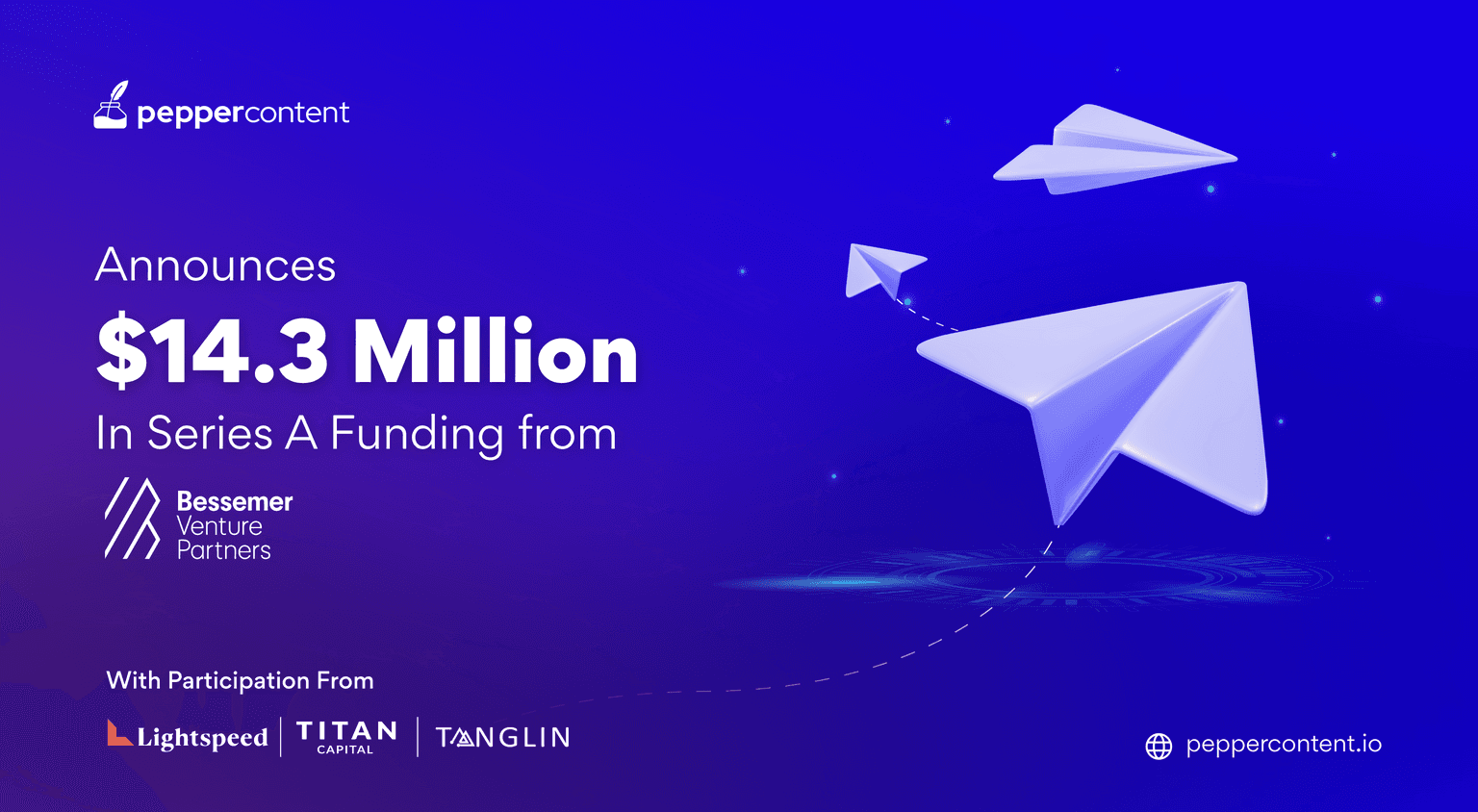 After an amazing year of firsts, where we expanded our team from 50 members to 160 and saw a growth of 16x, we're delighted to announce our Series A funding of $14.3M led by Bessemer Venture Partners.
The round also saw participation from Lightspeed Venture Partners, Tanglin Venture Partners, Titan Capital, and some wonderful individual investors like Kunal Shah (Founder, CRED), Gokul Rajaram (Doordash, Board Member – Coinbase, Pinterest), Ritesh Agarwal (Founder and CEO, OYO), Abhinav Sinha (Global COO and CPO, OYO) Ankur Nagpal (Founder, Teachable), Dheeraj Pandey (Founder, Nutanix and Board Member, Adobe), and Ashish Gupta (Founder, Helion.vc and Board Member, HUL)
Where we're going
The Future Is Content
We've always said that there are two types of companies in the world, ones that use Pepper and ones that will use Pepper. We are thrilled that we are that much closer to our vision of making Pepper a global name with this new round of funding.
In this past year, we have managed to work with 85% of India's unicorns and are working with 2500+ brands. With our new partners like Bessemer Venture Partners who have backed startups like Urban Company, Swiggy, BigBasket, Pinterest, LinkedIn and more, our dream of ensuring Pepper is an international brand with a massive presence in the US and Southeast Asia, seems more than possible. We are ready to take a big bite out of the content marketing pie, a market valued at $400Billion globally.
Passion is needed for any great work, and for the revolution, passion and audacity are required in big doses.

– Che Guevara
What we're building
The Content Stack
Over the last four years, our vision has become clearer and our dreams, more audacious than ever before. If I think back to that time in the dorm room at BITS in 2017, I can remember both Anirudh and I thought of Pepper as an important bridge between writers and businesses. Today, Pepper is much more than that. We're a product-first company that is looking to solve all content problems by building a Content Stack, a Content OS, that can empower brands with content strategy, creation, and even distribution. We are going beyond Text as a category and foraying into Design, Languages, and Video as well. The possibilities are endless, and this new chapter in our journey will help us get there faster.
In gratitude
Our dreams are audacious because of the people who stand with us. From our new partners at Bessemer Venture Partners, Tanglin Venture Partners, Lightspeed Venture Partners, Titan Capital, to gracious mentors like Kunal Shah, Gokul Rajaram, Ritesh Agarwal, Abhinav Sinha, Ankur Nagpal, Dheeraj Pandey, and Ashish Gupta, we have been lucky. A group of youngsters set out in 2017 to build a business out of their dorm room: to be taken seriously, to be supported and groomed, we consider this our luck and privilege.
The 160 employees and 65000+ creators who are the Pepper family, have encouraged us to walk this path and indeed walked with us as we built this amazing rocketship together. We are thankful and grateful. Together we hope to create an impact and a legacy of a company that lives beyond its founders.