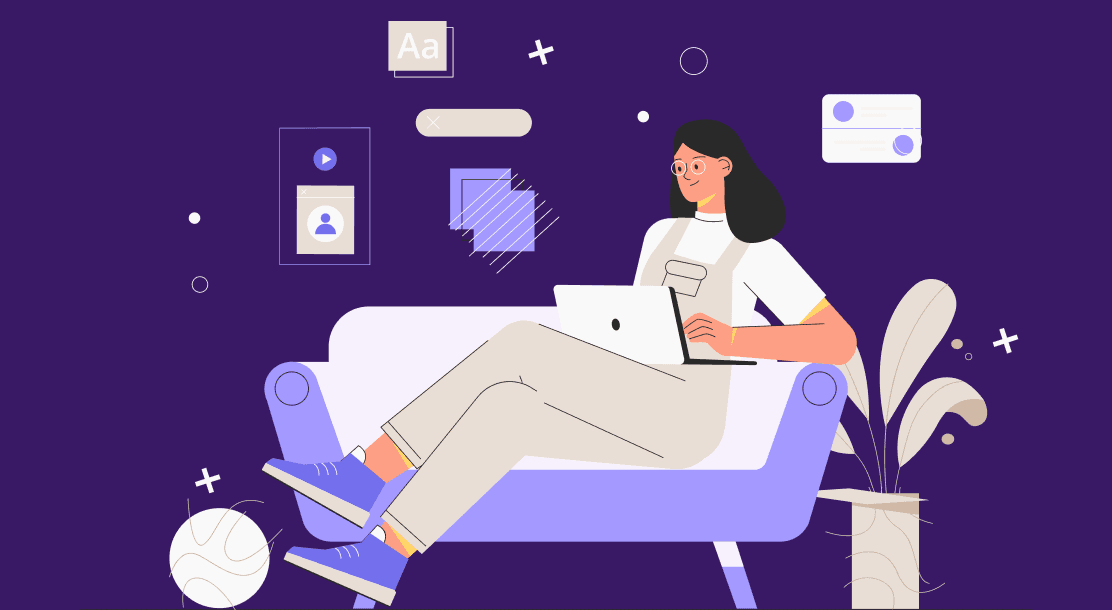 Table of Contents
Introduction
What is Freelancing?
13 Reasons to Start Freelancing in 2022
Key Takeaways
Conclusion
FAQs
The constant dilemma of deciding whether freelancing is worth it has troubled many. We're here to prove to you that freelancing is the new game-changer of 2022 and freelancing can benefit you like never before! If you've considered breaking into the world of freelance, as a side hustle or a full-time job, then you've set your eyes on the right article. As the coronavirus era creeps in, people are constantly finding new ways to make a living and earn some more income. Freelancing as a career is the perfect way to take the plunge in challenging times like these. So now is not the time to throw the towel back in and get back into a 9 to 5 regimen, but own the idea of starting your own little something.
What is Freelancing?
Let's assume you are part of the popular lot that wakes up as the alarm goes off at 8 am. The thought of going to work sucks a part of your soul, and you're at the brink of putting down your papers to start something of your own. Well, freelancing as a career is the way to go, people! For starters, freelancing is a term used for self-employed individuals that work for different companies or organizations on a freelance basis. In simple terms, they are their own boss. You take charge, and you're taking control of your working hours. This prevents burnout, and you're much more productive than your regular self because you get the time to decide when it's enough work for the day.
The most important takeaway here is the fact that choosing to freelance comes with its own set of stigmas from family, clients, and your intimate circle. However, if you're self-motivated, this chosen career preference will open doors for flexibility and personal character development. This is why you should become a freelancer!
13 Reasons to Start Freelancing in the year 2022
1. Room for a flexible work schedule
You can literally work according to your own time and, to top it off, in the comfort of your home! The need to go to the office every day is canceled when you decide to become a freelancer. Working on freelance projects provides better flexibility in your work patterns. This means you do not have to stick to the 9 to 6 pattern of working. It's a win-win situation for you! This is one of the important freelancing advantages.
2. Networking opportunities
In 2022, the world is evolving. Everybody is trying to climb the ladder with the help of others, and therefore building meaningful corporate connections is crucial now more than ever. When you're freelancing, you have the chance to portray your work to several clients. This will probably give you the big break that your career needs. As a freelancer, you should be open to every opportunity coming your way because always remember that earning money is important, but creating a pool of influential clients is the real jackpot!
3. Creative freedom
Freelancing allows you to follow your passion and creative instinct. You can choose to do the projects you're inclined to and at the same time add your touch of creativity to it! When you're working by yourself, you head the project and decide the action plan. The whole freelancing process gives you a chance to experiment with your thoughts and apply these ideas to your projects. By doing this, you're reaching a higher level of professional and personal growth. This is one of the reasons why become a freelancer.
4. Work-life balance
Have you ever thought, 'Why to become a freelancer?' We'll answer your question: As a freelancer, you have the power to create the work-life balance you want. You're not chasing deadlines or achieving impossible targets; therefore, you have enough time to spend quality family time and dedicate an hour or two to Netflix! Sounds like a plan, doesn't it?
5. Commute stress eliminated
In 2022, with so many travel restrictions, it's impossible to travel to work. In fact, in traditional 9 to 5 jobs, the shear stress of traveling back and forth to work is a buzz kill. In a survey conducted by Flexjobs, it was revealed that 38% of respondents prefer freelancing because it eliminates the need to commute to work, both time and money-wise.
6. Uncertain job market
The pandemic has caused businesses a massive downfall. This has led to unemployment and job uncertainty. When you own a business, these stresses are none of your concern. This so far is one of the most important reasons to give your freelancing biz a kick start! This is why you should choose freelancing as a career.
7. No more prey to office politics
Office gossip and politics make any employee feel inferior. This is one of the reasons out of the myriad that makes them quit their jobs. Freelancing cuts lose all these stresses, as you're not headed by someone but yourself.
8. Think beyond local
Graduates fresh out of college find it hard getting placed at companies near their residence; therefore, they end up with very limited offers. Freelancing can be done remotely, so you don't have to worry about jobs being located at a distance. This gives you the assurance that you can still earn money even if you live far off from a company.
9. It teaches you to get cozy with rejections
As a freelancer, you're working with several clients, so rejections are bound to happen. The trick is to learn from all these mishaps. This will make you more motivated to turn yourself around and keep grinding. If your work is good, people will talk about you and more people will want to work with you!
10. A stellar portfolio
When you're working on creative projects for different brands and companies, you are simultaneously building a winning portfolio for yourself. Prospective clients look at the freelancer's portfolio before landing them a project. Your portfolio is a reflection of who you are, therefore, it's important to take it seriously.
11. Your home is your office
In freelancing, it's just you and your laptop against the world. This makes up your office space, and you can take it along with you anywhere. You're saved from the hassle of reaching the office on time. As a freelancer, there's no rush because you only must move from your bed to your work desk!
12. Fewer chances of COVID-19 transmission
Since the year has begun with the third wave of the corona, it is not safe to be working on the ground. Freelancing can be done for anybody right from home without traveling all the way. In fact, you can even work for a France-based company from your home! It's 2022, mask up & work mode on!
13. Steady flow of income
When you're employed, you're stuck to a regular fixed income. This is where freelancing as a career is a step ahead as there are so many avenues to earn money. You're not restricted to one type of client, but there's room to experiment. The income is continuous and free-flowing because you get paid per project. The greater number of projects you take up, the more is your flow of income.
Key Takeaways
Here are a few key takeaways and tips to start freelancing:
Build your network
Get your finances in order
Make a dedicated website for your business before anything else
Remember: You are your own boss!
Conclusion
Now, if you're still asking yourself the question "Is freelancing worth it?" Well, this article has given you the answer, and it's a YES! 2022 is the best year to start working for yourself because experts suggest that after the pandemic there's going to be more demand for freelancers than ever! You might be surprised at how much work is out there. If you're hardworking, motivated, and want to prove your worth, don't overthink the situation too much and get on with freelancing! We hope this article has answered your doubts and we wish you all the best in your freelancing journey!
FAQs
1. Which skill is best for freelancing in 2022?
Some of the highest paying skills that can earn you a handsome amount include:
– Video editing and creation
– Social video marketing
– Freelance writing
– SEO specialist
– Copywriters and website designers
2. What is the future of freelancers?
A study conducted by McKinsey shows that around 20% to 30% of professionals in developed countries are engaged in the freelance economy. However, in India, the freelance market is estimated to grow to $20-$30 billion by 2025.
3. How can one start freelancing with little to no experience?
Step-1 Get the right equipment
Step-2 Find a Marketable Skill
Step-3 Polish up your skills
Step-4 Build your reputation
Step-5 Create a portfolio
Step-6 Find the right freelance platform like Pepper Content or Upwork
Step-8 Quote the right price
Step-9 Send the first proposal
Step-10 Try to deliver beyond expectations
4. Why choose freelancing as a career?
Another name for freelancing is 'On-demand' workers. In 2022, companies prefer freelancers because it is cost-effective, and the fact that freelancers are experts of their own niche. The quality of work isn't compromised because the output delivered is satisfactory or sometimes beyond expectations. This is because freelancers, with every project, try to create a mark to receive a long-term partnership with that company. Freelancing is the future!