Marketing
Your Go-to Guide For Video Marketing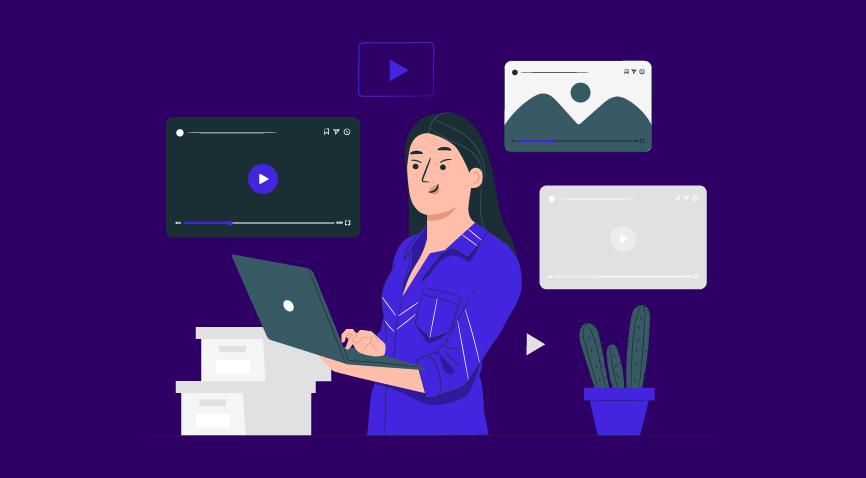 Video marketing is integral to any marketing strategy today. This guide will break down the concept of video marketing into easily digestible pieces for you.
Table of Contents
Video Marketing and its Advantages
12 Types of Marketing Videos
Hacks to Build a Smart Video Marketing Strategy
Video Content Distribution
Just as a business needs an SEO or social media strategy, it needs video marketing. Despite several content formats, videos have proven to be the most preferred. Brands offering their audience content in a video format find that their engagement has improved considerably.
No wonder YouTube, TikTok, and Instagram are doing better than ever!
Videos have many advantages, including the fact that they help improve SEO, gain more clientele, create a good brand reputation and increase sales. So now that you are convinced (hopefully) that video marketing is a smart strategy let's understand more about it and how you can use video marketing in your business.
Video Marketing and its Advantages
Video marketing refers to promoting your brand and business through videos. This doesn't have to be about marketing your product; it can also mean creating knowledge-specific videos to improve your customer's knowledge about your brand or industry. In fact, this is much easier to do than through written content.
So let's break down the benefits of video marketing.
1. It helps you grow revenue
According to a study conducted by Wyzowl, 81% of marketers find that video has helped them directly increase sales.
2. It helps people make sound buying decisions
Have you ever watched a video and instantly decided to buy the product featured in the said video? Well, if you have, you are part of 88% of people from Wyzowl's study who were similarly convinced to buy a product or service.
3. It gives your audience what they prefer
People love videos. In fact, in the Wyzowl study, it was seen that 96% of people watch a video to know more about a product or service.
4. It is great for SEO
85% of marketers use video content to rank better on SERPs. This happens in various ways — creating more backlinks, getting more traffic since videos are viewed regularly, offering visitors to your website a better user experience, and increasing conversion.
12 Types of Marketing Videos
There are many types of videos, which you need to know if you are planning a video marketing strategy for your business. Before making a video, outline what type will work best for your business.
The 12 types of marketing videos are as follows:
Demo videos
Brand videos
Event videos
Interviewing the experts
How-to videos or knowledgeable videos
Videos that explain
Animation videos
Case study, clients testimonials
Live videos
360° videos and virtual reality videos
Augmented reality videos
Personalized messages
1. Demo videos
These videos showcase how a product works. They also involve the customer, who will want to know how it works in detail and how it can bridge their gap. These videos typically do not require a voiceover describing the demo; instead, talk to the customer like you are in front of them.
2. Brand videos
Brand videos are made for the bigger purpose of the advertising campaign. A brand video must communicate your brand's vision, purpose, and products to your customers.
3. Event videos
Suppose your company is holding a conference, exhibition, or even awards, etc. Create a video highlight of small snippets of those videos and put it up for viewers to watch. This is most beneficial for B2B businesses.
4. Interviewing the experts
Conduct interviews with experts in different fields in your industry or even senior executives in your office. Through these videos, you will garner your viewer's interest. You can also collaborate with influencers and post videos discussing why they like your brand.
5. How-to videos or knowledgeable videos
You can include how-to videos about your product or services in your industry. How-to videos are more in-depth and offer a step-by-step method.
6. Explanation videos
You can use storytelling in such videos. Explain how a specific product, service, or concept can improve their lives. You can also include testimonials from people who have had a great experience with your product.
7. Animation videos
Animation is the easiest way to explain something simply. It is also great to convince children.
8. Case study and client testimonials
Help your viewers know exactly how you have solved problems and provide apt solutions through case study videos. Request your clients to give testimonials and include them in the case study videos.
9. Live videos
People interact more on live videos than any other traditional video content. Before going live, announce the time you will be live and the topic you will cover. If possible, conduct the live video with an influential person with several followers.
10. 360° and virtual reality videos
Give your users an incredible experience by making a 360° video. With virtual reality videos, your viewers can control the direction of their view.
11. Augmented reality videos (AR)
With videos like this, users will be presented with an added layer to anything they face their camera towards. For example, Lenskart enables users to check out a virtual frame on their face to understand what it will look like in reality.
12. Personalized messages
Get your viewers' responses and build a rapport with them by sending personalized messages. It can be about anything from festival greetings to the company's achievement announcement. You can send them a video containing a personalized message that will draw emotion from them and make them feel that they are not just another customer.
Hacks to Build a Smart Video Marketing Strategy
There are many ways you can build a successful video marketing strategy. Here are some exceptional tips that will help:
1. Always make a schedule
Making and posting videos is impossible. You cannot produce so much content daily. It will either lead to oversaturation of content or your viewers dumped with so much information they did not sign up for.
So, schedule the days you will be posting and spare the other days for brainstorming and editing. If you do this, you will be able to handle everything smoothly, and your viewers will eagerly wait for the days you will post the video. You can also schedule different types of videos for different days.
2. Include tutorials
This is incredibly significant as it assists your viewers and customer support team. Your tutorial videos should provide all the information about your product and services. Make it interactional so that your customers can get all the information. Your customer support team can use these videos while interacting with customers who are facing issues.
3. Get your customers to make videos
Encourage your customers to make videos using your products and giving their opinion about your services. Make them feel like stars by featuring them in your testimonial or brand videos. They will be grateful to you and your treatment and behavior towards your customers.
4. CTAs are important in videos, too
Never forget to add the CTA at the end of any video for your customers or viewers to take action. Let them know all your social media handles and mention your website. Doing all of these as a part of the CTA will help you gain more visibility.
5. Optimize your videos with SEO content
Yes, just like other content forms, you can also optimize your video content. This can happen in many ways; for instance, you could research keywords and add that to your YouTube description. With other social media platforms like Instagram or Facebook, you can use the relevant hashtags and keywords in your captions and status.
As we all know, optimization is crucial in digital marketing; SEO should be a part of your video marketing strategy.
6. Keep examining what performs well and what fails
Constantly keep a check on the views and interactions with your videos. You are experiencing daily trends and will never know what the audience and viewers will like and what they will not.
So you should be observing what your audience likes and what they are not paying attention to. Take notes and make content according to the likes of your audience.
Apart from all of these, try aiming to make content that will be useful and relevant to your target audience. You will never be able to create content for all of the users on the internet. So, making content for your target audience is better than focusing on everyone.
Video Content Distribution
You can gain views at the beginning of the video, but gradually the views will go down. There will be a question of how to increase the views again, organically.
Conduct a webinar showing the video you plan to get more views on.
Create a social media campaign to make people aware of the video.
Send snippets of the video through your email marketing campaign.
If you are conducting an exhibition, you can play your video on a loop and make people want to watch it again on their own.
Have a transcribed video. Transcription will help more people engage with your video. You can add links to the products and services in your transcription, making for an easy user experience. For more engagement, you can also translate your transcription into different languages.
Add subtitles to your video so that people who like watching videos without sound or are in a surrounding where they cannot watch your video with the sound on can take the aid of subtitles and engage.
Use your video on landing pages. Using your video on landing pages will give your audience a clearer view of your brand and have direct CTAs on the landing pages themselves.
In the End
Now that you know the basics of video marketing try it in your business and see how the results will help grow your business.
Key Takeaways
Videos should be engaging.
They should have a clear message and CTAs.
You can use a video marketing strategy to improve your SEO.
There are 12 types of marketing videos.
Videos must be easily relatable, comprehensive, and clear to understand.
FAQs
1. What is social video marketing?
Social video marketing is video marketing through social media platforms. Distribution of your video on social media will be a part of your social video marketing.
2. Should I stick to only making one type of video?
No, you should always make different types of videos to engage with different types of content.