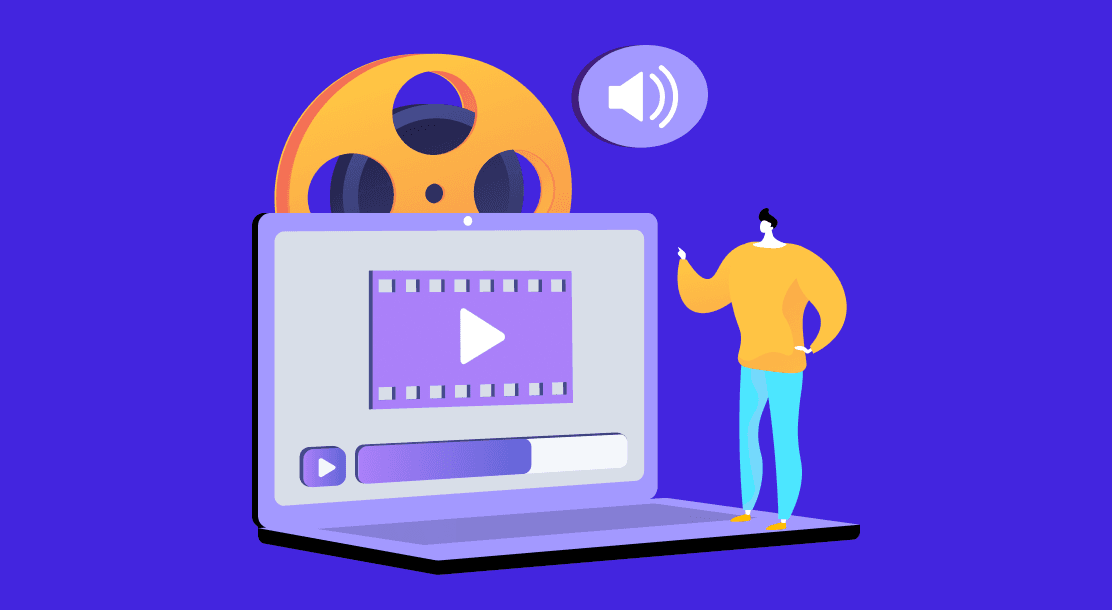 Apart from the other popular marketing channels, video marketing has gained influence in the recent past due to a slew of benefits. Let's take a look.
Over the years, the internet has evolved into a powerful medium for marketing. From blogs to social media, toads, and websites, it might be overwhelming to gauge the landscape of internet marketing. That being said, certain aspects of internet marketing stand out in terms of their engagement. One of them is video marketing.
Accordingly to WyzOwl, as of 2022, 81% of marketers say that videos have helped them increase sales, and 94% of them claim to have increased product or service understanding through videos.
But what really is video marketing, how does it work, and how do you take advantage of it? We've got all these answers and more for you, so read on!
What is Video Marketing?
Video marketing is an aspect of digital marketing in which video is used as a medium to communicate about your brand and its products or services to potential or existing customers. It is often used to increase engagement, educate consumers, and creatively promote products or services. How does video marketing work for a business? It generally tries to make the business more personalized and interactive with its target audience.
But why would brands need video marketing for their products and services? They have so many other channels to exploit, so why opt for video marketing? When you understand how video marketing works, you will be able to reap advantages and positively impact your brand.
You might be wondering what's so special about how video marketing works? Do I need to go through all that effort of learning how to make videos?. Here are some points that might help you make up your mind.
Why Should you Opt for Video Marketing
In this age, where customers directly want to connect to a brand via a face or someone real to entrust their faith in the relevant products/services, mainly B2C and D2C video marketing has gained huge prominence. Thus, organizations are rebuilding their marketing strategies and inserting video marketing work patterns inside their campaigns to ensure success.
How video marketing works to enrich B2C and D2C marketing campaigns and connect businesses with their target audience has been established now. However, those still wondering whether to include video marketing in their marketing campaigns can check out the following stats for clarity:
88% of customers claim they've been convinced to buy a product or service via a brand's video.

73% of people said they would most like to learn about a product or service through a short video.

People are twice as likely to share video content as they are to share other types of content.
Other parameters such as ROI, traffic, lead generation, click-through rate, and dwell time were also positively rated concerning the use of video marketing.
Here are some other benefits of video marketing:
1.
Personality
In a world where the personality of a brand sells as much as its products or services, video marketing opens up multiple avenues to help showcase the brand's personality. How does video marketing work? In simple words, it conveys the uniqueness of the brand or the business to its target audience.
2.
Creativity
Whether through its concept, background score, visuals, or acting, videos allow for a lot more creativity than images or text. Creativity present in a unique video marketing work is more likely to garner attention and engagement than in other marketing channels.
3.
Broader marketing limits
Let's say you're launching several new products at the same time. You'd certainly want to ensure that you can capture the essence of the entire range of products in your announcement.
If you were just working with images or texts, you'd be left wishing for more space or having to come up with several posts. This wouldn't be the case with a video. You'd be saving time and energy while effectively advertising all your products through a single yet effective video marketing work.
4.
Leveraging trends
When was the last time you saw a social media trend that was not in video format? Trends are almost always videos, and hopping on that bandwagon can certainly help you gain attention. So when someone questions how video marketing work for your brand, you can certainly say that it ensures the creation of viral and trendy videos that connect with the present audience.
Now that you're convinced of how effective video marketing can be, let's dive into how it works.
How Does Video Marketing Work?
When brands and businesses are trying to really make their video marketing work, they need to understand that the video marketing campaign should act strategically to attract, convert and close the sales and delight the audiences.
A video marketing campaign is not just an explainer video put on a website or a string of social media videos that don't provide solutions to the customer's problems or their daily habits. It is essentially a part of the strategic approach that attracts customers through content and interacts with them about relevant and helpful stuff.
So the video marketing strategy should be curated in such a way that it understands the challenges of the audience and provides them with a solution. If you really want to understand how video marketing works, you should understand the modified sales funnel according to which a video marketing work for the campaign should follow and reach its target for the brand in concern.
This modified sales funnel is known as the 'sales flywheel'. It looks like the following:
The flywheel clearly explains the process of how does video marketing works.
● Some strangers will hop on to your video from social media channels, advertisements, or other places. Your videos should be created with such professionalism and efficiency that these strangers are instantly attracted by them and get converted into the prospects for the brand's services or products that the video is about.
● A series of videos on multiple social media channels where these prospects belong and targeting them will engage them and convert them into customers.
● The next set of campaign videos will be targeted to delight the customers or provide them with solutions and valuable information. This will help them engage with your brand further, and they might even latch on to the opportunity to become a promoter for the brand via video marketing. User-generated content in video marketing will attract more strangers as they will connect with people with a personalized message about a brand and their journeys.
● Following this, the last parts of the flywheel will keep rotating and end up in maximum ROI for the video marketing campaign and brand growth.
Although considered trivial or not as important as other B2B and B2C marketing strategies, video marketing has its own role if the campaign is implemented properly. It leads to immense brand growth and also connects with prospects and audiences in a different way that is far more personalized than other forms of marketing campaigns. Thus, brands and businesses should concentrate on video marketing strategies and teach their staff how video marketing works to bring in profits for the organization.
FAQs
1. What is video marketing, and how does it work?.
Video marketing is an effective marketing strategy that depends on creating videos and promoting them across multiple media to inform and educate people about a particular brand's services, products, and solutions.
Not only does it help increase engagement on digital and social channels via this particularly interactive medium, but it also educates them and serves other purposes.
2. What makes a marketing video effective?
To create an effective marketing video, you should immediately hook your audience's attention and spark their curiosity by immediately answering the question – why should I watch this video? Once these are done effectively, the marketing video becomes successful.
3. How to get started in video marketing?
To get started in video marketing, you should follow some of the fundamental steps like:
● Choosing your target audience
● Identifying their problems and challenges
● Identifying your brand's or business's purpose
● Planning your video marketing budget
● Choosing the idea of the video
● Creating the video
● Distributing the video across various channels and media.
4. How do businesses use video marketing?
Businesses use video marketing in several ways. They ideally use it to display their products or services and solve their audience's problems. They also use video marketing to increase their reach, constantly engage with the audience and delight them.
5. Is video marketing easy?
Video marketing is not easy to start with, like content marketing. However, you can use it in your content strategy effectively once you get the hang of it.