Marketing
4 Types of Marketing Emails for Small Businesses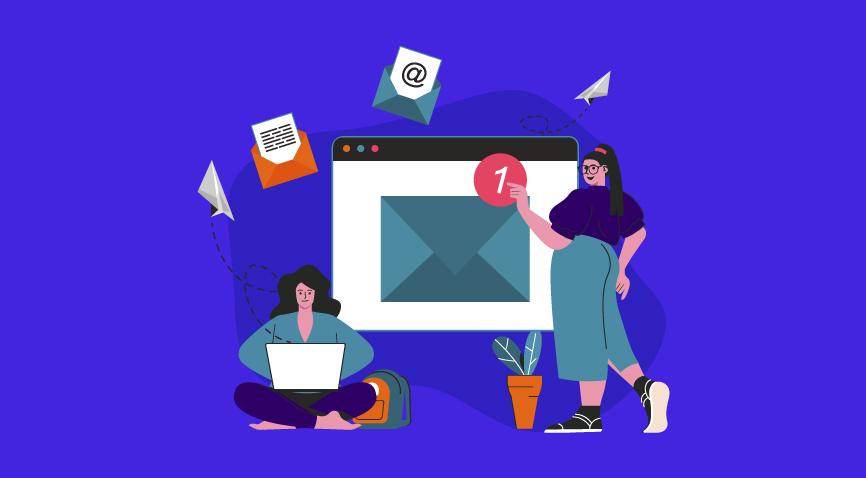 4 email campaigns that have to feature prominently in your marketing strategy, especially if you are a small business that cannot afford to neglect its cost-effectiveness.
In the past years, many have tried to shun email. It was considered a legacy system, a relic of the past. Something that would get phased out by shinier, modern tools like Slack, which promised to transform workplace communication. But we're almost halfway through 2022, and the humble marketing email is still going strong.
Sample this: according to Statista, 4.6 billion people worldwide use email in 2022, a number expected to grow to 4.6 billion by 2025. That's more than half of the world's population! The sheer ubiquity makes it hard to ignore as a marketing channel.
A 2018 Adobe study found that millennials spend nearly 6.4 hours on email. 62% even check their inboxes in bed, just after waking up or before going to sleep. In terms of ROI, emails win you about $40 for every $1, a whopping 4000% return (Campaign Monitor)! They're also harder to ignore than SMSes, with 21% of emails being opened within the first hour of delivery.
The writing on the wall is clear. Email has to feature prominently in your marketing strategy, and email marketing tools can help facilitate that. Small businesses, especially, cannot afford to neglect it, because it is so cost-effective.
4 Types of Email Marketing Campaigns
Let us look at four marketing email types a small business can use to acquire, charm, and retain users.
1. Welcome emails
You can't shove your sales pitch down a user's throat as soon as they sign up for your service. According to Gleanster Research, 50% of your leads are not yet ready to hit "Purchase," so you need to be warm and welcoming in your first interaction. Welcome emails are a great way to introduce new users to your brand and set the tone for the rest of their journey.
The contents of this email may vary based on your requirements, but the main objective is to make new users feel at home. Typically, welcome emails contain quick instructions on getting started, and how everything works.
You can also highlight the benefits that users will get and what they will accomplish by using your service. First impressions matter, so you can focus on showing your brand values and personality. Feel free to throw in an irresistible deal to hook users from the get-go.
Welcome emails see more traction when you personalize them and make it abundantly clear that it's not just a machine-generated formality. To do this, you can address the user by their first name and ask them to reach out should they have any queries or feedback.
Advantages
This type of marketing email sets a strong foundation for fostering long-term relationships. According to a statistic shared by Neil Patel, users who go through a welcome email read 40% more content from the same sender over the next 180 days, thereby building customer loyalty.
Welcome emails showcase higher open and click-through rates than other marketing emails, so they're the best way to get key messages across.
Disadvantages
The first impression is the last. If you hit the wrong notes with your welcome email, your subsequent relationship with a user might get jeopardized, so much so that they may completely churn.
2. Lifecycle emails
Also known as drip email, this is not a single email, but a sequence of connected emailers meant to push a prospect further down the sales funnel. A Content Marketing Institute report found that apart from lead generation, email marketing is also used for lead nurturing (78%) and lead retention (74%).
A lifecycle email campaign educates leads in a step-by-step, organized fashion, offering useful nuggets of information to nudge them towards the buying decision. They are all about targeting, segmentation, and events. For example, you can set up a lifecycle email workflow for the duration of your 14-day product free trial:
Day 1: Welcome email
Day 3: Feature description email
Day 7: "How's your free trial going?"
Day 12: "2 days left. Hurry!"
Day 13: "Your trial expires tomorrow. All your data and work progress might get lost if you don't subscribe."
Day 14: Your free trial has expired (what to do next)
Day 18: A limited period offer to reactivate your account
Once the user has subscribed, you can send them a "thank you" email. In the case of any product updates in the future, you can send them an interactive email. Your user base can be categorized into different segments based on how they respond to each email, and their actions.
Advantages
Timeliness: The high-touch cadence is useful for complex SaaS products that require hand-holding.
Since these are automated emails, you can sit back and relax while they do the work for you 24×7.
Disadvantages
A little oversight, and these emails might come across as robotic. So, make sure you humanize your communication.
Overdoing it may also lead to a lot of unsubscribes. It is crucial to strike a balance.
3. Email newsletters
Out of sight is out of mind. Newsletters are an email marketer's best friend to stay on top of users' minds and not drift into digital oblivion. Brands usually send blog round-ups (Top Picks of the Month), company or product updates, or new feature announcements via email newsletters. They are rarely plain-text, and rely on a combination of visually appealing media (images, videos, GIFs) to catch users' attention.
Since they pack in a lot of information, they must be formatted in a way that's easy on the eyes. It's a good practice to use bold fonts and large headlines in a grid layout so that users find it easy to skim through and digest the information. Your email newsletter should also have a call to action (CTA) at the bottom, typically redirecting to a specific blog or a dedicated landing page.
Advantages
Regular email newsletters build brand recall and cement brand characteristics in subscribers' minds.
Newsletters are ideal for re-engaging users who may have lost touch with your brand.
Disadvantages
Since they are content-heavy, your CTA might get lost, and the core message might get diluted. Hence, sound design is of utmost importance here.
4. Dedicated sends
These are emails containing a single offer meant to be sent to your entire subscriber base. Examples of this include Black Friday deals, releasing a new ebook or whitepaper, an announcement of a webinar, product update, or an industry conference you're hosting, or a season's greetings. They are similar to landing pages in the sense that they are focused on a specific theme.
Advantages
It's easier to measure performance and attribute it correctly to the content, since there's only one overarching message.
They're extremely easy to create. Once you have the template in place, it's just a matter of tweaking the ad copy and the hero image(s). You can then spend the most of your time crafting a click-worthy subject line.
Disadvantages
These emails are infrequent, and users are not exactly expecting them, which makes them easy to miss.
You also have a plethora of email marketing tools at your disposal to supercharge your email marketing, such as Mailchimp, Moosend, Sender, and WebEngage. We hope this blog on marketing emails gets your creative juices flowing and helps you formulate a concrete email marketing strategy for your small business.
FAQs
1.

What are the four types of marketing emails?
A few types of emails in email marketing include: 
A few types of emails in email marketing include: 
1. Welcome Emails
2. Emails about discounts, sales, and cashback
3. Lead nurturing emails
4. Abandoned cart email
5. Survey emails 
6. Referral emails 
7. Email newsletters 
2.

What email marketing strategies work best for small businesses?
A few email marketing tips you should heed before you start a campaign include: 
1. Mailing list (network) expansion
2. Personalize it with recommendations. 
3. Make it engaging, clean, and crisp.
4. Be mobile-first.
5. Do not forget to integrate across platforms.
6. Ask for reviews and references. 
7. Don't overwhelm the reader. Be specific and provide value. 
8. Track your emails. 
9. Track performance.
3. How do you attract customers through email?
Here are five tips on how you can make the most out of your email campaign efforts:
1. Concentrate on your subject lines; keep them short and compelling. 
2. Create urgency.
3. Facts and figures, as well as personal pronouns, work wonders.
4. Pay attention to the preheader text. 
5. Always test your email.