Marketing
The Long and Short of It: Content Marketing Examples Nailing Long-form Content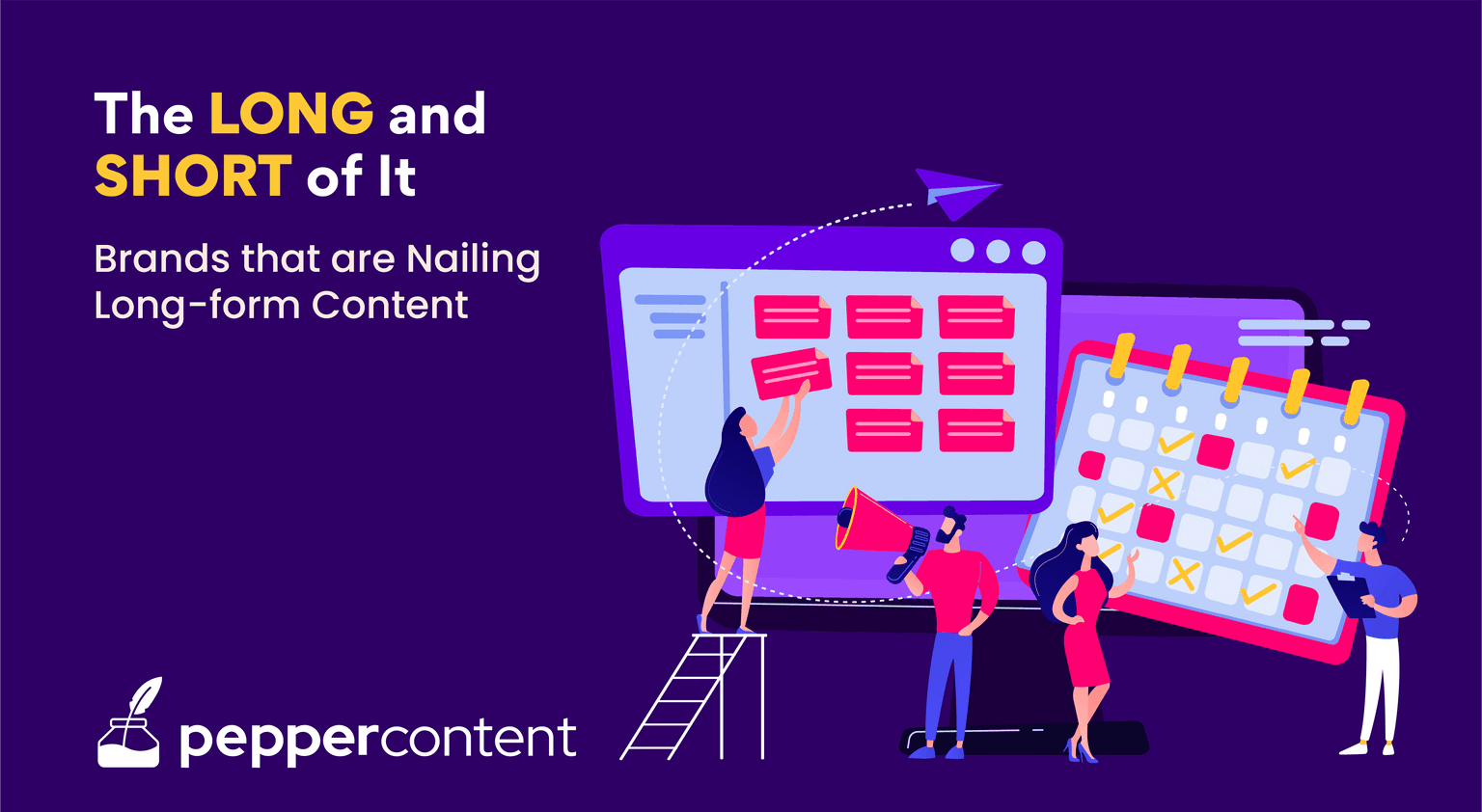 Research says that long-form content achieves an average of 77.2% more credible links than any short articles. Companies use long-form content to position themselves as thought leaders in an industry. Long-from content which deals in insightful information boosts credibility of a business.
Table of Contents
What is Long-form Content?
Content Marketing Examples of Long-form Content
Long-form Content is Winning
Key Takeaways
Conclusion
FAQs
There is a lot of hype around long-form content. But, what is Long-form Content? The internet thrives on information, and many companies or agencies often publish whitepapers, blogs, and landing pages as long form content packed with information. Because of its high informational value, long-form content can be used for backlinking purposes, thereby increasing its SEO value.
What is Long-form Content?
Long form content examples consist of articles that contain more than a thousand words and are optimized for search engines. The major advantage of a well-written piece of long-form content is its capacity to establish strong domain authority.
Long-form content achieves an average of 77.2% more credible links than any short article. Companies use long form content marketing to position themselves as thought leaders in an industry. There are virtually endless topics you can discuss, and as long as the information provided is well-researched, you will be able to attract a lot of website activities. Long-from content which deals in insightful information boosts the credibility of a business. Long form content seo also makes your chances of ranking higher in search engines.
Content Marketing Examples of Long-form Content
With the increase in competition for credible information on the world wide web, large corporations are sticking to anchoring long-form content that fosters loyalty among readers. In this article, we will explore some long form content marketing examples of companies that are making the most of long-form content online. While some of these content marketing examples can be easily replicated by competitors, it's the seasoned brand identity or the informative value provided that stands out on this list.
1. IBM
IBM is a multinational IT corporation that has been known to use long form content as a winning marketing strategy. Its most successful campaigns on the internet have been delivered through long-form content. The company produces stunningly informative pieces of long-form content through audio, video, and text publications. Ideally, their audio and video campaigns are directed towards generating interest in their long-form text publications.
Although the deeply technical nature of IBM's business in the technology industry may sound too complicated to some people, they know how to make it palatable for all kinds of audiences. Their key strategy is to make technology-driven innovation a relatable story.
Among their prominent long form content marketing efforts is an inspiring story about an athlete who lost her vision and eventually pursued a career in computer engineering. She became IBM's researcher, and some of the projects she took up were part of their campaign.
She helped in developing the Braille Library Network.
She also helped in creating a cognitive assistant for city navigation.
By inspiring people with the values of the company, IBM relates to its audience indirectly through examples that pique their interests. Similarly, the company releases long-form content frequently to demystify concepts like big data, artificial intelligence, and business computing using case studies that non-technical people can easily understand.
2. Chevrolet
A large chunk of Chevrolet's long-form content is not even related to vehicles. They frequently highlight personalities like baseball players whom the company supports. It's a heartwarming experience for people to get inspired by stories that can easily relate to their emotions about a sport. Through long-form content marketing, Chevrolet promotes the social elements of their motor company.
A great example is their narrative titled '100 years of Icons'. The article documents Chevrolet's pivotal role in American culture. By making Americans proud of the cultural products that made history, their long-form content continues to captivate audiences and reveal the many milestones of a prosperous legacy.
Chevrolet has thus built a large cult following through content that people can easily relate to, making them a leader in the field of long-content.
3. BMW
BMW is another automobile giant with a successful long-form content strategy. They even used cinematic tropes to promote their authenticity while entertaining audiences. A fairly recent content piece used cinematic and 'supernatural' elements to show off one of their latest products. It appealed to a wide section of their market.
The use of pop culture to infuse a sense of suspense and thrill in their long form content creates more advocates for their brand. BMW utilizes this strategy to highlight its major achievements in the industry. They manage to create a sense of anticipation among audiences who want to glimpse their new products.
Through film and media, BMW releases creative long form pieces that allow content creators to conduct reviews, tutorials, test pieces, fan art, and much more. By encouraging the creation of long-form video content, the BMW advertising ecosystem generates profits just through its ads.
4. Airbnb
Airbnb quickly rose to fame with a concept that allowed people to turn their living spaces and vacant homes into revenue-generating streams. They also deploy long-form content for their brand advocacy. A few years ago, they released an interactive annual report that showcased the growth of the company from start to finish. Making this information available to the public itself is an amazing long form content marketing technique that worked wonders.
With this strategy, Airbnb could show that they believe in transparency. Through long form content, they could generate loyalty in the market, leading to further growth. The long form content marketing report was user-focused, with detailed insights into the services provided by Airbnb users.
With real-life stories replete with images and videos shared in long-form content, Airbnb resorted to clever content marketing that rewired the way the hospitality sector consumed content.
5. QuickSprout
QuickSprout rose to glorious heights with its ebooks and downloadable content. In this list, QuickSprout is the only company that has used long form content like ebooks to extensively educate its readers about the best practices in their industry. This brand offers tips and other materials on how to improve and grow your website.
In this age of information, websites are a big deal. When most viewers expected QuickSprout to rely on articles and other types of content, they defied the odds and created intellectual property in the form of ebooks. This strategy proved to be a huge hit because ebooks are now a valuable long form content marketing strategy in the world of online commerce. Through ebooks, QuickSprout could turn their readers into loyal customers and advocates for their brand.
By offering tips on how to make money and grow business, they created a steady stream of engagement with readers. Essentially, a QuickSprout ebook contains all the secrets of improving a website. With hacks, tips, tricks, and advice consolidated in their long form content, the company can directly showcase its expertise to prospects and existing clients. Thus, their specialty in the field of improving websites is translated into an intellectual property that is easily available for consumption online.
6. Qualcomm
Telecom giant Qualcomm has utilized long form content across multiple platforms and mediums. They are known for powerful text, audio, and video content that markets their brand. Their video content is immersive and highlights a story that often sensitizes viewers to the company's products. That's clever advertising!
An example of their successful marketing strategy is a short film where the viewers follow a man who woke up to find that his girlfriend was missing. This short film pivots around the technology that the company makes. So how does he find his girlfriend? Qualcomm is the answer.
As the film rolls, representatives from Qualcomm break down the storyline as they explain the telecom technology to viewers. This is the behind-the-scenes view of the Qualcomm story, where the short film shows off a finger sensor that is portrayed with such simplicity.
Their use of long form content to market products has been a success for them and a joy for the masses. Each of their campaigns is stories, and they have fostered an exceptional knack for storytelling that is a testament to their advertising prowess. People get more inclined towards purchasing their products after they see the video because they have been given a relatable use case to identify with easily.
7. Recreational Equipment Inc.
American retail and outdoor recreation services company Recreational Equipment Inc. (REI) makes use of its blogging expertise to indulge readers in exceptional long-form content. Their most successful blogs revolve around the experience of people. By capitalizing on their blogs, they are able to produce content that is relatable, and that invokes an emotional response. However, they don't just stick to blogs; and they utilize video, audio, and visuals to get the job done.
A popular documentary called Paul's Boots is a moving story about a hiker and his dream. He passed away before he could see his dream come alive. But REI took the audience through his boots to retell his dream in an iconic manner.
Such stories often inspire emotions of varying kinds, which in turn inspire others to make similar content. This promotes REI as a brand.
REI isn't always chasing profits; it believes in giving back to its community by paying tribute to one of its customer's visions.
8. Patagonia
Another brand utilizes the emotional response of its consumers rather well. For people who love adventure, the company caters to this marketable facet of the human spirit. They use long-form content that showcases their products. Patagonia makes clothing, gear, and accessories for outdoor adventures like surfing, skiing, or just hiking.
Their content is used to keep the thrill of adventure alive.
One of their brilliant long-form content marketing examples is an article titled 'Climbing in Iceland with Loki the Deceiver.' The piece talks about the trials and tribulations of four climbers. It highlights both the bad and the good experiences of climbing. And that's how the brand resonates with its ideal target consumer who truly feels their message.
By promising value through education and experiential insights, Patagonia is also a strong advocate for some of the finest content marketing examples. They cater to readers who seek the extraordinary and match their wavelength, and the brand has to go a step further in evoking an emotional response.
Once the audience experiences the full depth of an adventurous experience through visual, auditory, or simple reading, the job is half done. People who resonate would want to become a tribe that only Patagonia can truly understand.
9. General Electric
When it comes to some of the best content marketing examples, you ought to talk about General Electric, a company that has a diverse portfolio and a wide range of products that consumers value.
However, when it comes to marketing so many products, it can be a challenge. That's why General Electric has leveraged long-form content the smart way. They utilize exceptional scripting and seamless marketing genius to shed light on their many divisions from aviation, lighting, healthcare, transportation, and more.
To educate viewers on how GE is responsible for powering everything from jet engines to whole cities, they released a video series titled 'In the Wild.' Mythbuster Adam Savage is at the center of the story as he ventures far and beyond to explore the mechanism behind General Electric and its myriad of products and services. This series was a huge hit.
Adam's role is complemented with expert interviews, easy-to-understand explanations, and animations that examine the powerful force of GE's products. By positioning GE's engineering brilliance at the forefront, the series strikes awe and unending regard for their triumphs in powering up the world.
10. Cisco
Cisco is a networking giant that focuses on cybersecurity as one of its most important offerings. In the hyperconnected world, finding enough people to care for is not enough. You need to be exemplary with your content creation.
Cisco is known for the long-form content, which positions them as one of the best content marketing examples to take away from. After all, they are the creators of the Ransomware Defense.
To foster engagement and awareness with their product, Cisco created a video that shows how a hacker completes ransomware. The video is educational, which increases its value for viewers, especially those looking to protect their business from cyber threats. The long-form video content highlights a successful ransomware attack by a hacker, which tells the audience that their data isn't always secure, even by the highest standards of cybersecurity.
But just as the audience begins to feel vulnerable, Cisco pitches the ideal marketing brew. Rather than highlighting the exceptional efficiency of their award-winning product used by many, they highlight the main problem that drives their business demand. Given that audiences feel this way about their data security, their products are always going to be relevant.
Maybe that's why Cisco's long-form content and short-form content are seasoned content marketing examples that include some of the most-watched YouTube videos available.
Long-form Content is Winning
This form of marketing can be a winning strategy for any business. There is a huge demand for long-form content on the internet. When people feel they need more information, they resort to credible, long-form articles, blogs, whitepapers, video documentaries, and podcasts. With the evolving needs of internet users, long-form content can become a top priority for many businesses across industry verticals.
Key Takeaways
Long-form content positions you as a thought leader and a subject matter expert in your domain.
People are always looking for long form content like detailed guides.
Use effective headings so that users can go to any section of the long form content piece that interests them.
Long-form content is the best way to tell stories, talk about your journey, or even experiment with an unrelated topic.
Repurposing long-form content into podcasts, social media content, and short blogs saves time and resources.
Conclusion
Long-form content is here to stay. One can repurpose long-form content into podcasts, in-depth studies, or chop them into Facebook Watch videos, Instagram carousel posts, and so on. If you have a well-researched piece of content, you can use them in various ways. You can also use long-form content as an effective content marketing strategy to never have a dry content pipeline. You can always shorten a long form content into three or four posts to save time and resources.
FAQs
1. Why does long-form content work?
Long-form content marketing works because it's more likely to be shared. Studies show that 88% of readers share long-form articles or blogs, while only 2% share short-form articles or blogs. Also, long-form content offers readers the content they want, which is why they read and share such content. And thanks to the internet, people now have more time to read. And if people have more time to read, it means they are likely to work through a lengthy post and get through to your brand. This is a great way to increase brand awareness and popularity.  Long-form content is one of the best ways to market in the digital age.

2. Why do people make long-form video content?
Long-form video content is a perfect blend of technical knowledge and demonstration. It is also easy to consume and retains the viewer's interest for a long period of time. 
To begin with, a viewer doesn't have to watch the whole video to get a point about some topic. A viewer can even jump to a specific part of the video if he/she wants to.
Also, because of the production quality, viewers will be more interested in your video and will stay within your video for a longer period of time. 
This will result in a huge increase in your conversion rate. 
You can also focus on a particular part of a long-form video and make some kind of a presentation out of it. This will help you send a clear and concise message to your prospects.
3. What are some popular long-form content types?
The most popular long-form content types are: 
1. Ebooks
2. Webinars
3. Videos 
4. White papers 
5. How-to-Guides (WikiHow made an entire career out of it!)
6. Resource Lists
7. Industry Definitions
8. Tutorials
4. Is long-form content popular in 2021?
It may seem that long-form content is off the charts due to the influx of bite-sized content in all platforms. However, it is not the case. Long-form content that tells a story, is explanatory, teaches something, or offers something valuable will always be a valuable marketing tool. Long-form content saw a huge increase in interest over the past several years. Now that we're in a content marketing renaissance, the popularity of long-form content is only going to increase. 

5. How does long-form content pay off?
Long-form content is a powerful marketing tactic that can be used in a variety of ways. Some people will tell you that long-form content is only good for content marketing, but that's not true at all. It can be used to make you more money on your existing site, as well as to attract new customers. 

6. Can you give an example of how long-form content is used to generate leads?
On Episode 8 of Pepper's Top of the Funnel series, Forum Sheth, the AVP of Content at Web Engage spoke in length about the advantages of leveraging long-form content like case studies and webinars to convert leads. Being a B2B brand, they have a wide range of clients. They select specific problems, conduct their research, and generate an in-depth ebook, or case study to tackle that issue. It is an absolute game-changer for their content marketing strategy as it established them as a subject matter expert in their domain. She also revealed that they continue to receive positive feedback on their main content- long-form case studies and ebooks.