Marketing
Define Your Thought Leadership Content Niche: A LinkedIn Guide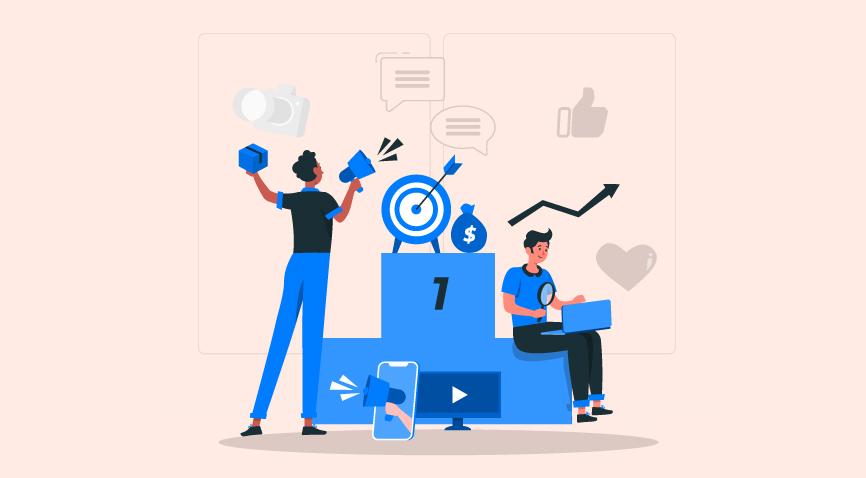 Here's a deep dive into how to determine your niche for Thought Leadership Content on LinkedIn. Use the guide to determine your niche.
From simply hosting job opportunities and acting as a platform for same-niche professionals to connect, LinkedIn has come a long way. Today, it serves as a full-fledged social media platform for professionals and aspirants across all classes and boundaries.
No wonder then that the platform has evolved from a mere connecting platform to a thought leadership platform. Today, it is one of the first websites that one would immediately consider to gather new audiences and enrich existing ones through value-based content in one's niche. This is also better known as thought leadership content.
This blog will outline a detailed thought leadership guide that will help you reach out to your LinkedIn audience no matter the size, with enriching content that connects and uplifts. But before that, let's better understand what thought leadership content means and its distinct qualities.
Defining Thought Leadership Content
Thought leadership content is material that brands, businesses, and people create to share valuable information. The content is unique, demonstrates the person's or business' authority over the topic, and offers helpful information to its consumers. A LinkedIn study suggests that as many as 47% of C-Suite executives agree to share contact information merely based on thought leadership content.
Thought leadership helps generate market authority and trust over time, which favors businesses. It is an amalgamation of ideas, skills, techniques, and strategies that demonstrate expertise in a given niche. When working on thought leadership, you can play with different content types and formats that ingrain trust and authority in readers.
A LinkedIn Guide to Define Your Niche for Thought Leadership Content
Identifying your niche on LinkedIn and addressing readers with related content is not enough. You also need to define it with every content published through and through. Here's a thought leadership content guide you can use to better define your niche on LinkedIn and inspire, lead, and garner trust from your reader base.
1. Choose your area of expertise.
Irrespective of which industry you belong to, thought leadership always starts with knowing what expertise you have gained. Know that you cannot be a thought leader if you address all aspects related to the industry your business operates in.
You would thus need to choose a niche that best defines your area of expertise and complement it with topics and the sub-ideas that build it. For instance, if automobiles are your business industry, you can break it into different segments and niches like car servicing, careful driving, vehicle efficiency, car care, and the likes. You can then choose from either of them based on your expertise.
And yes, do not mix it up with your business agenda. Your reader is seeking value, not a sales pitch, so you might want to address what troubles them in the segregated niche.
2. Outline and define your specific reader/audience segment
Next comes defining who you are creating your thought leadership content for. Recognizing the buyer persona you need to serve can be a great start to determining who your target audience is.
To identify your core targeted audience segment, reflect on the following aspects:
Age and gender of the people you need to serve
Education levels
Income backgrounds they fall into
Professional inclinations
Information they seek
Challenges in their way to information access and goal fulfillment
Their goals that align with your products/services
Any prominent personality traits they carry
Having answers to all these aspects helps you get closer to your reader.
3. Create realistic goals for thought leadership
Your thought leadership goals play a crucial role in ensuring your content aligns with the right target audience, serving your niche of expertise. You can take a hard look at the following aspects to create realistic goals for thought leadership to flourish as a content marketing strategy. Note that these goals are as introspective as they are about your reader.
Are you thorough with your subjects of expertise?
What skills would you like to work on?
Is your expertise aligned with your passion?
Where would you like your thought leadership to reach in the short and long run?
The last question leaves scope for many aspects to be considered, parameters defined and measured for you to quantify your goals and know the actual numbers that are comparable later.
4. Grab new thought leadership content opportunities
LinkedIn is quite versatile today and is a hotspot for new opportunities in the B2B segment. You can work on new opportunities in the following ways to better define your business niche and reach out to targeted readers:
Add a fresh perspective to your readers' pain point.
Leverage current trends to reach out to your readers and elaborate on what it means to them.
Work on existing problems for your audience to come up with groundbreaking solutions.
Use data storytelling to reach out and publish real-life research findings.
Connect with your audience through personal stories.
Leverage the prominence of influencers and industry experts to expand reach.
Include well-researched knowledge of who your competitors are to better time your thought leadership content. When tapping these opportunities, you can use versatile content ideas to maintain variety in how you convey so your readers are hooked for the next. You can use long-form insights, blogs, podcasts, videos, newsletters, infographic content, and interactive content to reach out and nail.
5. Work on community engagement
A great way to create interest and garner trust is to engage with your community from time to time. This can allow you to know how well-informed your audience is, gaps you haven't addressed, and gain insight into what's new in your community.
Engaging with your community also allows you to remain adaptive to new trends in your niche. Plus, good engagement leaves your community feeling included and leaves a sense of belonging, strengthening the trust they carry.
6. Measure output and rework to fill gaps in strategy
Even if you have completed all the steps, you can't be sure enough of how well you have done it unless you know the numbers. It is thus important that you measure your thought leadership and authority on LinkedIn to quantify goal fulfillment. Conducting a poll is a great way to measure the output.
To Summarize
As you move forward to defining your niche on LinkedIn with this thought leadership guide, know that people's attention span is among the lowest these days, and they might as well forget your content. So, you must make your content memorable with the right strategy that reaches out, conveys, and secures a place in your reader's mind with thought leadership.
Key Takeaways
Thought leadership on LinkedIn or any other platform is about creating authority and trust among the audience.
High-quality thought leadership content is inclusive, insightful, informative, accurate, and visible while being innovative, adaptable, and inspirational for the targeted audience.
You must be well-aware of your area of expertise and skills and be adept at related subjects for propagating thought leadership.
It is crucial to recognize your target audience based on your industry's niche. Know who you are creating for as per the demographics and what pain points need addressing.
Stay well-engaged with your community to make them feel included.
Measure your success through defined metrics and rework gaps to improve.
FAQs
1.

How rich should content be for thought leadership?
The richness of your content is defined by the photos, videos, and interactions included. In this, it's always the more, the merrier. But just so you don't overstep, conduct a survey to know what your audience exactly wants.
2.

Is thought leadership a part of content strategy?
Yes, thought leadership has evolved to be a critical part of content strategy.
3. Does thought leadership content vary with the

industry?
Thought leadership is all about dynamism and adaptability, which means the way you convey and connect changes with every industry. However, the fabric of this strategy remains the same, and you ultimately end up creating trust and authority in your community.
4.

What is SEO's contribution to thought leadership?
The right LinkedIn optimization would definitely help you reach out to your targeted audience. But, from thereon, it all depends on how well you connect and the values you provide.