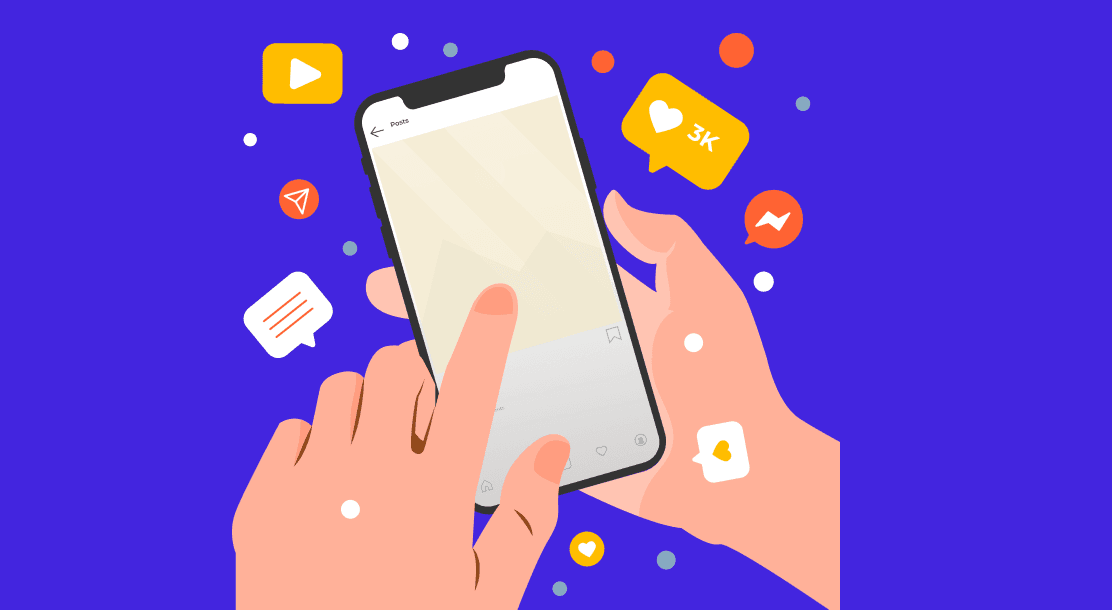 Give the dreaded writer's block a fight by using these social media content ideas.
Let's all admit that being creative every day is exhausting! Social media content writing is a full-time job. Therefore, you've got to take that oomph factor up a notch and deliver fresh content on a daily basis. It sounds like some work, doesn't it? Well, we are here to make that process a tad easier for you. We have made a list of some social media post content ideas to help you deliver gold content on different platforms and stay ahead of the curve!
50 Social Media Content Ideas for 2022
Scroll on to know all about the social media content ideas you can try out this year.
1. Content series
Make a series of daily, weekly, or monthly content. Since it's recurring, it can prove to be a great method of producing content consistently. ELLE Magazine's masterclass series does the job of creating a lot of engagement. In this series, ELLE talks to professionals from various spheres and gives the audience a glimpse into the workings of different industries, as well as tips and tricks.
2. Giveaways
Here's a fun fact: the audience can't resist freebies. Host a giveaway contest with detailed instructions, and boom! Watch how your comments section blows up in no time.
PS: a contest also fills your content calendar in a jiffy.
3. Share your achievements
Letting the audience know about your achievements instantly makes your presence more promising. Fuelling them with positive emotions, such as inspiration and empowerment, will instantly build a connection. Your readers might even make others follow your brand and try out your services.
4. Polls
Hosting polls on your social media is a quick way of knowing what your customers prefer. This will give you more clarity on what kind of content pleases their eyes. Polls are one of the quickest ways to know about your audience's tastes and preferences, making it a top social media post idea.
5. AMA sessions
Dive into your audience's undying curiosity by hosting an "Ask me anything" (AMA) session. Post a Story, asking viewers to pose questions. You can even start a live session on Instagram, Facebook, or Twitter, answering questions from the comments section.
6. Statistics
You can share data that includes the newest updates, news, and changes in the industry. This social media content idea can help grip the reader, as it provides them with valuable information.
7. Behind-the-scenes content
As much as the audience enjoys scripted content, an unfiltered behind-the-scenes (BTS) post is what spikes up the engagement. For instance, you can show your audience what goes into the production of a particular item.
8. Social media takeovers
Pass the keys to your account to an influencer that has a sizable following. This will get their followers to drive engagement to your page. And on the brighter side, you'll be off all that posting for the day!
9. Repurpose native content
Repurposing content is another one of the social media post ideas that actually work. If you have an article that went viral or was viewed the most, why not create a graphic out of it and throw in some quotes? Post the content on all social platforms instead of restricting it to one. When you share on just one platform, you're missing the opportunity to reach a larger audience base.
10. Reshare old posts
Give your old posts a new life by reposting them on your feed. Whoever missed that post earlier can now view it with ease. Tap, tap, tap: keep the likes pouring in!
11. Reshare other brands' content
If an article, Tweet, or Story from another brand grabs your attention, don't shy away from sharing it with your audience. Reshared content makes your brand look like it has its finger on the pulse of your niche.
12. Social media challenges
The challenges that tend to go viral online commonly contain dance moves or ingesting something horrible. However, you don't have to go that far. You can make your followers take up a simple, yet fun, challenge.
13. Personalized content
Content that is specially curated for your customers is a big hit. The users feel great that you recognize their loyalty and are doing something special for them.
14. Guest posts
Whenever you're posting relevant content to other sites, make sure your social media followers know about it. You can post links to that site via your Instagram, Facebook, or Twitter Stories.
15. Invitation for captions
Post an image and ask your audience to come up with a unique caption for it. This could be the perfect way to get them more involved.
16. Customer reviews
If you sell products, make it a point to share reviews by customers on your social media pages. This will give the rest of the lot an idea of how much your product is desired.
17. How-to posts
Your followers are hungry for knowledge. Show them cool tips and tricks on how to do things. For example, "How to bake a cake in five minutes." This not only increases engagement but also assures the audience that you're a true pro.
18. Product photos
Share some high-quality photos of your product in an attempt to woo your customers instantly. Add hashtags to make them more fun and engaging.
19. Memes
A good laugh is all we want, isn't it? Be the entertainer for your customers and post memes occasionally. You can show off your sense of humor and, at the same time, keep your audience hooked.
20. Brand journey
It's always a great idea to tell your audience where you started. Share your story on social media, so that the followers know your journey and how you got to where you are today.
21. Social media holidays
There are a trillion holidays stocked on the calendar, and you might as well use those dates for your content. This is what social media holidays are for. You can craft content around everything from International Dog Day to World Emoji Day.
22. Look to Pinterest
Pinterest has the most appealing images out there on the web. Take some inspiration and share those on your social media platforms. This is one way of keeping your social fans happy. Needless to say, always mention sources of inspiration.
23. Let the customer have the spotlight
Add a "Spotlight" feature to your content calendar to make your customers feel great. Handpick a few winners from a giveaway or contest. With their consent, post about them on your social.
24. Q&A sessions
If your customers are asking similar questions time and again, it's your cue to start answering them. Answer all questions that have the same answers together. Combine them into comprehensive Live sessions.
25. Influencer collaborations
Influencers can be the potential face of your brand. So, give them the center stage. You can have a suitable influencer promote your products and services. Customers are in awe of their favorite influencers, and they love it when a real face endorses a brand.
26. Aesthetically appealing posts
To be honest, people love to look at beautiful things. No matter what you post, make sure it has ample visual appeal. If it's aesthetically pleasing, you're winning.
27. Milestones
If you hit a milestone, pat yourself on the back and get the audience to applaud for you too. Share your first-year anniversary on a social media platform or your 200,000th follower. Whatever it is, do it with a bang. Some earnest celebration will do the page no harm.
28. Playlists
Your music choices speak volumes about you. Why not share a little glimpse of that with your followers? Many brands have started curating playlists, including H&M, Nike, and Victoria's Secret. It is an interesting way to market your brand to newer as well as existing audiences.
29. Tap into trends
You don't always have to be creative and come up with your own ideas. Sometimes it's safe to hop onto the bandwagon and participate in trends created by others. It could be anything from commenting on red carpet looks or posting Reels.
30. Slow-motion videos
Sometimes your video content may be in need of an overhaul. You can try a "slo-mo" video, which lends special effects to a regular, drab video.
31. Did-you-know posts
You can share some facts related to your brand on your social media page. No matter your niche, you must have a few snippets to share.
32. User-generated content
Celebrate your community and share their content. User-generated content (UGC) is essentially content created by your followers, which you can upload to your page. This social media content idea helps create meaningful relationships with your followers.
33. Recipes
Food is the way to most people's hearts. If you are a food blogger, chef, or restaurateur, dish out a few lip-smacking, original recipes and watch people flock to your page.
34. Ask the followers for advice
Take your followers' opinions into consideration. You can invite opinions by posting a Story. Doing this will make your audience feel valued.
35. Fill-in-the-blanks posts
Get your audience's creative juices flowing by asking them to fill the blanks of a post. They'll contribute, you'll listen.
36. Congratulatory posts
Show your love to any brand that has achieved a milestone. This could even get you in front of their loyal fan base.
37. Introduce your team
It doesn't always have to be a new addition to your crew. Spotlighting the actual people who work for your brand is a superb way to expose your humanity.
38. Fundraisers
Give back to the community that has given you so much love. This will tell a lot about your company's values. You can create a fundraiser on an online platform, and share a link or snippets to your social media page, urging people to join the cause.
39. Product teases
If you're about to launch a product or service, give a sneak peek into it through a well-crafted image or video. Product teases help hook the audience and evoke curiosity in them.
40. Post a vacancy
Are you on the lookout for a new joinee? Well, if yes, then post it on the web! Create a catchy "We're Hiring" post that briefly describes the position you're hiring for.
41. Post about the products you love
Mention to your followers the products you use daily, and how they make your life easier. Sharing bits about your life will help build a special connection.
42. Explainer images
If you find yourself in a fix trying to explain all the details of your product in limited steps, then it's a good idea to use an image to do the job.
43. Pick a follower of the week
Take your social media game to the next level by showing your love for the fans. Conduct "Follower of the Week" sessions to tell them you recognize and value them.
44. Mood check
Ask your fans how they are feeling about the day or how their week was. Such simple gestures will make your audience realize you care for them.
45. Archived Posts and Stories
Go down memory lane by sharing a few images and videos from your archive. It's a great way to show the audience how far you've come as a brand.
46. Puzzles
You can create image puzzles to leave your fans guessing about your next launch. Keep them posted on the answers, though.
47. Motivational quotes
We all have our fair share of good and bad days. Be that extra push your followers need by posting a few inspiring quotes every now and then.
48. Holiday offers
If it's the season of giving, then make sure you're doing that at all costs. Help your fans with savings by giving them generous holiday discounts. Create special posts around these offers, and make them as attractive as possible.
49. Use hashtags
Keep a note of the hashtags that can be associated with your brand. Gauge how many of them are truly relevant, and use them as much as possible. You can even create your own hashtags, known as branded hashtags.
50. Invite fans to company events
If you're trying to fortify the bond between your organization and its customers, invite your brand enthusiasts to the organization's activities and get to understand them better. You can document the particulars of the meeting on social media.
Key Tips for Posting on Social Media
Listed below are a few points that illustrate why social media is crucial to your marketing strategy.
If we're being realistic, you cannot depend on social media completely. You might make some sales online, but you cannot sell products worth a million right out of the gate. That's possible only once you've built a strong online presence. It's not going to happen overnight. It's only fair to integrate social media with other marketing verticals.
Consistency is key. You might post great content, but if you're not consistent, your audience may find another page to follow. So, if you don't plan on being regular, then don't post at all.
There are no rights or wrongs when it comes to posting on social media. Your content reflects your personality, so let it be raw and natural.
Your SEO rankings will skyrocket if you're using the right keywords and methods. Make sure you're regularly updating the content on your socials to keep ranking high on search results.
The better the content, the greater the chances of having your click-through rate shoot up. The most amazing benefit of social media is that it drives traffic to your website.
Social media gives you the chance to learn more about your competition. Stay in line with the current trends, work to engage the people who matter the most to your brand.
Being digitally aware is a must in today's world. Social media is a cost-effective medium, and hence, it has become one of the most popular methods of connecting with customers. Try your hands on at least some of the 50 social media post content ideas we've mentioned above, and you'll never find yourself staring aimlessly at a content calendar again.
FAQs
1. How can I be unique on social media?
Here are five tips to make your content stand out from the rest:
1. Make the content fun and relatable.
2. Make sure your grammar is impeccable.
3. Find your brand's voice. 
4. Focus on visual posts. 
5. Post more how-to content. 
2. What type of content is better for Twitter's audience engagement?
Images perform better than videos. Users on Twitter post a lot more images than they do videos. Quotes outperform questions, and memes can be used too. 

3. What should I post on Facebook?
One great way to start conversations with your Facebook audience is by simply asking questions. You can also tell stories, talk about trending topics, post product photos, videos, and infographics.