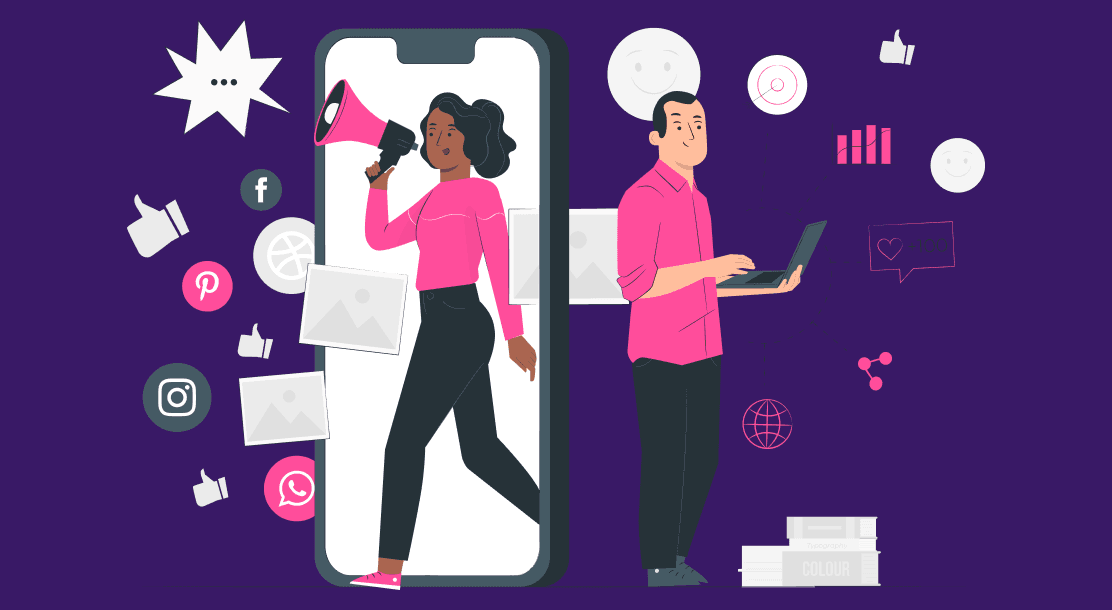 Table of Contents
What Is Social Media Content Creation?
Why Is Social Media Content Important?
4 Examples of Social Media Content
A Quick Guide to Posting on Social Media
Key Takeaways
Conclusion
FAQs
Social media is the new word-of-mouth in the world of digital marketing. For any business to excel in today's age, it is essential that they have a robust social media strategy and equally good social media content. Personal, trusting, and long-term relationships between businesses and customers take place online now. With an agile social media content plan and the right tools to implement it, any business can make the most of its time and effort spent online.
Social media is the current visibility window in the market, for any business. And that makes it essential for businesses to have a social media content guide of their own or refer to an existing social media content creation model that suits their brand's voice and purpose. While social media marketing campaigns are increasingly being used by companies worldwide and "social media content creator" is a popular word nowadays, let's take a close look at how to write effective social media posts.
What Is Social Media Content Creation?
Social media content creation can be summarized as the process of creating and uploading content to various social media platforms a brand has an active presence on. This includes the creation of text, images, video, audio, etc. It could be done for the purpose of engaging, entertaining, educating, or informing the customers. All successful businesses today have designated individuals managing the company's social media channels, such as Facebook, Instagram, Twitter, LinkedIn, etc.
Creating a social media content plan is one of the primary responsibilities of content creators. While it may sound like it's all fun and games, churning out quality content for social media can be a highly technical and demanding task. But it is surely worth your time, effort, and financial investment, as social media networks, can offer a plethora of opportunities. They can also help you reach out to your target audience in a more systematic manner. Knowing how to write effective social media posts is one of the key skills of a digital marketer today.
Why Is Social Media Content Important?
Before we move on to the social media content guide, it is crucial to understand how social media content can be beneficial in the marketing process.
1. Improves brand awareness
What word-of-mouth is to traditional marketing, social media shares are to digital marketing. With the use of social media content, brands can inform potential customers about their products and services, and do it more quickly and efficiently.
Now, if there is an exciting offer or a recent upgrade, a company can update its existing customer base in an interesting manner, via social media posts. They can, in fact, make the customers a part of social media campaigns with the use of hashtags.
3. Increases website traffic
Since integrating social media accounts into the company website is an option, having an active social media presence helps. You can post relevant content on your website and blog and link it to your social media posts to drive more traffic to your website.
4 Examples of Social Media Content
The best way to learn about effective social media content creation is to learn from the already-existing social media content. The next step in this social media content guide is to create a swipe file.
In the swipe file, you can put together social media posts, advertisements, stories, etc., from various brands. It's more like a repository you can refer to for ideas for your own projects. There are a few content types to choose from when creating content for your brand's social media channels.
1. Blogs
Blogs are the most widely popular social media content type. They can be long-form or short-form posts. LinkedIn and Facebook are where blog posts are mostly shared. If your brand has a dedicated website for blogging, that is an even better way to share long-form content.
2. Images
Instagram and Snapchat are two social media sites that have harnessed the power of images the most. The benefit of using images is that visual content is more appealing and interactive than text. There are a number of social media sites that are specifically image-focused platforms.
3. Videos
Videos are also a popular social media content type. They are quite shareable. Long videos, short snippets, and even live videos are all separate content formats to choose from. Instagram also offers a modern take on short clips, in the form of Reels. How-to guides, testimonials, video tours, unboxing videos, and product demonstrations are some video types that are always fun to watch.
4. Podcasts
Podcasts have indeed emerged as one of the most preferred formats of content consumption by today's social media users.
Podcast episodes can be linked to social media sites for more visibility. You can even layer the audio over a static image, which can be shared in the form of a video post on Instagram.
A Quick Guide to Posting on Social Media
Now that we have seen a few excellent examples of social media content creation done right, let's head straight to the content planning and strategy section of this social media content guide. Here are a few tips on how to write effective social media posts.
1. Know your target audience
The first step in planning content for social media requires you to know who your target audience is. Buyer personas can be a helpful tool here. They can help you analyze what motivates the audience to purchase a product or prefer one over the other product/service. Tools like Facebook Audience Insights and Think with Google can also be useful.
2. Identify your social media goals
Once you have figured out your target audience, the next step in your social media content guide should be to know what your goals are. You must ensure your business goals can be tied to your social media goals. Are you using social media to sell, build relationships, or get visibility?
Be specific in defining this goal. For a lot of marketers, it could simply be increasing brand awareness, and thus, engaging the visitors. A number of brands use social media for getting feedback and reviews, thereby facilitating communication with the customers. You might also want to share information and updates via social media posts. You must approach the content creation stage based on the specific goals you want to achieve.
3. Choose a communication style
The most important takeaway from this social media content guide is to choose a tone and style that suits your target audience. Every generation has a specific vocabulary, slang, and even abbreviations used in texting. Unless your tone and style cater to the target visitors, it will be deemed irrelevant and useless. For instance, you can use a casual or humorous tone when addressing Gen Z, but people of earlier generations may find the same tone absurd or even condescending.
You need to strictly keep the language nuances and trends in mind when devising a social media strategy. A brand can communicate through text, images, photographs, and even videos. So tone and style are not restricted to just words.
4. Choose the right platform
A crucial thing to know is what social media platform best suits your brand's target audience, business goals, and social media goals. It is difficult—almost impossible—to have an active presence on all social media platforms.
A robust social media content plan includes posting schedules for a select few social media platforms. You need to know which social media platforms you will be aiming and creating content for. Competitive research can be a useful method to finalize the most suitable platforms for your brand.
5. Create your content
Social media content, unlike traditional marketing content, is not aimed at only selling the product or service. With the right social media strategy, a brand can do so much more than that. Some key goals of creating social media content are building relationships, getting visibility, and generating leads. When creating content for social media platforms, it is important to keep a few things in mind. They are as follows.
Make the content more visual.
Use memes and GIFs, as they are an essential part of social media communication.
Use brand storytelling.
Engage the audience and make them a part of the conversation (host challenges, surveys, quizzes, contests, etc.)
Be consistent with your posting.
Make use of user-generated content (UGC).
6. Schedule your posts
With the availability of several tools, it is now easy to create content and schedule it for being posted on social media at a chosen time and date. When you schedule a social media post, you need to add in the caption, text, image, and then set the date and time on which you would like to post it.
A content calendar and a social media post scheduler like Hopper HQ can be of real help. You can even check out other tools, such as Sprout Social and Buffer.
Key Takeaways
Social media content creation can be summarized as the process of creating and uploading content to social media platforms. It could be done for the purpose of informing, entertaining, educating, or engaging the customers.
Having social media content creation as part of the overall marketing strategy can help increase brand awareness, generate website traffic, and lead to greater promotion-related outputs.
Customer personas can be useful in defining the target audience for your social media content plan.
It is important to choose a communication tone and style that suits the target audience.
You need to know which social media platforms you will be aiming and creating content for.
Content created for social media platforms has to be visual, humorous or witty, engaging, and representational of the brand's voice.
Conclusion
The most important advice this social media content guide has to offer is to TEST. Once you have devised a social media content plan and the content required for your posts, it is essential to test the success and likability of that content. There are many online tools to assist you in testing the performance of your social media strategy.
This analysis is important as it can help you understand which content type receives a greater response. Based on this analysis, it will be easier to plan your next social media campaign or strategy.
FAQs
1. What are the different types of social media content?
There are several content types being used for social media marketing these days. It includes educational, interactive, promotional, newsworthy, entertaining, and inspirational content. 

2. What is a social media content creator?
A social media content creator is an individual who is responsible for creating and uploading content to a company's social media platforms. This encompasses tasks like research, observing industry trends, networking, creating suitable content as per the company's marketing needs. 

3. How can you become a freelance content creator?
In order to become a freelance content creator, educate yourself and figure out your specific niche or social media platform you have expertise in. Engage with fellow content creators and brands. Networking is essential. You must also watch out for freelance opportunities in your niche. 

4. How to organize social media content?
You can start by conducting a social media audit. Choose the target social media channels, create a social media content calendar, and develop a workflow. Once you have created a few posts or blogs, you can start scheduling them.

5. What is a social media content plan?
A social media content plan outlines the goals of your company and how its social media goals support its marketing strategy at large. It also helps you figure out which social media platforms are the most suitable for your brand, what type of content should be created, and how it should be shared.