Design
20 Greatest Quotes on Design Thinking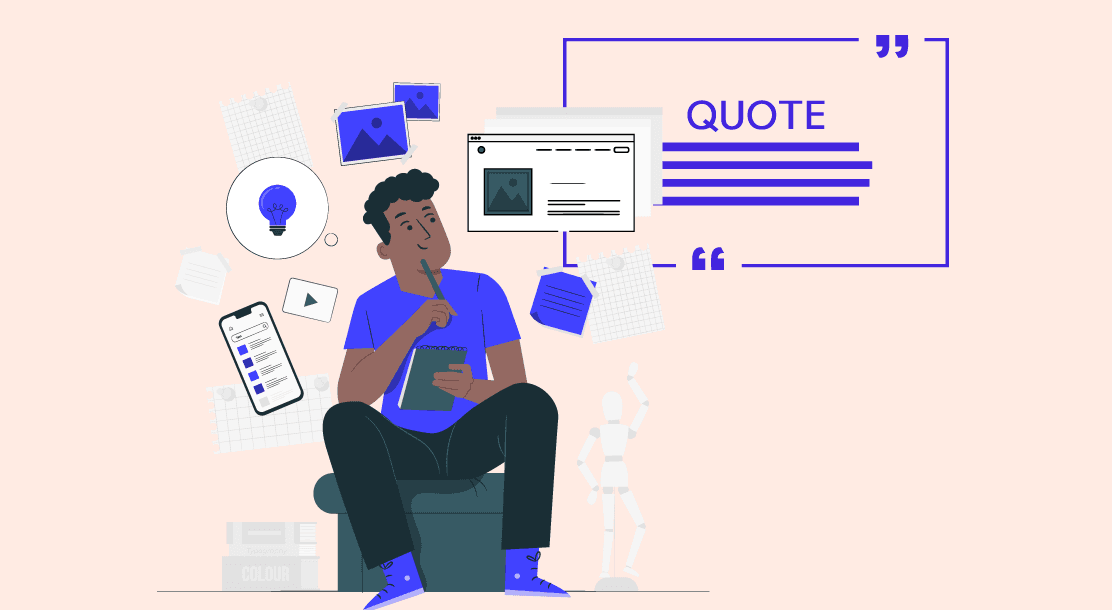 Table of Contents
20 Greatest Quotes on Design Thinking
Conclusion
FAQs
Creators are often faced with what is called writer's block. And this is true of not just writers but all types of creators – designers, authors, influencers, etc. So, what do you do? Sometimes, the best therapy could be to turn to a few quotes on design thinking to seek inspiration. They can work wonders in stimulating your brain into newer directions of thoughts. And who knows? You may strike gold with fresh design ideas!
Here are the 20 best quotes on design thinking that are inspirational and can give you all the motivation you need right now.
20 Greatest Quotes on Design Thinking
1. Thinking in the box
This quote is by Erin Patterson, a writer, author, and public speaker. This design thinking slogan challenges the age-old notion of thinking out of the box and urges readers to think from a fresh perspective.
2. Design is about how
Steve Jobs was one of the greatest innovators and thinkers of the 21st century. One of the best quotes on design thinking talks about the importance of a design's purpose more than its look and feel.
3. Visual thinking
Saul Bass was an award-winning filmmaker and graphic designer who often spoke about breaking free through visual media. And that's made this design thinking slogan so famous.
4. Intelligence having fun
Albert Einstein—the name needs no introduction. Popularly known as one of the greatest scientists of all time, he was also a great philosopher who liked to speak about the power of combining creativity with intelligence. This one is one of the best quotes on design thinking that most creators can relate to.
5. The cost of bad design
One of the most thought-provoking quotes for design thinking comes from Dr. Ralf Speth, CEO of a well-established brand that has made its mark in the whole world— Jaguar. A lot of brands are typically concerned about the cost of marketing. But what they don't realize is the flip side of not investing in good designs.
6. Little design
Dieter Rams is a German industrial designer who works closely with big consumer brands like Braun and Vitsoe. Some of the best quotes on design thinking talk about just this – the importance of simplicity in designing something. Simple and chaste—the two key pillars of good designing.
7. Improve the human condition
One of the greatest industrial designers, Niels Diffrient became famous for his ergonomic designs that helped improve sitting posture at work. And that's why this is one of the best quotes on design thinking that seeks to serve the world.
8. Emotional response
April Greiman was probably the first designer to widely adopt computer technology as an effective design tool. And she stressed the importance of striking a chord with viewers with her designs, as is evident from this design thinking slogan.
9. Communicate clearly
Milton Glaser was an American graphic designer whose famous works included the "I Love New York" logo, the DC Comics logos, and the psychedelic Bob Dylan poster. He has given some of the greatest quotes for design thinking like this one that talks about communicating your message clearly with your audience.
10. Reading between the lines.
Erik Edgard is a designer with Conquer Creative Consulting. This design thinking slogan shares a beautiful insight into the power of what a good design can capture.
11. A way of life
Alan Fletcher was one of the most celebrated graphic designers during the 20th century, who was highly regarded by his contemporaries. With this quote on design thinking, he has struck all the right chords regarding design thinking as a way of life.
12. Empathy, creativity, rationality
Quotes on design thinking such as this one reflect the purpose of why you need to put your thoughts in your design. Ultimately, the goal of any design is to connect with people through images and messaging. So, why not pour your heart into your design?
13. Integrative thinking
Tim Brown is best known for his thoughts and articles on design thinking and the value of creative leadership. This also reflects in one of the best quotes for design thinking, which talks about integrating different values and perspectives to develop creative designs.
14. Making things work beautifully
Roger Martin is an academician, public speaker, and author. The beauty of this design thinking slogan is in the subtle message that it carries about the purpose of designing against the design's content.
15. Do not ignore people.
Frank Chimero is a US-based brand and product designer. His quote is one of the greatest quotes on design thinking because of its importance to people. Your design should be able to resonate with the audience, not just in an aesthetic sense but also in an emotive way.
16. Design as innovation
A renowned author and public speaker, Bruce Nussbaum's most famous work is Creative Intelligence. In this quote for design thinking, he makes a case for design as the tool for innovation and change.
17. The power of transparency
The best quotes on design thinking like this one are pretty straightforward and carry a weightage that makes you stop and think. This quote subtly but powerfully clarifies the difference between good and great designs.
18. Disastrous consequences
Ralph Caplan was an American writer, design consultant, and public speaker. This quote reveals the adverse consequences of not putting effort and thoughts into creating great design. This leaves the reader a little baffled and provoked, but in a good way.
19. The marriage of art and science
Robin Mathew is a famous designer, known for his compelling and straightforward designs. This quote stays with the reader as it talks about combining technique with art, which is what design thinking is all about.
20. Design determines the future.
Robert L. Peters is a Canadian designer and educator who has genuinely revolutionized the design industry. What you see in this quote on design thinking is really the crux: a design finally determines the future course.
The process of designing is not an easy one. And yet, simple designs are the most compelling and stay with people for longer. And that's what these powerful quotes on design thinking have brought out very beautifully.
Conclusion
Now that you know some of the best quotes on design thinking, understand them well and let them inspire you in your designer journey.
FAQs
1. What is a good quote about design?
Many great quotes for design thinking have become popular, like "Good design begins with honesty, asks tough questions, comes from collaboration, and from trusting your intuition." – Freeman Thomas.
2. What does design thinking mean?
Design thinking is the process of creating a design by bringing innovation.
3. What are the best quotes on design thinking that inspire creativity?
One of the best design thinking phrases that inspire creativity is "Styles may come and go; good design is a language, not a style." – Massimo Vignelli.
4. Who are the most famous design thinkers?
Some of the most famous design thinkers are Steve Jobs, Albert Einstein, Robert L. Peters, and others.
5. What is design thinking?
The process of design thinking involves combining techniques and art to bring out simple yet compelling designs.
6. Why is design thinking important?
Design thinking is important to speak to customers' needs and not look inward for brand success.