Marketing
10 Ways Neil Patel Is Nailing Email Marketing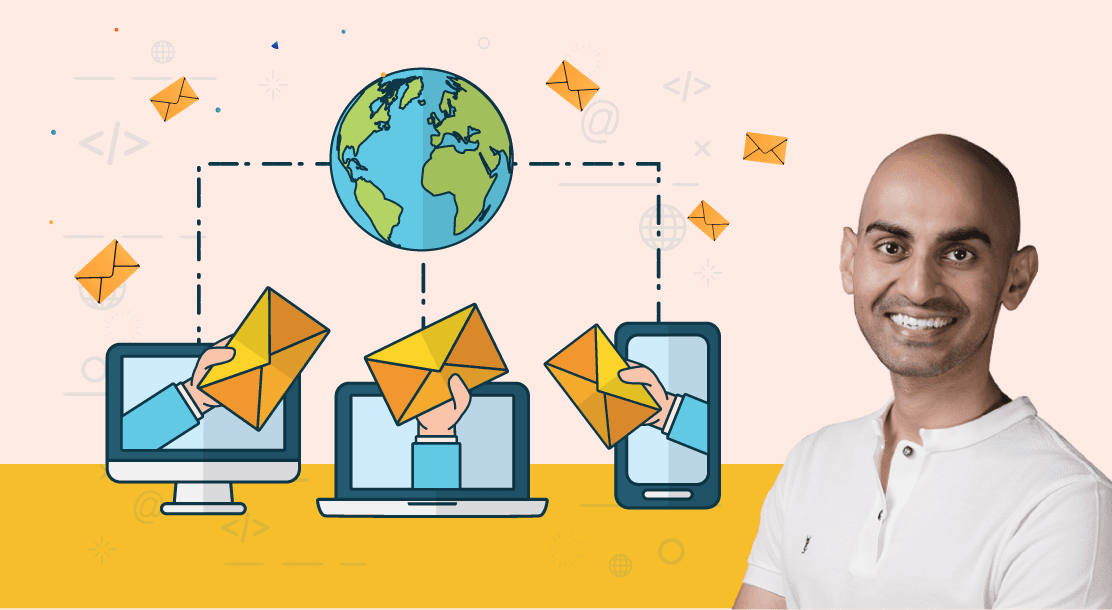 Table of Contents
What Is Email Marketing?
How Does Email Marketing Work?
Why Do You Need Email Marketing?
10 Ways Neil Patel Is Nailing Email Marketing
Key Takeaways
Conclusion
FAQs
Do you want to generate more revenue with your email marketing campaigns? Do you wish you could learn Neil Patel's email marketing practices? You can do it like a pro with a set of guided techniques that are proven to generate higher leads and revenue. So let's dive in and unlock the door to your email marketing success.
What Is Email Marketing?
Email marketing is one of the oldest and most trusted marketing channels. It is the act of sending emails with commercial intent to a list of your subscribers. These subscribers are the people who have given you permission to send them emails. Many people may argue that it is a spammy marketing tactic. But when done skillfully, email marketing can attract quality results.
Email marketing can be your source to share information with your subscribers. It can help in generating sales and building a supportive community for your brand. However, modern email marketing practices are far more advanced. They place special focus on customer segmentation, content, and intense personalization. It may seem to consume a lot more time than the conventional style of marketing but is totally worth it.
How Does Email Marketing Work?
Email marketing is often seen as a complicated process. But it is quite simple when you do it with a planned approach. You will need a lot of A/B testing to know which email marketing tips and tricks are working for you. First of all, you need to sign up for an email marketing tool, also known as an email service provider (ESP).
These email marketing tools allow you to send mass emails. You can also make use of internet service providers (ISP) like Gmail to send mass emails. But this will increase your chances of being flagged as a spammer. So better sign up for an ESP. Once it is done, you can start creating your email marketing strategy. Next, you should build your email list and improve your marketing campaigns.
Why Do You Need Email Marketing?
Email marketing is a strong marketing channel and there are many reasons why you need it. Emailing is a basic service that everybody uses. It is a great way of staying in contact with your existing line of customers and audience. It can be a great way to show your interest in them. With email marketing, you can reach your customers in real-time and keep them engaged. Also, it is an affordable marketing channel that costs more of your efforts than your money.
So even if you are a small business, you can make use of the best email marketing tips. Then you need to plan your campaigns and watch your efforts bring results. Email marketing is also a great way of generating brand awareness.
10 Ways Neil Patel Is Nailing Email Marketing
Neil Patel is a name that needs no introduction in the digital marketing Industry. He is recognized by Forbes and The Wall Street Journal. He is a man who has impactful digital strategies that convert. His email marketing tips and tricks are worth studying, especially if you have a business and are willing to make an online presence. Here are a few ways in which Neil Patel is commanding the email marketing space.
1. Attention to data collection
A successful email marketing campaign begins with accumulating information about your audience or subscribers. You need to be sure about what they are looking for. This information can be collected when a user signs up for your service. When these people subscribe to receive your emails, it is better to put up some questions. It is important to make sure these questions are relevant to the user. To craft a personalized email campaign you can ask for their location, interests, and contact details. You can even ask for other information that can help you in personalizing emails.
2. Catchy subject lines
One of the most effective email marketing tips by Neil Patel is to build interest with the subject line. The subject line is the first thing your customers read about your email. If it is catchy, you stand a great chance to build their interest in reading your email. Here, it is also important to keep your subject line specific to what you are going to present in the email. Evaluate your open rate and conversion rate to decide which type of subject line works better. Always remember to keep your subject lines short, concise, and attention-grabbing.
3. Behavioral emails
One of the best ways to grab your customers' attention is to send them to trigger emails, also known as behavioral emails. It is a type of email that talks about the customer's behavior. For example, sending a shootout email to inactive customers about new stock when they haven't shopped for a while might evoke excitement in the user. Sending an email to customers reminding them of their chosen products they have left in their cart is also an effective strategy. Such emails can boost your open rate and attract customers.
4. Subscriber tags
Neil Patel says that subscriber tags can save you a lot of time. These subscriber tags can be used to send personal calls-to-action (CTA) for various segments of your customer base. All you need to do is to tag your list of subscribers on the basis of their choices and preferences. You can then write emails to subscribers with similar tags and have a dedicated CTA for each.
5. Personalization
For a personalized email strategy that converts, it is important to perform audience segmentation. You can do it by asking questions to your audience. You can begin by simply asking them the following things:
What interested them in your products/services?
How can you help them?
What brings them to your website?
You can even ask opinion-related questions to let your customers feel valued. With such questions, you can better evaluate what areas of your marketing strategy are attracting customers. It can also help you decide the areas that need improvement. By understanding what works for you, it becomes easy to craft targeted emails. This can also help you resist being generic with your emails. It is better to win their interest with humor, emotional responses, and freebies.
6. Landing pages
Imagine reading an email that is about discounts on your favorite books. But when you click on the link in the email it leads you to a sports equipment website. How frustrating would that be?
As per Neil Patel, it is important to ensure that your landing page relates to your customers and is relevant to the content of your email. Your landing page is also an important component of your marketing campaign. There is no point in investing endless hours of hard work in email marketing if your landing page cannot help you land sales. The final goal of an email marketing strategy is to convert leads into your customers. To make it happen, the landing page you link to in your email must be relevant to the content of your email.
7. Urgency
Creating a sense of urgency through your email campaign is another way of attracting customers. You can do so by including dates and times to show the offer time limit in your email. This is the best approach to improve engagement, as such offers are time-based. This generates urgency, which pushes readers to take timely actions. You can center your email around a paid offer. This strategy can be applied to sales countdowns, contests, product launches, giveaways, and more.
8. Buyer persona
For effective results, it is important to build a buyer persona. As a business, you need to have a customer persona as it will help you list the characteristics and traits of your ideal customer. Once you develop this persona, it will make things a lot easier. You will be able to easily identify your target customers and their needs. It will also help you personalize your email campaigns by acknowledging your customer's needs and preferences.
9. Short and actionable emails
The biggest mistake one can make with your campaign is to include a lot of information within a single email. The result will be a long email that most people will not read. In email marketing, it is important to cover all the important information that your readers should know in a concise manner. If the email is longer than required and you can't cut down any information, make sure to segment it and break the monotony with interesting visual elements.
You can also add some crisp content in your email with major highlights. You can then add a link to a page on your website that offers complete information to your readers. Either way, make sure you don't waste your readers' time. Leaving your subscribers irritated may compel them to unsubscribe. So keep the long story short and include an interesting teaser in your email marketing copy.
10. Relevance
To perfect your email marketing game, it is important to answer some questions.
What are you offering your customers?
When and where will you make the offering?
Why should they choose you?
How to get them interested?
Each of your email marketing campaigns should have a response to these questions. Let's say you are launching a new product line. The product launch is the "what", the location and time are the "when" and "where". The quality and uniqueness are the "why" and your email should be the "how". This information is vital for effectively targeting your readers and converting them into customers. Also, make sure to end your email with a CTA button. It should be the final and most crucial part of your email. Even if your readers are interested, they will not be able to take action without a CTA. So make sure your email copy has it.
Key Takeaways
Email marketing is vital for long-term growth. It helps in keeping brands connected with followers.
To be successful with your email marketing efforts it is important to invest your time in knowing your audience first. It is the first step to come up with good marketing campaigns.
Bombarding readers or subscribers with too much sales-driven content is a big no-no. It can kick a marketer out of their inbox. Write your email copy focusing on your reader's interest.
Relevance is the key to winning people's attention. So make sure your marketing campaign holds relevance to the audience you target.
Email marketing is a long process. It requires time to build your email list and gain people's attention and trust. It is a marketing channel that requires plenty of work. So be patient with it as it has the potential to bring you a chain of loyal customers.
Conclusion
While many people may argue that email marketing is a thing of the past, it is still vital for brand development. Neil Patel's email marketing strategies highlight some modern practices that can win customers. So make sure you use them for your business and build a brand with a wide customer base.
FAQs
1. What is an email marketing strategy?
An email marketing strategy is a pool of actions that a marketer plans and executes for achieving a particular goal for any brand or business. With an effective email marketing strategy, brands can connect better with customers.
2. What are email marketing ideas?
Email marketing ideas are a set of prospective marketing actions a marketer thinks of. These ideas form the base of every email marketing strategy.
3. What are email marketing tools?
Email marketing tools are the tools that help a marketer with email marketing. These tools help in creating emails, sending them over, and optimizing them. It also helps in testing and reporting email campaigns.
4. How to start email marketing?
There are a series of steps you need to take for starting email marketing. First, you need to choose an email marketing service and then get signups. Next, you need to write engaging emails that attract your users to your offering.
5. How does an email marketing campaign work?
Email marketing campaigns work by promoting business. As per Neil Patel's email marketing strategy, by constantly upgrading email campaigns it becomes easy to keep your business in the customers' minds. These campaigns are a great way to announce exciting offers, offer freebies, and announce product releases.