Content
Long-Form Content Tips: The Ultimate Checklist to Create Long-Form Content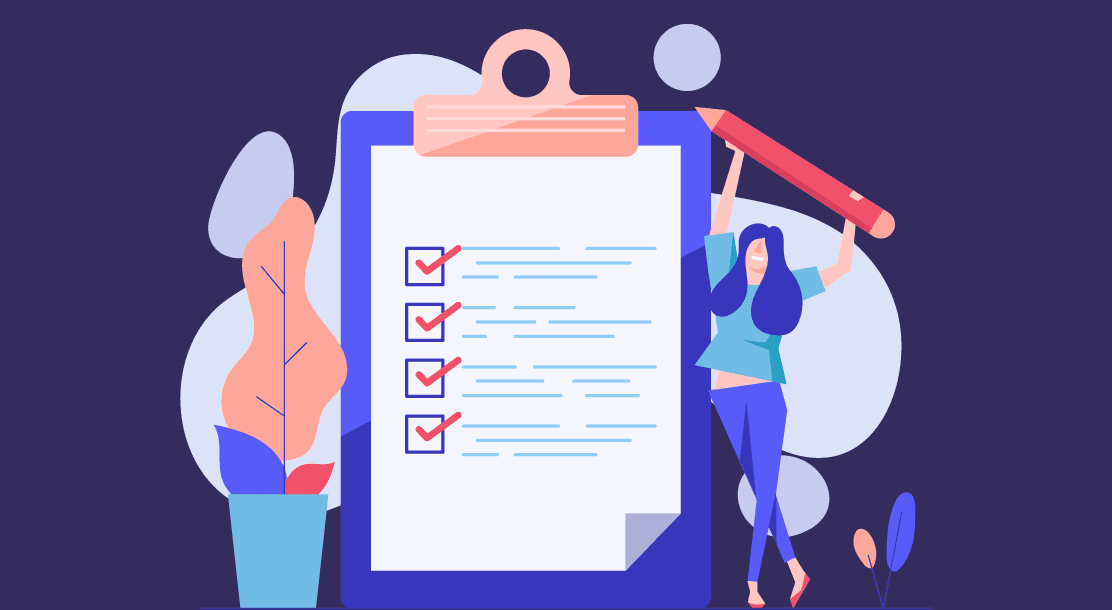 Table of Contents
What Is Long-Form Content?
Do Readers Prefer Long-Form Content?
Benefits of Long-Form Content
Content Creation Tips: How to Write Long-Form Content
Key Takeaways
Conclusion
FAQs
You have two articles to read—the first is a listicle telling you what you need for an adventurous trek into the Amazon rainforest; and the second is a long-form article telling you how to prepare yourself for the challenges you will face in the Amazon forest, the equipment you will need, food hacks, emergency guidelines, etc. In other words, the second article is the ultimate checklist for a trek into the Amazon rainforest. Which one will you read?
The first article gives you important information about trekking essentials. However, a person going to trek in the Amazon rainforest will require much more than that. Therefore, you are bound to choose the second one. This is why long-form content is essential. And long-form content tips will come in handy if you are planning to give your readers a one-stop solution for their problems.
Long-form content may seem redundant, considering the decreasing attention span of people. Don't panic yet, because contrary to popular opinion, readers prefer long-form content over short-form content. The former has continuously outperformed the short-form content by driving huge traffic and engagement, and simultaneously building trustworthiness of your brand.
What Is Long-Form Content?
How many words qualify as long-form content? Some say more than 800 words, while others say 1,500-3,000 words. A study even suggested that articles with more than 7,000 words drive four times more traffic than the usual 2,000-word content pieces. Our long-form content tips will help you decide which bracket you fall in.
Some businesses are trying to find a balance between both short-form and long-form content. They know that while short-form content will nudge the readers in the right direction, long-form content will pay off in the long-run.
From an SEO point-of-view, long-form content gives the Google bot enough matter to go through and understand the authority of the page. The interesting thing to note is that it is still an untapped zone. Most writers still go for an average length of 500-1,000 words.
Some popular types of long-form content include:
eBooks
White papers
Blogs/articles
Tutorials
How-to-guides
Case studies
Product specification sheets
Resource lists
Every day, more and more content is generated. Therefore, how you choose to keep yourself floating in this ocean of content is of great importance. If you are a content creator who is striving to make a difference, this is where you can start.
Do Readers Prefer Long-Form Content?
Even with declining attention spans, there has been no drop in the demand for long-form content. When you write a comprehensive article on a subject, your readers will look for the following parameters:
Problem-solving content
Valuable information
No filler content
Comprehensibility
Use of authentic references
Powerful calls-to-action (CTA)
If you tick off the above content checklist, it is unlikely that a reader will leave your content halfway. Your audience will have ample scope for analyzing the content, and getting meaningful information out of it. Most readers get bored by short-form content after some time. And then they look for long-form content that can add to what they already know.
Your audience will respect the time invested in developing long-form content. They will understand the motive of the writer and appreciate the effort. Therefore, if there was no encouragement by the audience, it would have been a dead-end. But, of course, that's not the case. Long-form content is the real-deal. That's why we have curated the ultimate content writing checklist for writers as well as marketers.
Long-form content has a long-lasting impact on the audience's decision-making abilities. Through your content, you are constantly adding value, simultaneously garnering credibility and their trust. Let's understand a few benefits of creating long-form content.
1. Increase in the number of organic visitors
Long-form content attracts sincere visitors who like investing their time in quality and in-depth content. Google prefers high-quality content that translates into better discoverability, good SERP rankings, and quick conversions.
People like coming back to authentic sources and even suggesting them to their peers. Such content gets shared often, and forms a part of meaningful discussions. Therefore, through long-form content, your area of expertise will get visibility.
2. Greater lead generation
With an increase in social shares, your content will pass through several readers. There is a high probability that people will find your content interesting and knowledgeable. And thus, you would succeed in igniting the spark that would pull them towards your content.
According to research, long-form content generates nine times more leads than short-form content. Do the math, you are likely to score a top position in search engine rankings. Blog posts are the staple form of generating inbound leads. Moreover, your chances of gaining high-authority backlinks also increases with this type of content. On an average, long-form content gains 77.2% more backlinks than short-form content.
3. One-stop solution to readers' problems
The nature of long-form content qualifies it for becoming your readers' ultimate savior. By reading long blogs/articles, your customers are guaranteed answers they couldn't find anywhere else. Google also focuses on offering people the right information in one place. Instead of displaying results that address the question asked in tiny bits, it goes for content that contains information packed in more comprehensively.
Moreover, long-form content eliminates the possibility of confusion that comes with reading from multiple sources. Thus, the chances of giving in to "analysis paralysis" are less. But don't get fixated on simply the number of words. The focus should be on making the article as detailed and all-encompassing as possible. Filler content will not get you the desired results, no matter how long your article is.
Start the blog with a captivating introduction. Design a structure that has a flow and form. Don't add anything just to unnecessarily stretch the blog. The content should address the problems and most-asked questions by the buyers. Use long-tail keywords for enhanced reach and lead generation. The aim should be to create a difference, provide answers, and guide readers on what the next step should be. In short, long-form content should be elaborate.
This is one of the key long-form content tips, because it ensures a win-win situation for everyone. Elaborateness is important to attract high-authority backlinks. You will be putting out high-quality content that provides real value. Therefore, long-form content keeps on giving, whether it is in the form of repurposable content or new topics covered through blogs.
4. Increased brand authority and awareness
When you produce highly refined long-form content, your customers wouldn't look anywhere else. For them, you would become the industry thought leader. Before making a decision, they would look up to you for your valuable insights. Long-form content, therefore, helps you establish yourself as an authority in your niche, which furthers your brand reputation.
A great example would be HubSpot. Each Hubspot's blogs consists of an average of 2,500 words. Their blogs are well-researched, high-quality, and backed by credible information. They have covered almost all topics in digital marketing. And it wouldn't be wrong to say that they have set the industry benchmark for good-quality long-form content.
5. More conversions
After reading a well-structured blog, your readers will feel enlightened. They will know you can help them understand the concepts better than anyone else. And thus, the journey from lead generation to conversion for your brand will be accelerated.
Long-form content is focused on encouraging prospective buyers to become valued customers. You would have already gained high-authority backlinks, which can then translate into new leads, and eventually, customers.
Converting your buyers wouldn't be a challenge if they find your content meaningful and engaging. When the buyer feels that all their questions are answered, they wouldn't hesitate in becoming your customer. An important content creation tip, is hence, writing long-form content that is compelling. Creating a longer landing page can also boost conversions.
6. Repurposing opportunities
Long-form content can be repurposed into material for social media posts and captions, podcasts, presentations, video scripts, etc. The pressure to share content on all channels can be impressively reduced. Many of your readers would prefer a shorter version of a long blog. By repurposing your long-form content, you will be able to reformat your content as your customers would prefer it best, thereby creating leads from all directions. Nothing impresses the customers more than knowing that they have been specially taken care of. They will feel like a part of the community, while the creator subtly leads the pack.
In our long-form content tips section, we will discuss the key elements that you should keep in mind when writing long-form content
Content Creation Tips: How to Write Long-Form Content
Drumrolls! We have finally come to the main theme of our blog. So far, we have discussed what long-form content is, how it is different from short-form content, whether it is received well by readers, and why brands should create more long-form content. In this section, we talk about some essential long-form content tips. Read on.
1. Set a goal
First things first, you need to ask yourself what you're trying to achieve with your content. Once you know the answer, you can proceed. Your goal can be anything from higher revenue and increased traffic to lead generation. Once you have decided on a goal, you need to figure out how to plan and strategize it, and what channels you will distribute the content on.
You cannot just decide to write long-form content without a proper direction and structure in mind. Long-form content also takes a much longer time to complete. So, unless you are totally confident about completing it, don't invest your precious time in it. If your reason to commit to long-form content is that everyone's doing it, you're on the wrong track. In the end, it has to make sense to you and fit the needs of your business. If short-form content suits your business goals, go ahead with it.
2. Find the right keywords
After you decide on a goal, you must hop on to different platforms to search for the right and relevant keywords. Google and social media channels can help you get started. In order to search for keywords on Google, type a word that concerns your topic. Google's autocomplete mechanism will present you with a range of relevant keywords that are most searched for.
Similarly, the next place to look is the "People Also Ask" section on Google. From there you can pick up relevant subheadings for your blog. At the bottom of the search results, there is another section that displays searches relevant to the words you enter in the search box.
YouTube works just like Google does. People refer to it as the treasure of content inspirations. All other social media platforms like Facebook and Instagram can be used to reaffirm your keywords. Follow trendy hashtags on Twitter and Instagram. Keeping yourself apprised of the popular topics of the day or week will help a great deal.
Another effective way of researching keywords are the various keyword finding tools that are available on the internet. They give you a 360-degree performance review of the keywords you search for. Some of these tools include BuzzSumo, Ubersuggest, Moz, and Google Keyword Planner. You can also use your old content to find relevant topics to dwell into. One of the advantages of long-form content is providing opportunities for new content is that one content piece opens the door to many newer content pieces.
3. Organize your research
You have made it past the hectic keyword research. It's time to get sorted by preparing a rough draft. In a long-form article, there is a probability of getting lost in your content if you don't have a proper structure. Therefore, organize your research material; and if needed, take help from note-taking apps such as Evernote.
Once you have your research in place, create a sequence. But don't be in a hurry to do it, as you might miss the areas that require more work or are missing important elements. Structure and sequence the content and prepare an outline for the subheadings. If it seems like too much work, then you can outsource it to a professional writer.
The aim is to roughly allot places to the data you have gathered so far. This will help you gain a perspective of how you should decide the flow of your content. Simultaneously, it will create a roadmap for the entire piece.
4. Write the first draft
It's time to write your first draft. You have arranged your research, carved out sections, and structured them wisely. Now, you must fill them with matter. Start writing and build on the flow. In the beginning, do not worry about the errors, as editing and formatting come later on. Remember that how you open the article is important, as you have to hold as well as retain the attention of your readers. Be clear and conversational in your tone, so that you do not scare away your readers by appearing too imposing.
Stitch your content skillfully. Craft a catchy headline. Headlines are a deciding factor for your content. To make it attractive and scalable, you can use odd numbers in your headlines. Use powerful words like amazing, hilarious, profitable, extraordinary, challenging, etc.
Power words crank up the effectiveness of the blog and get things moving. It triggers emotions and curiosity in the readers, and makes them click on the content. In short, power words help marketers swoon their readers into opening the blog. Secondly, use thought-provoking questions in your subheadings. It should guide your readers as to what the blog is about and what queries it is going to answer.
5. Add visuals and data
Images, data, and charts are visual components that make your blog interesting. People would want to catch a break after reading two to three paragraphs. Visuals break the monotony that may accompany long-form content. In long-form writing, only text will never suffice.
By adding images, surveys, dramatic results, embedded social media posts, and videos, you are giving your long-form content a creative touch. We highly recommend using visuals as part of our long-form content tips.
6. Edit and format
Editing involves tidying up the first draft and translating it into the final draft. Check that your content is simple and easy to understand. There should be no complex matter; you must break it into digestible sections. We agree that long-form content can get overwhelming at times. This can be solved if you break your content into small, easy-to-understand, and digestible pieces.
Create scannable content by incorporating anchor links and phrases. Don't take too long to get to the point. Remember that while long-form content has substance and high traffic, it should still convey the message in a clear way. Therefore, unnecessarily stalling may have a counter-effect.
You can also include real data and surveys to attract the attention of the readers. You can also add the surprise factor by adding statistics and citing examples of popular brands. It will add extra support to your well-structured content. Also, if possible, use video content within the long-form content. Video content is one of the most popular forms of content marketing in today's times.
For grammar and spell-check, tools like Grammarly can be used. You can be assured of your content's quality by taking heed of Grammarly's readability score. Add a Table of Contents for navigation. It is essential, as you cannot expect the readers to read everything from top to bottom. Give them the control and let them go directly to the section that concerns them most.
Finally, proofread the final draft. Hire an editor/proofreader if you find doing this by yourself cumbersome. Also, some errors can be hard to spot. Therefore, a skilled editor will ensure that your content is spick and span. End the blog with a powerful CTA. You can do so by asking for feedback in the comments or prompting your readers to subscribe to your newsletter.
7. Ensure SEO parameters are followed
Follow SEO best practices, such as adding secondary and tertiary keywords, along with primary ones. Very skillfully place them, at least 10 times for every 1,000 words. However, don't force it just to get the number high. At the end of the day, flow is important. You shouldn't compromise on the quality of the content by stuffing it with keywords.
Add related links to other content pieces on your website that will prompt the readers to stick around for a while longer. This practice is known as hyperlinking. To enhance the readability of your blog, you can take extra measures, such as adding blurbs or snippets, adding schema markup to your HTML, and ensuring overall URL hygiene.
8. Choose a sound promotion strategy
Considering the time and energy spent in creating long-form content, you wouldn't want it to perform poorly on the promotion front. Therefore, creating a promotion strategy for your long-form content piece will ensure that you leverage all the promotion mediums in order to spot your prospective leads and bring them to your content.
But all readers are not the same, and each will require special care and persuasion. So, a few channels that can accomplish the task for you are as follows.
Emails
Newsletters
Social media handles
Podcasts
Virtual webinars and workshops
Guest blogs

9. Publish, monitor, and update
You are ready to launch! It's time to reap the benefits of your hard work. But it does not end with publishing. For the blog to keep on giving, you need to have a plan for how you are going to manage the promotion every time. Marketing effectiveness can be guaranteed if you track the performance of your keywords, backlinks, and social shares.
Based on timely insights, incorporate the necessary changes to stay relevant. Google values content that gets updated frequently to match the current times. Therefore, keep a calendar handy, schedule routine changes, monitor, and repeat. Lastly, interact with your audience: reply to their comments and ask them how you can improve your service. Starbucks is among the many leading brands that take customer satisfaction seriously.
Key Takeaways
We have come to the end of our long-form content tips. Here are our key takeaways to ensure that you don't discard long-form content as a thing of the past:
Long-form content is a largely untapped territory. A few businesses are creating long-form content, but most still find it a tedious job.
Readers are actively looking for detailed and informative blog posts, and thus, are ready to adapt. But sadly, only a few creators are ready to put in the effort long-form content requires.
If you decide to invest your time in creating long-form content, do it right by carefully going over each and every long-form content tip.
People expect in-depth, well-researched, and well-written content from long-form posts. Don't compromise on the quality of the content.
Google highly prefers long-form content. It takes extra effort to guarantee high exposure and search engine rankings.
Research well; and find relevant data, charts, graphs that will support your content. Customers are likely to convert easily by looking at real-time data.
Long-form content generates nine times more leads than short-form content.
Customers do not hesitate to become more involved with businesses that value their feedback and include them in their creation process.
The best advantage of creating long-form content is that you can reformat and restructure it for other mediums, such as social media.
Remember, there is no one-size-fits-all long-form content marketing tip. You have to skillfully customize the content as your readers will like it.
Conclusion
We hope that you found our long-form content tips informational. It is true that in order to make scalable content, you have to go beyond what you have been doing till now. This might seem like a task, but one that will get easier once you start creating more and more long-form content.
There is huge competition in the market today. Everyone is creating and circulating content in mass numbers. But after some time, its value depreciates, and the search for real content ensues. Therefore, the rational decision would be to find out which form of content appeals to your readers most. At the end, it all comes down to striking the right balance between quality and quantity.
FAQs
1. Does long-form content perform better on social media?
This depends on the unique requirements of your business and where your target audience is most active. Long-form content can do wonders on social media channels, such as YouTube, Facebook, LinkedIn, and Instagram.
2. Should you publish long-form or short-form content?
It largely depends on how the audience responds to your content and what they prefer more. You can figure this out from the insights you gather from previous posts. Consumer engagement data from interactive content can also help you come to a decision. Your readers look for substance, no matter what form you choose.
3. Is long-form content too text-heavy?
In order to avoid monotony in long-form content, break it up with relevant images, videos, GIFs, statistics, charts, and graphs. You can also embed Instagram and Twitter posts that are relevant to your blog. By adding a visual component to your content, you can hold and retain the attention of your reader.
4. Why is long-form content important for your website?
Long-form content gets nine times more lead generation than short-form content. Google values long-form content and ensures that websites with quality long-form content have the maximum exposure. If you create long-form content, your chances of gaining high-quality backlinks will increase as well. If readers find your content valuable, your conversion rates will be amplified too.
5. What is the difference between long-form and short-form content?
There is no rule that determines the exact length of short-form and long-form content. However, based on research, any content below 1,200 words is considered short-form content. Long-form content starts from over 1,200 words, and can go up to 8,000 to 10,000 words or more. Based on industry trends, an average long-form article amounts to about 2,000 words.