Content
List of 60+ Quality Blogs That Accept Guest Posts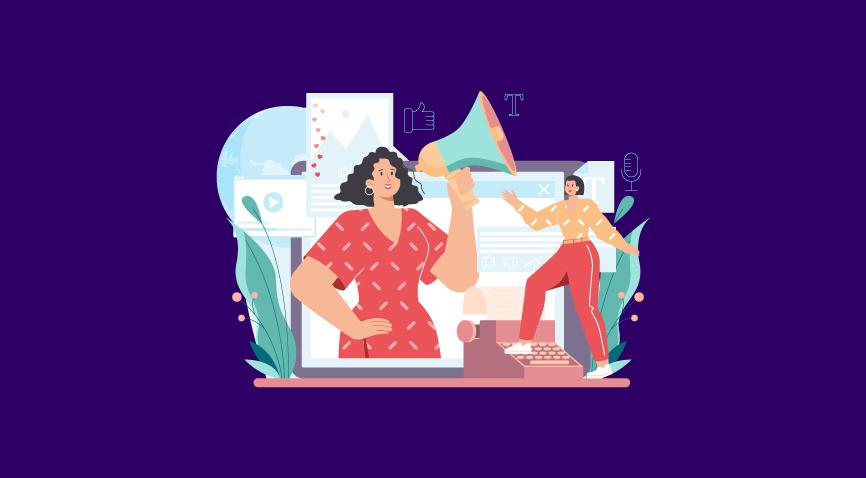 Table of Contents
How to Start Guest Blogging
Steps to Getting Published
List of Blogs that Accept Guest Posts to Kick Off your Journey
Key Takeaways
Conclusion
FAQs
Guest blogging sites or guest posting sites, as the name suggests, are websites that accept guest posts, or blogs from anyone other than their in-house writers, which the hosts publish on their sites. This is massively advantageous to a blogger, as it takes authenticity and expertise in an area to get published on a guest blogging website. Guest blogging enhances your credibility as an expert on that topic.
Furthermore, guest blogs provide the benefit of link-building back to your blog. This especially is a highly coveted SEO technique that organically boosts your credentials as an expert in a particular subject or field and improves traffic to your blog.
There are many guest posting sites available that help in increasing your reach.
How to Start Guest Blogging
Before starting posting on guest blogging sites, it is not important that you should be a great writer. Guest posting sites are an essential part of blog posting. To start a blog, you must understand that having proper information about a topic you plan to write on is necessary. Blogging is just like sharing your information with the world. Writing a blog post for other blogs opens up new prospects for reaching out to a wider audience who might be familiar or unfamiliar with your brand.
To hone your writing skills, you must also follow effective guest posting tips.
Domain authority and page authority
The process of contributing to a site that accepts guest posts isn't as simple as sending the guest posting sites a document and then just waiting for them to publish it. If it were so simple, they wouldn't be able to build credibility or offer you any. Almost all the guest posting sites have Domain Authority Rankings (DA) and Page Authority Rankings (PA).
Page authority is a metric created by Moz to indicate the authority of all web pages on the internet. Page authority has been the industry standard for predicting how a specific web page will perform in the search engine results pages (SERPs).
PA is measured on a scale of 1-100. A higher score means a web page has strong authority and will stand a better chance at ranking well. A lower score means it will be more difficult for the page to compete against other similar pages in the search results.
Domain authority (DA) is a search engine ranking score also developed by Moz that predicts how likely a website is to rank on search engine result pages (SERPs). A domain authority score ranges from one to 100, with higher scores corresponding to a greater ability to rank.
Domain authority is calculated by evaluating multiple factors, including linking root domains and the number of total links, into a single DA score. This score can then be used when comparing websites or tracking the "ranking strength" of a website over time.
Steps to Getting Published
1. Find your guest post targets
You are writing for an audience and not a search engine. There are thousands of guest posting sites on the internet. Take some time to research which of these sites have the most credibility. This can be done by taking a quick comparison of the DA and PA rankings. You can choose blogs that cater specifically to the topic you are an authority on. Be it travel blogs, food blogs, business blogs, and so on.
2. Prepare your guest post
After you find the sites on which you want your blog published, prepare your guest post. Since these guest blogging sites are adamant about original content and expertise, they will have strict guidelines that will aim to punish reproduced and reward original content. Some websites also ask for a brief to be provided about your journey with blogging. Ensure you are aware of the submission guidelines and ensure they are followed before you begin writing. Maintain a proper layout. It is important to find the right blogs that accept guest posts.
3. Write your guest post
Conforming to the guidelines, this is where you shine. Writing content with the expertise you bring in, you can supplement your work with links back to your site. Writing an exceptional article with link-building will bring credibility to both you and your guest blogging site and is an important SEO consideration.
4. Follow up
Keep yourself updated on the status of your blog. If there are any corrections required, finish them and keep to the deadlines. If you have written an original blog, you can expect it to be published without any complications. Once published on the guest posting site, share the blog amongst your peers and social media for it to gain traction.
List of Blogs that Accept Guest Posts to Kick Off Your Journey
We have included a list of blogs that accept guest posts below. Domains included are Business Blogs, Marketing Blogs, Food Blogs. Travel Blogs, Sports Blogs, Technology Blogs, Health and Fitness Blogs, and Fashion Blogs.
The DA ranking of these guest blogging sites makes it easy for new bloggers to pick a suitable site out of the list and not have to scour the internet to find them. Here is the guest posting site list:
Business blogs
AllBusiness.com – DA Score:79
They are in search of blogs that primarily focus on businesses and various tips related to them.
Business.com – DA Score:78
This guest blogging site aim at upscaling your business and building brand value for your business.
Exabytes.com – DA Score:33
It is a unique website that searches for content that is relevant to its niche and provides solutions for business growth.
Success Magazine – DA Score:76
It talks about success stories and how they influence others. You can go through their previous blogs and understand more about the content they post.
Crunchbase.com – DA Score:91
Crunch base is the leading guest blogging platform that helps businesses during the early stage of growth and also provides insights about them.
Businessinsider.com – DA Score:83
Business Insider shares top stories about business. They look for blogs that discuss the current business scenarios.
Bplans provides blogs that help build better plans for businesses.
Marketing blogs
Marketingprofs.com – DA Score:75
These bloggers write content about technical aspects of marketing and topics related to branding, promotions, advertisement, etc. If you belong to the marketing realm, choose their site to guest post.
Hingemarketing.com – DA Score:52
If you are interested in writing about professional experience, then this is the perfect website for you. You can write about content marketing, SEO, lead generation, video production, etc.
Dealermarketing.com – DA Score:43
You can share your everyday tips and tricks about marketing and other insights in this site that accepts guest posts.
Webengage.com – DA Score:49
If you are good at crafting blogs that are related to digital communications and different aspects of marketing, then it is the right platform.
Nethunt.com – DA Score:38
Nethunt is a great option for marketing blogging enthusiasts. If you have something important to say about marketing, choose this guest blogging site.
They are selective about what they publish and accept content related to video marketing.
Food blogs
Thekitchn.com – DA Score:86
Share recipes that are healthy and delicious. It is the perfect site for food lovers and would give you a great traffic, if you choose to guest post here.
disneyfoodblog.com – DA Score:64
Show your love for Disney with food. They write about different recipes in the world of Disney.
Insteading.com – DA Score:65
Instead features blogs that cover different articles about gardening and agriculture skills. Choose their guest blogging site to share stories and pictures of your gardening efforts.
Onegreenplanet.com – DA Score:78
Onegreenplanet allows writing about topics like vegan recipes, sustainable agriculture, etc.
Fooddive.com – DA Score:62
Fooddive is one of the sites that accepts guest posts about food news, stories, press releases, etc.
Thefoodxp.com – DA Score:23
It is a food and travel channel that likes to post about lifestyle and food.
Tasteofhome.com – DA Score:85
If you are looking for a site that accepts guest posts in the home cooking realm, editors at TasteofHome like food blogs that are different and foster a feeling of home.
Travel blogs
Boardingarea.com – DA Score:78
You are welcome to post blogs about new developments in travel in Boardingarea. They select blogs that are highly refined and meet their requirements.
Globalgrassgopper.com – DA Score:58
Globalgrassgopper provides its readers with resources about independent traveling and other travel-related tips.
Hostelbookers.com – DA Score:77
Hostelbookers are a guest posting site that post articles about the best tourist spots and affordable hostels all around the world.
Goabroad.com – DA Score:66
If you know about different programs abroad, then it is the perfect opportunity for you.
Wanderlust.com – DA Score:49
Wanderlust are a guest blogging site that accept blogs about different events and experiences globally. The website is all about travel, events, etc.
Nomadsworld.com – DA Score:56
Nomadsworld accepts blogs that are related to travel tips and different cultures.
Theplanetd.com – DA Score:68
Are you passionate about adventurous travel blogs? Grab the opportunity and send your blogs to theplanetd.
Sports blogs
Offthepost.info – DA Score:59
The editors of the guest blogging website accept blogs that cover different aspects of football.
Caughtoffside.com – DA Score:89
Caughtoffside is a hub for football fanatics. They approve blogs that are centered on football.
Crictracker.com – DA Score:67
Crictracker is a popular guest posting website for cricket fans. It is the best platform for sports bloggers.
Your pitch will definitely stand a chance if it covers sports from all around the world.
Workinsports.com – DA Score:52
If you have any idea about sports, you can surely send your blogs to this site that accepts guest posts.
Technology blogs
Sitepoint.com – DA Score:86'
It focuses on the latest technologies of the world. If you are interested in this topic, then you must send your blogs to them.
Slashdot.org – DA Score:91
Their target audiences are technology freaks. If you are one of them, then you must definitely pitch your blog to this guest blogging site.
Techwalls.com – DA Score:57
Send the latest information about technology and get a chance for guest posting.
Inspirationfeed.com – DA Score:78
It is a digital magazine that covers almost everything related to technology. If you are interested, you could send your pitch to this guest posting website.
Venturebeat.com – DA Score:92
It is the best place for technology enthusiasts to show their talent and also write about it.
Manning.com – DA Score:65
They allow you to write on a vast range of technology-related articles.
Techlila.com – DA Score:44
Techlila looks for guest posts that are long and cover everything about the topic.
Techbhai.com – DA Score:39
If you are interested in writing about technical support, then you should send a pitch to this website that accepts guest posts.
Alltechbuzz.net – DA Score:60
Alltechbuzz wants engaging content for technology that is suitable for their background.
Callhippo.com – DA Score:40
They provide a virtual phone system to clients. You can write brief guest posts about their technology.
Jungletech.com – DA Score:39
Jungletech is another guest blogging website that offers technology to businesses and caters to their needs.
thenexttech.com – DA Score:31
Thenexttech covers all the information about the latest technology. You can check their blogs to have a clear view of what they want and how they work.
Patresearch.com – DA Score:31
It is a B2B service that provides information about every technology.
Health and fitness blogs
Kevinmd.com – DA Score:68
They are one of the best guest blogging websites that share knowledge about health and fitness.
Naturalnews.com – DA Score:86
Get the best of natural health tips at Naturalnews. You can win some brownie points by sharing some of the natural tips and tricks.
healthresource4you.com – DA Score:41
This guest blogging website focus mainly on blogs that cover topics like healthcare, fitness, remedies, diseases, etc.
Themastercleanse.com – DA Score:56
Share some of the natural remedies about healthcare at themastercleanse.
Mindbodygreen.com – DA Score:88
Mindbodygreen is another guest posting website that likes to post blogs about spiritual, physical, mental, and emotional issues.
wellbeingsecrets.com – DA Score:54
This site that accepts guest posts are looking for informational and well-researched content for their website that is engaging and targets the right set of audiences.
Ideafit.com – DA Score:64
It is a health and fitness association. You can go through their previous blog posts to get a clear idea of the content.
Trailrunner.com – DA Score:55
Try pitching blogs about mindfulness to this site that accepts guest posts around this niche.
Tnation.com – DA Score:72
It is the perfect guest blogging website for fitness bloggers as the website mainly revolves around strength training and bodybuilding.
mercola.com – DA Score:91
Mercola blogs are about healthcare and news related to it.
evidencebasednursing.com – DA Score:90
They accept blogs that are commentaries on journals. They require a professional writer who can write about healthcare.
Fashion blogs
Justjared.com – DA Score:86
Send blogs that highlight the latest trends and what kind of fashion is ruling the market.
Fashionista.com – DA Score:83
Show your fashion sense and prepare blogs related to current fashion for this guest blogging website.
Offbeatbride.com – DA Score:68
The editor at offbeatbride looks out for articles that explain bridal fashion and the site is especially for brides-to-be. You can also share your own story.
PRcouture.com – DA Score:48
This site accepts guest posts about fashion tips, strategy, freelancing, etc.
Hellogiggles.com – DA Score:88
It is the perfect guide for women's fashion and lifestyle.
Glitterguide.com – DA Score:56
Share your own experience or the latest trends in fashion in this site that accepts guest posts in the fashion niche. Their blogs are a mix of fashion and lifestyle.
Lovemydress.com – DA Score:55
Lovemydress accepts blogs on beautiful weddings, whether it's about wedding fashion or decoration.
wiseshe.com – DA Score:47
It is the best guest blogging website to share makeup and fashion tips.
Key Takeaways
Find sites that accept guest posts and are related to your niche.
Follow a proper structure, preferably the one given in your guest posting sites list.
Search for keywords and a catchy title. Keywords improve your chances of ranking on search engines. When you are conducting thorough keyword research, you would also come across many guest posting sites.
Read multiple blogs before writing. However, make sure that you are not plagiarizing from any writer. Read the previous blogs of every guest posting site, where you are planning to send a pitch.
Write a summary. Structure your layout. Plan subheadings. Your writing process would be much faster.
Conclusion
With the information on guest blogging sites, you can now start your journey as a guest blogger. Remember, authenticity or originality will lend your blog credibility and reproduced work will be frowned upon. But don't worry if you are writing on a topic that has been discussed extensively already. If you bring your original ideas and perspective to it, it will be accepted and good work organically gains traction. Comb through sites that accept guest posts, conduct thorough keyword research, and begin writing. Wishing you all the best on this amazing new venture!
FAQs
1. What is guest blogging in digital marketing?
Guest blogging is an important part of digital or content marketing to increase reach and attract more audiences. There are many sites that accept guest posts. Look for websites around your niche, conduct keyword research, and begin pitching. Read the guest blogging sites guidelines meticulously. More often than not, sites that accept guest posts have pitching guidelines and a specific format of emailing. 

2. Do guest bloggers get paid?
Not all guest bloggers get paid, but some websites do pay the authors for their contributions. You could go to the 'About Us', or 'Write for Us' section of any guest blogging site and check the information. Usually, websites do not pay for guest blogging, as it provides networking opportunities and you can include backlinks. 

3. How do I find a blog that accepts guest posts?
There are many sites that accept guest posts. There are 60+ quality guest blogging sites list given above. Find one that fits your niche. Read the guidelines. Begin pitching. Guest blogging is a valuable and inexpensive asset to increase your reach, grow a network, and increase traffic on your website. 

4. How can I do guest posting?
You must have proper knowledge of the niche that you are working on before starting guest posting.  Follow the most popular blogs, proofread your blog meticulously to avoid any errors and search guest posting blogs lists. 

5. Where can I submit my blog posts?
You can submit your blog posts for free on sites that accept guest posts. Try to get published on relevant websites. Find blog sites around your niche. Guest blogging is a way to appear credible and establish oneself as a thought leader in any domain.
6. Do guest posts work?
Yes, undoubtedly guest posts work and show remarkable results. It is important to search for the most relevant sites that accept guest posts in your niche. Guest blogging sites are an effective way to establish oneself as a thought leader in any niche. 

7. How can you pitch for a guest post site?
You can pitch topics on sites that accept guest posts by:
1. Selecting a niche.
2. Researching about it.
3. Coming up with different ideas.
4. Writing a summary about it.
5. Submit the topic and content to the targeted blog.